8 Reasons Jason "Mayhem" Miller Should Train with Diaz Brothers
Jason Miller/ Scott Petersen for MMAWeekly.com
In the world of MMA, you have fighters, and then there's Jason Miller, who encompasses a whole new breed of fighter all on his own.
The enigmatic and sometimes controversial "Mayhem" has long been a figure in the sport and is a veteran such organizations as Icon Sport, WEC, Strikeforce and the UFC, having fought some of the best fighters in his class.
In his last outing, Miller took on Michael Bisping, turning in a lackluster performance against the Brit.
Is it time to change up the regimen and find new training partners? Yeah, there's no better batch of guys than that of the Cesar Gracie crew, which houses notables Nick and Nate Diaz—the same dynamic duo that jumped Miller on a live CBS broadcast in April of 2010.
Photo credit: Jason Miller/ Scott Petersen for MMAWeekly.com
Bury the Hatchet
During his run toward Strikeforce gold, again, Jason Miller made the not-so intelligent decision to enter the cage to challenge Jake Shields for his title—while he was surrounded by the entire Cesar Gracie crew: Nick and Nate Diaz, Gilbert Melendez and many others.
Maybe training alongside these guys will help Miller to finally bury any bad feelings.
Bring Some Attention Back onto Him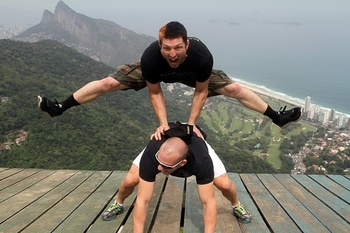 Miller (top)/ Sherdog.com
After dropping his bout against Michael Bisping last December, Miller has been relatively off the MMA radar altogether, with his future hanging in the balance with the UFC.
Now that it's been some time since his bout with the Brit, it's time that Miller garnered the same kind of attention he commanded way back when, and what better way to do that than to announce joining up with your adversaries in the Diaz brothers-plus?
Change of Scene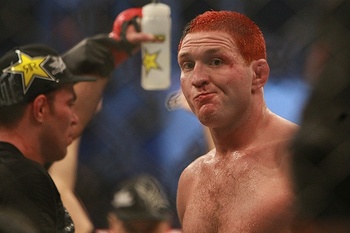 Miller (right)/ Sherdog.com
Not that the Reign Training Center and Kings MMA are bad facilities—in fact, they are slowly matriculating themselves into becoming among the best—but fighters always need something to reinvigorate their careers.
Maybe not a permanent move, but a move nonetheless to the Cesar Gracie Academy in Pleasant Hill, California, could be the right change of scene that Miller could use at this point of his career.
Learning from Mistakes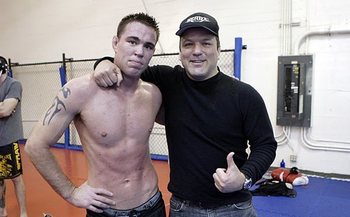 Jake Shields (left) with Cesar Gracie/ Sherdog.com
Under the watchful eye of Cesar Gracie, such stars as Jake Shields, Gilbert Melendez, Nick and Nate Diaz have become some of the best fighters in their class, earning world titles in the lightweight, welterweight and middleweight divisions.
There's something in the water over there at the Pleasant Hill academy, because clearly, that place is a breeding ground for success.
Should Miller decide that he can benefit from a man who defeated him (Jake Shields) not all that long ago, a trip to the Gracie school could benefit the wily fighter.
High-Level Training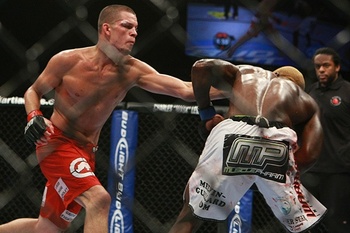 Nate Diaz (left)/ Dave Mandel for Sherdog.com
Some of the best fighters in the world reside under the Cesar Gracie roof.
Although many of these men have a rocky past with Miller, there's no better way to make amends than by humbly enrolling yourself into their school.
From there, Miller could benefit from training with studs who are well-versed in all areas of the game, while gaining a new and fresh perspective in the MMA world.
Improve Boxing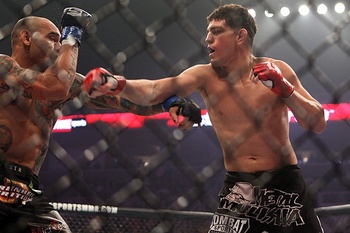 Nick Diaz (right)/ Dave Mandel for Sherdog.com
In the world of MMA, there is only one man whose boxing is consistently raved about by the fans and media alike.
That man is Nick Diaz, who has been trained under the tutelage of Richard Perez all these years, who has vastly improved the technique and precision of the Stockton fighter, along with the likes of Nick's younger brother Nate, who put on a clinic against Donald Cerrone in his last outing.
Miller will be forced to improve so long as he's under their roof, and it's something he needs, considering his striking garnered the ire of UFC President Dana White, who called Miller's striking prowess the "worst stand-up" he's ever seen.
Improve Jiu-Jitsu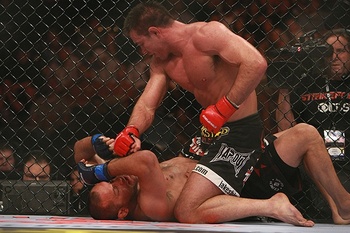 Jake Shields (top)/ Dave Mandel for Sherdog.com
Only a few people have been promoted to the rank of black belt under Cesar Gracie, and that includes Jake Shields, Dave Terrel and Nick Diaz—all of whom have proven to be some of the best submission artists to enter the sport.
Miller, too, holds their same rank, though the Cesar Gracie crew have shown that they have the ability to finish the fight on the mat at any given moment.
The same can't be said of Miller, who hasn't finished a formidable opponent since Robbie Lawler in 2006.
Fans Would Want to See It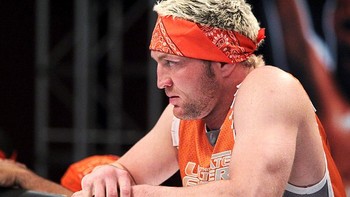 Josh Hedges/Ultimate Fighting Productions LLC via Getty Images
Always looking to please his audience, there is nothing that will quite garner the attention of his "Mayhem" Monkeys more than Miller joining the likes of the Diaz brothers, and others, side by side in training.
Outside of all the obvious benefits that training with some of the best will cultivate, it's a surefire move that will elicit some praise for all parties involved.
Keep Reading