PGA Tour Fantasy Golf: Previewing the Northern Trust Open
February 15, 2012

Ezra Shaw/Getty Images
About the only predictable thing in professional golf these days is that Phil Mickelson and Tiger Woods will be completely unpredictable. At least on the golf course.
Last weekend was a brilliant example of why the PGA Tour needs Tiger Woods to at least show up and be decent. Just the presence of a contending Tiger seemed to push Mickelson to a level he hasn't played at since Tiger fell off of the map.
As far as fantasy golf goes, good luck figuring out if you're going to get good/bad Tiger/Phil each week. To use a fantasy football metaphor, just pretend each golfer is a Redskins/Mike Shanahan running back. They could be great any given week, but they could also completely screw you over in any given week. It's risk or reward, baby; go big or go home. But these guys are the odds-on favorites to win most every tournament for a reason.
Remember that.
This week we are at Riviera Country Club located in the Pacific Palisades in sunny California. Aaron Baddeley is the defending champion. He took home $1,170,000 for his victory here last season.
The Riviera is a somewhat different type of course than the PGA has seen so far in 2012. While not very long, Riviera usually plays as one of the ten or twelve most difficult courses on tour. Shot-making and course management are at an absolute premium here. As are accuracy, putting and scrambling. The rough can be incredibly difficult here, so you want to find players who either can avoid the rough or play well out of it.
I know it sounds like a broken record with stressing the putting and scrambling, but you always want to go with the hottest putter that you can. Be it a golfer or actual golf club. Golf tournaments are won or lost on or around the green. The higher the level you play at, the more true that statement is. If you saw how Mickelson putted last weekend, you know that's really why he won the event.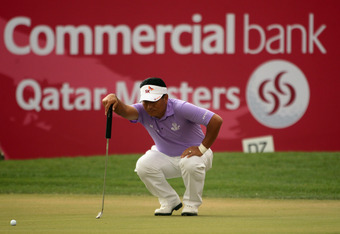 Andrew Redington/Getty Images
And without further ado, onto the picks:
Yahoo! Weekly Lineup Game
Group A
Phil Mickelson (Starting)—This isn't a reaction to Mickelson winning last week. This is because he currently ranks 7th in strokes gained putting (1.155) and 12th in scrambling (67.47 percent). Not to mention he won this event not too long ago (2009). Oh yeah, and he won last week! If he tanks it, that's what bench players are for.
K.J. Choi (Bench)—Choi hasn't been great (or bad) with his putter so far this season. But he hits a ton of greens (11th in greens in regulation percentage) and can play from the rough (23rd in scrambling from the rough). And he has been consistently excellent here. His last four finishes here: T7, T27, T3 and T7.
Other solid options: Luke Donald, Matt Kuchar, Kyle Stanley, Kevin Na
Group B
Jason Day (Starting)—This is Day's first start on Tour this season. But he did finish 2nd in the Commercialbank Qatar Masters two weeks ago. And he was one of the best putters on Tour in 2010, finishing 7th in strokes gained putting (.624). And one of the best scramblers, finishing 3rd in scrambling (64.64 percent). And he was pretty darn good at playing from the rough, finishing 7th in scrambling from the rough (64.12 percent).
Justin Rose (Starting)—Rose has a solid all-around game that fits well at many courses. He finished T9 here last season. Rose was excellent at finding the green in 2011, finishing 10th on Tour in greens in regulation percentage (69.48 percent).
Dustin Johnson (Bench)—Johnson had a brilliant first round last week and then proceeded to do absolutely nothing. He has the game off of the tee to overpower this course and he can scramble with the best of them. He's had success here, finishing T3 back in 2010. But because he's been more "down" than "up", he's a bench option for now.
Robert Allenby (Bench)—Allenby has been decent in his last two appearances this season (T22 & T33). But he has been far better than decent in this event. His last four starts here:  T4, T27, T17 and T7. 
Group C
Aaron Baddeley (Starting)—Not only is Baddeley the defending champion, he's also coming off of a T4 last weekend. Not to mention he currently ranks 11th in strokes gained putting (1.073) on Tour.
Fred Couples (Bench)—Why not? Couples was in serious contention here last season, finishing T7. I doubt I will use him again this season, unless maybe as a bench player for the Masters. So if he catches fire (and he has a great history here) excellent. If not, no big deal.
Now, who do you pick in your Weekly Survivor/Eliminator/Earnings League?
Normally this is where I can hedge my bets a bit and name a few players I like. But this week it's pretty clear to me. My main options are: K.J. Choi, Robert Allenby and Aaron Baddeley.
I like Allenby to make some money here, but I doubt he wins. So he's out.
Baddeley is very tempting here. But what are the odds that he wins this tournament in back-to-back years? (Technically he's a 30/1 shot to win this week)
Choi not only has an excellent history here, the strengths of his game just fit perfectly. So I'm going with K.J. Choi this week.
For the record, I've already used: Bryce Molder, Steve Marino, Bill Haas, D.A. Points, Martin Laird and Hunter Mahan.
Good luck to all this week. If you have any comments or questions, please use the comments feature or reach out to me on Twitter.
Follow John on Twitter
Check out John's other work on Bleacher Report
Just starting fantasy golf? Check out my Season Primer from Week 1.