Tomas Holmstrom Is the Centre of Attention
February 15, 2012

Gregory Shamus/Getty Images
When the 2011-12 season started, Tomas Holmstrom didn't need to be reminded he was on the verge of a major milestone. He had plenty of people making sure he didn't forget.
He came into the current campaign having skated in 952 NHL regular season games, all with Detroit, a four-time Stanley Cup champion and an Olympic gold medal winner.
A pretty impressive career, no doubt, which was about to add another impressive accomplishment to its list.
"At the beginning of the season, you see it as a countdown, less than 40 to go, then 20 games and so on," said Holmstrom, who appeared in his 1,000th game on February 10th, a home vicory against their Western Conference rival Anaheim Ducks. "I knew it was coming, but so many people would text me, call me or email me and kept telling me how many more games it was until the actual moment."
For the 39-year-old native of Pitea, Sweden, it was akin to a momentous birthday.
"It's like when you're going to turn 40 and everyone all of a sudden acknowledges it and you're he centre of attenion," he said with a laugh. "It was nice to have all the people from back in Sweden and people here getting in contact with me. It's great to have their support."
And for the 257th overall selection of the Red Wings, it's been a truly great ride, one he never expected to last as long as it has.
His initial goal, after making the team and signing a two-year contract, was rather humble in nature.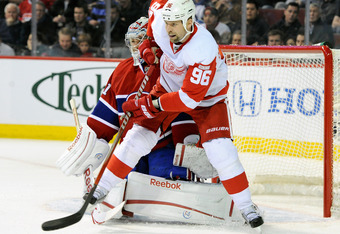 Richard Wolowicz/Getty Images
"When I first started back in 1996-97, I figured that if I played two seasons, I would see how things went and just go from there," said Holmstrom, who had nine points in 47 games in his rookie campaign. "There were so many talented players here in Detroit, great veterans, that I wasn't quite sure how things would turn out. If it didn't work out, I'd make another decision."
It turns out Holmstrom, who won the Elitserien gold medal with Luleå Hockey in 1996 and was named to the Swedish All-Star Team in the same year, didn't need to make alternative arrangements.
His penchant for setting up shop in front of the opposition's net, the unwanted centre of attention who had to contend with defensemen trying to extract from the crease while slapshots came whizzing in from the blueline, made him one of the team's most effective weapons.
Holmstrom, who scored his 30th goal of the 2006–07 season against the Chicago Blackhawks, achieving the first 30 goal season of his career, is proud of his on-ice calling card.
"There have been plenty of bruises over the years, but I'm proud of being able to do something that has helped the team," said Holmstrom, who was inducted into the Piteå Wall of Fame in 2006. "I'm just happy that I've been able to play so long and with one team. It's been amazing."
He's also a dangerous player come the postseason.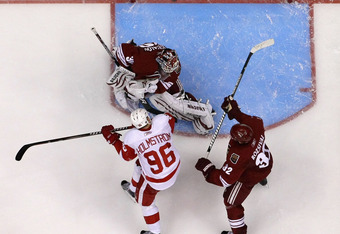 Christian Petersen/Getty Images
In 175 playoff games, he has 45 goals, 95 points, along with nine game-winning tallies.
But for Holmstrom, who has two game-winning markers in 2011-12, success isn't always measured by seeing his number on the scoresheet.
"I've always tried to do something that is effective when I'm on the ice," he explained to NHLPA.com. "Some games, you're not going to score a goal or get an assist. But you can do other things to help get two points for your team. That's the way I've always looked at my career."
One that saw him become the 271st player in NHL history to reach the milestone, but just the sixth to do so in a Wings jersey.
Early on in his Wings career, he was a seldom-used forward, but the man who will turn 40 next January has carved out an enviable NHL life, and one he continues to work hard at.
As for the notion of playing in 1,500 games, Holmstrom simply laughs.
"I don't think that will happen, but I have so much to be happy about," he offered. "This means a lot to me."
It also happens to mean a lot to many others, people only too happy to fete Motown's man in front of the net.
Related Content
Video: Meet the World's Toughest Directors - Player's Playbook
Kevin Shattenkirk Proud of What The Blues Have Built
Jordin Tootoo Is Hungry for More Playoff Success
Video: Ted Lindsay - NHLPA.com In-Studio