Jamie McGinn: No Looking Back , Only Forward
February 15, 2012

Bruce Bennett/Getty Images
He's endured both good times and bad throughout his NHL career, but it's never stopped Jamie McGinn from lending a helping hand to others.
His back problems have been well documented, an ailment that runs in his family. There were moments, dating back to his junior days, when simply getting out of bed was a chore.
But a winning attitude, an unfailing commitment to working through injury, and a philosophy that has him always looking ahead, has made McGinn one of the most popular players with teammates and fans alike in San Jose.
"We have such a go-go lifestyle where we always seem to be busy, but when it comes to helping out, it's all worth it," said McGinn, who was selected 36th overall by the Sharks in the 2006 NHL Entry Draft. "When you see the happiness in someone's face, in knowing they appreciate you spending some time with them, it makes you happy."
So, it was hardly a surprise to see McGinn, along with some of his teammates, step up when they made a visit to a Minnesota hospital in January, to bring a team-signed sweater to Jack Jablonski, a 16-year-old junior varsity player who was paralyzed during a game on December 30.
McGinn, who was joined by fellow Sharks Logan Couture, Joe Pavelski and Ryan Clowe, didn't have to be convinced to make the visit.
"We know that type of thing can happen, so to be able to go, talk to him and let him know we're thinking of him, it was an easy thing for us to do," said McGinn, who played four seasons of junior hockey for the Ottawa 67's of the Ontario Hockey League (OHL). "We're fortunate to have that type of connection with our fans."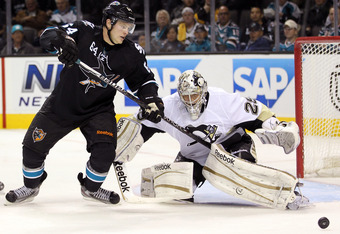 Ezra Shaw/Getty Images
McGinn, whose best OHL campaign was the 2006–07 season, in which he tallied 46 goals and 89 points, leading the team in scoring, also has a solid connection with his teammates, even if he does seem to be the target of their good-natured ribbing.
"I do seem to be the butt of their jokes, don't I?" said McGinn, whose name was mentioned several times in a 2011 video Christmas card filmed by Sharks players, who suggested various gift ideas, including the 'Jamie McGinn Game Worn Princess Suit.' "They know I can take it. They dish it out, but it's all in good fun." 
Does McGinn ever turn the tables on his teammates?
"Let's just say…yes," he offered.
That said, McGinn, who made his NHL debut on October 28, 2008, against the Pittsburgh Penguins and scored his first NHL goal on October 30 against the Detroit Red Wings, heaps praise on his fellow Sharks, including two of the team's high-profile veterans and a former NHLPA member.
"Joe Thornton was my roommate on the road," recalled McGinn. "He's a great guy, someone you can always go to. Patrick Marleau is another guy. He's Mr. San Jose Sharks, to me. He's been here for a while and you have a lot of respect for what he's accomplished. If you're going through a tough time, he'll have a conversation with you one-on-one and tell you what he does when he's dealing with a slump. It's been really helpful to me.
"(Former defenceman) Rob Blake, he's a guy I grew up admiring," continued McGinn. "He's an amazing person. Even though he's not playing, he'll still text me after a game. He'll message things like, 'nice goal' or 'good play.' That means a lot to me."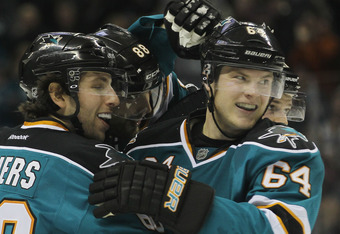 Bruce Bennett/Getty Images
Even through the most frustrating times in his career, McGinn doesn't dwell on the past.
"I'm a winner and like all the guys on this team, I want to be successful," said the native of Fergus, Ontario. "I will always work extra hard. I don't mind being in the gym early or staying late after practice to work on those small things. You never stop working in this game. You can always be better and you can always learn. I don't like to look back and have regrets. I want to look forward and be a better player."
Which is why a tough 2010-11 didn't trip up McGinn this season. 
"For whatever reason, it just wasn't happening for me last year," he noted. "I saw this year as a fresh start, a chance to work really hard."
His efforts have paid off, with 11 goals and a plus-10 rating to date, as the Sharks seek to secure an upper-tier spot in the Western Conference. 
"I want to win so badly, we all do," he said. "We're working hard leading up to the playoffs and hopefully, I can score some goals and contribute."
Helping out, whether on or off the ice, just seems to be in McGinn's nature.
Related Content
Video: Meet the World's Toughest Directors - Player's Playbook
Logan Couture: Stalking Success in San Jose
Brent Burns: An 'Abrasive' Addition in San Jose