Cleveland Browns: Predicting 2011 Roster Members Who Won't Return in 2012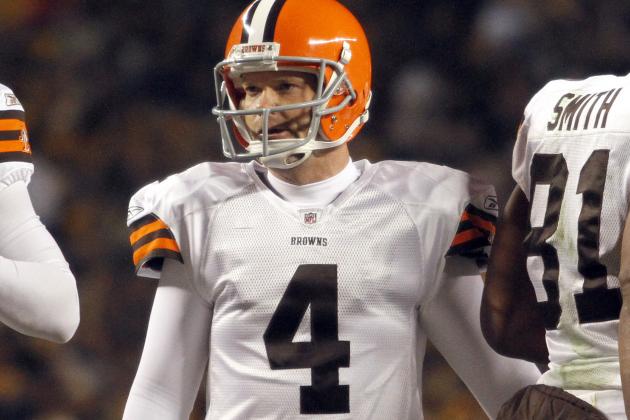 Justin K. Aller/Getty Images

With a disappointing 4-12 2011 season in the books and expectations of significant improvement running high for 2012, the Cleveland Browns have a lot of roster decisions to make this offseason.
Many of these revolve around who Cleveland wants to see wearing the orange and brown again next season—whether they relate to potential free agent targets, possible draft picks or players on the 2011 roster who the team would like to keep around.
Some of them relate to those players who were with the Browns in 2011 but might not be around at the start of 2012. Whether they're cut, traded or they walk in free agency, the Browns have a number of players from the 2011 payroll who either aren't earning their keep or who just don't make sense for the team's strategy going forward.
Some you'll miss dearly, some you'll be thrilled to see go and some you won't care one way or the other, but either way, look for the Browns to roll out their first round of cuts fairly early in the offseason.
As for the free agents, we'll probably have a pretty good idea who wants to stay and who the Browns want to keep fairly early on in the process.
Following are five players who may be wearing a different uniform when the 2012 season begins. There are far more candidates for departure than this, but these five are among the most newsworthy of those who seem likely to (or who we at least hope will) part ways with the Browns.
Begin Slideshow

»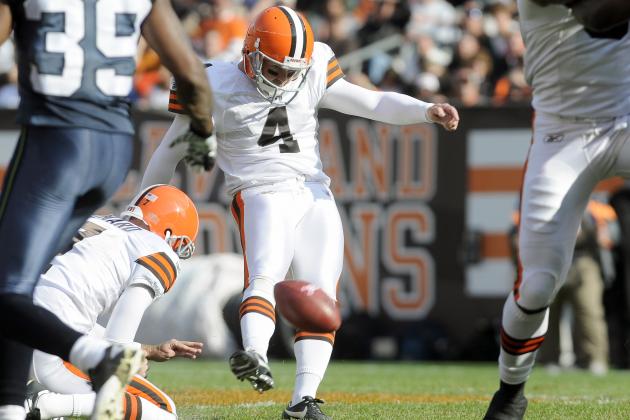 Jason Miller/Getty Images

Team-leading scorer and long-time fan favorite place kicker, Phil Dawson's last days as a Brown have likely come and gone.
No, it's not because of the game-killing missed chip-shot field goals that occurred several times this season. In fact, for the most part, those weren't even Dawson's fault.
"Laces out, Dan"...in other words, blame the holder. Or at least the long snapper.
Regardless, this isn't really a performance-driven decision. This is more about money and about moving on.
Dawson was franchised by the Browns last season. They chose to tag him rather than sign him to a long-term deal, a move that made sense for the team but probably didn't sit well with Dawson.
And while he's a great bad-weather kicker and the longest-tenured current member of the team, he's also 37 years old and fairly expensive.
With room under the cap going into free agency, a case can be made that Dawson deserves to be paid what he wants by his long-time employer.
It's debatable if Dawson would even want to stay, and it's also hard to argue that the Browns' money might be better spent elsewhere.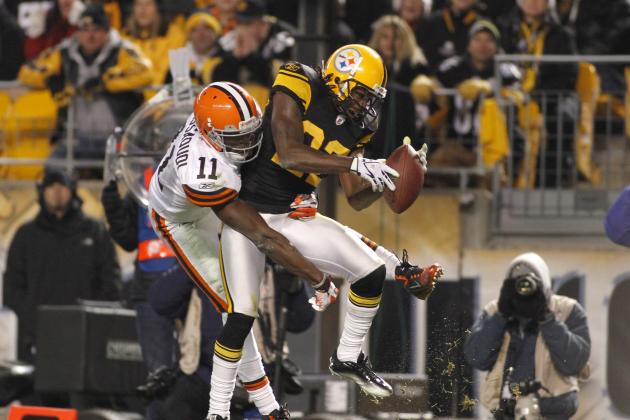 Justin K. Aller/Getty Images

Perhaps this is wishful thinking on my part, but I can't help but wonder if the Browns won't try to unload the underachieving WR Mohamed Massaquoi this offseason.
While his performance has been underwhelming in nearly every game since he was drafted, it's tough to hope for his departure with the same amount of venom that was spewed at ex-Browns WR Braylon Edwards. Edwards deserved such treatment thanks to the foul disposition that went along with his ineffectiveness on the field.
Massaquoi will never be such a villain, but he's just as ineffective on the field, and probably much worse. Massaquoi's attitude problem, if he even has one at all, is at worst laziness and a lack of focus, but his execution of pass plays on the field was downright horrendous.
Sure, he struggled with injury, but there comes a point where only the results matter, not the reasons. Whether he's concussed or just confounded by the game he plays, the bottom line is that Massaquoi has had more than enough chances to prove his worth, and he hasn't been able to do it.
Massaquoi is signed through 2012 and won't be eligible for free agency until 2013, so the Browns would have to either find a suitable trading partner for him or be willing to just cut him loose.
I'm sure if the Browns were offered even a small useful piece in exchange for MoMass, they would jump at the chance. I very much doubt they would be willing to straight-up cut him for fear he would walk away and suddenly figure out how to catch after being signed by another team.
Since it's unlikely that the Browns would be offered much in return for him in trade, Massaquoi will likely play out his contract as a third or fourth receiver, but if the Browns do get even a halfway-decent offer, MoMass would be gone in a heartbeat.
Matt Sullivan/Getty Images

Unfortunately for those of us who are sick of hearing backup QB Seneca Wallace whine and of watching him passive-aggressively attempt to internally sabotage the team at quarterback, Wallace won't be an easy guy to move if the Browns are looking to get rid of him.
Wallace has more than shown—through his whining about not getting the starting job over McCoy to his spiteful refusals to mentor him—that he has no interest in being a team player or even just a halfway-decent guy.
That combined with the fact that he has marginal value as a football player will make him difficult to move.
The Browns would likely have to trade him to get rid of him, and that will be tougher than it seems.
True, Wallace is generally regarded as a decent backup, but as a starter he's been awful, which doesn't bode well for any team looking to pick up a guy they think might actually need to play due to a potential injury to their starter.
And since most teams are surely aware that Wallace has emphatically declared that he wants to be a starter (pause for laughter), he has effectively narrowed his own market to zero interested parties.
The Browns could cut him of course, but that would likely come only if the Browns pick up an additional QB in either free agency or the early rounds of the draft, which would in theory put the new guy in the starter's role, McCoy in the backup role (or vice versa, if it's a draftee who isn't ready for NFL action), Thaddeus Lewis in the third string role again, and Wallace on the side of the road wearing a sign that says "Free to good home".
Skill-wise, Wallace probably isn't enough of a liability to just cut him loose for nothing, but given his attitude and severe lacking as a teammate, it's possible the Browns could let him walk if they can't trade him.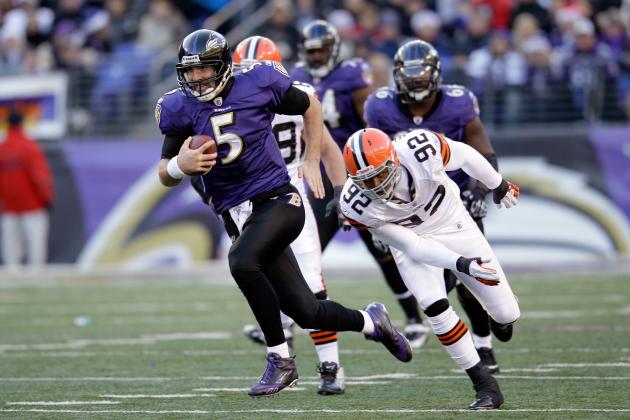 Rob Carr/Getty Images

There's nothing terrible about RDE Jayme Mitchell; there just isn't anything particularly great about him either.
Mitchell, while far from incompetent, has been one of the few underachievers in the Browns front seven. He has unfortunately shown that he doesn't have what it takes to be part of the long-term plan.
Coach Shurmur has already openly admitted that the Browns will be seeking an upgrade at RDE in 2012. When discussing the Browns defensive line, he was quoted as saying, "With [Ahtyba] Rubin, [Phil] Taylor and [Jabaal] Sheard, we think we solidified those three spots pretty well."
Mitchell's name was conspicuously the only one absent.
Mitchell will make $2.4M in 2012 and will be a free agent in 2013, but he might have some trade value if the Browns do want to move him. He does also have some value as a backup, something Cleveland might want to consider given their serious depth issues.
I wouldn't argue against keeping Mitchell around as a second-string option, but if a decent offer came around, I wouldn't hesitate to move him.
It seems unlikely, given how he played in 2011, that he could pull in a great offer, but there is a chance a 3-4 team might pick him up. In retrospect, after the Browns switched schemes at the start of 2011, some thought Mitchell could be better suited to a 3-4 rather than a 4-3.
Personally, I'm not sure i think Mitchell would perform all that much better in a 3-4, but if another team wants to take that chance, I'd gladly let them take Mitchell and test their theory for the right price.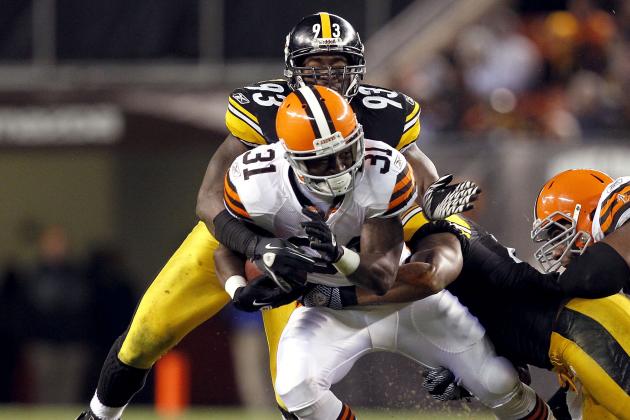 Matt Sullivan/Getty Images

Nobody's Favorite Running Back, aka Montario Hardesty, was once again hyped for his potential prior to the start of 2011 and once again proceeded to literally fall apart in the face of the pressure.
He topped all previous injury mishaps around midseason, this time hurting himself during warmups on the sideline.
While he did at least make it into the regular season this year, you can argue that this is even worse than when he hurt himself in the preseason the year before and put himself on the IR for his entire rookie campaign.
Or maybe it isn't any worse. Regardless, the fact remains that the Browns traded up in the 2010 draft for a running back who, as it turned out, had the knees of a 90-year-old dating back to somewhere around the age of 19.
The Browns don't have huge motivation to get rid of Hardesty by trading him, as his value to another team would be about the same as a broken tackling dummy.
Someone might take a chance on a guy like Massaquoi who had (pardon the sarcasm) those, oh, three good games in a row once. That's not likely to be the case for Hardesty, who is has a better chance of falling out of bed and breaking all his limbs than to making it through three games in one piece while also putting up decent stats.
That means to ditch him, the Browns would likely have to cut him. Financially, that doesn't make a ton of sense, since at least Hardesty is cheap to own, but at some point the Browns need to realize that a guy who will likely never have any real value taking up a roster spot is just as big a liability as the cash would be.
There are those out there who still have faith that Hardesty can make something of himself. Talent-wise, the potential is absolutely there, but health-wise, the odds are terrible.
I would be happy to be wrong and see Hardesty turn into a solid contributing member of the team, but in the end, his absence will likely be worth more to the Browns than his presence, even if it's just to free up the roster spot.