10 Most Hostile World Football Stadiums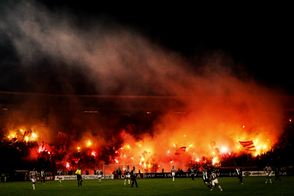 Dedicated and passionate fans are the ones who turn a club's stadium into a fortress.
The unwavering support, the chanting and the hostility toward the away team give the home side a psychological advantage.
Six FIFA World Cup hosts won the tournament in part due to home-field advantage.
This article will list the top most hostile football stadiums.
This list isn't exhaustive, so feel free to comment below with alternative examples.
Begin Slideshow

»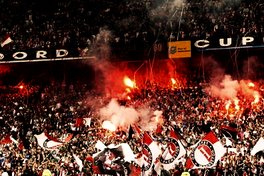 That infamous photo of a Feyenoord toddler flipping someone off sums up the Het Legioen in a nutshell.
In four years time, Feyenoord may have a new stadium with an estimated capacity of 80,000-plus.
Gerry and the Pacemakers' 1963 hit "You'll Never Walk Alone" has become the hallmark anthem sung by Liverpool supporters.
Can you imagine the Kop in the 1970s in the heyday of Liverpool?
We're talking about Bill Shankly leading the club to 21 straight home victories.
Last year, Liverpool supporters were officially named the loudest supporters in the Premier League, measuring at 97 decibels.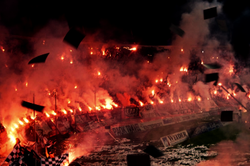 A month ago, PAOK supporters disregarded the fact that the club needed to balance the books and invaded the pitch, which led to president Theodoros Zagorakis resigning.
PAOK supporters are vociferous and emotional in their support for their club.
Black hell would be an accurate description of what away teams have to endure when PAOK are playing well.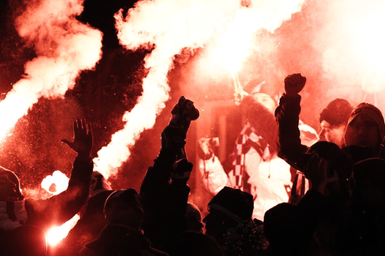 Several years ago, Manchester United were greeted with 132 decibels of noise generated by the Beşiktaş faithful.
Then-Manchester United goalkeeper Ben Foster said: "It was deafening. There was a point in the second half when I couldn't hear myself think; it was that loud."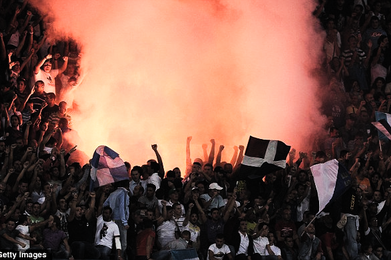 The Stadio San Paolo may not be the biggest stadium in Italy, but it certainly is one of the loudest.
Chelsea will find that out when they travel there in a week's time.
During the 1990 FIFA World Cup, the Naples supporters effectively barracked for Argentina, such was their love for Diego Maradona.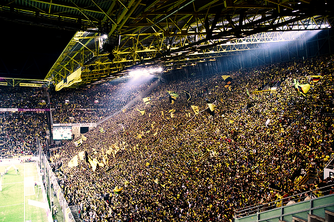 The Westfalenstadion is a stadium designed to magnify the atmosphere.
With the three M's—Mats Hummels, Mario Götze and Marco Reus—Borussia Dortmund supporters should be breaking decibel records next season.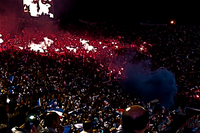 The Estadio Centenario plays host to Uruguay's version of El Clásico between Nacional and Peñarol. This is an intense rivalry further heightened by Nacional's roots in Uruguayan nationalism.
When the Australians attempted to bypass Uruguay in order to qualify for the 2002 FIFA World Cup, they had to get a result at the Centenario.
What they received was vitriol of the highest order from the Uruguayans.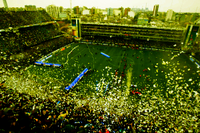 The design of La Bombonera is unique to say the least.
It's a D-shaped stadium that has fostered such a dynamic atmosphere.
Just watch a El Superclásico and you'll get the idea.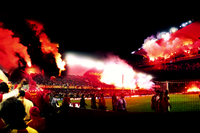 Prior to upgrading into a bigger stadium, Galatasaray supporters blew away teams away with their loudness at the small Ali Sami Yen Stadium.
The fact you could actually hear the chants through your television indicated how boisterous Galatasaray supporters were.
Their new stadium, the Ali Sami Yen Spor Kompleksi or Türk Telekom Arena, is a world-class stadium that can hold 52,652 people.
Is it a surprise that the Galatasaray supporters broke the Guinness World Record for loudest roar?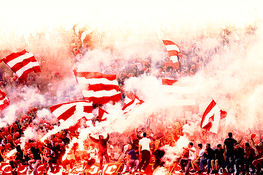 Serbians are the most passionate, most vocal and most dangerous supporters I've ever come across.
It's as if most Serbians take it personally when it comes to supporting.
The best way to explain what I mean is with the tragic death of basketballer Dražen Petrović. A Yugoslav man came up to Petrović's mother and said: "Don't be sad; you gave birth to him, but he is ours."
Just think back to Slobodan Milošević and how much passion, hatred and violence there would have been in games between Red Star Belgrade and Dinamo Zagreb.
Even nowadays, when I watch highlights of Red Star's games, the first thing you notice is their ardent supporters.
Please read 2012 Africa Cup of Nations Team of the Tournament.
Follow me @ http://twitter.com/allanjiangLIVE.