Chicago Blackhawks: Where Has the Offense Gone During 9-Game Losing Streak
February 15, 2012

Christian Petersen/Getty Images
A lot of people have blamed the Blackhawks' recent struggles on poor defense and bad goaltending. Some have blamed their awful special teams.
But what about the offense?
Before the NHL broke for their annual All-Star Game, the Hawks were flying high. They were averaging 3.16 goals a game that tied them with Vancouver for third in the league.
However, since the All-Star Game it has been a very different story.
Since the break, the Hawks have averaged only two goals a game—which may explain why they are on their current nine-game losing streak. They are tied for 25th in the league since the break. 
If we include the two losses before the break, it is even worse. The Hawks have only scored 15 goals during their nine-game losing streak for an average of 1.67 goals per game.
During this current losing streak they have been shut out once and held to one goal twice. They have only scored more than two goals twice in that span. Actually, the Hawks haven't had a back-to-back game where they have scored more than two goals since January 18 and 20.
Who is to blame for their scoring problems?
Marian Hossa just tallied his first point of the road trip against Nashville. He has had three goals and an assist during the losing streak.
Patrick Kane has had one goal and three assists on the current streak, and he has been held pointless for the last three games.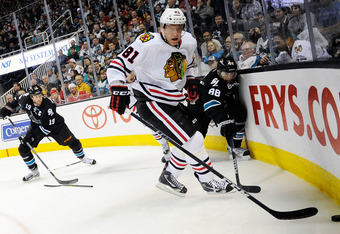 Thearon W. Henderson/Getty Images
Jonathan Toews missed the first two games of the losing streak, but only has two assists in the last seven games. He has been held without a point in the last five games.
Patrick Sharp has been the only member of the big four to produce. During the road trip he has had two goals and four assists.
As for the secondary scoring, Dave Bolland and Viktor Stalberg have combined for three goals and two assists.
Now it is true that these six have scored 11 of the 15 goals during this losing streak, but they are not showing up on a nightly basis. 
While Patrick Sharp has six points in the last seven games, four of those points came in two games giving him two points in the other five. He and Bolland got three of the four goals against Edmonton.
None of the top six were part of the three-goal outburst against San Jose.
Things have gotten so bad that coach Joel Quenneville went to his fail safe, with Toews, Kane and Sharp together, on Tuesday—but that didn't even work. The "super" line, as some people call it, wasn't so super.
Maybe we should have seen the struggles coming when Jimmy Hayes and Andrew Shaw were scoring nine goals and carrying the team through to the middle of January. 
Maybe this team could use a spark from the AHL to wake them up.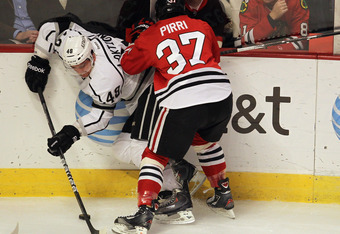 Jonathan Daniel/Getty Images
They keep saying that they are looking for a second-line center. Maybe it's time to give Brandon Pirri a chance. He had 45 points in 48 games for Rockford. He also had two goals in five games up with the Hawks.
What about last year's rookie surprise, Ben Smith?
While Smith hasn't done much in Chicago this season, he has done plenty in Rockford. In 29 games, he has had 27 points including 14 goals. He played well with Toews and Kane last season, so why not try it again?
Adding either or both of those guys could provide a spark that could maybe get this team back on track.
Another way might be to finally look at the giant elephant in the room—then why not put Sharp back at center?
He has seen plenty of time there. While he might be better playing on the wing opposite Hossa or Kane, he has done plenty well in the middle.
And if all else fails, the best way to fix this offense is to start taking advantage of the power-play chances. They have only taken advantage once in their last 24 chances.
Whatever the answer is they better figure it out quick, otherwise this losing streak might not have an end in sight.
Make sure to follow me on Twitter @dachicagofan, and check out my weekly Hawks podcast every Friday on my site The MG Experience.