Jeremy Lin: Why the Harvard Grad Won't Keep His Hot Streak Alive
February 15, 2012

Chris Chambers/Getty Images
The world is raving about Jeremy Lin and his current streak of 25-point and seven-assist games, while his New York Knicks continue on their six-game winning streak.
The Harvard grad may be playing like a man possessed as of late, but the time for Lin to come back to earth and back to his role as a bench player or role player, at best—has finally come.
Lin finally hit his peak after hitting the game winner against a 9-21 Toronto Raptors team in only his second game away from "The Garden."
The second-year rookie has had his time in the limelight. He has done so averaging nearly 12 points, four assists and two rebounds so far this year.
Lin has had a stellar beginning to his season after nearly being cut by the Knicks weeks ago, but has done so against teams such as the sub-.500 teams of the Minnesota Timberwolves, Washington Wizards and the now-.500 Utah Jazz. Along with those less-than-impressive wins, Lin has beaten an elderly combo of Derek Fisher and Steve Blake for 38 points, seven assists and four rebounds—but he hasn't really proved anything against some of the elite point guards of the NBA.
Along with some of the higher-class point guards of the NBA waiting to welcome Lin to the league, his usual 16 points, 4.5 assists and four rebounds a game in his senior year of his Crimson career still awaits him.
Sure the Lin that couldn't average three points a game in Golden State is still left in the 23-year-old phenom, but just wait for the actual star of New York to return.
Carmelo Anthony has yet to hit the hardwood with Lin after averaging 22 points, four assists and six rebounds in the previous games before Lin even got a chance to try and enforce any sort of offense, which wasn't relevant in Anthony's February 4 appearance.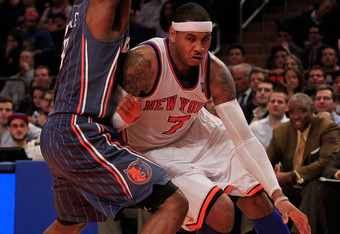 Chris Trotman/Getty Images
This side-show may have done some impressive things as of late, but fans can be assured that this stand out of an Ivy League Harvard squad will finally return to his place as a mere role player before getting any spot on an All-Star roster.
Teams will eventually start planning their defensive schemes in order to stop Lin, but not before head coach Mike D'Antoni will have to deal with the tough decision (not really) of choosing between Anthony or Lin.
Lin will return to his ways of mediocrity once he has less looks at the rim and the world will finally be balanced again upon Anthony's arrival.
You can bank on that.