2012 NFL Draft: 5 Running Backs the Indianapolis Colts Must Target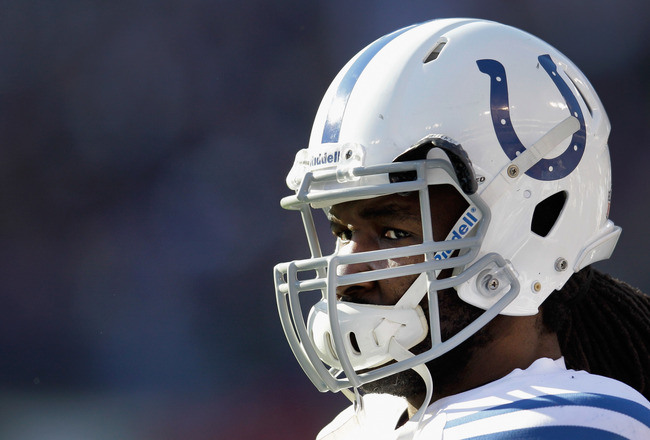 Rob Carr/Getty Images
Indianapolis Colts fans can tell you quickly when the running game started going downhill. It was the day Edgerinn James left for Arizona. Bill Polian and company decided Joseph Addai and Dominic Rhodes were enough to carry the load in Indy.
While it worked out at first, with the Colts winning the Super Bowl in Addai's rookie year, the long-term effects are still being seen.
Addai appears unable to stay healthy, missing 17 games over the last four years. His productivity has slumped, too. He's averaged over four yards per carry only once in the last four seasons, and he only played in eight contests that season (2010). He hasn't topped 1000 rushing yards since 2007 despite playing in 15 games during the Colts' 2009 Super Bowl season.
He just hasn't been the player the Colts were hoping for when they took him in the first round of the 2006 NFL draft.
Fellow number one draft pick Donald Brown flashed some potential this year. Not only did he stay healthy the entire year, but he averaged a very respectable 4.8 yards per carry. This is slightly misleading, as he did have a run of 80 yards, which was over 12% of his total rushing yardage. Take that run away and he still managed a decent 4.2 YPC.
2011 rookie running back Delone Carter did not perform as well as expected. The Colts drafted Carter as something of a goal-line back. At 5'9" and 225 lbs., Carter was expected to blast his way to at least a handful of scores. Instead, he averaged a paltry 3.7 YPC and had only two trips to the end zone. To make matters worse, the rookie lost three fumbles in only 101 carries.
The Colts should not give up on any of these backs just yet. However, time is running out for Addai to prove himself a valuable commodity.
Though running back is hardly a top need of the Colts heading into the 2012 draft, it is a position whose value has greatly risen later in the draft in recent years.
More and more backs are slipping deeper into the draft because of teams' unwillingness to spend high draft picks on players whose shelf life is significantly lower than that of other positions.
The vast majority of teams are now invested in a committee of running backs, including the Colts. However, the Colts committee needs a shot in the arm.
Here are a few backs that could help add some sizzle to the Colts backfield.
David Wilson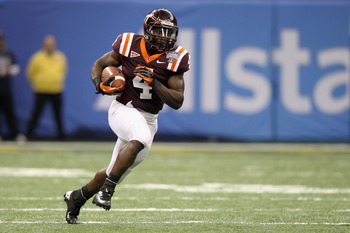 Matthew Stockman/Getty Images
In his first and only year as the starting tailback for the Virginia Tech Hokies, David Wilson was the ACC Player of the Year. He averaged 5.9 YPC and totaled over 1700 yards, along with his nine scores.
Wilson relies heavily on his speed and shiftiness in the open field. He is a speedy runner who is also capable of lowering his pads and fighting for extra yardage. He may be slightly undersized among starting NFL halfbacks, but he could look to add some weight between now and the combine.
He has had some issues with fumbling, putting the ball on the ground seven times in 2011. There is certainly some concern with that.
He also failed to show up in big games. Wilson earned only 32 yards in the ACC Championship and only 82 yards on 24 carries against the Michigan Wolverines in the Allstate Sugar Bowl. He didn't score in either game.
If the Colts can pick up this dynamic runner with the first pick in the third round, they will have themselves a very decent steal.
LaMichael James
Stephen Dunn/Getty Images
LaMichael James is a ridiculous talent that shouldn't even be mentioned on this list.
But the NFL doesn't like little guys.
Fact is, the ultra-productive James could well find his way to the third round, or even later. Despite accumulating over 1700 rushing yards in back-to-back seasons, along with almost 40 rushing touchdowns, James may see his stock falling due to concerns about size and durability.
With NFL scouts concerned, he would be thrashed in the pros, he did nothing to alleviate their anxiety when he dislocated his elbow midway through the 2011 campaign.
James can be a playmaker at the next level, a la Darren Sproles, but he almost certainly won't be drafted as high as his talent indicates he should be.
The Colts could end up taking him in the third round, but he may be too much of a luxury at that price. If he slips to the fourth, though, they should pull the trigger.
With the offense depleted of athleticism and mismatches, James' speed makes him an attractive choice for the Colts.
Vick Ballard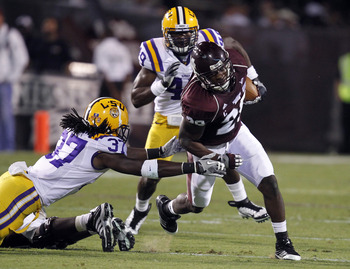 Butch Dill/Getty Images
Vick Ballard could be everything Delone Carter was meant to be and more.
Playing in the highly regarded SEC, Ballard faced top-notch defenses on a weakly basis. Teams completely sold out to stop Ballard, daring Mississippi State to beat them with their passing game.
Not to be deterred, Ballard still averaged a monstrous 6.1 YPC, with 1189 rushing yards and 10 touchdowns. He also showed a decent ability to catch the ball out of the backfield, recording 20 catches in 2011.
I'm not saying Ballard is going to be some special talent, but if Indianapolis can scoop him up in the fifth or sixth round, they will have some quality competition for goal-line and short-yardage situations.
Cyrus Gray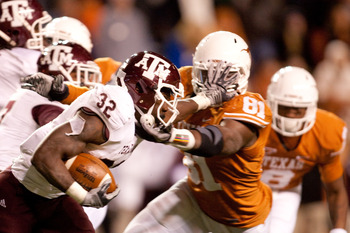 Darren Carroll/Getty Images
Cyrus Gray will probably never be a lead back in the NFL. He doesn't have the size.
But as change of pace or third-down back, he certainly has a chance.
He carried the bulk of the load at Texas A&M over the past two seasons, tallying over 1000 yards in each campaign. During his collegiate career he amassed 72 receptions for 537 yards and three scores.
He's just a little bit of everything.
Despite his production and durability, Gray is projected as a third-fourth round draft pick.
I personally think the third round would be a stretch for a team with as many needs as the Colts have. If they can get him in the fourth, though, I wouldn't mind that at all.
Chris Rainey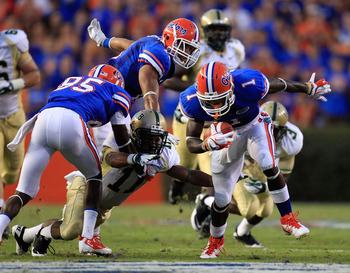 Sam Greenwood/Getty Images
The next Percy Harvin never quite turned into the next Percy Harvin.
Injuries and off-the-field issues hampered Rainey throughout his career and never allowed him to get comfortable on the field for an extended stretch.
But Rainey has two things going for him: athleticism and versatility.
Rainey lined up at both wideout and tailback for the Florida Gators. He returned punts and kicks. He even had an extremely impressive talent for blocking kicks, recording six of them for the Gators.
There's no question Colts could use a multipurpose weapon like Rainey on the squad. The question will be if the risk is worth the reward. His rather creepy off-the-field problems could be a concern, and his injury history is certainly something to consider.
If all the Colts got out of Rainey was some above-average special teams play, he'd be worth the sixth round pick they'd probably be using to get him. They haven't had a decent returner in years.
Keep Reading

Indianapolis Colts: Like this team?