Little-Known Rule Means the New York Knicks Will Not Lose Jeremy Lin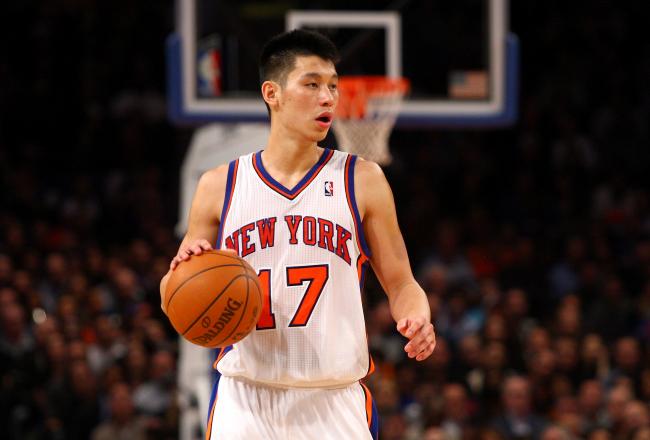 Jeremy Lin's going to be wearing that same jersey for years to come.
Chris Chambers/Getty Images
As good as Jeremy Lin has been recently, some Knicks fans have seen reason to worry. They aren't concerned about how he's playing, but rather about how long the young point guard will remain with their team.
After solidifying himself as a talented prospect with legitimate potential, many Knicks fans are now concerned that Lin, who becomes a free agent after this season, may leave their team for a nice contract elsewhere.
While Lin seems like a pretty loyal guy, it's not hard to imagine Lin looking to cash in on a nice pay day. Last week, it was revealed that Lin lives in his brother's apartment and sleeps on the couch. It seems pretty logical that Lin would want some extra cash in his next contract, but for obvious reasons, Knicks fans will not want to see him leave.
However, the Knicks' financial situation is not a very flexible one, due in large part to the contracts of Carmelo Anthony, Amar'e Stoudemire and Tyson Chandler. Knicks fan have a right to be concerned, as the prospect of losing Lin is a pretty daunting one. Immediately, one thinks back to when guys like Toney Douglas and Iman Shumpert were starting at point guard.
Rest easy Knicks faithful. Gilbert Arenas has got your back.
How, you may wonder? Arenas has never been affiliated with the Knicks in any way. However, because of something he did in his early years in the league, the "Gilbert Arenas Rule" was institutionalized in the subsequent Collective Bargaining Agreement (2005).
In 2003, Arenas was a restricted free agent, meaning the team that held his rights (the Golden State Warriors) had the right to match any offer sheets he was given. However, Arenas was poached from the Warriors by the Washington Wizards after the Wizards offered Arenas a six-year, $60 million contract which the Warriors could not match because they were over the salary cap.
In the CBA negotiations two years later, this kind of a poaching was eliminated through the creation of the Gilbert Arenas Rule. The rule prevents teams from offering contracts over the average salary to a restricted free agent with two years of NBA experience or less. The team with the player's rights were allowed to use the Mid-level Exception or the Early Bird Exception to retain the player.
What this means in the case of Jeremy Lin is that the Knicks can use their Mid-level Exception to match any offers Lin gets, since the most he'll be able to get is equivalent to the Mid-level Exception, or $5 million.
So worry not, Knicks fans. If there were interest from other teams in nabbing Lin from the Knicks, the Gilbert Arenas Rule means that the Knicks are fully capable of keeping him. Lin's not going anywhere, folks.
This article is
What is the duplicate article?
Why is this article offensive?
Where is this article plagiarized from?
Why is this article poorly edited?

New York Knicks: Like this team?