2012 NFL Free Agents: Predicting the Outcome of Every St. Louis Rams Free Agent
Dilip Vishwanat/Getty Images

With the St. Louis Rams entering the offseason after one of the most disappointing years in recent memory, it's easy for fans to get swept up in the discussion of free agency.
It's the adult version of Christmas when fans formulate wish lists—one new Jahri Evans, please. Maybe a Vincent Jackson too?
Most of the lofty requests are the equivalent of a young girl asking for a real life unicorn. In reality, we'll get a Jason Jones, maybe a Cortland Finnegan if we've been really good this year.
But as we picture the newest members of the team taking the field in September, we sometimes forget that the Rams have a few free agents of their own entering the market.
Sometimes we assume that all of the faces we saw in 2011 will be back on the field, but that won't be the case. If the Rams are not careful, they'll allow the wrong talent to slip away and end up worse off than before.
So let's take a look at the Rams free agents and predict each outcome.
Begin Slideshow

»
Chris Graythen/Getty Images

Danny Amendola is a restricted free agent, meaning teams can sign him only if they're willing to give the Rams a draft pick as compensation. He'll be the only restricted free agent we mention, simply because he's the only player good enough to actually convince a team to surrender a draft pick. Although, it's still unlikely.
Amendola missed basically the entire 2011 season with a dislocated elbow (via NBC Sports), but he is still a major piece to the puzzle.
In 2010, Amendola led the NFL in all-purpose yards (2,364) and led all Rams receivers in receptions (85).
When Amendola returns to action, he'll provide a major boost to the offense due to his unquestioned ability to move the chains, which is something the Rams struggled with in 2011.
If he can have another productive year in 2012, expect the Rams to lock him up with a multi-year deal.
Prediction
It's doubtful that any team will sign Amendola as a restricted free agent due to his injury, so the Rams will let his 2012 season play out and take it from there.
Layne Murdoch/Getty Images

Re-signing free agent Brandon Lloyd is undoubtedly the Rams' top priority this offseason.
Lloyd was the team's top receiver in 2011 with 51 catches for 683 yards in only 10 starts, and he was clearly the only viable receiving option for young quarterback Sam Bradford.
It's possible that Lloyd will follow McDaniels to New England to replace the under-performing Chad Ochocinco, but then again the Patriots rarely make noise in free agency.
The bottom line is that Lloyd wants a permanent home.
Lloyd ultimately left Denver because they did not appreciate him as the dominate receiver that he is. In St. Louis, however, there is nothing but appreciation for his contributions, which means he'll stay if he's reasonably compensated.
Prediction
The Rams will re-sign Lloyd to a four-year deal that comes loaded with incentives.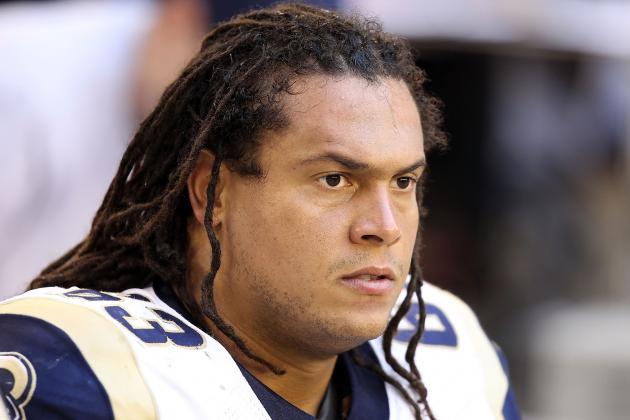 Christian Petersen/Getty Images

In 2008, the Rams signed Jacob Bell to a six-year deal worth $36 million, but he has failed to live up to his status as a high-priced free agent.
Prior to the 2011 season, the Rams restructured his contract into a one-year deal, which makes him a free agent this offseason.
Bell played under coach Jeff Fisher in Tennessee to start his career, so there's a chance Fisher will be willing to give Bell another shot under his watch.
The Rams certainly need help on the offensive line, but they can't afford to cut loose multiple starters in a single offseason, which means there's a chance Bell will return.
Prediction
The Rams sign Bell to a low-cost contract for one year with incentives.
Chris Graythen/Getty Images

James Butler was signed in free agency prior to the 2009 season, but his days with the Rams are likely numbered.
Butler was brought on board because played under former coach Steve Spagnuolo during their time together with the New York Giants. He had experience in that defensive system and Spagnuolo was familiar with his abilities as a player.
However, now that Spagnuolo is gone, there is simply no logical reason to retain Butler for another year.
Quintin Mikell and Darian Stewart are locked in as the starting safeties, leaving no hope for Butler to be anything other than a backup.
Prediction
Bulter will not be re-signed.
Whitney Curtis/Getty Images

Chris Chamberlain has started 19 total games over the past two seasons and has been wildly inconsistent as a starter.
At times he can be efficient playing alongside James Laurinaitis, while other times he is absolutely massacred when it comes to run defense. However, the four-year veteran is not generally thought of as a starter. His real value comes from his special teams play, which is typically above average.
The Rams will be looking for some starting linebackers this offseason, but that doesn't mean Chamberlain can't offer production in other aspects.
Prediction
The Rams will re-sign Chamberlain to a cheap one-year deal.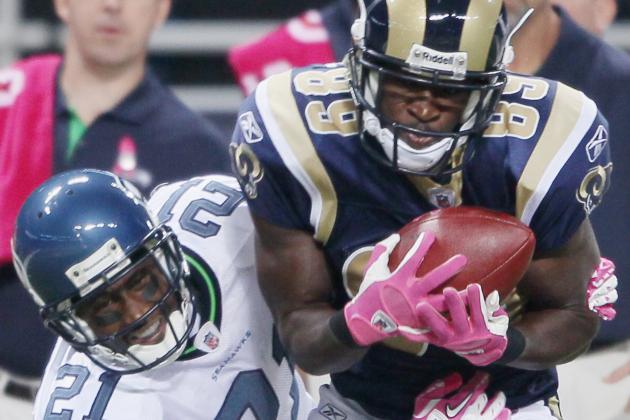 Elsa/Getty Images

Mark Clayton came on surprisingly strong during his first season with the Rams in 2010, as he pulled in 23 receptions for 306 yards and two touchdowns in his first five games before injuring his knee.
Clayton attempted a comeback in 2011, but after appearing in just two games he was put on injury reserve in order to save the roster spot (via NBC Sports).
With his inability to stay on the field, the Rams will likely look elsewhere for help at the receiver position.
Ideally, the Rams need to re-sign Brandon Lloyd and draft a receiver, but if they fail to complete either of those objectives, then there's still a slim chance that Clayton will return.
Prediction
Clayton will not be re-signed.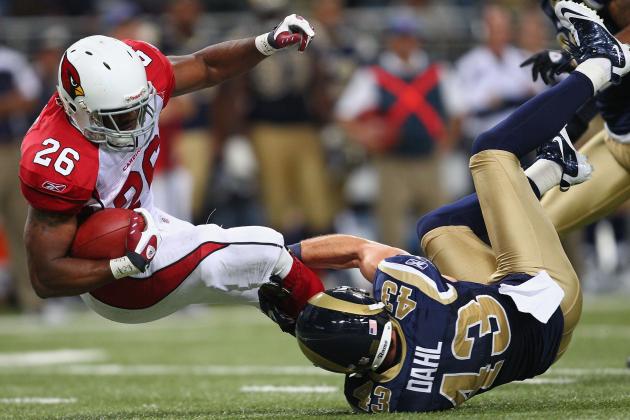 Dilip Vishwanat/Getty Images

Craig Dahl has been with the Rams for the last three seasons and has started in 24 total games during that time.
Dahl is a capable tackler and an asset in run defense, but he is a clear liability in pass coverage.
The Rams have both starting safety positions solidified, but there is still a need for a capable backup with some experience, which would make Dahl ideal for that role.
Prediction
Dahl will be re-signed to a minimal two-year deal.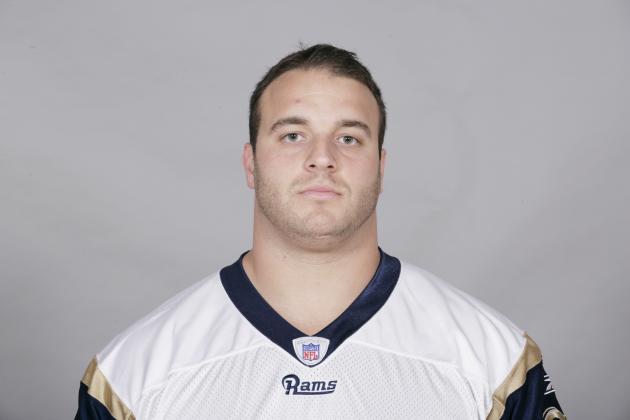 NFL Photos/Getty Images

Gary Gibson started all 16 games for the Rams in 2010, but he only had one start in 2011 after the team signed Justin Bannan.
Coach Fisher will surely be looking for help at defensive tackle in the offseason, which will likely result in multiple players being brought in through the draft and free agency. Also, with Bannan and Fred Robbins already under contract, there will not be a lot of room on the roster for an under-performing lineman such as Gibson.
Prediction
Fisher will bring a herd of defensive tackles into training camp, which means the Rams will not re-sign Gibson.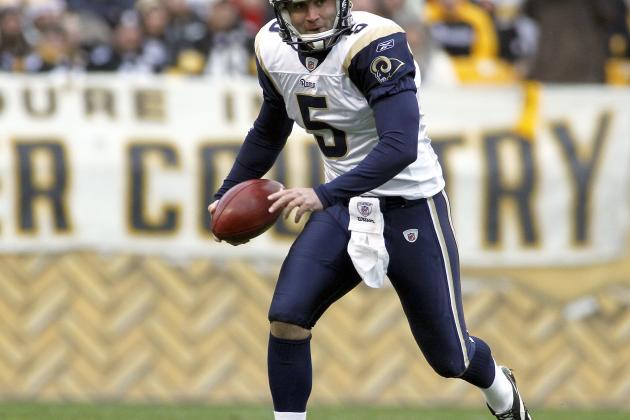 Justin K. Aller/Getty Images

Punter Donnie Jones was once thought of as one of the more overlooked players on the Rams due to his special teams value, but that's no longer the case.
Jones averaged 50.0 yards per punt in 2008, but that average has steadily decreased to just 44.3 in 2011.
There's a chance that Jones will be brought back due to the familiarity he would provide on special teams. However, there's likely a cheaper option out there.
Prediction
Jones makes a veteran's salary, so the Rams will opt for a younger punter in order to save money for more pressing needs.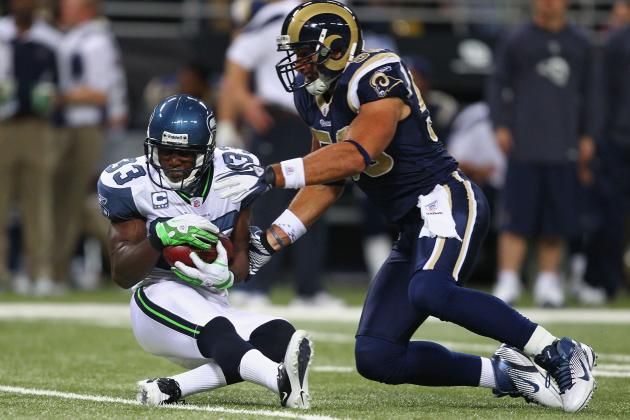 Dilip Vishwanat/Getty Images

Bryan Kehl has been with St. Louis for two seasons now but has only started two games.
Kehl has been on the field during some of the defense's best football, like their win over New Orleans in 2011, so it's odd that he was kept on the bench while the other linebackers struggled to produce.
However, even though the team is thin at the position, Kehl will not likely be back in 2011.
Kehl played the first three seasons of his career with the New York Giants under Steve Spagnuolo, which is the only reason he was signed in the first place. With Fisher running the show, he'll likely bring in his own equally talented linebackers who adequately fit his system, leaving Kehl out of luck.
Prediction
Kehl will not be re-signed.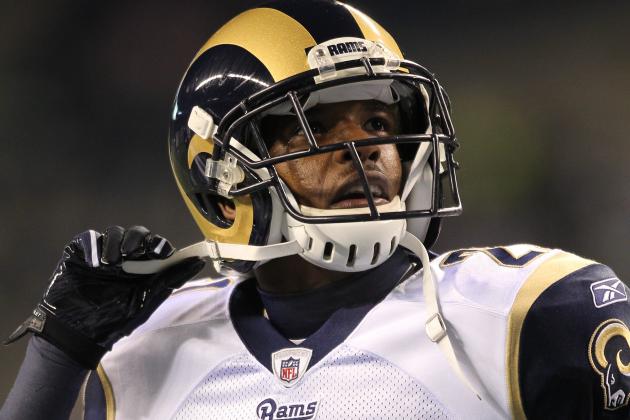 Otto Greule Jr/Getty Images

Justin King took a lot of heat for his infamous game against Baltimore, where he got scorched for three touchdowns in the first quarter alone. King continued to struggle in the following weeks, but he eventually settled down and began to play at a higher level.
The thing is, the media bombarded King after the Baltimore game because his failure was an attractive story. However, the media generally ignored his improvements down the stretch because it's easier to belittle than to acknowledge something positive.
King gained some much-needed experience during the 2011 season and he gained it the hard way.
Now that he has that experience under his belt, the Rams could do a lot worse for a No. 4 or No. 5 corner.
Prediction
Regardless of his improvements, there's still a much better chance that the team will let him walk rather than re-sign him.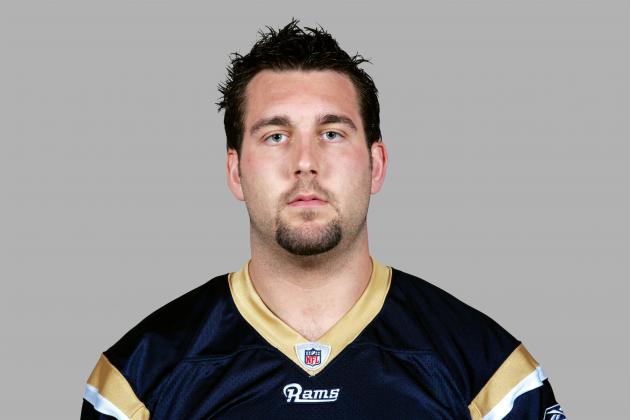 Getty Images/Getty Images

Mark LeVoir began the 2011 season with the Baltimore Ravens but was picked up by the Rams after being cut.
The Rams claimed LeVoir out of necessity after losing right tackle Jason Smith for the season, but he didn't see playing time until Rodger Saffold was placed on injury reserve in November.
LeVoir started in both games against Seattle, as well as the season finale against the San Francisco 49ers. The Rams lost all three games.
LeVoir was signed due to his three years of experience in Josh McDaniels' system, but newly hired offense coordinator Brian Schottenheimer will likely recruit an alternative backup who specifically fits into his scheme.
Prediction
LeVoir will not be re-signed.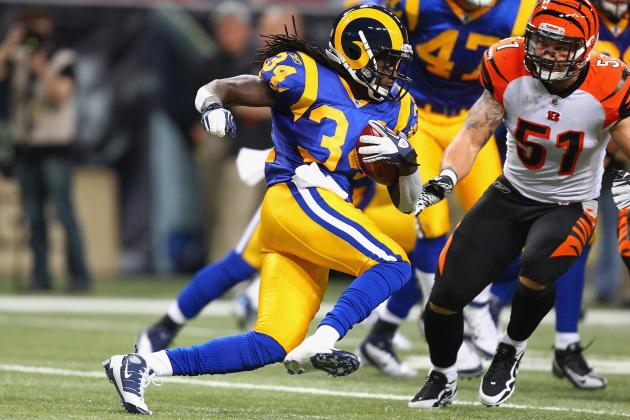 Dilip Vishwanat/Getty Images

Jerious Norwood was signed last offseason as a "change of pace" running back capable of relieving Steven Jackson on third down.
His electrifying speed was expected to add a crucial element to both the offense and on special teams.
However, Norwood was used very sparingly after struggling with injuries, which has been a recurring theme throughout his career.
Norwood has missed 27 total games over the last three years, so while his potential is alluring, it's probably safe to say that the Rams won't waste a roster spot on a player incapable of staying on the field.
Prediction
Norwood will not be re-signed.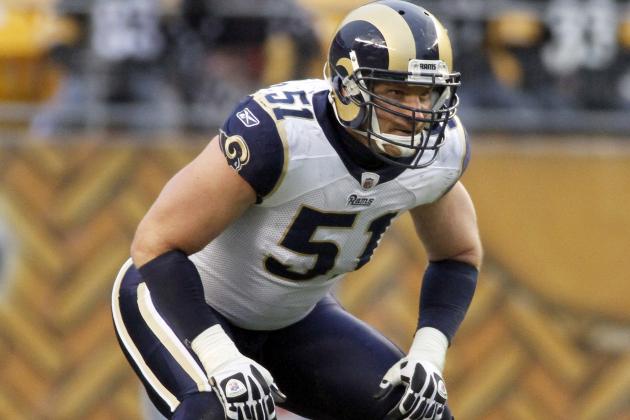 Justin K. Aller/Getty Images

Brady Poppinga was brought over from Green Bay in an attempt to solidify a linebacking core that was severely lacking talent.
Instead of going "young and fast," the Rams felt more comfortable with "slow and experienced," but they ultimately payed the price last season after ranking 31st in the NFL in run defense.
Overall, Poppinga was a liability on the field and he must be replaced in 2012 if the Rams want to take their defense to the next level.
Prediction
Poppinga will not be re-signed.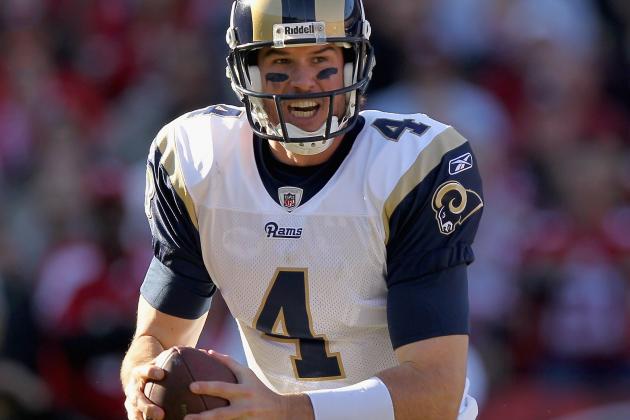 Ezra Shaw/Getty Images

A.J. Feeley has been Bradford's backup for the past two seasons, but he no longer makes sense as the team's No. 2 quarterback.
Feeley was signed due to his experience in Pat Shurmur's offense from his time in Philadelphia, but now that the Rams are two years removed from that system, there's no reason to retain the 34-year-old.
There's a slim chance that Feeley will be brought back if the coaches consider him valuable to Bradford as a mentor, but that's highly unlikely.
Prediction
Feeley will not be re-signed.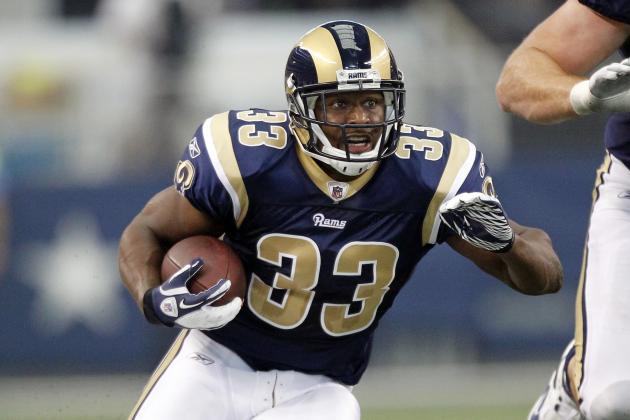 Layne Murdoch/Getty Images

Cadillac Williams was signed because he is a more well-rounded back, as opposed to Norwood, who is more of a "situational" back.
In the event of Jackson going down with an injury (which did happen in 2011), Williams was supposedly capable of carrying the bulk of the carries, whereas Norwood is only meant to play on third down.
Williams took a lot of heat from fans after he failed to recover a lateral pass against the Giants (who took the fumble back all the way for a defensive touchdown). But if you can ignore that one play, then it's fair to say that Williams was at least adequate as a backup.
He rushed for 91 yards in the season-opener against Philadelphia after Jackson injured his quad, and he also rushed for 75 yards against a fierce Baltimore run defense.
If Fisher makes the running back position a high priority this offseason, then Cadillac will certainly be replaced. However, if he has faith in Jackson carrying the load, then Cadillac should suffice.
Prediction
Cadillac will be re-signed to a one-year deal.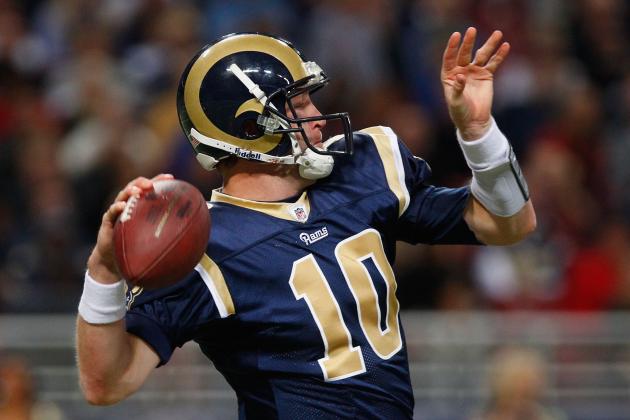 Whitney Curtis/Getty Images

Third-string quarterback Kellen Clemens was forced to start the final three games of the 2011 season after Bradford and Feeley were both sidelined with injuries.
Even though Clemens did not set the world on fire (546 yards, two touchdowns and one interception in three games), he still showed great mobility and solid poise.
The 28-year-old Clemens is six years younger than Feeley and has five years of experience in Schottenheimer's offense from his time with the New York Jets. Now that Schottenheimer is the Rams offensive coordinator, it makes Clemens a perfect fit as the team's long-term backup behind Bradford.
Prediction
The Rams will re-sign Clemens to a multi-year deal.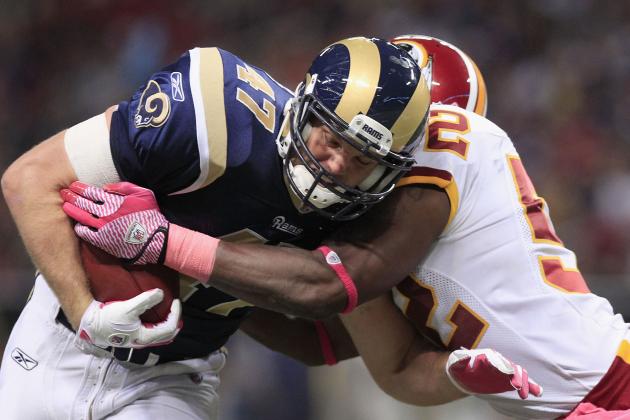 Whitney Curtis/Getty Images

There's not a lot to say about Billy Bajema—he can't catch the ball because he's supposedly a "blocking specialist," but he's realy a terrible blocker as well.
So what does that leave for the team? Nothing.
Not to pile on, but when looking at the 2011 roster and reviewing each player at each position, it wouldn't be outrageous to say that Bajema was the worst starter on the roster. And it's not like he was forced into action due to injuries, he was actually a starter from Day One.
There's no reason to keep Bajema, and the Rams had better hope that former second-round pick Lance Kendricks has a breakout year, or else the Rams will have zero production from the tight end position.
Prediction
Bajema will not be re-sgined.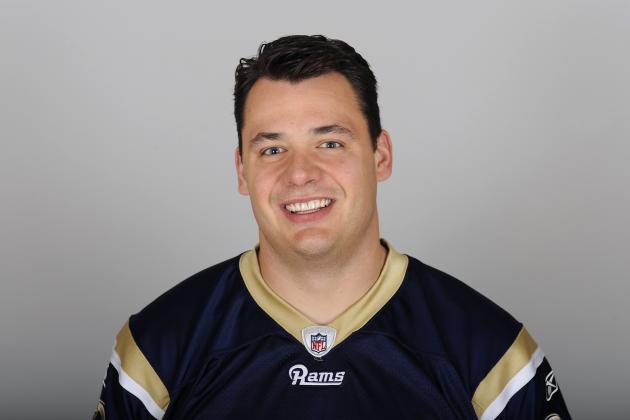 Handout/Getty Images

Adam Goldberg was forced into a starting role in Week 8 against New Orleans after right tackle Jason Smith was lost for the season a week earlier.
Goldberg had his struggles, which is typical for him, but in some of the games he didn't play any worse than guys like Jacob Bell and Jason Brown.
Goldberg will never be a starting-caliber offensive lineman, but his ability to play either tackle or guard provides the team with some flexibility.
Prediction
The Rams will re-sign Goldberg to a one-year deal.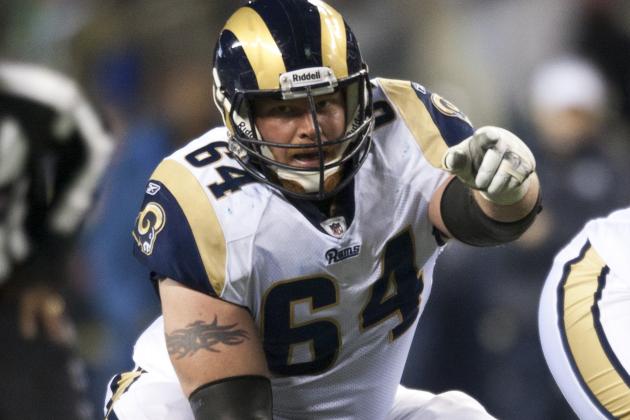 Jay Drowns/Getty Images

Tony Wragge started the final eight games of the season for the Rams at center after Jason Brown was benched for poor play.
Brown is due $5 million in 2012, so the Rams may be looking to part ways with him in order to save some extra cash. If the Rams do say their good-byes to Brown, then there's a good chance that they'll retain Wragge as the starting center.
Even if the new coaching staff is looking to turn Brown's career around, then Wragge still has value as a backup.
Prediction
The Rams re-sign Wragge to a one-year deal.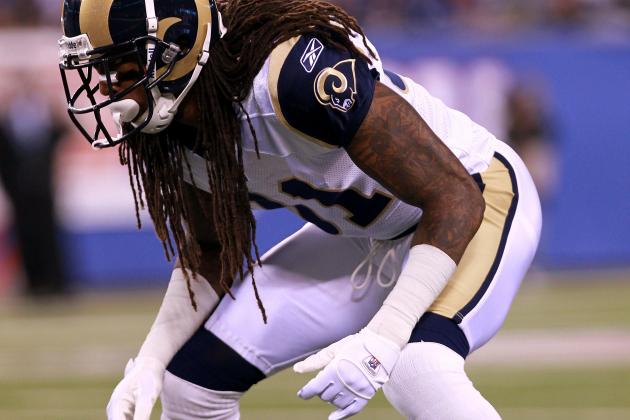 Nick Laham/Getty Images

Al Harris was 36 years old when he entered Rams training camp last summer, but few people believed that he'd actually make the roster.
However, Harris looked sharp during the preseason, so he ended up making the final cut.
After the Rams lost both starting corners (Ron Bartell, Bradley Fletcher) for the season, Harris was forced into a starting role. He lacked the speed necessary to excel in man-to-man coverage, but overall he was able to hold his own and the secondary was better for it.
Unfortunately for the Rams, Harris was injured for the year after just five starts, and at the age of 37 he won't be back for another round.
Prediction
Harris will retire from the NFL.