New York Knicks
Jeremy Lin Keeps on Linning: Knicks-Raptors Recap and Thoughts

All He Does Is LIN!
Chris Chambers/Getty Images
February 15, 2012
I missed the first half of the game because of a recitation. That's college for you. This recap will be a condensed look at the game tonight. But wow, Jeremy Lin. Let's get straight to it.
Looking at the stats at halftime and the performance in the third quarter, the Knicks defense was atrocious. This was a concern of mine with Amare coming back replacing Jared Jeffries. He was poor on defensive rotations and at points looked completely disinterested in keeping his man in front of him. The stats from the first half and the third quarter saw Amare consistently get outworked by Amir Johnson, Aaron Gray and Linus Kleiza. If it was not for Tyson Chandler, I do not know where the Knicks would be.
In fact, Chandler has been so great for the Knicks that, if I was a girl, I would ask him to be my Valentine. You saw it in the fourth quarter when the Knicks went on their run to cut the lead to two. Tyson Chandler's rebounding and defensive rotations were the driving force behind the New York Knicks defensive resurgence.
Then, when he picked up his fifth "foul," the Knicks got back down by eight. When he came back in, the Knicks resumed their dominance of the fourth quarter. That, and the impressive play of Iman Shumpert on Jose Calderon, changed the entire game.
The turning point of the game had to be when Iman Shumpert was placed on Jose Calderon. As many Knicks fans feared, Jose Calderon went off. He drove past Lin with ease and made jumper after jumper. While I thought putting Shumpert on Calderon was the ideal plan, the issue of having Lin guard Barbosa or DeMar DeRozan made it a dangerous strategy.
However, I feel the Raptors did not exploit the Barbosa-Lin matchup and DeMar DeRozan was out of control driving to the basket. DeRozan constantly lost his dribble or ran straight into Jared Jeffries (the refs were not kind to Jeffries on one charge and seemed to have a general dislike for Tyson Chandler).
That being said, Iman's defense was fantastic. His physical, suffocating on ball defense completely took Calderon out of his game. It also led to a crucial momentum-shifting steal and dunk to bring the Knicks withing three with less than 90 seconds in the game.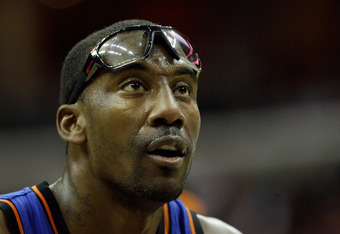 If Stoudemire does not put effort on the defensive end, then it will not matter how good Jeremy Lin plays.
Rob Carr/Getty Images
This is the third game where the Knicks have shot poorly from the free-throw line. This is a disturbing phenomenon. Hopefully it does not become a trend because they cannot afford to throw away those points.
Unless their purpose is to make me have a heart attack every time I watch them.
Bill Walker, stop shooting. That is all I have to say about that.
Coming back to Amare Stoudemire, the muscle mass he gained over the offseason seems to be killing his explosiveness and quickness. Hopefully, the idea is similar to what Jorge Posada and CC Sabathia have been known to do as Yankees.
In baseball, you have very few off days, so you do all your weight training in the offseason. Often, these guys bulk up and then as the year goes down they lose strength because they cannot get back into the weight room as often.
They build up that muscle mass so that when it decreases, they'll still be strong enough to perform. Hopefully Amare thought the same about a potentially condensed season. It may be optimistic, but I would not be surprised if we saw a more lethal Amare towards the end of the season.
His offense in the fourth quarter was huge in the Knicks' comeback effort. He made some tough shots and those buckets were huge for the Knicks taking back momentum. Hopefully we'll see more of the Amare that showed up in the fourth quarter.
Steve Novak struggled from the floor as he missed three or four open looks. He's too good of a shooter for that to happen. However, it does show how thin the Knicks bench is when it comes to scoring.
They rely so much on Shumpert and Novak and if they are not getting it done then the bench-scoring responsibility falls to Mike Bibby. A chill just went down my spine when I typed that.
Hopefully they can sign J.R. Smith to be a scorer off the bench (no way he is a fit for the Knicks' starting lineup). Also, it is important that Baron Davis can play about fifteen minutes a night after the All-Star break. The second unit needs someone to run the offense and more importantly the player I'm going to end this recap with cannot keep playing 43 minutes.
What else can I say about Jeremy Lin? After being used and abused by Jose Calderon and forcing the issue too much, Jeremy Lin turned it on in the fourth quarter. He found Chandler and Amare in the interior. He started finishing at the rim. He drew plenty of fouls, though he missed way too many free throws.
He had a huge three-point play to tie the game for the Knicks. More importantly, he showed poise on the final play. Once again, Tyson Chandler came up huge for the Knicks, grabbing the offensive rebound after Shumpert's miss. He kicked it out to Shumpert, who then passed it to Lin.
Now at before halftime of the Minnesota game, Lin royally messed up the last 23 seconds of the game. In this instance, he held the ball for the last shot. And what a shot! Much like he did against Pau Gasol, he sized up Jose Calderon and made his move with about five seconds to go.
For some reason, Calderon deviated from the script that he had been running all night. For most of what I watched, Calderon got into Lin and pressured him. In this case, he kept backing up and Lin shot stepped into a three pointer. Swish. And the legend continues to grow.
Once again, Jeremy Lin rose to the occasion when the Knicks needed him most. However, what impressed me the most was his postgame interview. He openly confessed that Calderon and Barbosa (thanks you Raptors for not exploiting that mismatch fully) destroyed him.
He attributed the comeback to the defense they played in the fourth quarter (forgot if he specifically mentioned Chandler and Shumpert). That shows accountability and leadership that everybody wants from their point guard. So not only have the Knicks found a potential solution at the point guard position for the long term, they have found a leader.
The legend continues.
Like the new article format? Send us feedback!