10 Best Available LTs in 2012 NFL Draft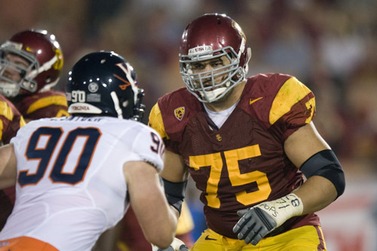 In the NFL draft, left tackle is one of the most coveted positions.
The left tackle protects the quarterback's blind side, an incredibly important job. With just a below-average left tackle, a quarterback will find himself constantly being killed. With that comes the Injured Reserve.
Ask Kevin Kolb what it's like to have a left tackle and what it's like not to.
Though left tackle is obviously an important position, it is drafted high largely because of how hard it is to find one elsewhere. Quality left tackles don't fall in the draft, and they don't make it to free agency.
In fact, the lack of good left tackles is the reason this article is so short.
There are only five in the 2012 NFL draft that can possibly protect the blind side.
I listed 10 anyway.
Begin Slideshow

»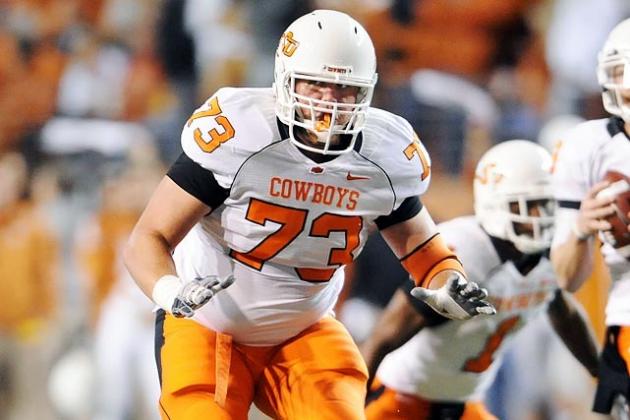 Though he weighs 320 pounds, Levy Adcock isn't overly strong. His footwork is inconsistent, and his technique is sloppy. Other than that, Adcock is a great prospect.
The Oklahoma State tackle is a decent athlete with a lot to work on. With time, Adcock could possibly develop into a good right tackle, but he should probably stay away from the blind side.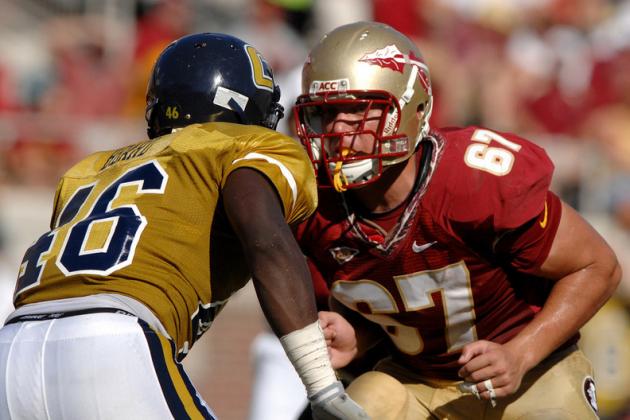 Andrew Datko is a pretty good athlete, but he is simply weak. The 6'6", 310-pounder is often driven deep into the backfield and struggles to create much of a push in the run game.
Prior to the 2011 season, some saw Datko as a first-rounder. Injuries killed his season though, and he never had the chance to answer the questions surrounding him.
Datko may be athletic enough to play left tackle, but he isn't strong or powerful enough.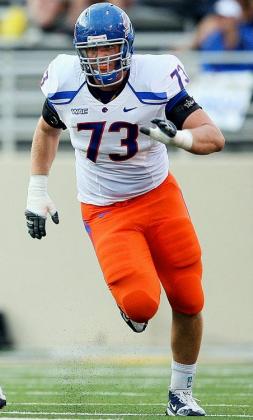 Nate Potter is another offensive tackle prospect with quick feet but little strength. The Boise State lineman is undersized at 300 pounds, and his arm length is definitely questionable.
There's a lot to like about Potter in pass-protection. He's quick-footed, smart, and technically-proficient. His lack of run-blocking ability kills his value as a prospect though.
If Potter can gain weight and maintain his athleticism, he has a chance at becoming strong enough to start at tackle. The odds of that are pretty slim though.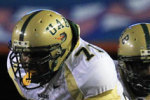 At 6'6", 309 pounds, Matt McCants possesses terrific length for the left tackle position. McCants measured in at the Senior Bowl with 35" arms, an extremely impressive number.
McCants can struggle in the power game and needs to do a better job of playing low, but there is a lot to like about him. The U.A.B. tackle is a physical freak, and he has tremendous upside.
McCants's obvious issues are his lack of power and raw technique. He can improve both of these, and there is a chance McCants can play left tackle in the NFL.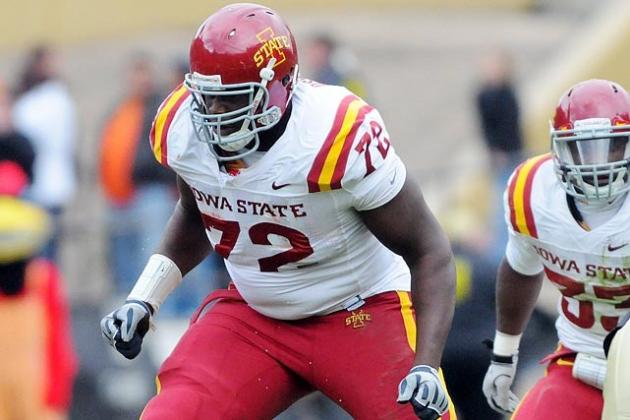 Okay, Kelechi Osemele is definitely better suited at right tackle or guard, but he is one of my favorite prospects. The 6'5", 333-pounder is extremely powerful and can blow back the strongest, most stout of defensive linemen.
Like most men of his size, Osemele struggles some with speed. He is, however, quicker than you'd expect from someone of his size, and he can move fairly well in open space.
In order for him to play left tackle, Osemele will probably have to lose some weight off of his solid frame. He should, however, be solid at right tackle, even at his current weight.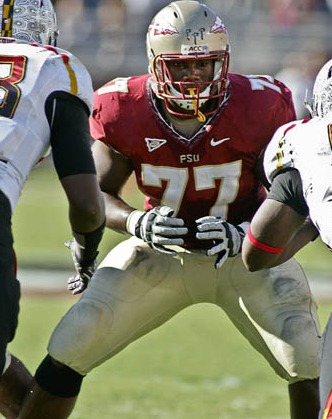 An excellent athlete, Zebrie Sanders is talented enough to play left tackle. He weighs in at 6'6", 308 pounds, so he has the required length too.
On the other hand, Sanders has a lot to work on. He plays soft and can easily be knocked off balance. He also struggles with complex blocking assignments and is best when simply blocking the guy across from him.
If Sanders is able to add strength and improve his technique, he can become an adequate left tackle. Don't expect anything more, though, and even that might be a stretch.
Ezra Shaw/Getty Images

Some people feel like Jonathan Martin is a top-10 pick. I strongly disagree with this assessment, but he does have some potential as a left tackle.
Some.
Martin's biggest problem is that he's a finesse player without great feet. The Stanford left tackle is a solid athlete, but his feet really just aren't that quick.
Martin can also be bull-rushed. He isn't a powerful player, and he struggles to get a push at the point of attack.
However, Martin is technically sound and athletic enough to improve. So, I guess he has the ability to maybe play left tackle.
At worst, he can play right tackle or guard.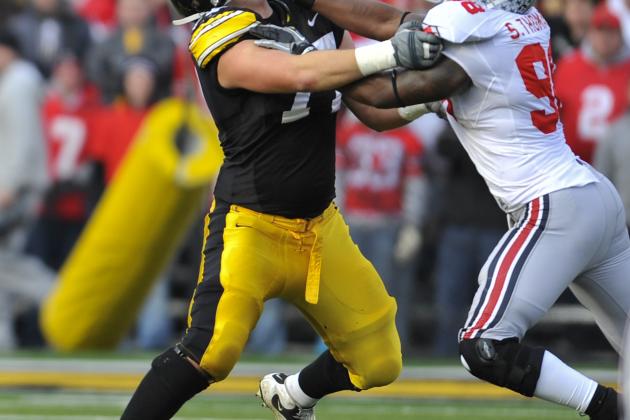 David Purdy/Getty Images

A former tight end, Riley Reiff is an excellent athlete. He weighs in at just 6'6", 305 pounds, but his frame can easily handle additional weight.
Like Jonathan Martin, however, Reiff's feet aren't great. He can handle speed rushers reasonably well, but he's not exceptional at all.
Reiff's length is a huge attribute for him, and he does a great job of keeping pass-rushers at bay. The Iowa left tackle isn't all that powerful, but he is good in the open field and can get some push in the run game.
In all likelihood, Reiff will develop into a solid player. There are some concerns that he may have to move to the right side, but Reiff should be able to stick at left tackle.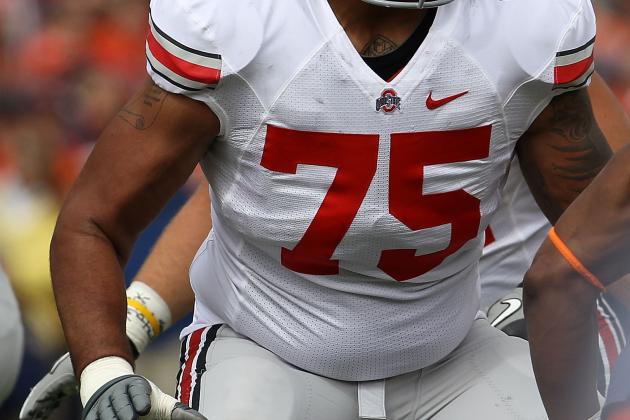 Jonathan Daniel/Getty Images

Unlike the previous tackles, Mike Adams has some serious upside. The 6'7", 323-pounder has prototype size and is an incredible athlete. Physically, there's nothing not to like about Adams.
Adams's downside is his deserved reputation as an underachiever. Prior to his senior season, Adams didn't just fail to live up to his elite label, he was downright bad.
As a senior, though, Adams finally played up to his talent. The Ohio State product still has some things to work on—playing low, dealing with power rushers, run blocking—but he's well on his way.
It's possible Adams will bust in the NFL. However, it is also possible he will develop into a franchise left tackle.
Someone will take that risky—early.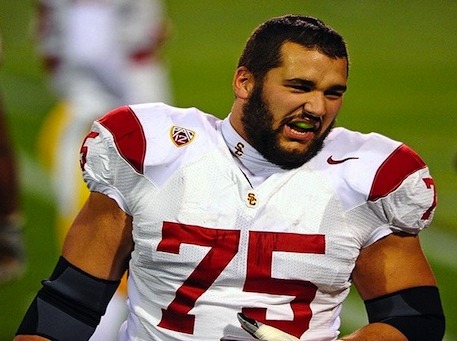 Not since Jake Long in 2008 has there been an offensive tackle as good as Matt Kalil. The USC star weighs in at 6'7", 295 pounds and is a terrific athlete.
Kalil could stand to gain some weight, but he's already good in the power game, and he has the frame to bulk up. Kalil's athleticism and length also go a long way to negate his lack of size.
At the second level, Kalil is one of the game's best. He can adjust to moving linebackers, and not many players move more quickly.
Honestly, it's hard to imagine a scenario in which Kalil doesn't become a stud. He's big, he's athletic and he's technically-refined. There's nothing not to like.