New England Patriots: Positions of Concern for 2012
February 15, 2012

Rob Carr/Getty Images
Patriot players said it repeatedly. Super Bowl XLVI was a business trip. They came to Lucas Oil Field in Indianapolis, Ind. for one thing and one thing only.
It's been a little more than a week since New England failed to win the Super Bowl. The bottom line is, they didn't get the job done. Particularly, they failed to make plays when they had the chance.
With the business trip a failure, the Patriots should unite for the 2012 season with a simple mantra: unfinished business.
Put behind them the dropped passes, the costly penalties and the unrecovered fumbles. Don't dwell on the plays missed or let revenge be a distraction. They must move forward.
Falling short when so close to winning stings, but the players should feel confident they can return to the Super Bowl next year. With the right moves during the offseason, the Patriots will be better next season.
Before completing the defensive reconstruction, head coach Bill Belichick must decide whether to stick with a 4-3 or go back to his preferred 3-4. This would greatly affect the front seven.
While DE Andre Carter flourished with the Pats, he prefers playing in a 4-3. DE Mark Anderson was solid filling in for Carter, but Anderson and Carter will both be free agents. With 10 sacks apiece, both could receive interest from other teams.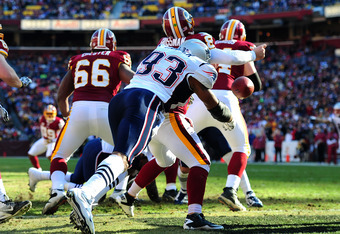 Scott Cunningham/Getty Images
If neither returns to New England, the Patriots must compensate for losing half of their sacks from 2011. Again, which defense New England plays will determine how they fill their need.
A pass-rush solution doesn't appear to be on the roster if Carter and Anderson leave. OLB/DE Jermaine Cunningham has one sack in two seasons with the team, and OLB Markell Carter, a project selected in the sixth round last year out of Central Arkansas, is an unknown.
Juggling the secondary was done out of necessity. Settling players into defined roles will solidify the unit. Will Devin McCourty return to cornerback or become a full-time safety? Might Ras-I Dowling play next to Patrick Chung, or will Dowling compete against Kyle Arrington?
Competition in the secondary will be wide open. S Sterling Moore and CB Antwaun Molden will be in the mix to straighten out the beleaguered unit. Hopefully out of the battle royal will be two-way players Julian Edelman and Matthew Slater. They were break-in-case-of-emergency players and the secondary was that broken.
Equally perplexing is how to complete the receiving corps. New England loses Chad Ochocinco, but gains Chad Johnson if the Patriots decide to keep the receiver who never fully grasped the offense. Maybe a name change reflects a 180-degree change into a completely prepared wideout, able to contribute on every down.
New England could really use a prepared Johnson, as Wes Welker and Deion Branch are both free agents. Welker's return is a no-brainer despite his Super Bowl drop. The slot receiver, who averaged almost 111 receptions per year with the Patriots, is too valuable to QB Tom Brady. New England will re-sign Welker, even if they have to franchise him.
After Welker, the Patriots have holes to fill. The vox populi begs for a receiver with deep speed, a big physical receiver or a big physical receiver with speed. That player might not be Tiquan Underwood, even if you add his high-top fade to his height.
New England has the luxury of being well under the anticipated cap and owning plenty of draft selections to play with, including two each in the first two rounds. The Patriots can make a splash by signing marquee veterans and/or wait to manipulate the draft, as they've done for the past few years.
If the Patriots address the weaknesses correctly, they can reach Super Bowl XLVII and finish the business from last year.
Question? Comments? Send to talktome@randolphc.com.