MLB Predictions: Who Will Lead the AL and NL in Each Major Statistic in 2012?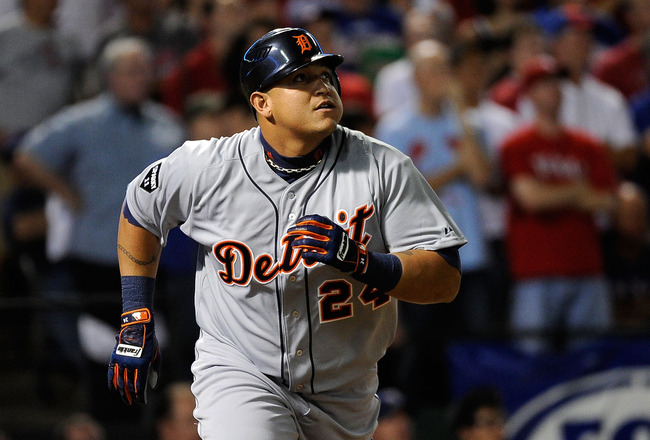 Kevork Djansezian/Getty Images
Spring training is just around the corner, so it is time for some early season predictions.
Players like Albert Pujols and Prince Fielder moving to another league will switch things up.
Some stars will always be at the top of these lists but there are some up and coming players to keep your eye on.
So, who will lead the AL and NL in each major statistic? Let's find out.
Note: The honorable mention section is the next 10 players right behind the leader at each stat, these players are in no particular order.
AL Home Runs: Jose Bautista (45 HR)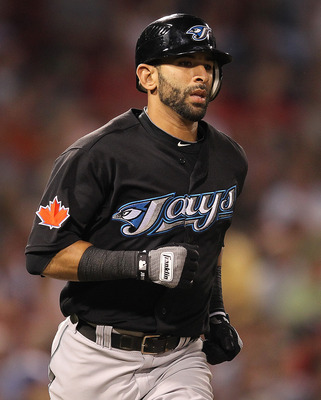 Jim Rogash/Getty Images
Could there really be a three-peat atop the AL home run list? There is no reason to believe otherwise.
Jose Bautista has hit 97 home runs in the last two years and at 31 years old he still has a few more years as an elite power hitter.
Albert Pujols is the best hitter in the game but his move to a larger Angel Stadium on top of having to face new pitchers will make his transition to the AL a challenge.
Prince Fielder is another new challenger but his move to a cavernous Comerica Park will turn some of his home runs into outs or doubles.
Honorable Mention:
Mark Teixeira, Curtis Granderson, Robinson Cano, Miguel Cabrera, Prince Fielder, Adrian Gonzalez, Jacoby Ellsbury, Mike Napoli, Albert Pujols and Mark Reynolds
NL Home Runs: Mike Stanton (42 HR)
Marc Serota/Getty Images
At only 22 years old Mike Stanton is only going to get better.
The move to a slightly larger Marlins Ballpark will keep Stanton's home run total in the low 40s, but he is just too talented not to have a huge year. In his first two seasons in the majors he has hit 56 home runs, and I expect him to only get more powerful as he gets older.
Stanton is an elite power hitter and will be for more than a decade.
If Logan Morrison improves—as we expect from a talented 24-year-old hitter—Stanton will get better protection, which means pitchers will not pitch around him, giving him more chances to hit the ball into the upper deck.
Honorable Mention:
Matt Kemp, Joey Votto, Jay Bruce, Troy Tulowitzki, Carlos Gonzalez, Dan Uggla, Brian McCann, Michael Morse, David Freese and Justin Upton
AL Batting Average: Miguel Cabrera (.340 BA)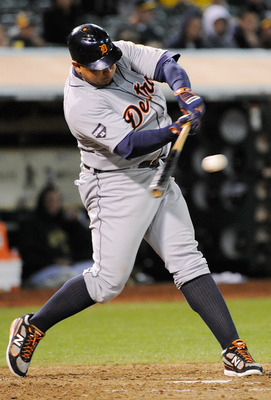 Thearon W. Henderson/Getty Images
Miguel Cabrera is the most complete batter in baseball—even better than Albert Pujols—and he showed it when he hit .344 in 2011. Cabrera has hit at least .320 six times in his eight year career and he has hit .332 over the last three years.
With the big gaps in Comerica Park still there and the protection from Prince Fielder hitting behind him this should not change. The addition of Fielder to the Tigers will make pitchers give Cabrera more fastballs in the strikezone, which he should be able to hit into the gaps or just into the stands.
Miguel Cabrera will once again lead the majors in batting average and establish himself as the best batter in all of baseball.
Honorable Mention:
Joe Mauer, Robinson Cano, Adrian Gonzalez, Jacoby Ellsbury, Dustin Pedroia, Jose Bautista, Alex Gordon, Eric Hosmer, Josh Hamilton and Albert Pujols
NL Batting Average: Joey Votto (.329 BA)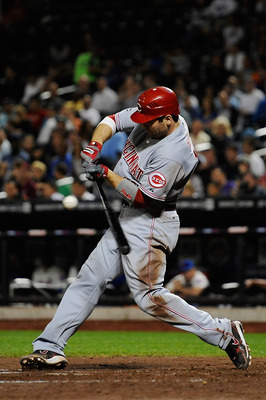 Patrick McDermott/Getty Images
With Albert Pujols and Prince Fielder heading to the AL on top of Ryan Howard going down with a torn Achilles tendon, Joey Votto become the best first baseman in the NL.
Votto hit above .320 in both 2009 and 2010, before having an "off year" in 2011—a .309 batting average was still good enough for fifth in the NL.
He obviously lost interest in September as he hit .236 during the month after hitting .325 up to that point in the season. With the Cincinnati Reds back in contention to win the NL Central, Votto will be motivated to carry his team to a division crown as August and September near.
Votto should be back on top of his game in 2012.
Honorable Mention:
David Wright, Matt Kemp, Jose Reyes, Starlin Castro, Hunter Pence, Yadier Molina, David Freese, Carlos Gonzalez, Troy Tulowitzki and Ryan Braun
AL Runs Batted In: Robinson Cano (133 RBI)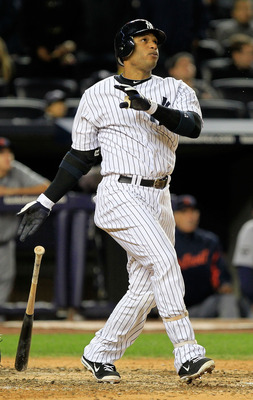 Chris Trotman/Getty Images
Robinson Cano was second in the AL with 118 RBI in 2011, but he will be moving from fifth to third in the Yankees' lineup. This means Cano will hit behind Brett Gardner (who will hit ninth) Derek Jeter and Curtis Granderson instead of Mark Teixeira and Alex Rodriguez.
Gardner, Jeter and Granderson averaged 30 stolen bases and 102 runs scored in 2011 compared to Teixeira and Rodriguez, who averaged four stolen bases and 79 runs scored. This increase in speed ahead of Cano will help Cano's RBI numbers tremendously in 2012.
Cano does not just get his RBI with home runs—he hit 28 homers in 2011—he also gets them with extra-base hits. Cano led the majors with 53 extra-base hits—46 doubles and seven triples—and if he can keep that up he should once again be an RBI machine.
Unlike some of his competitors such as Mark Teixeira, Curtis Granderson, Albert Pujols and Jose Bautista, Cano is on the right side of 30 and could get even better over the next few years.
Honorable Mention:
Curtis Granderson, Mark Teixeira, Adrian Gonzalez, Josh Hamilton, Miguel Cabrera, Prince Fielder, Albert Pujols, Jose Bautista and Evan Longoria
NL Runs Batted In: Matt Kemp (125 RBI)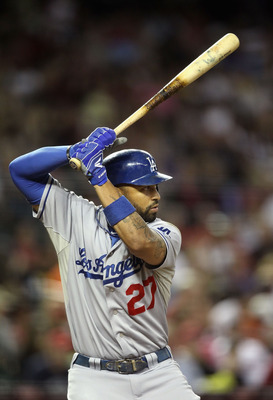 Christian Petersen/Getty Images
Matt Kemp turned from a good hitter to an elite hitter in 2011. Not only did he lead the NL with 39 home runs, he also led the majors with 126 RBI.
You would think that cavernous Dodger Stadium would hurt Kemp but it does not. Kemp already has 40-home run power and as he becomes a more well-rounded hitter he will learn to use the large outfield in Dodger Stadium to his advantage by becoming more of a gap hitter.
Some people think his unrepeatable .380 BABIP (the league average normally hovers around .300) in 2011 will make him regress in 2012, but at 27 years old Kemp will only get better and 2012 should be another big year.
Honorable Mention:
Joey Votto, Jay Bruce, Troy Tulowitzki, Carlos Gonzalez, Justin Upton, Mike Stanton, Hunter Pence, Lance Berkman, Dan Uggla and Andrew McCutchen
AL Stolen Bases: Brett Gardner (53 SB)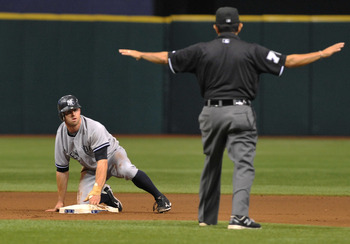 Al Messerschmidt/Getty Images
Over the last two seasons Brett Gardner has stolen 96 bases and he is showing no signs of slowing down anytime soon.
Gardner is still fairly young at 28 years old, so his speed will still be there in 2012.
In 2011 Gardner stole 49 bases (compared to 47 in 2010) despite being on-base less often. In 2011 he reached first base 158 times, which is a 31 percent steal rate, but in 2010 he reached first base 179 times, which is a 26 percent steal rate.
If Gardner can maintain that 31 percent steal rate while getting on base as many times as he did in 2010, he could potentially steal 56 bases this year.
With Gardner's speed and baserunning intelligence, that total is definitely possible.
Honorable Mention:
Jacoby Ellsbury, Coco Crisp, Yoenis Cespedes, Elvis Andrus, Ian Kinsler, B.J. Upton, Ben Revere, Erick Aybar, Peter Bourjous and Austin Jackson
NL Stolen Bases: Dee Gordon (65 SB)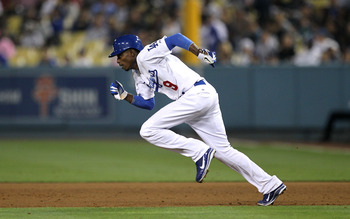 Stephen Dunn/Getty Images
At the young age of 23, Dee Gordon stole 24 bases... in 56 games.
Gordon will be the Los Angeles Dodgers' full-time shortstop in 2012 and if he plays anywhere near 162 games he should easily steal the most bases in the majors.
If you expand his 2011 season into 162 games, which I know is not perfect, he would have stolen a massive 69 bases. Will he improve on that rate with another year of learning the technique of stealing bases and pitchers trying to keep him close to first base?
Who knows but one thing is certain, Don Mattingly will give Dee Gordon a green light to run whenever he wants it.
Honorable Mention:
Matt Kemp, Michael Bourn, Cameron Maybin, Drew Stubbs, Emilio Bonifacio, Jose Reyes, Jason Bourgeois, Eric Young, Jr., Chris Young and Andrew McCutchen
AL Wins: C.C. Sabathia (22 Wins)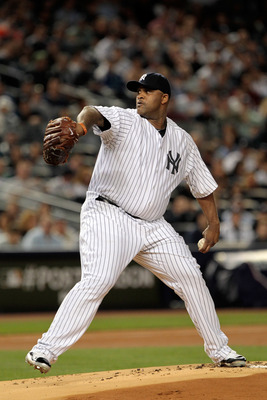 Chris Trotman/Getty Images
With the always potent New York Yankee offense standing behind him and 59 wins over the last three years, C.C. Sabathia is always among the leaders in wins at the end of the season.
An easy way to rack up an extra win or two is to pitch a lot of innings, and Sabathia is a true workhorse—over the last five years Sabathia has averaged an incredible 240 innings pitched.
Add in an AL-leading 3.02 xFIP and C.C. Sabathia is a lock to win 20-plus games in 2012.
Justin Verlander won an incredible 24 games in 201, but he will not likely repeat that success in 2012. Verlander's second lowest ERA so far in his career was 3.37 in 2010. He was also helped by his incredibly low .236 BABIP and below-average 8.8 percent HR/FB rate.
Honorable Mention:
Justin Verlander, Jered Weaver, Dan Haren, C.J. Wilson, Jon Lester, Josh Beckett, Ivan Nova, Derek Holland, David Price and Matt Moore
NL Wins: Roy Halladay (21 Wins)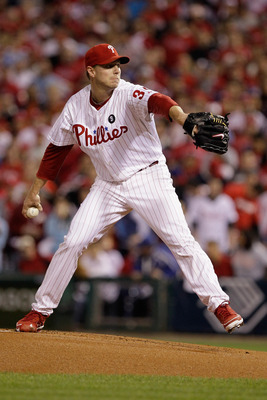 Rob Carr/Getty Images
Roy Halladay is about as consistent as they come. Over the last four years Halladay has always won 17-plus games, pitched over 230 innings with over 205 strikeouts and an ERA under 2.80.
Despite being 34 years old, Halladay should win another 20 games and post an ERA under 2.50.
You would think missing Ryan Howard until at least June would hurt the Phillies' offense enough for Halladay not to get to 20 wins, but a full season of Hunter Pence should counteract that loss.
Halladay should remain an elite pitcher in the majors for the next three years.
Honorable Mention:
Clayton Kershaw, Ian Kennedy, Daniel Hudson, Cliff Lee, Cole Hamels, Tim Lincecum, Zack Greinke, Yovani Gallardo, Jordan Zimmerman and Mat Latos
AL ERA: Felix Hernandez (2.29 ERA)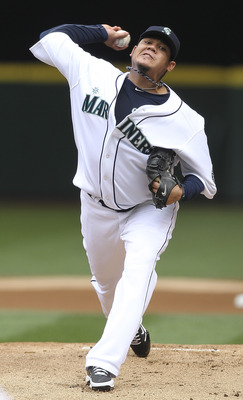 Otto Greule Jr/Getty Images
Felix Hernandez definitely had an off year in 2011, but do not forget that he is only 25 years old and has already won a Cy Young Award.
Hernandez has pitched at least 230 innings in the last three years and posted an ERA under 2.50 twice. He's also struck out at least 215 batter three times during that same time period.
Pitching in pitcher-friendly Safeco Field will definitely help Hernandez keep his ERA under 3.00 but not everything is great, the AL West became a much tougher division this offseason.
Albert Pujols joined the Los Angeles Angels of Anaheim, Kendrys Morales will likely be back from injury and the Texas Rangers will once again be one of the best offensive teams in the majors—especially with a healthy Josh Hamilton.
At only 25 years old, King Felix will get even better and cement himself as one of the games' elite pitchers for the next decade with a dominant 2012 campaign.
Honorable Mention:
C.C. Sabathia, Justin Verlander, Jon Lester, Jered Weaver, C.J. Wilson, Ricky Romero, Matt Moore, David Price, Justin Masterson and Brandon McCarthy
NL ERA: Clayton Kershaw (2.19 ERA)
Jeff Gross/Getty Images
At the very young age of 23, Clayton Kershaw is already the best pitcher in the majors.
Over the last three seasons Kershaw has averaged a 2.63 ERA and a 9.54 K/9 in 608.2 innings pitched. Pitching in Dodger Stadium and in the weak NL West has to help his ERA, but he is still just as good, if not better, as any other pitcher in the majors.
Kershaw's excellent pure stuff along with his pitcher-friendly ballpark and weak offensive division makes him a virtual lock to win the NL ERA crown in 2012.
Honorable Mention:
Roy Halladay, Cliff Lee, Cole Hamels, Tim Lincecum, Matt Cain, Madison Bumgarner, Adam Wainwright, Stephen Strasburg, Josh Johnson and Zack Greinke
AL Strikeouts: Justin Verlander (244 K)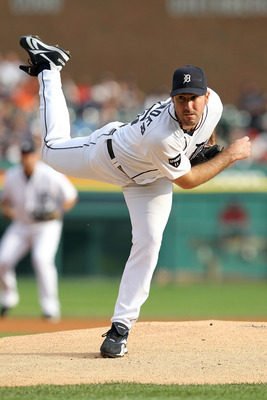 Leon Halip/Getty Images
Does this surprise anybody?
Justin Verlander has reached the 250-strikeout plateau twice in the last three years.
Verlander has the two factors that lead to a high strikeout total: he is a workhorse pitcher and has a high strikeout rate. He has pitched 200-plus innings in each of the past five years, including 251 innings in 2011. He also has a career 8.3 K/9 and had a 9.0 K/9 in 2011.
This success comes from his fastball that can reach triple digits and his deceiving changeup that baffles hitters.
Do not sleep on Michael Pineda, he has the frame to pitch 200-plus innings, had an incredible 9.1 K/9 as a rookie and led the majors with a 11.8 percent swinging strike rate. His stuff is built to strike a ton of batters out.
Honorable Mention:
C.C. Sabathia, Michael Pineda, Jered Weaver, C.J. Wilson, Felix Hernandez, Brandon Morrow, David Price, Matt Moore, Colby Lewis and Jon Lester
NL Strikeouts: Clayton Kershaw (261 K)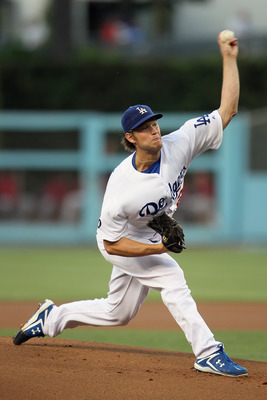 Jeff Gross/Getty Images
As explained earlier in the slideshow, Clayton Kershaw is the best pitcher in all of baseball.
In 2011 Kershaw had a 9.6 K/9, a 11.1 percent swinging strike rate, a fastball that reached 97 mph and dominating secondary pitches.
On top of that, he is a lock for 230-plus innings pitched. With his dominating stuff and high innings count, Kershaw will strike out a ton of batters.
Do not be surprised if he leads the majors in strikeouts in 2012.
Honorable Mention:
Tim Lincecum, Madison Bumgarner, Roy Halladay, Cole Hamels, Cliff Lee, Zack Greinke, Yovani Gallardo, Matt Garza, Anibal Sanchez and Josh Johnson
AL Holds: David Robertson (40 HLD)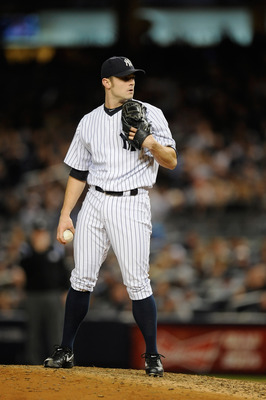 Patrick McDermott/Getty Images
David Robertson was the best relief pitcher in the entire majors in 2011. In 66.2 innings pitched he struck out 100 batters (13.5 K/9) and posted a 1.08 ERA despite pitching in the AL East in hitter-friendly Yankee Stadium.
Robertson was even more impressive in pressure situations. He had a 0.25 ERA (one run allowed) in 36 innings pitched on the road and with the bases loaded he was even better. Batters went 1-for-19 with 14 strikeouts and scored zero runs in those situations against Robertson.
With an improving New York Yankee rotation Robertson will be given more leads to protect and he will improve on his AL-leading 34 hold 2011 season.
Expect "Houdini" to be dominant yet again in 2012 and cement himself as the eventual heir to Mariano Rivera.
Honorable Mention:
Rafael Soriano, Joaquin Benoit, Mark Melancon, Joe Nathan, Scott Downs, Greg Holland, Joel Peralta, Vinnie Pestano, Tony Sipp and Francisco Cordero
NL Holds: Jonny Venters (38 HLD)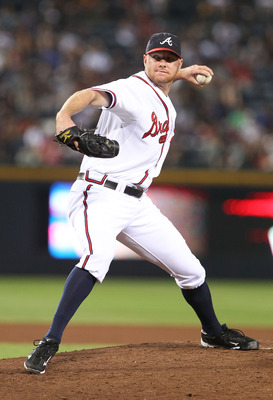 Mike Zarrilli/Getty Images
Jonny Venters is only 26 years old and has only spent two years so far in the majors, but he is already an elite relief pitcher.
In his short career, Venters has averaged 85 innings pitched with a 1.89 ERA, 95 strikeouts and 30 holds.
Most people know about his teammates Craig Kimbrel and Eric O'Flaherty. Kimbrel had a sensational rookie year and O'Flaherty had the lowest ERA in the majors in 2011, but Venters has somehow flown under the radar.
That will not be the case in 2012 as Venters will lead the NL in holds and establish himself as an elite set-up man for a playoff team.
Honorable Mention:
Sean Marshall, Eric O'Flaherty, Tyler Clippard, Sergio Romo, Javier Lopez, Francisco Rodriguez, Antonio Bastardo, Edward Mujica, Juan Carlos Oviedo and Fernando Salas
AL Saves: Mariano Rivera (50 SV)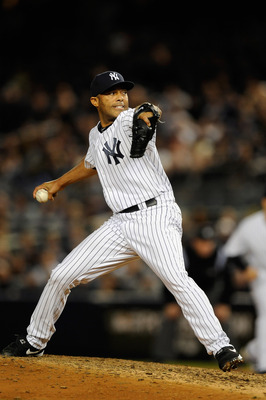 Patrick McDermott/Getty Images
Mariano Rivera is 42 years old but he is still the best closer in the game. He has not posted an ERA above 1.91 or a WHIP above 0.90 since 2007.
Remember those "Is Mo done?" discussions in early August after blowing a save against the Boston Red Sox and then losing a game against the Los Angeles Angels of Anaheim? After those two games Rivera posted a 0.52 ERA.
It is safe to say that Mariano Rivera is not done yet and will dominate once again in 2012.
With the Yankees' improved rotation and always strong offense—with a hopefully healthy Alex Rodriguez—he will be put in more save situations that he can convert.
Honorable Mention:
Jose Valverde, Brandon League, Chris Perez, Mike Adams, Chris Sale, Jordan Walden, Joakim Soria, Sergio Santos, Andrew Bailey and Kyle Farnsworth
NL Saves: Jonathan Papelbon (52 SV)
Greg Fiume/Getty Images
Take an elite closer with a 2.33 ERA and 37 saves per season over his six-year career from the AL East and move him to the NL East.
Not only does he no longer have to face a DH or the Yankees, but the Blue Jays, Rays and Orioles also have great offenses. The NL East is improving but they do not have the offenses of the AL East.
Over Papelbon's entire career, including the postseason, he has pitched 10.1 innings against NL East teams not named the Philadelphia Phillies. This means that the offenses in the NL East are not familiar with him, which gives Papelbon a big advantage.
Papelbon will likely never be worth his huge new deal but he will try his best and dominate in 2012 by leading the NL in saves and by posting a sub-2.00 ERA.
Honorable Mention:
Craig Kimbrel, John Axford, Heath Bell, Drew Storen, Brian Wilson, Ryan Madson, J.J. Putz, Javy Guerra, Jason Motte and Joel Hanrahan
Keep Reading

New York Yankees: Like this team?