Knicks vs Raptors: Live Reaction, Jeremy Lin Updates, Video and More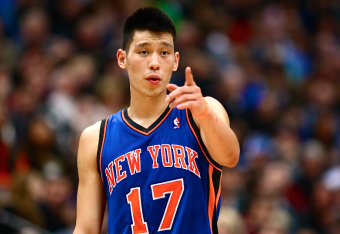 For all of the latest on Jeremy Lin, Amare Stoudemire and the Knicks and Raptors, just keep it here and watch for updates.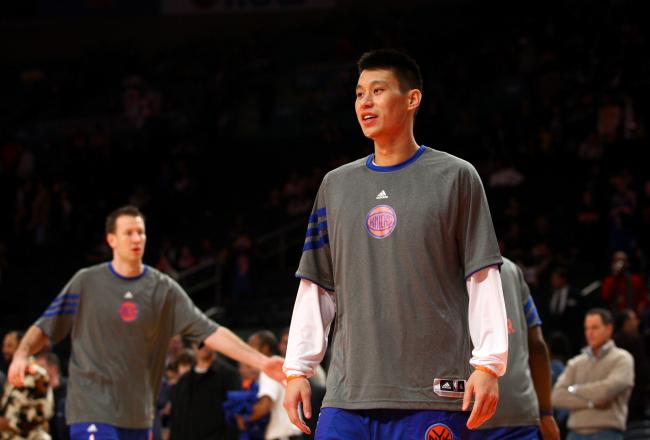 Jeremy Lin has gotten the attention of Tyrann Mathieu: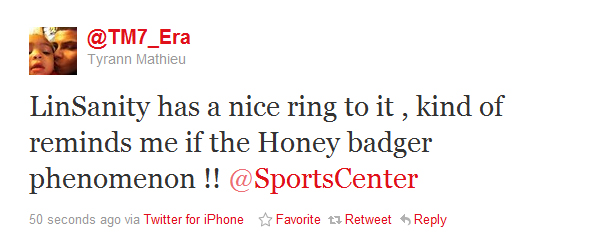 You guys remember Mathieu, right?
No? Alright, never mind.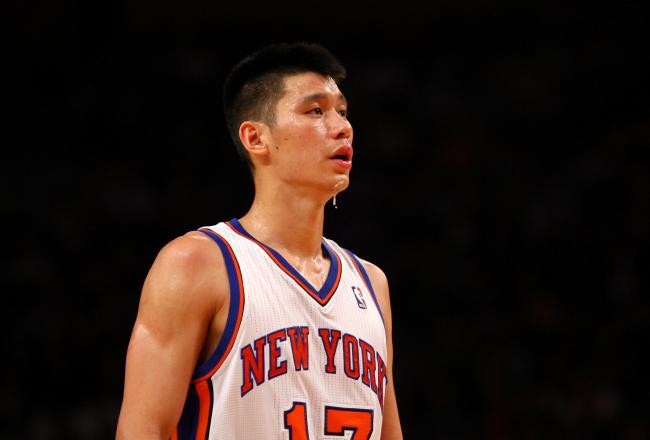 For some reason, I find this tweet from Piers Morgan to be amazing:

Sorry, Piers. There can only be one Jeremy Lin.
Unless...
I should mention that the Raptors scored just one point in the final four minutes of this game. The Knicks closed on a 13-1 run.
Lin scored seven of those points.
Here's a video of Lin's game-winner. It doesn't have sound, but it will have to do for now.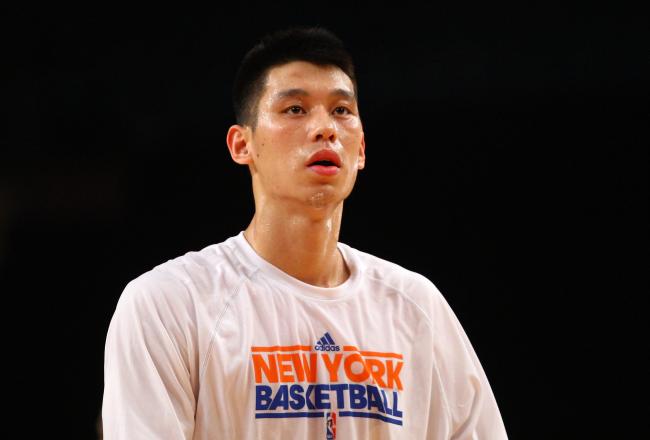 Okay, let's all calm down and get to all the significant numbers.
First and foremost, the Knicks won this game by the final of 90-87. They've won six in a row and are now just one game under .500 at 14-15.
As expected, Jeremy Lin was fantastic. He scored 27 points and dished out 11 assists. He also committed eight turnovers, but nobody cares about those seeing as how Lin buried a three with 0.5 seconds left on the clock. It was worth it. For Knicks fans, anyway.
Amar'e Stoudemire started slow, but he finished with 21 points on 8-of-22 shooting. Not a bad return.
You have to feel bad for Jose Calderon. Nobody's going to remember his 25 points and nine assists.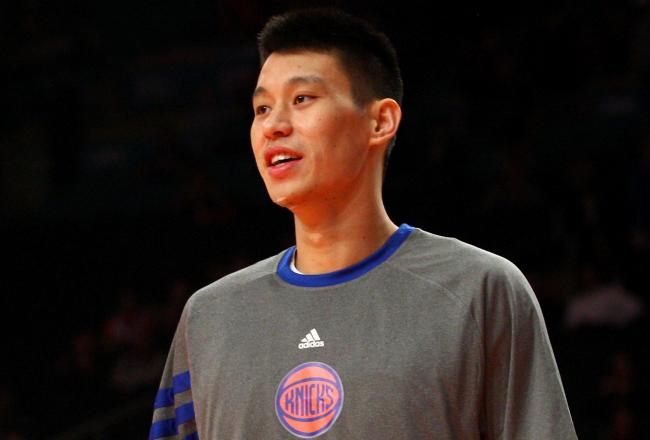 Mike Freeman of CBSSports.com summed this game up quite nicely: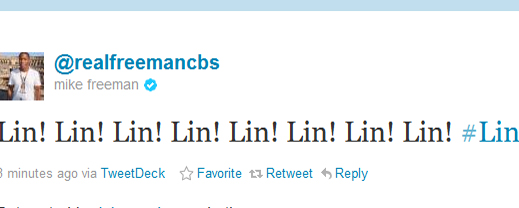 Couldn't have said it better myself.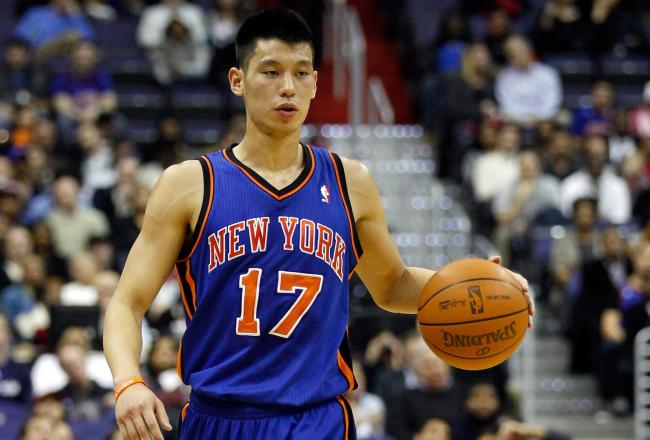 It's over. Knicks have won 90-87, and they have Linsanity to thank for that.
All told, Lin finishes the game with 27 points, 11 assists and one gigantic three-pointer with 0.5 seconds left in the game.
I...I...I've got nothing.
LINSANITY!!!
Lin just buried a three-ball in Jose Calderon's face to give the Knicks a 90-87 lead.
There are 0.5 seconds left on the clock.
Wow.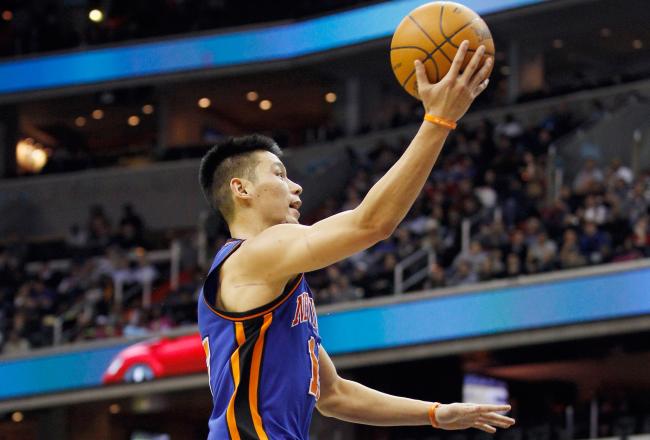 And there's the Jeremy Lin magic we've been waiting for. He just knocked down a tough layup and was fouled on the play. He sunk the free throw to tie this game up at 87-87 with 1:05 to play.
Lin now has 24 points and 11 assists, as well as eight turnovers.
Iman Shumpert just came up with a big steal and a dunk to cut Toronto's lead to 87-84. Huge play.
The Knicks are refusing to go away. They've cut it to 86-82 with two minutes to play. Lin and Stoudemire both have 21 points.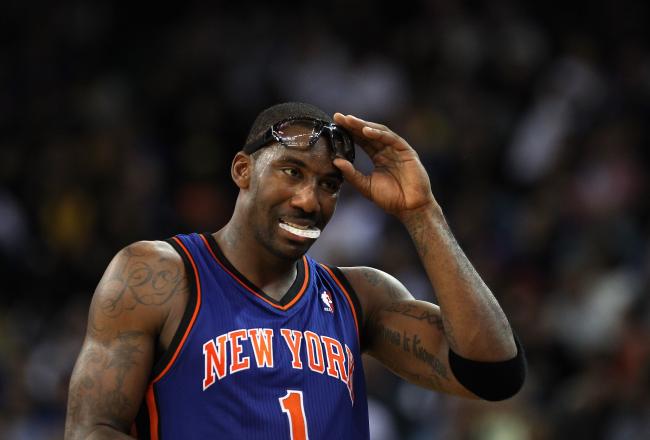 Bruce Feldman of CBSSports.com has the stat of the night for Amar'e Stoudemire: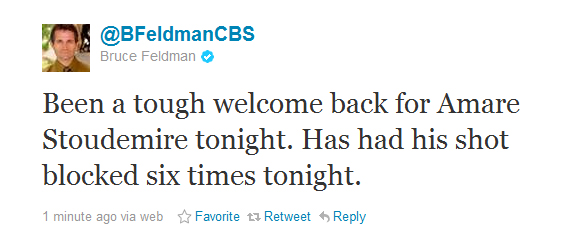 Knicks are down 86-77 with 4:03 left.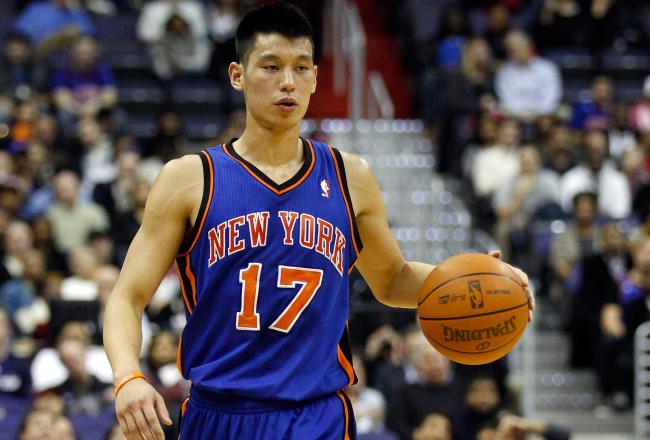 Lin is up to 20 points and 11 assists now. The Knicks are down seven, but something tells me people are going to give Lin a pass if they go on to lose this game.
Truth be told, the Knicks haven't looked great as a team. This one's not all on Lin, even if he does have seven turnovers.
84-77 Raptors with 4:35 remaining.
The Raptors took a timeout after the Knicks cut their lead to two, and it's working pretty well so far. The Raptors have pushed their lead to 82-76 after a couple easy buckets.
There's 5:45 left on the clock.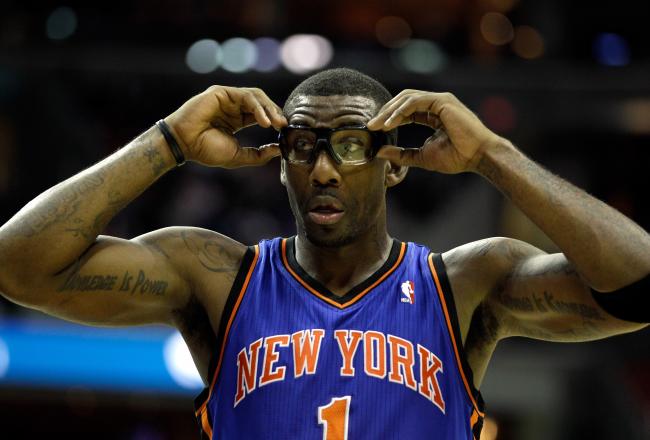 And here come the Knicks.
The Raptors haven't been able to buy a bucket in the fourth quarter and the Knicks have managed to cut their lead to two points at 78-76.
Stoudemire is up to 19 points on the night. He's really come on strong after a slow start, which supports the rust theory.
There's 6:22 left on the clock.
Lin had a chance to cut the Knicks' deficit to four points, but he missed two straight free throws after he was fouled on a fast break.
He remains stuck at 19 points, and the Knicks are down 78-72 with 7:41 to go.
I should also note that Lin could actually end this game with a triple-double. He had 19 points now, to go along with 10 assists and, unfortunately for the Knicks, seven turnovers.
Raptors lead 78-72 with 8:34 to go.
Lin just knocked a pair of free throws down to cut Toronto's lead to 78-70. He has 17 points on the night.
The Knicks could lose this game, but Lin is looking at a 20-point, 10-assist night. Linsanity shall live on.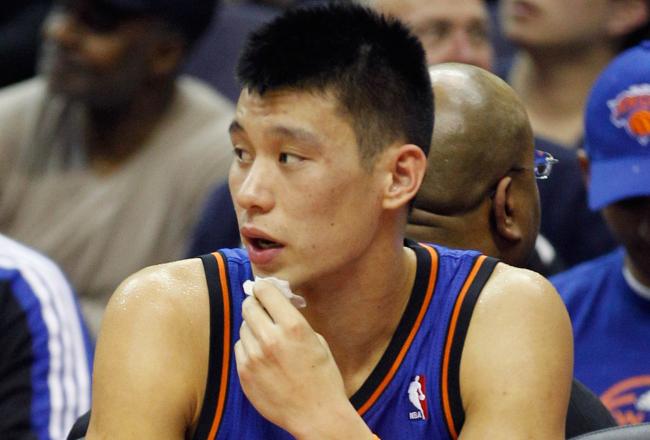 That's it for the third quarter. Knicks picked up their offense in a big way, but the Raptors had little trouble keeping pace. They lead 75-66.
The Knicks still have a shot to win this game as long as they keep playing efficient offense, but they need to put in a little more effort on the other end of the floor. The Raptors are shooting better than 55 percent.
As for Lin, Howard Beck of The New York Times summed it up quite nicely:

Lin has six turnovers by my count, only one in the third quarter. Not awful, but Beck is right about six being too many.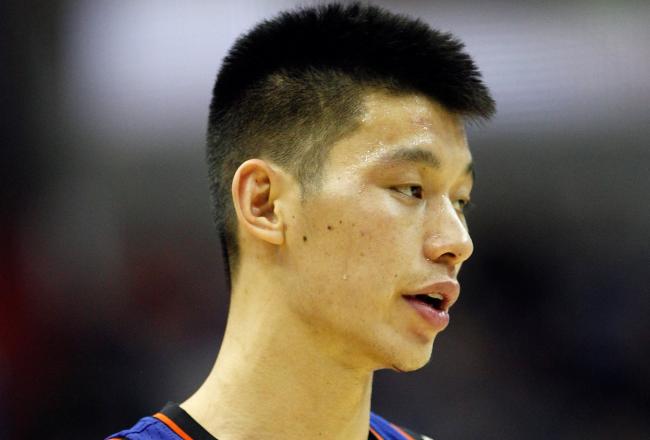 It's official. Lin has a double-double. He's got 15 points and 10 assists with just over a minute to go in the third.
Alas, the Knicks are still trailing by 10 at 73-63.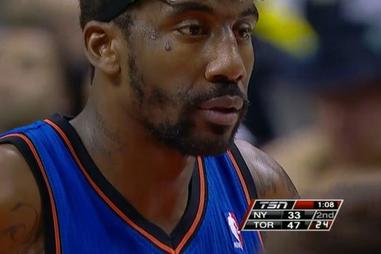 The above picture shows off Stoudemire's new tattoo pretty well. He got the teardrop in memory of his late brother, who passed away in a car accident last week.
Lin is up to 15 points and nine assists now, and he's only committed one turnover so far in the second half.
But once again, the Knicks just can't contain the Raptors on defense. The Raptors seem to have an answer every time the Knicks do something. They're shooting 58.5 percent from the floor and are leading 71-59 with 2:41 to go in the third.
Jose Calderon is still owning this game, by the way. He has 23 points and seven assists.
So...Calderon-fire?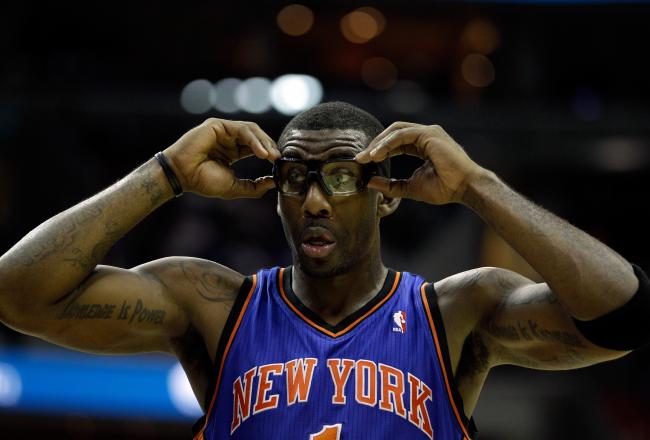 Stoudemire's rolling now. He's up to 15 points after converting a three-point play. He was roughed up on the play but he managed to lay it in anyway.
He got the ball from Lin, so that makes it eight assists for him.
The Knicks' offense looks good, but they haven't yet tightened up their defense. The Raptors are leading 61-49 with just over six minutes remaining in the third.
Jeremy Lin just found Amar'e Stoudemire for a nifty hook shot. That puts Stoudemire in double digits at 10 points, and Lin now has seven dimes.
Better yet, the Knicks are within striking distance at 53-44. This one's not over yet.
Jose Calderon is still hot. He has two early buckets in the third quarter and now has 16 points. The Raptors are up 53-42.
Tyson Chandler just picked up his fourth foul. He's gone to the bench and is likely done for the quarter.
This article is
What is the duplicate article?
Why is this article offensive?
Where is this article plagiarized from?
Why is this article poorly edited?

New York Knicks: Like this team?