NBA 2011-12: Which Team Will JR Smith Give His Services To: Clippers or Knicks?
February 15, 2012

Doug Pensinger/Getty Images
Ever wonder what goes on inside of an athlete's mind when he trying to decide which team to play for? Well we decided to make light of a serious situation that could possibly have ramifications on a team being a contender for the NBA championship and another team only being considered potential. We all struggle with our own conscious when deciding on things. Here is an in depth look at JR Smith's conscious: the Angel JR & the Devil JR, along with JR himself.
Imagine J.R. Smith, in China, laying on his hotel bed Sunday evening and thinking about his return to the NBA. He watches an hour of ESPN, voiced over in the Wu Chinese language, which is the primary language for the province of Zhejiang which is the municipality of Shanghai.
He sees a story about his former Denver teammates Kenyon Martin, who recently signed with the Los Angeles Clippers. Martin now is a teammate of perennial point guard, Chris Paul, who was Smith's teammate for two years when he played in New Orleans for the Hornets.
The story then turns to another former Nugget teammate, Wilson Chandler, who like Smith, is currently coming to the end of his Chinese contract and will be rejoining the NBA. Smith is an unrestricted free agent, meaning he can go where ever he chooses. Chandler is a restricted free agent, meaning the Nuggets have the right to match any offer by another team and keep him.
I imagine his thoughts may go something like this: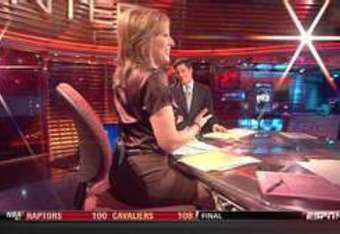 Smith: "Man I'm tired. I can't wait to go home. Let me turn on the TV and see what Sports center is talkin' about. Damn, I never knew Linda Cohn spoke Chinese? Oh, hold on, that's a voice over. I must be real tired".
Devil JR: "Not as tired as I am. I been sittin' here on your shoulder waitin' for you to make a decision about goin' to play for the Knicks."
Angel JR: "Not so fast little boy in the red leotards! Listen JR,  we need to go to the Clippers. Do you know what kind of history they are about to make? There won't be a bigger story in sports all year if they win the championship. And you can be a big part in it!"
Smith: "I know I could huh? That would be awesome to win a title on a team that has never even gotten close."
Devil JR: "Shut up fool! JR are you crazy! New York is the Mecca of basketball. If we go to the Knicks, we could be the missing peace they need to get over the hump."
Angel JR: "No we won't. They just got their missing peace when the kid from Harvard started ballin'. But that would be a nice story to jump in on too. He seems to be a great kid."
Smith: "Yeah he does seem cool. He reminds me of our point guard here... sees the court well and has good handles too."
Angel JR: "On second thought, even though he sees the court well, he's no Chris. Chris is the best in the league. And he's your friend too. He's called you ever since he signed in LA. How many times has Melo called you?"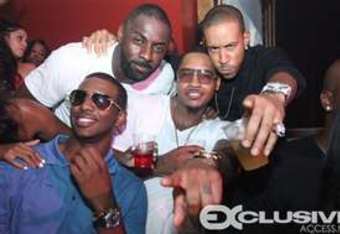 Devil JR: "So what! Melo got things to do. He ain't trying to phone-a-friend! This ain't Who Wants to Be a Millionaire! Look JR, the Knicks can give you more money than that JV team in LA."
Smith: "True, they can pay me more"
Angel JR: "So what! We just got paid here and it's not like its a multi-year deal. We sign for the minimum this year, help them win a title, then negotiate for a long term deal. If not there, more teams will be interested. They always are. Plus, Kenyon is there too. And although he's hurt, Chauncey is as well."
Smith: "Yeah, I did like playing with Chris, K-Mart too. And Chauncey is like a big brother too. Man this is tough."
Devil JR: "No it ain't! Let's go to New York fool. It's all kinds of women in New York and you'll have Spike Lee screamin' for you man!"
Angel JR: "I'm sorry, did I mention the Clippers play in LA? Need I say more? And Spike Lee? Man he's yesterday's news. The Clippers, or Lob-City has the new stars my friend. I saw the entire cast from Glee there, Penny Marshall is always there along with Billy Crystal. I even saw two of the dudes from NCIS."
Devil JR: "Billy Crystal? Hahaha...man please, I'm talkin' about New York! Alicia Keys was there last week!"
Angel JR: "Guess who Billy Crystal was sitting two seats down from?"
Devil JR: "Who?"
Smith: "Who?"
Angel JR: "Sofia Vergara."
Smith: "Who's she?"
Devil JR: "Oh snap. That's the chick from Modern Family. The real fine one married to Al Bundy."
Smith: "Oh, her? Didn't she play Tyrese's girlfriend in that movie Four Brothers?"
Devil JR: (holding his head down)  "Yep. That's her."
Angel JR: "Yep, and she was wearing this tight dress and jumping up and down whenever somebody made a three pointer. Who makes more three's than you? Listen JR, the Clippers are THE new thing. And they are here to stay. With Blake, Chris, DeAndre and You, that can be a force to deal with for a few more years to come. You could enhance Lob-city!"
Smith: (looks first at the Devil JR with his head in his hands on his left shoulder, then back at Angel JR on his right with his hands crossed and tapping his foot)"Modern Family huh?...I think I need to give Chris a call".