Jeremy Lin: At What Point Does Lin-sanity Become Lin-sulting?
February 15, 2012

Chris Chambers/Getty Images
Only one man could trump the American sporting public's infatuation with gridiron goodie-goodie Tim Tebow, and it turns out that man is a twice-spurned, Asian-American point guard named Jeremy Lin.
If you had the 23-year-old Harvard grad in your American idol pool, take a bow.
Actually, if you knew the kid's name a few weeks ago, you're entitled to the same.
To say Lin came out of nowhere to take the NBA by storm is only a slight exaggeration, as those familiar with his story can attest. He was a high school player of some acclaim in California before leading Harvard to the top of the Ivy League as a collegiate. Undrafted and dumped by both the Golden State Warriors and Houston Rockets, Jeremy was hanging onto the Big Apple by his last fingernail before circumstances pressed him into starting point guard duties with the hometown Knicks.
From there, the rest is history, and in the "all-time greatness" sense of the word.
The newest Knickerbocker sensation became the first NBA player ever to register at least 20 points and seven assists in his first four career starts. Best of all for New Yorkers, he's gotten the Knicks on the winning track and propelled them right into the thick of the playoff conversation.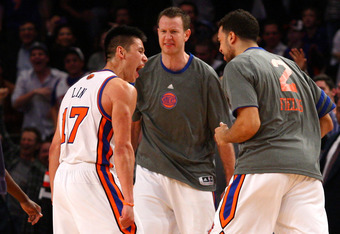 Chris Chambers/Getty Images
Along the way, his path to the pros, his ethnic background and his employer have conspired to take him from nameless to famous, and the hype train is showing no signs of derailing.
Which brings us to the question at hand—when does all the hoopla become insulting overkill? An homage to ignorance?
The easy answer would be to say "when Floyd Mayweather offers his two cents," but that's giving Floyd too much credit. All Money May's idiocy proves is the enduring wisdom of that old adage, "better to remain silent and be thought a fool than to open one's mouth and remove all doubt."
As when Rush Limbaugh transparently baited the race trap with his nonsense about Donovan McNabb, wasting thought on a rebuttal would be to mistake hollow sensationalism for substance. Floyd's just taking a cue from his pasty predecessor and leveraging a hot-button topic for some pub.
I guess that means the buzz from his impending jail sentence for domestic violence has run its course...
Mayweather's another issue unto himself, so let's ignore him, a good rule of thumb until he fights Manny Pacquiao.
The real problem with the Lin story is the persistent tone of the media coverage.
For example, the AP deemed Jeremy's first dunk so noteworthy that it got the spotlight treatment in the write-up of Lin's second start.
Keep in mind that the Knicks' point guard checks in at 6'3" and is athletic enough to play professional basketball. Nor do I imagine the inaugural jam by Chris Paul—who is at least three inches shorter—received similar attention.
Translation: Can a brotha' get a little respect?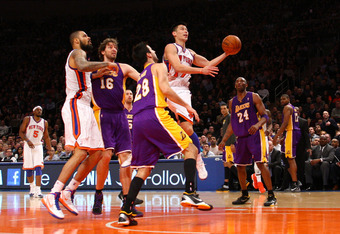 Chris Chambers/Getty Images
Another common angle has been to compare Lin to Tebow because of his faith and underdog story. Of course, that tack conveniently ignores the facts that Tim Terrific (A) attended a virtual football factory at Florida; (B) was a first-round draft pick; (C) was essentially gifted the starting gig; and (D) has frequently struggled with the most basic aspects of professional quarterback play.
Lin fits none of those descriptions, even when modified for the basketball court.
He honed his game in a basketball wasteland, went undrafted and bounced around before settling in New York as the starter. He's been overlooked at every stop, fought for each incremental step of career advancement while Tebow has been carried along by a tide of popularity.
Most importantly, Lin's success hasn't come in the face of glaring flaws that threaten his long-term viability as a star at the highest level. The latest media dar-Lin has legitimate skills, including two of the most critical for an NBA guard—he's a slick distributor and has a shooting stroke that's even smoother.
Other articles have touted of his exploits with such incredulity that you'd think the Palo Alto product just recently picked up a ball for the first time. Look, nobody is going to mistake Harvard basketball for the Kentucky Wildcats, but it's not exactly your local rec league, either.
In fairness, the hyperbole and hysteria are warranted.
But to a degree.
Lin's story is an amazing one in a vacuum—he's defied odds in historic fashion and executed a career 180 in the span of a week. Additionally, the novelty of an American of Chinese and Taiwanese descent torching the Association cannot be denied (settle down, Floyd, it's just ONE of the elements driving the story).
Now, set that story against the magnifying backdrop of Madison Square Garden and New York City, and some exaggeration was predictable.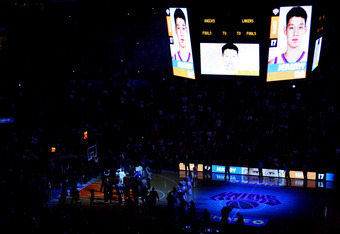 Chris Chambers/Getty Images
But the longer the phenomenon persists in its current form, the harder it is to deny the ignorance that seems to be at its heart.
Because if the narrative's magnitude is rooted in the defiance of expectations, then it is as much a reflection of how little was expected from Lin as it is a reflection of how incredible he's been.
Which means, sooner or later, someone must ask the obvious question: Why were expectations so low for a kid with a successful track record, a D-I pedigree, NBA size and talent to match?
And the answer to that is insulting to everyone.