NCAA Basketball: 5 Ranked Teams Hit the Road for Big Conference Games
February 14, 2012

Jonathan Daniel/Getty Images
Road Test Tuesday: Five Ranked Teams Hit the Road for Big Conference Games
Note: You can follow Joshua Gleason on Twitter (@MisterSideline) for live commentary of games as well as to submit comments or questions

Tonight's matchups feature a slate of games that involve ranked teams hitting the road to face conference foes, some of which are desperate to build their résumé.
The 12th-ranked Florida Gators head to Tuscaloosa to face the Alabama Crimson Tide while the Clemson Tigers try to avenge a recent loss to the 22nd-ranked Virginia Cavaliers.
The upset-minded TCU Horned Frogs look to knock off the 11th-ranked UNLV Rebels after a big win, and 23rd-ranked Mississippi State Bulldogs come off a huge loss and have to travel to face the LSU Tigers.An d the sixth-ranked Ohio State Buckeyes head up north to take on the Minnesota Golden Gophers.
While there is not a huge rivalry or headliner, it should still be an interesting night of college basketball that begins with the SEC battle between the Gators and the Tide.
Two to Focus On
No. 12 Florida Gators (19-6, 7-3) @ Alabama Crimson Tide (16-8, 5-5) – 7:00 ET ESPN
Key to the Game: Can Alabama overcome suspensions
Alabama has a lot to overcome if they want to win what would be a huge résumé booster for them.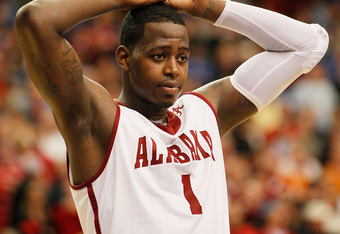 Kevin C. Cox/Getty Images
Due to suspensions, senior forward JaMychal Green and junior forward/guard Tony Mitchell, Alabama's two leading scorers, will be missing their second and third straight game, respectively. Green and Mitchell are also quality defenders on a team that prides itself on defense. Facing a Florida team that is highly effective on offense, missing their length and size is going to be huge.
Luckily for the Crimson Tide, they do get back guards Trevor Releford and Andrew Steele, their top two assist men. Releford has also been an effective scorer—third on the team with 12.4 per game—and defender, leading the team with 2.2 steals per game.
Not at all bad for the Tide.
For the Gators, they will be without sophomore forward Will Yeguete, who has suffered his second concussion and will miss a few games. Yeguete is third on the team in rebounds and has been a solid player for them. On a team that, outside of sophomore forward/center Patric Young (who is battling an ankle injury) struggles inside, this could be key.
Finally, the last thing to watch for from this game is the three-point shooting. Florida is first in the nation in three-pointers made this season and 16th in terms of percentage, nailing 39.4 percent of their treys.
Alabama, on the other hand, is only allowing opposing teams to shoot 27.6 percent from behind the arc, good for seventh in the nation. Without Green and, specifically, Mitchell playing out there, Florida will have an easier time getting their shots off, though Alabama has had two of their best efforts in defending the three in the past two games.
Despite the Crimson Tide getting back Releford and Steele, the absence of Green and Mitchell should still prove to be too much against a potent Florida offense.
Final Score Prediction: Florida 75, Alabama 62
No. 6 Ohio State Buckeyes (21-4, 9-3) @ Minnesota Golden Gophers (17-8, 5-7) – 9:00 ET ESPN
Key to the Game: Which team can move on from the agony of defeat
Both teams desperately need this one for their own reasons.
Ohio State is coming off an embarrassing loss to Michigan State 58-48 and are now tied for first with the Spartans for the Big 10 lead. They also let the possibility of a one seed slip out of their grasp, but it's still in reach.
Minnesota just missed pulling a huge upset that would have vaulted them from "bubble team" to "just in." They took the 17th-ranked Wisconsin Badgers to overtime after a big second half rally, but it was not enough as they lost 68-61.
Both teams have to be at emotional lows after their past games. The Buckeyes committed nearly every mistake imaginable, and the Golden Gophers barely missed out on a huge win. The question now is which team can overcome this better.
Ohio State is undefeated this year coming off their three losses—with all of their victories by double digits. Minnesota has not had the same success, primarily due to a four-game losing streak they suffered at the end of December and early January.
Looking at the two teams, it's clear Ohio State has the edge in talent. However, they were completely flat against Michigan State. A lot of the blame fell to Jared Sullinger for his infamous triple-double, but the rest of the Buckeye squad was fairly miserable as well, shooting 9-for-38 from the floor (23.7 percent).
Blame needs to be spread all around the team, who simply could not do anything against a tough defense.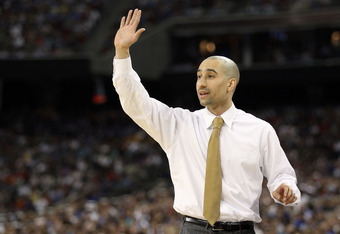 Andy Lyons/Getty Images
If Minnesota has anything going for them going into this game, it's that their team is tough and is going to work for this, as they did last Thursday against Wisconsin.
This should be a good battle between a good Golden Gophers defense and even better Buckeyes defense. Minnesota needs this one, and, while I don't expect them to win, I expect them to test Ohio State like they tested Wisconsin.
Final Score Prediction: Ohio State 66, Minnesota 57
Three to See
No. 22 Virginia Cavaliers (19-5, 6-4) @ Clemson Tigers (12-12, 4-6) – 7:00 ET ESPNU
Clemson does not have much to gain from this other than an NIT bid. Virginia really needs to avoid a letdown and rebound from the loss to North Carolina, and I believe they will as they are 9-0 this season against teams with an RPI of 150 or higher. Expect Virginia's incredible defense to limit Clemson guard and leading scorer Andre Young like they did last time.
No. 11 UNLV Rebels (22-4, 6-2) @ TCU Horned Frogs (14-10, 4-4) – 7:30 ET MTN
This game is the polar opposite of the last time these two teams faced off. Last time, both teams were coming off near losses to conference foes, and UNLV came out to smack TCU 101-78. This time, the Rebels squeaked out a win over the Aztecs and the Horned Frogs upset the Rams of Colorado State.
TCU has been very up and down all season, and, while they aren't nearly as good as UNLV, they are 11-2 at home and have a win over a top-25 RPI this season. UNLV, however, is only 5-4 on the road, but has yet to lose to a team ranked 101 or below in the RPI.
Expect this game to be tighter because it is in Fort Worth. But the Rebels don't take games off and have far superior talent. UNLV still wins by double digits.
No. 23 Mississippi State Bulldogs (19-6, 6-4) @ LSU Tigers (14-10, 4-6) – 9:00 ET ESPNU
This Mississippi State team can never seem to get it together. After a very impressive win over in-state rival Mississippi, they blow a game to Georgia. The Bulldogs are full of talent and can score in a variety of ways, but have been inconsistent in SEC play.
The Tigers really pushed the Bulldogs when these two played in Starkville. Expect them to do the same at home. It's hard to believe Mississippi State won't come out focused for this one after the huge letdown to Georgia, but you never know what team will end up showing up for Rick Stansbury.
Mid-major Flavor
VCU Rams 22-5 (13-2) @ George Mason Patriots (21-6, 13-2)
The CAA has provided us with two final four teams—the two playing in this game. VCU comes into this game incredibly hot, winning eleven straight, while George Mason has gone 9-1 in their last ten games.
In a league that has three teams fighting for the top spot (Drexel included), this is a huge game. This is the first time these two will meet this season and the first of two meetings in less than two weeks. (They meet again next Saturday).
George Mason has mainly padded their record with an easy schedule, but they do have Ryan Pearson, a multidimensional forward who is one of the nation's leading scorers. The Rams have a very tough defense, but Pearson should still give them some trouble with his ability to play inside and outside.
I expect VCU to edge this one out, but, anybody who can get a chance to see this game, I suggest doing so. The CAA has proven to be a popular spot to produce tourney underdogs!
Again, follow me on twitter (@MisterSideline) for live commentary of the Florida-Alabama and Ohio State-Minnesota games!