What's New and Now: The Best Viral Sports Videos of the Week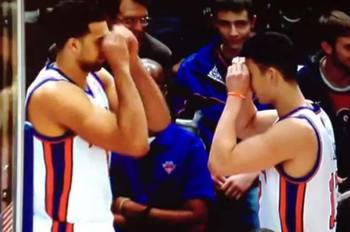 It's been a busy week for viral sports videos.
Will Ferrell stopped by a random NBA game to do the player announcements, a swimmer proposed to his girlfriend while on the gold medal podium, and there's a new sports called Ultimate Tazer Ball that you have to see.
Of, and there's this guy named Jeremy Lin. You may have heard of him. He's blown up the sports world, but other than his play he wowed us with one of the coolest custom handshakes in sports. If you haven't seen it, you have to.
We've got that and all the other good stuff you may have missed, right here.
Just Another Reason Jeremy Lin Is Awesome
Read a book. Take off your glasses. Put them in your pocket protector.
What else would you expect from a couple of Harvard and Stanford guys in the NBA?
Just awesome.
News Flash: Boxing Fans Are Violent
I don't care how tough you are, if you're in a boxing ring when a riot breaks out, that's got to be terrifying. You're right in the middle, completely surrounded on every side as a bunch of crazy people are throwing chairs at you and throwing wild haymakers (without gloves, the savages).
The moral of this story? When you're in a hostile environment, don't get up on the ropes to taunt people after your win. It doesn't work out in the end.
Another News Flash: Will Ferrell Is Quirky
I'll be the first to admit that I'm kind of over Will Ferrell's schtick, but I will admit that he's way more entertaining than your normal NBA announcer.
At the very least, I think they should start peppering little random facts (true or not, and in Ferrell's case, totally untrue). It would spice things up a little bit.
What do you think? Is this funny or trying too hard?
Baller Proposal
I've said it before and I'll say it again: anybody who proposes in public like this and in front of people they know is a baller. That's some nerve wracking stuff, even if you know what the outcome is going to be.
And I especially love that the guy who won the race proposed. If you're proposing after coming in third, that's pretty much an automatic no, right?
Ultimate Tazer Ball
Somebody please tell me this is fake.
It's as if somebody was watching football and thought, "the hits aren't painful enough. What I really want is a sport that can make an opposing player evacuate their bowels when I hit them."
Thus, Ultimate Tazer Ball was "invented." This is definitely the sport of the future. There's no way this could end in a lawsuit or an untimely death.
You're picking up the sarcasm there, right? Okay, just checking.
Mama Said Knock You Out...Of the Octagon
I can't believe this doesn't happen more often.
I don't know if somebody forgot to lock the door, or if the sheer weight of two MMA fighters barreling into it would make the lock worthless anyway, but this is the most excited I've been for a fight like this in a long time.
The only thing is they should have just let them go. If the fight continued right near everyone else like that with no boundaries, that would be the coolest thing ever.
Real Life Hoosiers
Just recently, footage of the championship game with the team that Hoosiers was based on was just released.
If you're a huge fan of the movie, you need to see this.
If you're not, but you still enjoy terrible basketball and black-and-white film, you'll still probably enjoy it.
Full-Court Alley-Oop
At the very end of the video, you can clearly see that the score going into half was 40-5.
Gee, I wonder which of these teams was winning.
The Rock Gets Inappropriate on Sportscener
What? An ex-professional wrestler dropping the BS-bomb on live TV? I've never heard of such a thing.
Actually, now that The Rock has been neutered by Disney, this is probably a bigger deal than I realize. But it's still funny to see everyone's reaction when somebody cusses on live television.
Keep Reading