Would You Rather: Terrell Owens vs. Randy Moss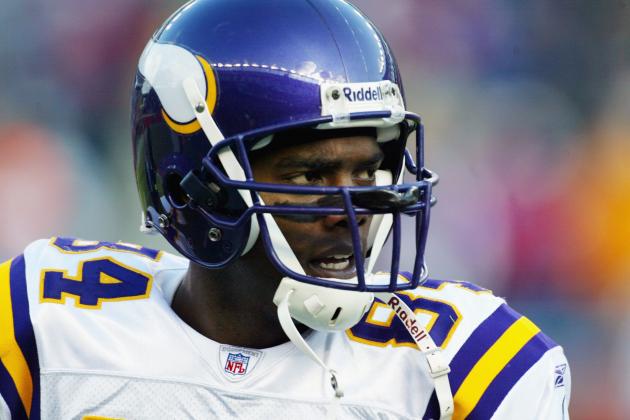 Rick Stewart/Getty Images
He's baaaaaaaaack.
Randy Moss, unquestionably a future NFL Hall of Famer, has recently unretired from the sport and has officially landed on the free-agent block. His most recent stints in the league preretirement included a homecoming back to Minneapolis before heading off to contribute for the Titans in Tennessee. Moss went on to wisely leave the league and walk off into the sunset as one of the greatest wide receivers to ever play the game.
Terrell Owens, also a future Hall of Fame wideout, fidgeted around the free-agent block for the entirety of last season without a single call from any GM across the league. T.O. has recently come to a contractual agreement with the Allen (Texas) Wranglers of the Indoor Football League. With that said, the dude is still in shape beyond his years and would welcome a resume in his NFL career with open arms.
I feel like this is as appropriate a time as any to ask: Which wide receiver would you rather advertise as yours for the 2012-13 NFL season?
Begin Slideshow

»
As suggested in my relatively corny caption for the opening slide's picture: he's baaaaaaaack.
Let's kick it off with a couple of numbers, shall we?
He ranks third among all receivers to ever put on a uniform in the NFL in receiving TDs with 154. Only Jerry Rice and Terrell Owens have more receiving TDs than Moss. Moss has more touchdowns than fellow Vikings legend Cris Carter, Marvin Harrison, Tim Brown, Steve Largent and Irving Fryar. He also is ninth all time in career receiving yards; he leads Art Monk, Torry Holt and Tony Gonzalez. But he trails Carter, Rice and Owens.
On the gridiron, the dude is magnificent. He's potential GOAT material, but Moss doesn't necessarily provide the character, charisma, work ethic and professionalism you would want to call your own. This man has mooned fans (charades style), gives up on the field when fed up with poor performance (just ask Daunte Culpepper) and lacks the drive and work ethic that Rice possessed, which made him the greatest receiver the league has ever claimed as its own.
Moss, 35, captivated the league for a decade with his unmatchable deep-ball threat, highlight-reel plays and controversial banter, and is now extending that trend into 2012, by becoming a legitimate candidate for signing next season. Although certainly not the No. 1 WR he once was, he can certainly provide aid to winning teams on the verge of big things. Moss, this late into his career, only has one more piece of hardware to strive for: a ring.
T.O. hasn't gone anywhere. He maintained his status as a NFL free agent for the entirety of last season and still is on the free-agent block for teams that are in need of a small piece to send them toward victory. Terrell Owens, 38, is at the point in his career in which he has been there and done that...and that, and that, and that, and that, too. Owens has done A LOT during his NFL career, which included stints in San Francisco, Philadelphia, Dallas, Buffalo and, most recently, Cincinnati.
Owens ranks sixth all time in career receptions, totaling 1,078 yards in 12 seasons. More than Moss. Owens ranks fourth in total TDs (receiving and rushing) with 156. Moss, ranks fifth, with just two TDs less than Owens.
But, like Moss, Owens has no rings to show for his statistic output.
Also like Moss, his talent and athletic production are accompanied by a ridiculous ego that repelled all the possibilities of potentially returning to the league last year. You can look at the video above (please do, it'll definitely be worth your time) to see that this guy has a problem with suppressing his unnecessary actions.
This is the same man who infamously curled dumbbells and did crunches and push-ups following a contract dispute with Philadelphia. The same guy who shed popcorn into his helmet in Dallas. The same guy who later went on to create a VH1 series about his life when he was well past his prime. And this is the same guy who created a cereal after himself, called "T.O.'s." (I know, creative.)
At the end of the day, if a team is in need of a veteran wideout with a proven track record of success who can push his team a little bit further into the postseason en route to New Orleans for Super Bowl XLVII, this might be the guy to acquire.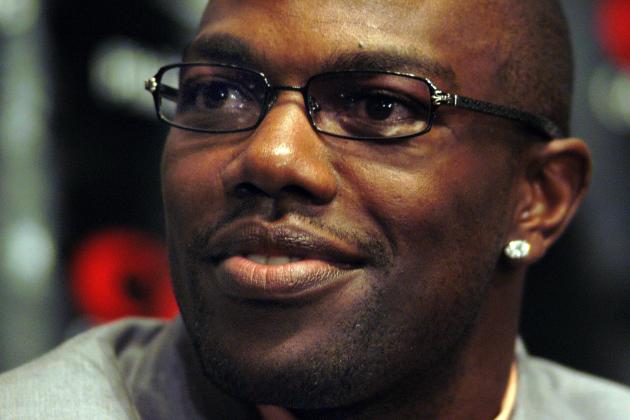 William Thomas Cain/Getty Images

It's a pretty damn hard decision. Both are the best receivers of the previous decade. Both provide almost unmatchable talent, as well as egos. And ultimately, there's definitely a big risk for, quite frankly, a pretty average reward.
But I went with T.O. because I think his age actually benefits him a little bit more. He's been around the league for a while, is wiser than Moss and worked out—hard—during his time on free agency last season.
Owens just went through a pretty humbling experience by not receiving communication from any team last season. I think he finally has to recognize that NFL front offices, coaches, players, trainers, et al will not put up with his antics anymore. Quite frankly, that his talent has dropped off a little bit due to age is not worth all of the B.S. teams have dealt with in the past.
While Moss' speed helps in the deep game, being the 35-year-old he currently is has taken away some of that explosiveness and speed he put onto the table in past years. Plus, the fact that he was away from the league for about a year means that he will have to rattle off some rust before getting into any sort of a groove.
I don't see any reason that a roster would die over getting one of these guys. After all, look at the WR market this coming season.