25 Players Who Have Had a Phenomenal Season Thus Far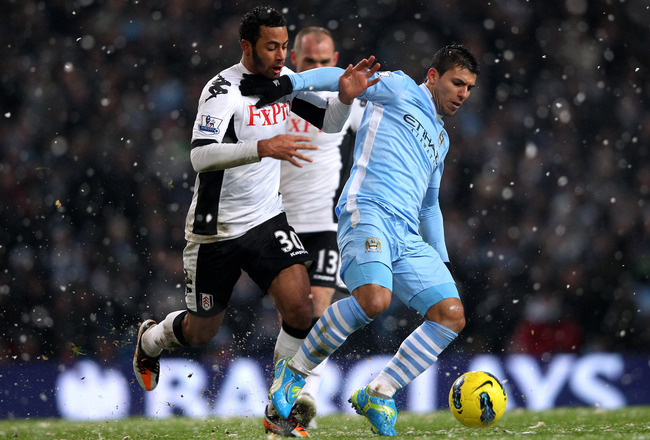 Alex Livesey/Getty Images
This season we have witnessed a lot of players who have managed to improve tremendously and provide stupendous performances on a consistent basis.
There have also been players like Sergio Agüero and Juan Mata who have come into the English Premier League and adapted easily.
Although we have seen some flops like Fernando Torres, who to be honest is just at the end of some sheer bad luck, this slideshow pays homage to 25 players who have been phenomenal this season.
Let us count them down.
25. Kyle Walker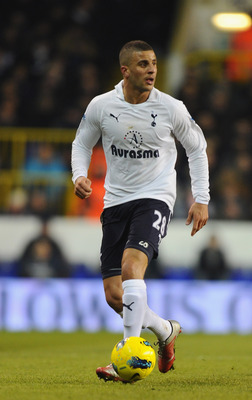 Mike Hewitt/Getty Images
Kyle Walker has been phenomenal in defense for the Spurs.
He has made leaps and bounds in progress, and he no longer looks uncomfortable and out of position.
He has substantially improved his passing and dribbling, and his concentration levels are solid throughout the game.
24. Tim Krul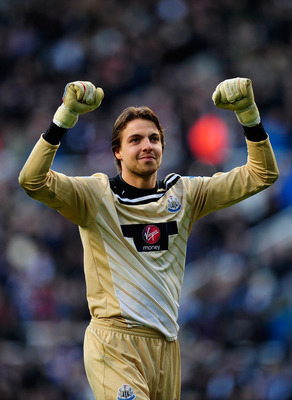 Stu Forster/Getty Images
If Newcastle were to have maintained the fine form they displayed early on, Tim Krul's ranking would have been higher.
That being said, he has proved to be an excellent keeper thus far.
23. Michael Carrick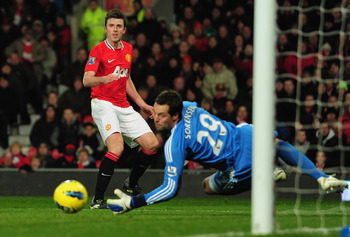 Jamie McDonald/Getty Images
Michael Carrick has always been a world-class player for United. Make no doubt about that.
This season however, despite being the pass master, he has also been able to dictate play more effectively.
And then, there is this goal.
22. Scott Sinclair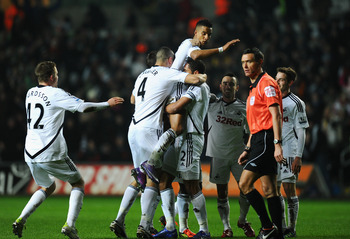 Mike Hewitt/Getty Images
Swansea City have impressed me greatly this season.
They are reminiscent of Blackpool of last season, but they play far more attractive football.
And one of the reasons is Scott Sinclair. He makes great runs and has great dribbling skills as well.
He has already scored seven goals this season. Impressive.
21. Benoit Assou-Ekotto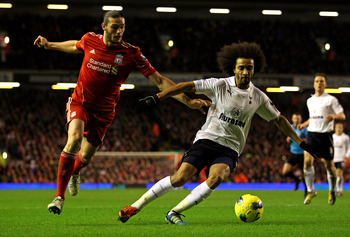 Clive Brunskill/Getty Images
The Tottenham Hotspur full-back has had an impressive season thus far.
Benoit Assou-Ekotto has been fantastic in his defensive duties. He has, likewise, been able to surge forward and provide the team with an added level of agility and creativity.
His dribbling skills would make you think he is a central midfielder.
He has also registered two goals and four assists this season. Not bad for a left-back.
20. Clint Dempsey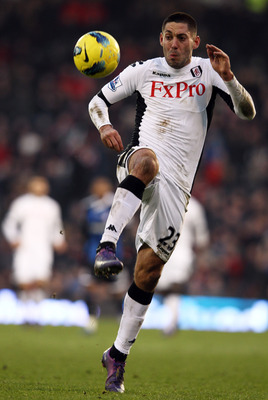 Ian Walton/Getty Images
If there has been one standout player from Fulham this season, it's Clint Dempsey.
Don't get me wrong, he has always been impressive, but this season he has been thoroughly magnificent.
His hat trick against Newcastle was really a testament to his abilities.
19. Nathan Dyer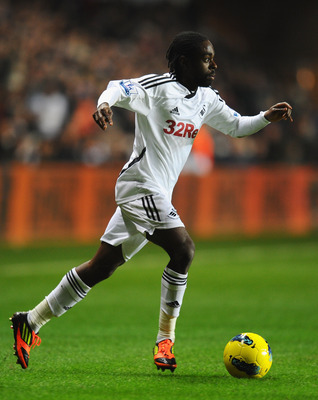 Mike Hewitt/Getty Images
Although not as significantly registered on the stat sheet as Scott Sinclair, Nathan Dyer has impressed me even more.
His marauding runs and great dribbling skills, along with his chemistry between the other players is a delight to watch.
His crossing could be improved though, as he is sometimes as wasteful as Theo Walcott.
18. Martin Skrtle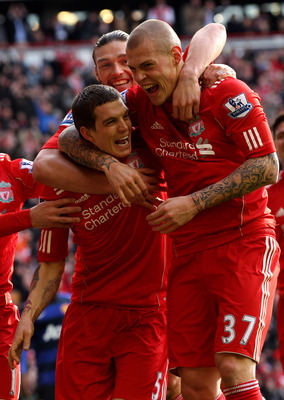 Alex Livesey/Getty Images
When you've managed to keep Jamie Carragher out of the team, you've certainly proved yourself to be a capable defender.
Besides his solid defensive contribution, he also provides a significant aerial threat in the opposition half on corners and set pieces.
17. Laurent Koscielny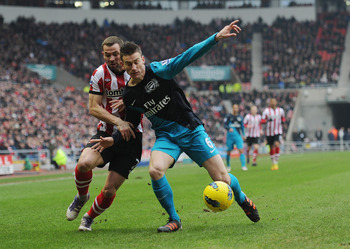 Michael Regan/Getty Images
Once a sight to be detested on the Arsenal roster sheet, a defender who even the Gooners shunned so vehemently, Laurent Koscielny has proved all his critics wrong.
Nowadays he signifies a sense of calm at the heart of defense. Rarely does he make a mistake. His ball interception and tackling have improved tremendously.
Furthermore, he provides an aerial target in set pieces.
16. Emmanuel Adebayor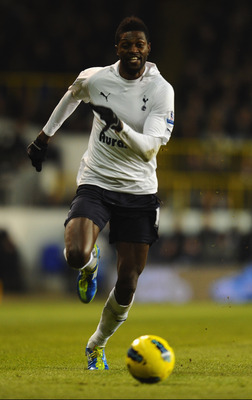 Mike Hewitt/Getty Images
Who knew that Emmanuel Adebayor could be a team player?
After having joined the Spurs side, Adebayor looks to be a transformed player, no longer seen as selfish but as an effective contributor to the team.
Tottenham have had a great run, and in many ways it is also due to Adebayor's presence.
Last week he registered four assists and a goal to his name.
15. Yakubu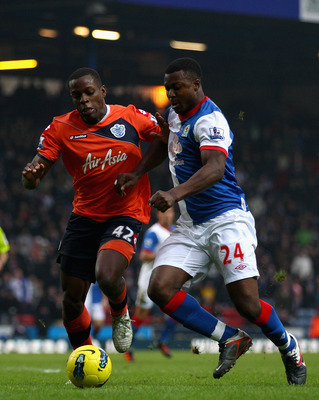 Clive Brunskill/Getty Images
With 13 goals in 16 games, Yakubu is the only sight at Blackburn that is a pleasure to behold.
With the team crumbling under Steve Kean's management, Yakubu remains the only source of hope for survival in the top flight.
14. Micah Richards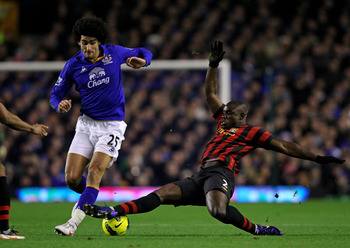 Alex Livesey/Getty Images
It is an enigma as to why Micah Richards has not been selected for internationals.
He is a great player who is great at defensive duties but can also make exquisite runs.
Too many times this season have we witnessed Richards terrorize opposition defenses; he has a goal and five assists already.
13. Stephane Sessegnon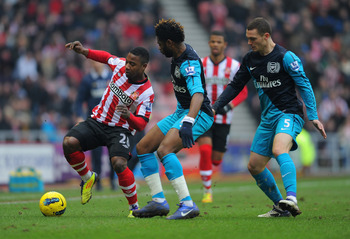 Michael Regan/Getty Images
His crossing abilities might not be quite developed, and he offers very little contribution to defense, but boy can Stephane Sessegnon play.
He is involved in almost every goal and assist that Sunderland score, and he is quite rightly having the season of his life.
Expect his tally of six goals and seven assists to rise even higher.
12. Michel Vorm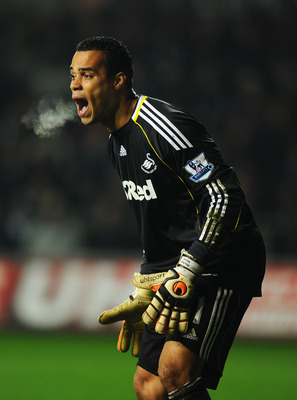 Mike Hewitt/Getty Images
Another Swansea player on the list. But can you really blame us?
Michel Vorm has been, by a country mile, the best goalkeeper in the premier league.
His strongest attribute is that of shot saving—especially when it comes to penalties.
Swansea has in total a highly commendable nine clean sheets this season already, a majority of which are because of Vorm's stupendous command.
11. Juan Mata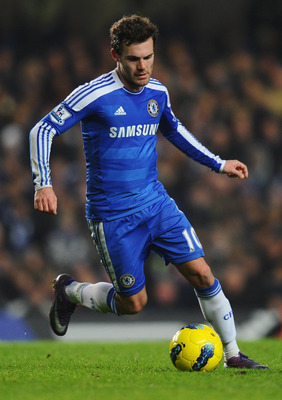 Mike Hewitt/Getty Images
Juan Mata has essentially breathed new life into a decaying Chelsea side.
Mata is the channel through Chelsea have built up their attack, and he has adapted to the pace of the Premier League quite well despite his diminutive figure.
He makes most of the key passes, and he has already garnered eight assists.
He also has five goals to his name.
10. Sergio Agüero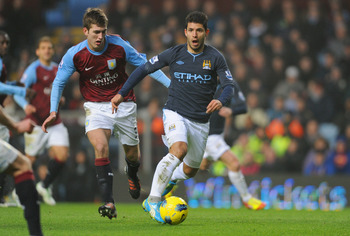 Michael Regan/Getty Images
Like his counterpart Juan Mata, who also traded his trade in Spain for that in England, Sergio Agüero has adopted quite brilliantly to the physicality of the English Premier League.
Although his asking price was high, Agüero has fully lived up to his transfer fees.
With 15 goals and five assists to his name in only 22 appearances, Sergio Agüero definitely deserves is place at No. 10.
9. Daniel Sturridge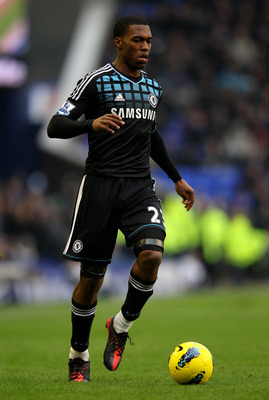 Alex Livesey/Getty Images
People seem to forget that only last year Daniel Sturridge was at a loan spell in Bolton.
And boy has he developed.
He has come back to the Chelsea squad and, like Juan Mata, has injected vigor into the lackluster side.
Although he is highly selfish at times and doesn't provide as many passes as he should, he can be let off the hook—he has nine goals and two assists in 18 appearances.
8. Jose Enrique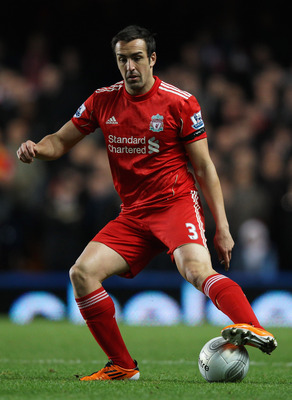 Clive Rose/Getty Images
Less than a full season at Liverpool, and Jose Enrique has already established himself as one of the best left backs in the premier league.
He has already been compared to the likes of Patrice Evra and Ashley Cole.
His dribbling skills are fantastic, and he provides a great outlet down the left-hand flank.
7. Demba Ba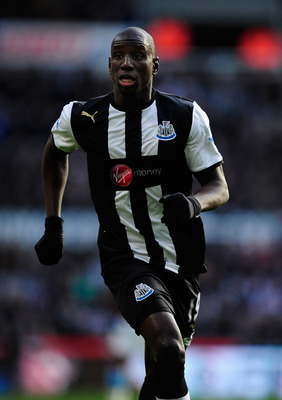 Stu Forster/Getty Images
What a revelation Demba Ba has turned out to be.
With exceptional finishing, Ba has proved himself to be one of the best strikers in the league right now.
His defensive contributions do leave a lot to be desired, but when you score 16 goals in 19 games, you can be exempt of such minor offences.
6. Antonio Valencia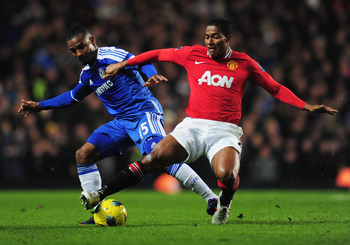 Shaun Botterill/Getty Images
Antonio Valencia has had, perhaps, the season of his life.
He has been a constant threat from the right flank, making great runs, and providing exceptional crosses. The number of key passes he makes in a game are phenomenal.
In only 13 games, he has racked up nine assists and two goals, and has provided man of the match performances on a regular possession.
5. Gareth Bale
Mike Hewitt/Getty Images
Last season, Gareth Bale had seven goals and a lone assist, and he won the PFA player of the year.
This year he has already scored nine and contributed seven assists.
His runs have gotten even more exquisite and his crosses have undergone great refinement.
I would not be surprised if he won the player of the year again.
4. Scott Parker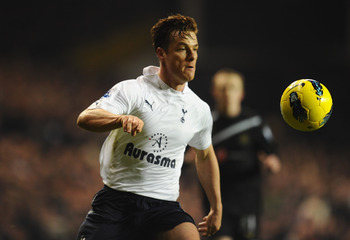 Mike Hewitt/Getty Images
Scott Parker is to Tottenham Hotspur as Claude Makalele was to Chelsea—under-appreciated by others, but definitely the most integral part of the squad.
If you follow the matches of Tottenham, you will realize one thing—the level of praise bestowed upon one Scott Parker.
Every commentator and sports analyst knows this: Scott Parker is the backbone of the Spurs squad.
Ever since he signed from West Ham for a diminutive sum of £5 million, he has been instrumental in the great run of form enjoyed by Tottenham.
Scott Parker provides a sort of world-class resilience to the Spurs squad and could be the key man against the heavyweights.
He is great at destroying play and setting his teammates for a swift opposition.
He is my pick to win the PFA player of the year this season.
3. Wayne Rooney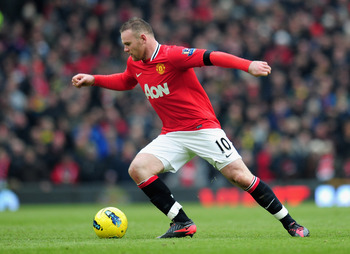 Shaun Botterill/Getty Images
Despite the slight dip in form towards the middle, Wayne Rooney has gained his form back and now poses an even greater threat.
His contribution to the Manchester United side cannot be underestimated, as United function completely differently without him.
All of the attack is channeled through him, and he has also flourished in the withdrawn striking role.
If he has a great Euro, I can see him winning the Ballon d'Or.
2. David Silva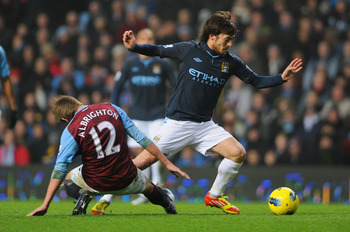 Michael Regan/Getty Images
How Spain produces such charismatic midfielders, I will never know.
From Xavi and Iniesta to Cesc Fabregas, and now the likes of Juan Mata and David Silva. About the former, we have already mentioned; however, it's the latter that deserves even more plaudits.
In David Silva, Manchester City have perhaps the best playmaker in the EPL. He has led City to countless wins by dictating the style of play and has scored a plethora of assists and also a handful of goals.
He has a great ability to create space which renders him almost unstoppable, and despite his size has succeeded quite well in the Premier League.
After having a difficult time settling to the pace of the premier league, Silva has adapted superbly well and has been a talismanic figure at Manchester City and has proved instrumental in City's rapid rise to success.
1. Robin Van Persie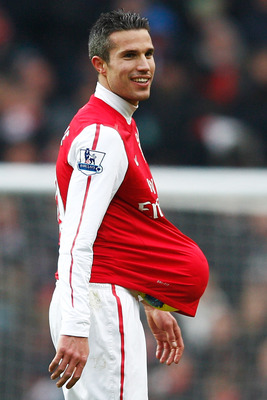 Paul Gilham/Getty Images
Robin van Persie is having the season of his career.
The year 2011 has been nothing short of phenomenal for the Arsenal captain; he nearly beat Alan Shearer's record for the most goals in a calendar year, and surpassed club legend Thierry Henry's record for most goals in a calendar year.
This season he has already scored 22 goals while also providing seven assists.
Nothing short of legendary!
Keep Reading