College Basketball Recruiting: The Country's Best High School/Prep Programs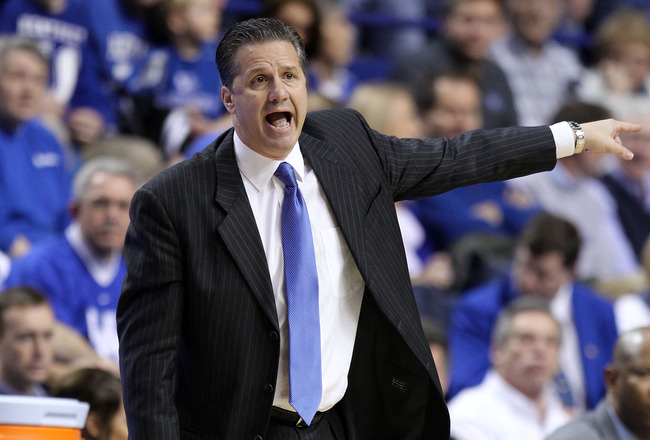 John Calipari may be the nation's best recruiter
Andy Lyons/Getty Images
In college basketball, a team's fortunes can change with a single player, making the recruiting period fiercely competitive. Traditional powers Duke, North Carolina, UCLA, Kentucky and Kansas regularly snag targeted recruits, while less accomplished programs scrutinize prospects for untapped potential.
Yet, for every diamond in the rough, dozens more deliver as expected. Among 2010's consensus 5-star recruits, Brandon Knight, Kyrie Irving, Jared Sullinger, Harrison Barnes and Tristan Thompson are all contributing to NBA rosters or leading their respective schools toward the postseason.
With that kind of slugging percentage, it's little wonder coaches spend so much time on the red eye.
Come inside for a look at the nation's recruiting hotbeds.
Dominguez High School (Compton, Calif.)

Tyson Chandler faces off against Eddie Curry in high school.

Dominguez High School makes the list by virtue of longevity, having produced NCAA and NBA talent for more than four decades.
Boston Celtics legend and 1979 NBA Finals MVP Dennis Johnson enjoyed deity-like status when he matriculated here in 1969. More recently, McDonald's All-Americans Tayshaun Prince and Tyson Chandler shared the floor for the Dons.
Notable Alumni: Brandon Jennings (Milwaukee Bucks), Tayshaun Prince (Detroit Pistons), Tyson Chandler (New York Knicks)
Detroit Country Day (Beverly Hills, Mich.)

Chris Webber led DCDS to three state championships.

Just ask current NBA D-Leaguer Keith Benson about the talent at his alma mater.
The 2011 second-round pick of the Atlanta Hawks averaged a scant seven points and five rebounds a game while struggling for playing time at DCDS.
The Yellow Jackets' most heralded alumni, Chris Webber and Shane Battier, delivered a collective six state championships, two Mr. Basketball titles and a pair of Naismith Player of the Year honors.
Two state titles in the last five years have continued the winning ways.
Notable Alumni: JaVale McGee (Washington Wizards), Shane Battier (Miami Heat), Chris Webber (retired), Ray McCallum (University of Detroit and 2011 Freshman All-American)
Peekskill High School (Peekskill, N.Y.)

Elton Brand competes against Lamar Odom and Ron Artest during the 1997 McDonald's All-American Game.

In an era when traditional powers have given way to "basketball academies," Peekskill has persisted with a nostalgia that feels more Indiana farm town than New York metropolitan. With just 20,000 residents and a single public high school, it's hard to believe Manhattan's only 40 miles away.
What's more certain is basketball's place in Peekskill. 1962 graduate George Pataki recalls his hardwood career with the same fondness he attaches to his gubernatorial tenure, and current players approach the game with refreshing historical reverence.
Notable Alumni: Elton Brand (Philadelphia 76ers), Hilton Brand (Atlanta Hawks/Euro League)
Montrose Christian (Rochville, Md.)

Where amazing happens: Kevin Durant gives Montrose Christian some coveted branding.

While other programs have chased domestic talent, coach Stu Vetter has made his living on the international market, stockpiling victories and appearing in the USA Today Top 25 every year since 2000.
And though Montrose's international flavor has become its staple, the Mustang's most famous alumnus was born stateside. Since graduating in 2006, Kevin Durant's well-publicized attendance has enticed even more talent to Rockville.
Notable Alumni: Grievous Vasquez (b. Venezuela; New Orleans Hornets), Linas Kleiza (b. Lithuania; Toronto Raptors), Kevin Durant (Oklahoma City Thunder)
Mater Dei (Santa Ana, Calif.)

Miles Simon securing his legacy at Arizona.

Under coach Gary McKnight, the Monarchs have spent the better part of a quarter-century stockpiling league titles (29) and state championships (eight).
Current UCLA trio Tyler Lamb, David Wear and Travis Wear are among the 140-plus graduates who've gone on to play at Division I schools.
Buyer Beware: With state-of-the-art facilities, a national schedule and regular television appearances, Mater Dei has developed a reputation of producing pampered, transfer-happy athletes.
Notable Alumni: Miles Simon (retired), D.J. Strawberry (Phoenix Suns/NBDL), Jamal Sampson (NBDL), LaRon Ellis (NBA Journeyman), Cedric Bozeman (Atlanta Hawks/NBDL)
Bishop Gorman (Las Vegas)

2012's No. 1-ranked recruit, Shabazz Muhammad.

Widely considered the best prepster since John Wall, Bishop Gorman senior and Rivals' No. 1-ranked recruit Shabazz Muhammad is weighing offers from Duke, Kentucky, North Carolina and UCLA.
But with three other seniors ranked among the top 150 nationally, the Gaels are anything but a one-trick pony. Rosco Allen (No. 79), Ben Carter (No. 129) and Demetris Morant (No. 150) have committed to Stanford, Oregon and UNLV, respectively, and will make a run at the school's 14th state championship this week.
With that kind of talent, don't expect C.J. Watson to be the only Gael in the NBA for long.
Notable Alumni: C.J. Watson (Chicago Bulls)
Findlay Prep (Henderson, Nev.)

2011's fourth overall pick and Findlay Prep graduate, Tristan Thompson is quickly making a name for himself with the Cavs.

Dubbed "the fake high school" by its critics, Findlay Prep enrolls just 12 students a year, all elite basketball players intent on improving their craft.
And though the Pilots have succeeded in creating a national power, founder Cliff Findlay has given his detractors plenty of ammunition—particularly relating to players spending more time on the court (5-6 hours a day) than in the classroom (3-4 hours). The extravagance of teenagers sharing a half-million dollar home and a cross-country schedule has drawn similar ire.
But as unsavory as the blueprint is, the results are hard to deny. The 2012 squad features eight players standing 6'8" or taller and boasts two McDonald's All-Americans. What's more impressive, since its founding in 2006, every Findlay player has earned a Division I scholarship.
In a city preoccupied with odds, Findlay Prep delivers a rare guarantee.
Notable Alumni: Tristan Thompson (Cleveland Cavaliers), Avery Bradley (Boston Celtics), Corey Joseph (San Antonio Spurs), DeAndre Liggins (Orlando Magic)
Oak Hill Academy (Mouth of Wilson, Va.)

Oak Hill's Carmelo Anthony faces off against LeBron James in high school.

No surprise here. Oak Hill's 19 alumni-turned-NBA players easily outdistance the competition.
Another school with a relatively low enrollment, nearly all of Oak Hill's 150 students live on campus, giving coach Steve Smith access to players around the clock. In 25 years at the helm, Smith has parlayed that advantage into seven national championships, three National Coach of the Year honors and 23 McDonald's All-Americans.
Names of recent graduates read like all-star roster and include Carmelo Anthony, Rajon Rondo and Josh Smith.
Notable Alumni: Rod Strickland (retired), Ty Lawson (Denver Nuggets), Jeff McInnis (retired), Ron Mercer (retired), Nolan Smith (Portland Trail Blazers), Jerry Stackhouse (Atlanta Hawks), Michael Beasley (Minnesota Timberwolves), DeSagana Diop (Charlotte Bobcats), Carmelo Anthony (New York Knicks), Rajon Rondo (Boston Celtics), Josh Smith (Atlanta Hawks)
Keep Reading