5 Things the Illini Need to Do to Make the Big Dance
Joe Robbins/Getty Images
The Illini are struggling, having lost six of their last seven games, but still have a shot at the NCAA Tournament. Since starting the season 10-0, the Illini are 6-9, and are fighting to stay on the bubble. Their key wins against Ohio State and Michigan State are keeping them afloat.
They do need some help, though, and here are five things the Illinois Fighting Illini can do to significantly improve their chances to be invited to the dance in March.
5. Win out at Home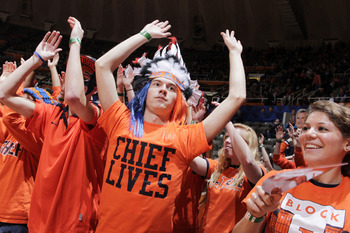 Joe Robbins/Getty Images
This one is simple. Win the games you're supposed to win. Three of the last four home games for Illinois have resulted in losses to Wisconsin, Northwestern, and Purdue. The team is 14-5 at home on the year, but they need to learn how to dominate the mediocre teams.
They have two games left at Assembly Hall, against Iowa and Michigan. But after a tough loss at home against Purdue on Wednesday, the Illini are going to have to step it up. They will need a win at Ohio State or at Michigan State, to win these two games, and add a road win at Nebraska to finish the Big Ten season at 9-9, which will go a long way for the selection committee.
4. Stop Taking so Many Threes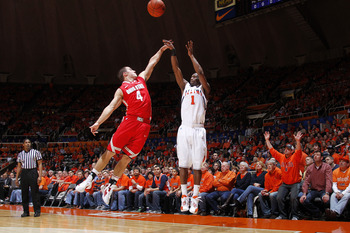 Joe Robbins/Getty Images
Illinois is tied for 253rd in the nation in three point field goal percentage, and yes that stat is accurate. As a team, they are shooting just 32.3% from behind the arc. I know they sometimes struggle in the half court offense, but throwing up long distance shots obviously isn't working.
We'll talk about the main culprit later, but for now they must start driving into the lane and taking more shots in the paint. This brings me to my next point...
3. Give the Ball to Meyers Leonard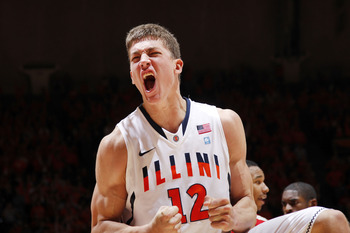 Joe Robbins/Getty Images
Meyers Leonard is a monster inside, so why not give him the ball more to improve his game and let him take over in the paint? He is shooting over 58 percent from the floor on the year, and he is a 70 percent free throw shooter, so if he gets fouled inside he's perfectly capable of making a pair.
His length inside is a problem for most teams, but he could be utilized more often on the offensive end. He is averaging 13.2 points on under 9 shots per game. Give him the ball more often, and Illinois will solve some of their offensive woes.
2. Have a Good Showing at the Big Ten Tourney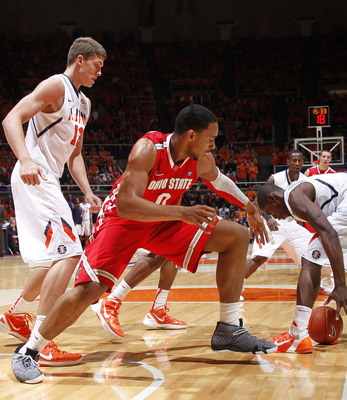 Joe Robbins/Getty Images
The regular season won't be enough to propel the Illini into the field of 64 unless they can win the rest of their games, but that doesn't seem likely. They will have to win some games at the Conference Tournament in March.
They don't have to win the whole thing, but a couple wins should do them good on Selection Sunday. The first game is a must-win, and if they can add an upset over a ranked squad - especially an Ohio State or Michigan State - they might clinch an at-large bid.
1. Tell Brandon Paul to Stop Jacking Up Bad Shots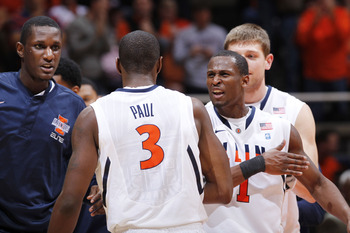 Joe Robbins/Getty Images
Brandon, we know you scored 43 points and beat Ohio State by yourself. You can stop shooting now.
In eight games since that one (in which the Illini are 1-7), he has hoisted up 107 shots. He has made just 45. His field goal percentage on the season is right at 40 percent, and he is killing this team with 30 turnovers in the same eight game span.
Though he played better against the Boilermakers, he needs to drive the lane more rather than shooting long or contested threes. Somebody has to tell him that he isn't still hot from that night they upset the Buckeyes. Somebody tell him that he's actually hurting his team by hoisting those threes and wild shots. Somebody tell him he isn't a star player. Maybe then the Illini can get back on track and win some games.
Keep Reading

Illinois Fighting Illini Basketball: Like this team?