2012 NFL Free Agents: 5 Teams That Would Be a Good Fit for Randy Moss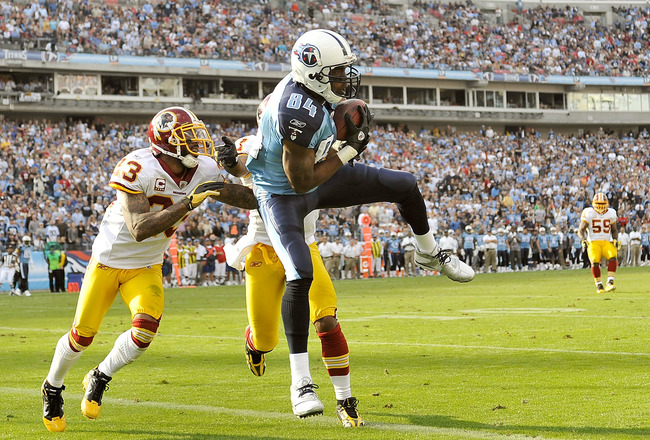 Grant Halverson/Getty Images
Somewhere, deep down inside, I knew Randy Moss would return to the NFL. With 2012 free agency beginning to heat up, I guess Moss came to the same realization.
We've already seen one botched comeback attempt from a former all-pro receiver in Terrell Owens. The T.O. show held an open tryout for NFL scouts to come and observe the once all-world receiver at work. Unfortunately, no one took the bait.
Moss, like Owens, was at one point the best in the business and equally renowned for stirring up drama on and off the field. Yet unlike Owens, Moss seems to have a little bit of juice left in the tank and seems ready and willing to exhaust it for the right team.
Assuming Moss does have a little spring left in his once legendary stride, there are sure to be at least a few potential suitors knocking at his door.
Given the right circumstances, here are five teams that could be good fits for free agent Randy Moss in 2012.
Washington Redskins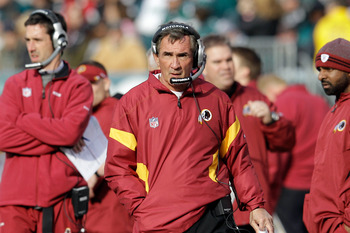 Rob Carr/Getty Images
Aging superstars, inherent financial risk, the boom or bust factor—any Redskins fan will tell you that these things are par for the course whenever the 'Skins go shopping for free agents.
However in this case it might be worth a look. The Redskins are desperate to gain quality players at several positions, most notably quarterback. However there is also a serious lack of play-making ability at the receiver position.
Santana Moss is becoming less and less productive, Jabar Gaffney is a possession type player rather than a game changer and Anthony Armstrong is still trying to prove he can compete at this level. That leaves first year receiver Leonard Hankerson of Miami fame. Hankerson has a skill set that NFL scouts drooled over last year, yet was inconsistent at best as a rookie and has a long way to go.
Randy Moss could step in a provide a large target to whoever steps under center for the Redskins in 2012. Because the Redskins are currently in a good position with regard to cap space, Moss could come on the cheap and potentially be a difference maker for an offense that experienced yet another identity crisis in 2011.
Philadelphia Eagles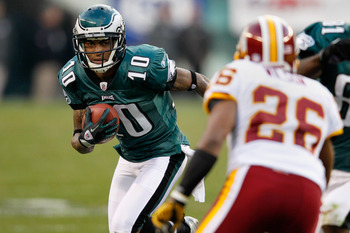 Rob Carr/Getty Images
Why? Just look at the Eagles' record in 2011.
The supposed Philadelphia dream-team was anything but. There are a multitude of reasons for the Eagles' falling so far below the lofty preseason expectations but perhaps the most publicized goings-on from the Eagles camp last year had to do with receiver DeSean Jackson.
Jackson was a lights-out superstar in 2010 and many thought he would be able to replicate that success in 2011 and solidify himself as one of the best players in the NFC. However, his sub-1,000 yard season and only four touchdowns didn't help him solidify anything.
Funny, then, that the Eagle's would place their franchise tag on a receiver that has been labeled as one-dimensional and mercurial.
Randy Moss would be a great free agent addition to the Eagles' offense and give Michael Vick another target aside from Jackson which in turn could help motivate the speedster to step-up his game. Plus, think of all that Jackson could learn from a veteran like Moss and how that could help him develop into a more dynamic wide receiver.
If Andy Reid wants a way to help motivate Jackson, signing Moss would certainly be one way to do it.
Indianapolis Colts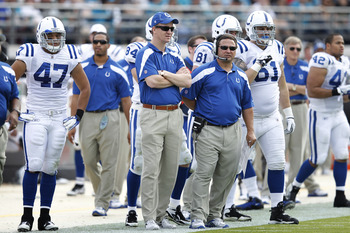 Joe Robbins/Getty Images
Let's assume that Manning is gone and Luck is in. Which, by the way, is not too much of a stretch.
In his first year under center, Andrew Luck (as supremely gifted as he is) will need to adjust quickly to the increased size, speed and overall talent of NFL defenses. Currently the Colts' receiving corps is headlined by Reggie Wayne and Pierre Garcon.
Dallas Green and Austin Collie round out the bunch as third and fourth options but there's nothing here that screams play-maker.
Enter Randy Moss. Moss brings experience and a bag full of accolades that could come in handy for a first-year guy like Luck. Plus, with the amount of money that Jim Irsay will no doubt be throwing at Luck, Moss could make an impact for a free-agent fee.
Everyone expects Andrew Luck to essentially be a plug and play kind of guy. While I don't disagree, I think he could benefit from having a future Hall of Famer on board to help show him the ropes. Peyton won't be the guy to do that because the stage in Indy is simply not big enough for him to share with Luck. Randy Moss, however, won't be competing with Luck for reps and he still has the ability to make Luck's transition that much more seamless.
St. Louis Rams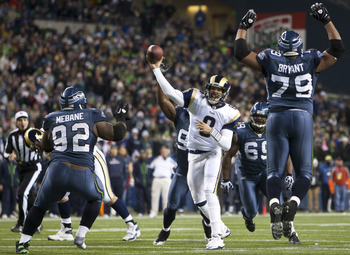 Jay Drowns/Getty Images
The Rams used to consider themselves "the greatest show on turf" and they weren't far off.
Kurt Warner, Torry Holt and Isaac Bruce were, for a time in the late 90's and early 2000's, a force to be reckoned with.
While that line-up has long since disintegrated, young gun-slinger Sam Bradford has taken the lead in St. Louis and is trying desperately to get the deflated Rams back to dominance.
So far, not so good.
In addition to a much maligned offensive line, Bradford simply does not have the weapons available to make any sort of impact down field. There's Brandon Lloyd, who led the team with 683 receiving yards last year and that's pretty much it. Simply put, the Rams need to have another option aside from handing the ball to all-world running back Steven Jackson.
If Randy Moss is looking for a team on which he could be the featured wide-out, then he would need not look any farther than St. Louis.
With Jeff Fisher now calling the shots in St. Louis, there's already a level of familiarity in place for Moss upon arrival. Assuming the Rams go out and get OL help for Bradford, the young gun out of Oklahoma may finally be able to settle back and throw the ball down field.
With Moss and Lloyd as his two primary targets, the Rams may once again light up the turf.
San Francisco 49ers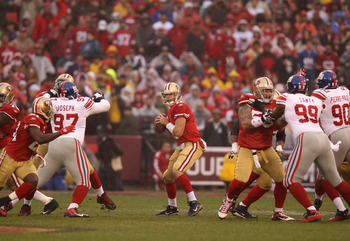 Ezra Shaw/Getty Images
People native to the Bay area are familiar with good wide receivers. A guy named Jerry made sure that no one out there ever forgot what one looked like.
Despite the 49ers unbelievable turn around in Jim Harbaugh's first season as man-in-charge, San Francisco still lacked a legitimate down field threat for Alex Smith to target in 2011.
Yes, I'm very well aware that Vernon Davis is a monster-athlete of a tight end. But, as good as he is, he's still not someone that can line up wide and bully smaller defensive backs on 20 yard fade routes.
With some cap room to burn, the 49ers could make a play at Randy Moss and succeed wildly.
Moss could be, at least for a couple seasons, the guy to stretch the field and truly round out San Fran's passing attack.
Jim Harbaugh's a no-non sense type of coach. If Moss were given another lease on his NFL life, Harbaugh would make sure the receiver didn't forget it. Also, throw in the fact that Michael Crabtree is there and, young and talented as he is, he still hasn't managed to ring in a 1,000 yard season.
Moss, assuming he's developed into a more selfless player over these last several months, could become an effective mentor for Crabtree. If so, the result could be tremendous for Harbaugh and the recharged 49ers.
As good as the transformed Alex Smith looked 2011, Randy Moss could further energize Michael Crabtree and give the former Ute signal caller an added edge to compete in 2012.
Keep Reading