Philadelphia Flyers: 6 Most Disappointing Players Right Now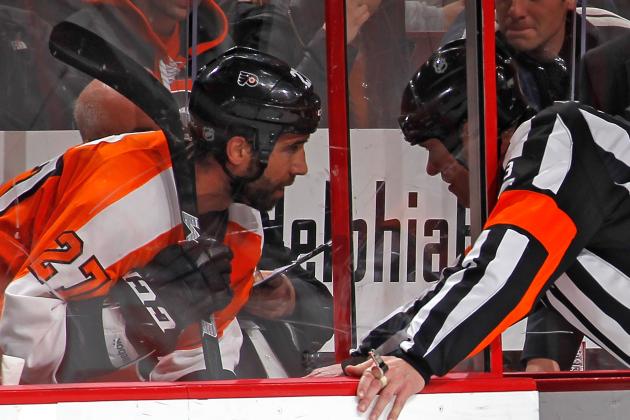 Paul Bereswill/Getty Images

The Philadelphia Flyers have come off a less than desirable weekend, suffering back-to-back losses. Wait; make that two weekends of back-to-back losses.
A team with almost a dozen rookies having to play on any given night is going to have such setbacks. However, there are still veteran players that need to be more dependable and productive.
After the deflating weekend, fans are up in arms spewing vitriol hate and possibly unwarranted criticism.
Case in point, during a Sunday afternoon commute I tuned into the local sports radio station—94.1 WIP.
During that show I personally heard a caller go off about how Bryzgalov blew the game against the Rangers Saturday and elaborated on his $81 million contract. Hopefully I don't have to explain what's wrong with that sentiment.
The host did correct the caller on the salary (his contract is $51 million) but failed to correct him about Bryzgalov not even being in net Saturday due to the Flu.
Either way, Bobrovsky was hardly to blame for all the goals New York registered.
In pursuit of informing a fanbase, I have compiled this list of five players who—right now—are disappointments.
No, I am not listing the goalie who is off a shutout and allowed more than one goal twice in his last eight starts either because right now, that is not disappointing.
Begin Slideshow

»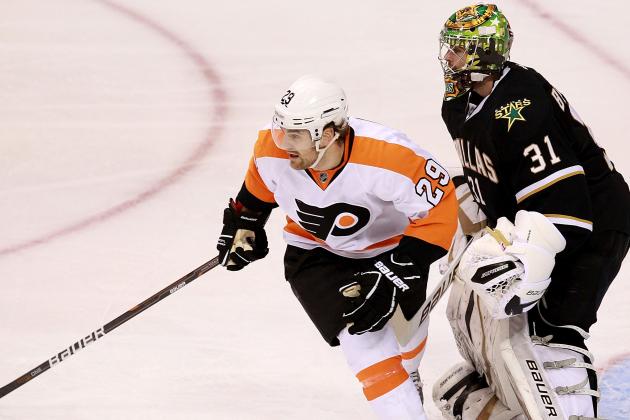 Ronald Martinez/Getty Images

Harry Z, as he is affectionately known by fans, wasn't expected to be more than a fourth-line player this year. However, his recent trip back to Adirondack illuminates the frustration the coaching staff has with him.
This is probably more attributable to a rookie-wall but Harry Z's play has been less than stellar in his limited role.
He provides little scoring threat despite possessing arguably the fastest skates on the team. His defensive game has been a big concern, negative-12 says so.
Hopefully some time in Adirondack gives him some time to rediscover that spark he had earlier in the season.
Sergei Bobrovsky will one day be a No. 1 starter, but this recent stretch of games shows why he isn't.
Earlier in the season a little goalie controversy developed. Bleacher Report's own Joe Boylan wrote an interesting piece on the subject. In that article Boylan pointed out how if Bobrovsky played better teams his numbers would suffer.
Well since Bryzgalov has gone out with the flu this has happened.
Now this isn't putting total blame on Bobrovsky for the Flyers sudden losses. But if he's to be the No. 1 goalie—he needs to be better.
Throw out the New York game and you still have questionable outings against Detroit and New Jersey.
The Datsyuk goal Bobrovsky should have had in the Detroit game especially.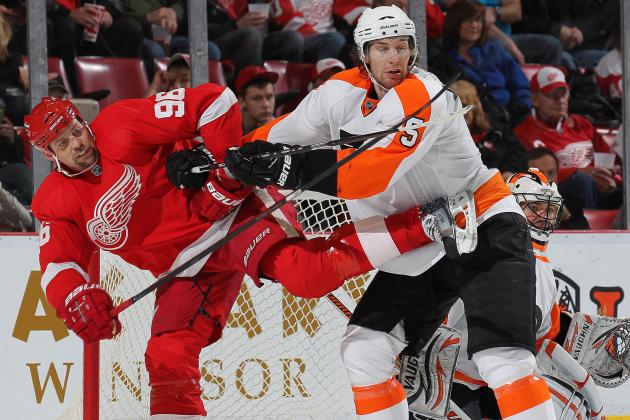 Claus Andersen/Getty Images

Braydon Coburn isn't here for lack of trying. However, his decisions in games leave me shaking my head at times.
Decisions like this one here, where he leaves a shooter all alone in front of the goalie to go way over to the far-side.
With Chris Pronger out of action for the foreseeable future, we need Coburn to be the big-man in front of the net.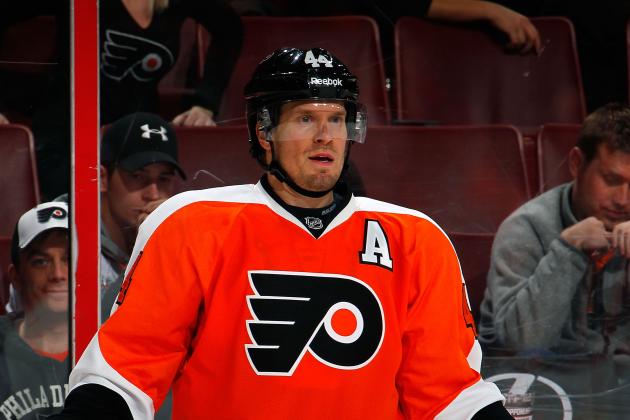 Paul Bereswill/Getty Images

Yes, you Kimmo Timonen. If you're going to call teammates out in the media you better be lights out too.
Going right back to the Datsyuk goal—the one I hung on Bobrovsky—well the guy burning up the voice recorders could have made a play too.
Maybe attempting to block a shot by sprawling out across the ice so his young goalie can play the high shot or using that veteran savvy of his to anticipate the play going in front of the net.
Timonen has been the Flyers best defenseman all season but lately I think he needs to take a look in the mirror.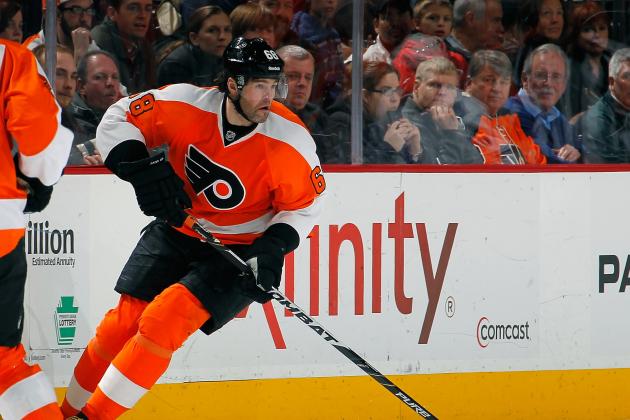 Paul Bereswill/Getty Images

Jagr's 39 points in 48 games aren't to shabby for a player his age. But with a team struggling like it has the Flyers need the future Hall of Fame player to find the twine more than once in the past month.
His leadership has been a valued asset no doubt. Was he brought here to just be a tutor and coach? No, he needs to give the team more than one goal in over a month.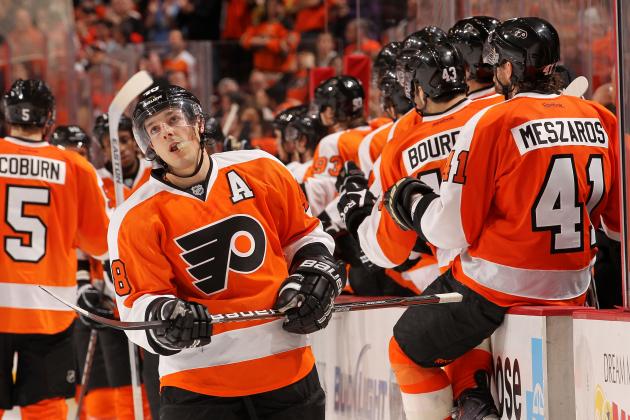 Nick Laham/Getty Images

With all the other areas and players struggling on this team—Danny Briere flies under the radar.
Yes he's coming off an injury—again.
Yes he's great in the playoffs.
But the man is the highest-paid player on the team at $6.5 million.
I hear fans rant and rave about a goalie making $5.6 million who is adapting to playing behind a porous defense—yet because of his salary avoids no criticism. It's time we held the highest-paid guy to the same standard.
Briere has been here quite long enough to have adapted.
The hat trick against Ottawa was nice but it's been 11 games that Briere has played since scoring a goal. On a team with this much youth Briere needs to be way more consistent.
Thanks for reading, please feel free to leave questions and complaints below.
Follow me on twitter @jriding4evr!