Colorado Avalanche: Valentine's Day News and Notes
February 14, 2012

Dilip Vishwanat/Getty Images
The Colorado Avalanche have earned five points in their last three games and are certainly trending in the right direction after a tough divisional stretch. 
The conclusion of their four-game homestand proved fruitful for Colorado, as they defeated the Chicago Blackhawks 5-2 last Tuesday and the Carolina Hurricanes on Friday in a thrilling 4-3 OT win in which Ryan O'Reilly was the hero with just 1.2 seconds remaining in the overtime period.
They traveled to St. Louis to take on the Blues just 20 hours after the win against the Canes.  Despite a solid 41-save performance by Semyon Varlamov and a very strong game by former Blue, Erik Johnson, in which he tallied a goal and had a game-high four hits, the Avs lost 3-2 in overtime.
Johnson's play has improved of late as he is playing a much more physical game and skating hard in all three zones. The signs of progression for the 23-year-old are very promising for the Avalanche and their defensive anchor of the future. His once abysmal plus/minus is back to a more respectable minus-7. Still not fantastic, but a lot better than the minus-16 he had at one point this season.
The one point earned for the overtime loss in St. Louis was still a big one, as the Avs currently sit in 10th place in the West and only three points behind the eighth place Phoenix Coyotes.
The bad news for the Avs is that their next two games are against dreaded divisional opponents.  Today, the Avalanche will travel to Vancouver to face the division-leading Canucks, and this weekend will see the Avs in Alberta to take on the division rival Edmonton Oilers and then the Southeast Conference's Winnipeg Jets. What's the latest on realignment?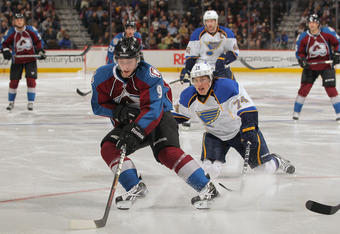 Doug Pensinger/Getty Images
I cannot stress enough how important it is for the Avs to start winning divisional games. If you look at the standings, the Avs should be better than everyone in the Northwest Division save for Vancouver, but they just cannot win against anyone! 
I don't know if the Avs know the importance of these proverbial four-point games and just grip the sticks too tight, or if the Eastern and Western teams play different styles of hockey and for whatever reason, the Avs just match up better against Eastern teams.
Matt Duchene participated in full practice yesterday in an orange non-contact jersey. He is scheduled to travel with the team on Wednesday when they head to Vancouver. I doubt No. 9 suits up Wednesday night however, but we may see his return as early as Friday or Sunday.
After practice yesterday he tweeted: "@Matt9Duchene: Felt great to skate with the boys again after 6 1/2 weeks! Can't wait to get back in the lineup now" 
He also got a bit of a kick on Saturday during his final solo skate. He was accompanied by Joe Sakic as per his tweet, "@Matt9Duchene: Just got off the ice from skating with Joe Sakic. Unbelievable guy to be around, always great advice and he can still shoot it! #stillmyhero"
A couple other Avs Twitter notes, Gabriel Landeskog pours his milk before his cereal and has gotten some grief from teammates for it lately, "@GabeLandeskog92: I put the milk in before my cereal, is that weird? I've been taking a lot of heat for it lately." 
Finally, T.J. Galiardi and Gabriel Landeskog are single, "@TJGaliardi: Valentines day in Vancouver tomorrow...@GabeLandeskog92 & I need dates, any takers?"
Exactly 13 days until the trade deadline. Now feels like the calm before the storm. Stay tuned...