Jeremy Lin: Why Knicks Will Struggle with Anthony and Stoudemire's Return
February 14, 2012

Chris Chambers/Getty Images
There is no real way to account for the phenomenon that has swept across the nation in recent weeks. 
The thunderhead out of left field that is Jeremy Lin has critics and fans alike wondering just what exactly is going on with the New York Knicks?
If you're Mike D'Antoni, you're probably as jovial as a good kid on Christmas. 
If you're Carmelo Anthony or Amar'e Stoudemire, well, I'm sure the sensation that is "Linsanity" might be a little harder to embrace. 
If it had been just one game, just one single explosion for the Harvard-educated Lin, then the Knicks and the sports world could have just returned to business as usual.  But Jeremy Lin wasn't done after just one game.
In his last four games, Lin as averaged an elite 28 points and eight assists. His true exclamation point was against the Lakers on February 10th when he went berserk with 38 points and seven assists.  What gray area had existed before that game was effectively removed once the clock ran down to zeroes and the Lakers exited the court confused and without any answers. 
A 23-year-old Harvard grad named Jeremy Lin absolutely destroyed Kobe and co. in the Garden.
Before I get any further, I'd like to point out that the Knicks' featured duo—Carmelo Anthony and Amar'e Stoudemire—were taking things in from the bench.
Of course, you already knew that and therein lies the real issue here.
Amar'e returns to the floor tonight for the Knicks' road show against the Raptors.  Anthony is still out nursing an injured groin. Within the next week or so, we'll get to see Lin share the hardwood with his highly decorated and far more recognizable teammates. 
Can this dynamic work? Is there enough room for Lin to orbit in a universe that, up until very recently, was totally Stoudemire/Anthony-centric? 
It will be hard to say the least.  
First, this wasn't a trio by design. Unforeseen circumstances have thrust Jeremy Lin from complete obscurity to overnight sensation.
Stoudemire and Anthony no doubt had a very concrete idea of what percentage of the spotlight each would occupy upon arriving in New York. That percentage, whatever it is, has now been thrown off kilter. 
Think of it as a matter of diluted shares. If Carmelo and Amar'e had wanted a third wheel to join in on the fun, no doubt they would have turned to Mike D'Antoni and said "Hey Mike, we need to go get this guy."
No one could have known that this guy was sleeping on a couch and riding the deepest, darkest part of the Knicks' bench. Whereas Miami's big three had the party planned well in advance, the Knicks have to now adjust to life with a trio of its own. One that no one knew about until the party bus rolled into Madison Square Garden with Lin in the driver's seat.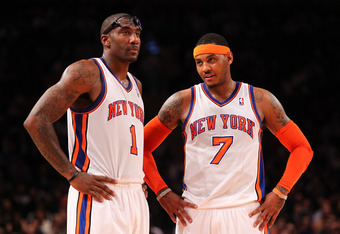 Al Bello/Getty Images
Second, Lin's ascension brings a entirely different type of press to the Knicks. It's the type of press that Yao Ming garnered during his time as a Houston Rocket. It has far less to do with his skills at the point guard position than it does with his being Asian, a suddenly a hot topic in the sports world.  
Since New York now boasts the largest urban Asian population in the country, it's hard to believe that the Knicks' front office and the local Asian community won't try to work in tandem to build a type of bridge that has yet to exist in New York. 
Of course, the emphasis on Lin's race might have a marginalizing effect on his production on the court.  I wouldn't worry about that, though—not if Lin keeps doing what he's doing. 
It makes Lin a cultural icon on top of being a sudden difference maker on the court. That means there's double the amount of spotlight targeted at Lin which in turn means even less room for Anthony and Stoudemire to flaunt their star power.  
Remember what I said about Lin having ample room to exist in a universe dominated by Carmelo Anthony and Amar'e Stoudemire? I'm not employed by NASA, but I see a chance of planetary bodies colliding. 
It doesn't have to be that way, though. 
Anthony claims to "be able to play with anybody" and Amare's time in Phoenix proved that he can coexist beautifully with an All-Star point guard. The pieces fit, in theory. Lin can set the offense in motion with 'Melo working in from the wing and Stoudemire holding court in the post. 
It seems simple enough.
Once Anthony and Stoudemire are back on the court together, though, is when the real test begins.  New York is still their domain. Their contracts alone speak to that. 
Yet, the way that events have recently unfolded suggests that Jeremy Lin was fated to round out the Knicks lineup and provide a sense of fluidity that they had been struggling to find.  
It would be arguably the year's best story, seeing the Taiwanese Lin rise from obscurity to help legitimize the Carmelo/Amar'e 1-2 punch.  
Don't expect it to happen overnight, though. Lin has made quick work of making a name for himself without Anthony or Stoudemire's talents. D'Antoni has no choice but to keep Lin in the starting lineup.  He's a fixture now, so you doubters out there—deal with it.  
If the momentum and rhythm New York has found over the last four games with Lin at the helm can translate with the New York's marquee tandem back on the floor, then Spike Lee better get the champagne order in now.  
When we next see Anthony and Stoudemire back on the floor, however, expect some confused, even annoyed looks shared between the two superstars. All that Jeremy Lin fanfare littering the stands—that wasn't there the last time they walked out for opening tip. 
That's still their spotlight and Jeremy Lin has done a world-class job of safeguarding it while they were injured. 
They're going to want that spotlight back.