Randy Moss: Would He Be a Good Fit for the New England Patriots?
February 14, 2012

Jim Rogash/Getty Images
It's been only 24 hours since Randy Moss announced that he would like to return to the NFL next season. 
Moss, one of the greatest receivers of all time and quite possibly the greatest athlete to ever put on an NFL uniform, has already had a fantastic career dotted with a few notable flame-outs along the way. 
Moss has always been a target of criticism. Some has been deserved, some has been a bit over-the-top. In a world in which there are literally some athletes who are criminals, Moss is not even close to that. 
At times he's been a bit petulant, or a bit childish. He's also was mentioned once already as one of the greatest receivers of all time. There's just no getting around that. Moss has a combination of skills that very few human beings possess.
Height and speed.
Moss is 6'4" and 210 pounds and at his peak ran under a 4.25 40-yard dash time with a 39-inch vertical leap. If you find yourself re-reading that last sentence, that's fine, because it's not often that you see players at any position with that combination of skills put into a lanky 6'4" frame. Moss also has very good hands.
It's these types of skills that help explain why, in spite of the fact that he had some subpar seasons over the course of his 13-year NFL career, he still ranks very high on most major receiving stat lists.
In all-time receiving yards, he's fifth with 14,858, behind only (in order) Jerry Rice, Terrell Owens, Isaac Bruce and Tim Brown.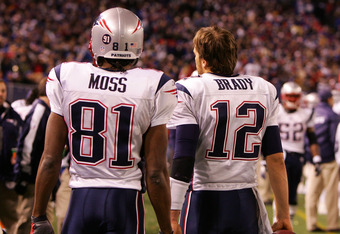 Jim McIsaac/Getty Images
He's tied for second in receiving touchdowns at 153 with Owens, both of whom are behind (you guessed it) Rice at 197.
In career receptions, he's ninth, and Rice is No. 1 there as well.
Moss is old, he's not unquestionably past-his-prime old, though. He's 35 years old and coming off of a full year of rest. That's of critical importance, since there is no major professional sport in this nation that puts more wear and tear on one's body than the NFL.
What Moss did during his year off and how he maintained or didn't maintain his physical fitness will play a tremendous role in how he performs if he is in fact signed by an NFL team.
Moss has never had a major structural injury, so while it's nearly impossible to expect him to be the same type of athlete he was 10 or even five years ago, the decline in his athleticism might not be as dramatic as some individuals who have suffered major injuries (see Owens).
The simple fact is that when Moss is dedicated to his team and himself, he's one of the toughest guys to defend. He's older—not shorter. That might make him slower, but since he ran a 4.25 when he was young, even adding on a few tenths of a second to that still makes him fast and tall with good hands.
He might never be the guy who made what might be one of the greatest individual plays that I have ever seen live with my own two eyes. That was back in 1997 against Army, while he was playing for the Marshall Thundering Herd.
He's also not the guy who lit up the entire NFL upon joining the New England Patriots in 2007. That season he caught 23 touchdown passes, eclipsing the previous record of 22 held by (yep) Rice.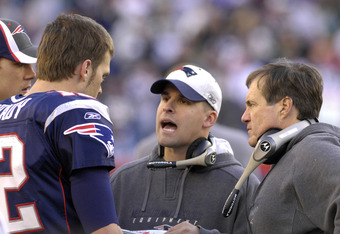 A. Messerschmidt/Getty Images
Moss has been about as transparent in his desire to both return to the NFL and play for the Patriots as possible. This is the same player who following his departure in the fall of 2010 publicly admitted he missed the team and the coach that had recently released him just a few weeks after being cut. That's not a normal tone taken public by almost any professional athlete.
When Moss first arrived in New England, the conventional wisdom was strikingly similar to where it currently sits. Moss was considered somewhat washed up and past his prime when the Raiders dealt him to New England for a fourth-round draft pick on Day 2 of the 2007 NFL draft.
Moss showed up in New England a few days later and was an enthusiastic Patriot addition. He gelled with not just Tom Brady but head coach Bill Belichick and offensive coordinator Josh McDaniels.
Moss' tenure with the Patriots featured far more good than bad, but in the end, he became a bit too outspoken and the Patriots began the process of removing him from the offense. Indeed, on a Monday Night Football game against Miami in early October of 2010, he had no catches and a few days later, he was gone.
Moss left the team shrouded in tales of disillusion and with rumors of some internal incidents. 
In the end, though, neither Brady or Belichick ever went public with any negative comments about Moss, and Brady, when asked about possibly signing Moss before the 2011 season began, was not candid in expressing his enthusiasm.
So now the Patriots are a team coming off a season in which the one real offensive deficiency was the lack of a deep threat, and Moss is once again a hungry player who wants another shot. Would he be a good fit?
The Patriots would probably want to put him through some sort of workout, and perhaps Belichick would like to sit down and chat with Moss, but he's not that old and he's never sustained a major injury. Moss on the 2012 Patriots? That doesn't sound that bad.