2012 NFL Draft: Why the Tampa Bay Buccaneers Must Draft Morris Claiborne
February 14, 2012

Scott Cunningham/Getty Images
The 2012 NFL Draft is quickly approaching, the combine in Indianapolis and college pro days nation-wide are literally right around the corner.
The Buccaneers' offseason has been one characterized by steady and sound decision making thus far, having hired Greg Schiano to run the show mere weeks ago.
That encouraging trend has continued with the former Rutgers man at the helm as he has managed to lure New York Giants quarterback coach Mike Sullivan (offensive coordinator) and former University of North Carolina head coach Butch Davis (senior defensive assistant) to Tampa Bay.
One can only hope that trend continues into the draft come April 26, the day NFL Commissioner Roger Goodell should be naming LSU cornerback Morris Claiborne as the fifth selection.
Evidently not the most popular choice among the masses who would want nothing more than to see Alabama's Trent Richardson pounding the rock in pewter and red come fall.
But Claiborne is not just an option; he is the only way to go.
Schiano is a modern coach with a throwback mentality and no nonsense approach to the game. He likely will not tolerate the off-field issues of Aqib Talib, who faces an offseason trial amid gun charges.
The honest truth is that Schiano may very well bring an end to the troubled young man's career in Tampa Bay whether he is found guilty or not.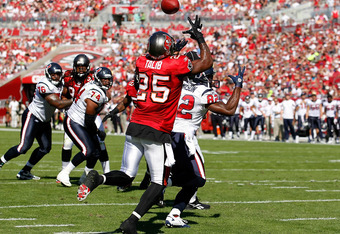 J. Meric/Getty Images
If Talib does somehow circumvent jail time and a pink slip, the Bucs will still need to bring in a more reliable option at corner. For all the talent he has on the football field, he does not seem to have a clue when making decisions off of it.
Beyond the questions surrounding Talib there is even more mystery behind him.
Ronde Barber's career may be over, Elbert Mack is a free agent and E.J. Biggers is clearly not a starter in this league. We really do not know much about Myron Lewis or Anthony Gaitor at this point.
Even if Barber is asked to return, he certainly should not be playing cornerback anymore but be moved to safety. The position switch would mask his declining foot speed while playing to his strengths.
Barber has been a solid tackler for years, blitzes effectively, covers the slot well and is nothing short of a zone coverage savant.
But at 37, the move may prove too late to prolong the career of longest tenured Buccaneer on the roster.
In light of the scheme changes to come, a transition to safety may prove in the best interest of former third-round pick Lewis as well. Lewis, while a considerably productive corner in college, had been widely thought to be a better safety prospect due to his "tight-hips" and inherent lack of needed agility that fit the mold of the prototypical Cover 2 corner the Bucs coveted.
The problem with the majority of Cover 2 corners is that they boast a very specific set of skills that often begin with the ability to press receivers and end with being talented zone cover guys. But Schiano's schemes will call for more.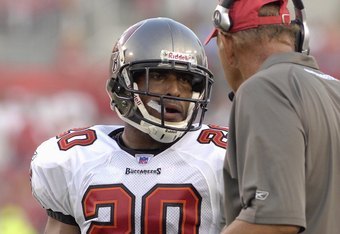 Al Messerschmidt/Getty Images
Under Schiano, the defense takes on a much more aggressive style of play with a multitude of blitzes and man coverage.
The latter being a particular skill that no corner on the current roster outside of Talib possesses.
In the past Tampa Bay had made a living creating pressure and collapsing pockets with the front four alone, allowing the seven other guys on the field to lay in wait.
Eventually, if these players stayed disciplined in their assignments, the pressure of the front four would force the opposing quarterback to make a throw he would immediately wish he could have back.
Under the direction of Monte Kiffin and through the combined powers of a few Hall of Fame worthy talents, the Bucs could often use the same coverage literally all game with the calls only differing in the stunts performed by the defensive line from play to play.
However, rule changes aimed to minimize contact with offensive players and the growing number of extremely gifted "zone busting" receiving tight ends has reduced the effectiveness of the Cover 2 when used extensively—or in the Bucs' case nearly exclusively.
Last season, the Bucs allowed a staggering 30.9 points and 156.1 yards per game, both dead last in the entire NFL. The pass defense did fare a bit better (No. 21, 238.4 yards per game) but that should be taken with a grain of salt.
The majority of teams found themselves ahead particularly early after success through the air. With no reason to risk throwing the ball later, teams would then use their ground game to consistently march  down the field.
A season removed from the countless injuries that either sidelined or hampered a number of key players on the defensive line, improvement can be certainly be expected from the young group.
Although it may be wise to add a more "matured" or "realized" pass-rush threat for the short-term rather than banking on Da'Quan Bowers or restricted free-agent Michael Bennett to play opposite team sack leader Adrian Clayborn (7.5). After all, if there is one thing you can take away from the New York Giants success, is that you can never have enough talented pass-rushers.
As for linebacker, possibly taking a small step away from undersized linebackers with incredible sideline-to-sideline speed to those capable of shedding blocks themselves and stopping runners dead in their tracks will help the defense as well.
General Manager Mark Domonik will likely address the needs at the position in free agency and/or in the draft if the right prospects are available.
Returning to the subject of the secondary, there will be no real options veteran options available following the draft. Lardarius Webb is a restricted free agent, the Kansas City Chiefs will likely franchise Brandon Carr, Cortland Finnegan appears destined to join the St. Louis Rams or Detroit Lions, Brent Grimes is already 29 and Carlos Rogers is 31.
Of the two we have a legitimate shot at signing, Grimes is looking for a HUGE deal at an age most begin players to decline and Rogers had never been as productive as he was last season supported by one of the best pass rushes in the entire league.
There is absolutely no reason to risk anything on those named when Claiborne is sure to be there come the fifth pick of the draft.
The success of Josh Freeman in 2010 proves that the offense does not need the "star power" Richardson will inevitably bring with him wherever he goes. Freeman's regression last year was due to forcing balls downfield in order to play catch-up as well as not stepping into his throws because the guys tasked with protecting him simply could not do their jobs.
In today's NFL, pairing LeGarrette Blount with a "real" change-of-pace back (not named Kregg Lumpkin) and adding a legitimate deep threat is what is best for this offense.
But the real difference-maker will be the performance of the offensive line which was not able to consistently creating running lanes or protect the quarterback when called upon. Jeremy Trueblood robbed the Bucs blind when he put pen to paper on that two-year $10 million extension a year ago and Jeff Faine has not quite been himself for two seasons now.
It would not be surprising to see both cut this offseason and free agent Jeremy Zuttah re-signed to fill in at center where he has proved effective in the past.
The best thing the boys over at One Buc Place can do for Josh Freeman and the entire offense is to make sure next year's rendition of the Tampa Bay defense is up to par with what we have all come to expect over the years.
Claiborne is a rare instance where elite size (6', 185-pounds), 4.4 speed, ball skills and adept man or zone coverage ability overlaps with the willingness to mix it up and throw his body around—a trait considerably rare in corners.
In all likelihood running back Trent Richardson will not even be an option come our turn, as I believe he will be taken by the Cleveland Browns at four. But even if he were, LSU's Morris Claiborne would still be the right way to go.
And history would agree.