Jeremy Lin: Lin-Sane but It Kind of Makes Sense
February 14, 2012

Rob Carr/Getty Images
After a fall filled with Tebow mania in football, the NBA has found it's feel good story to take some more of the attention off of the lockout that delayed this season and sent it into a frenzied, AAU-type schedule. 
Jeremy Lin, the Taiwanese sensation from the New York Knicks, has taken the league by storm this past week with the best four game debut as a starter that any player in this league has had since the ABA-NBA merger.
He has scored 109 points in his first four starts, which is better than Allen Iverson, Shaquille O'Neal and Michael Jordan! He has topped 20 points in all of his five starts. It has been an unbelievable story of perseverance and capturing the moment when opportunity comes your way.
"Lin-sanity," as the new Jeremy Lin phenomenon has been tagged, is an amazing story. Out of nowhere, a little-known basketball player of Asian descent that had previously rotted on the Knick bench, after being cut from two teams in the NBA in his brief career, arose to take the league by storm overnight. 
I saw him in a game in Chicago last November in a game in which the Bulls blew out the Warriors. When he got into the game, I was excited to see him because I knew of him from his days at Harvard and been following ever since. 
I left that game rather unimpressed and figured that he was going to be a player that was good enough to stay in the league. But he would never be comfortable and make any sort of major impact for any of the many teams he would likely play for in his career. 
He was very robotic and rather ineffective in the nine minutes he played. He looked nothing like the Jeremy Lin we see today even against second stringers as he scored no point while having a point and an assist.
So where did this come from? It seems to make no sense. Harvard grads have certainly made its share of contributions to society, but the number of Crimson that have played in the NBA can be counted on one hand. 
At Golden State, he was a bit of a fan sensation due to the large Asian-American community in the Bay Area and his distinct honor as the first Taiwanese player to play in the NBA. At times, his media requests rivaled that of fellow rookie Stephen Curry, but he did little on the floor during the 2010-11 season that warranted such attention. He averaged 2.6 PPG in 29 games. 
During that season, he was often inactive and spent some time in the NBA Development League. As a result, most of the country was rather unaware of Jeremy Lin as a player. It did not seem as if he was destined for much success
During last offseason, he ended up being cut by the Warriors and then by the Rockets in anticipation of both teams signing players on their wish list. Golden State had their sights set on the Clippers' DeAndre Jordan and did not even get him. The Rockets had two solid point guards on their roster in Kyle Lowry and Goran Dragic, and wanted to make a play on current center Samuel Dalembert, so they made Lin expendable as well.  
Finally, at the beginning of the season, on December 27 after a few weeks of being unsigned in the preseason, the Knicks picked up Lin. This was an insurance move after Iman Shumpert (who ironically was the fan favorite earlier in the season) got injured.
Lin had found his way onto another NBA roster, but there were no expectations for him to contribute much more than warm a seat on the end of the Knicks bench until they overcame some of their injuries. 
Things seemed to take a turn for the worst when Lin was sent down to the NBDL again on January 17.  Although he did very well for the Erie Bayhawks, this seemed to be the story of a struggling basketball player that is good enough to stay in the league, but would never be able to rely on stability or the expectation of staying with a particular team. 
It was a rough road for Jeremy Lin and as late as three weeks ago, Lin was relatively obscure. No one could have predicted that he'd have this type of success in the league right? Well, although few (if any) could possibly envision this type of improbable rise to success, Lin has had some flashes of brilliance in the past that caught the attention of the mass media and the more diehard basketball fan. 
At Harvard, during his senior year, he led the Crimson to a then school record 21 wins in 2009-10 averaging 16.4 points per game and 4.4 assists. He made midseason Wooden (National Player of the Year) and Cousy (nation's best point guard) award nominee lists.  He was talked about as an impressive player out of the Ivy League but nothing like the sensation he is now. 
Some will recall that during his rookie year Summer League in Las Vegas, he had an impressive five game showing that included an almost shocking duel with John Wall who was the No. 1 draft pick in the same 2010 draft he went undrafted in.
He averaged 9.8 PPG and shot a team leading 54.5% from the field for the Dallas Mavericks and scored 12 points matched up against Wall who had 21 points, but on 4-19 shooting.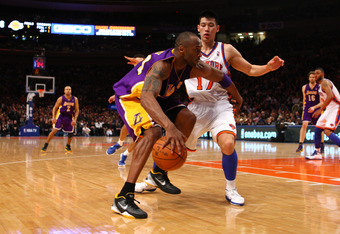 Chris Chambers/Getty Images
This was one of the few times that the media pulse for Lin had risen before these past two weeks, but you can only become so memorable in a Summer League. Some argued that he outplayed Wall in this game and it was at least clear that he could play and should make his way onto an NBA roster. Lin's road has been difficult and improbable, but there were some signs.
What really paved the way for Lin's success was the opportunity to play for a coach like Mike D'Antoni, who is well known for his free-flowing and high-producing offenses. Looking back at Lin's style in hindsight, it makes sense to me how that he would do well if given the chance. 
I, by no means, predicted this, but if you look back at the success that previous point guards Raymond Felton and, more notably, Steve Nash have had in this offense, they matchup. With Lin's known skillset of being smart, very quick,a good handle on the ball and an ability to score, it makes sense to me that he would at least be successful. 
This is just what the doctor ordered for Coach D'Antoni. He was hired as the big name coach to save the New York Knicks in 2008. Since then, he has not had nearly the success that was expected of him given his past experience and the money that has recently been invested into the team. 
He has been gifted with tremendous offensive talent in Carmelo Anthony, Amar'e Stoudamire, and even Chauncey Billups. But has only been able to squeeze out one playoff appearance, maxing out at 42-40 last year.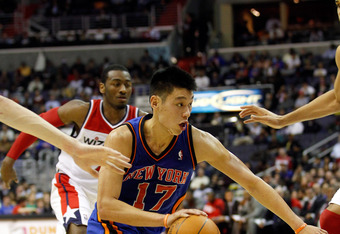 Rob Carr/Getty Images
To say his tenure in New York has been disappointing has been an understatement. A big reason for that may just be the fact that he has not had the type of playmaking point guard that he has been accustomed to previously for the majority of his time in N.Y. 
Shumpert showed signs early in the season of being able to score from the position, and Raymond Felton was great in his half season with the Knicks before being shipped off for Anthony. But overall, he has generally not had anything resembling Steve Nash. 
It is great to have talent like Carmelo and Amar'e. But in D'Antoni's system, if you think about it, is made for a dynamic playmaking point guard that is good in the pick and roll. The job description seemed to be calling for what Jeremy Lin has turned out to be thus far. 
Maybe that is why Carmelo suggested to D'Antoni in a game against the Nets earlier this month that Lin should play more during that game. It's interesting that Coach D'Antoni, did not notice this fit earlier in the year given their shoddy point guard play thus far.
But I have to credit Carmelo, the $100 million man who has no vested interest or friendship to plug for Lin more than that he clearly has seen something in practice or elsewhere that led him to believe that he was the person they needed to aptly fill their point guard gap.
As it stands today, five games later, Jeremy Lin is as big an underdog media sensation as there has been since dare I say. . .Tim Tebow? His name is mentioned in almost every sports highlight or talk show daily, often multiple times. 
His success and popularity has led to New York Stock Exchange success for a recently fledgling MSG and his jersey is the best selling jersey in the league since February 4. 
It is unbelievable how things have changed in such a short time. Most are convinced that this is one of the most improbable stories we have come across in some time. I don't disagree, but I do believe that there were some signs in the past, some of which I noticed along the way. 
As a former organized basketball player myself, I learned long ago, that success is often a result of opportunity and a variety of underrated circumstances. More often than you think, a player that seems as stiff and untalented as Lin looked when I saw him last year, can look like a superstar moments later simply as a result of circumstance and opportunity. 
I think there is power in coaches instilling confidence in a player and "letting them play."  It is very clear from interviews and even the freedom demonstrated on the floor by Lin's play in his historical run that Coach D'Antoni has allowed him to play without worrying about being pulled for any mistake he makes and has allowed him to be aggressive as a scorer from the point guard position.
That requires a lot of trust from a coach, but you see what rewards have come from it.
Can this continue? I think so.
Jeremy Lin has the skills and temperament to continue this success. He may not avg 25 PPG and eight assists, but I expect him to be a threat to make a large impact on the game every night.
I think he is good enough to be the Knicks starting point guard for the foreseeable future because he is a good ball handler, pretty good decision maker in the pick and roll, can hurt you on the drive and the shot and is gifted enough with speed and athleticism to create in the half court. 
Most importantly, he's humble enough to deal with the hype that will surround him for a while given his success in New York. He is still focused on giving credit to his teammates and coaches, watching film to get better, and heavily, but safety, critiquing his play on a nightly basis. This is a good formula for success.
The next step is to see how well he can mesh his playing style with that of the two incumbent superstars that are set to return this week. Amar'e Stoudamire and Carmelo Anthony are perennial All-Stars and Team USA participants.
They both have long track records of scoring in bulk and have been compensated heavily to lead this New York Knick franchise. 
Can they mesh? In Stoudamire's case: no problem. He played VERY well with similar point guards in Nash and Felton, and his game benefited tremendously as has Tyson Chandler's during this stretch.
The chemistry with Anthony may be a little bit more difficult. It's not to say that I do not think it will work, but it will take some time. Something is going to have to give. Melo clearly likes Lin, so it's not a jealousy issue, but he is a guy that likes to have the ball in his hands and can score the ball as easy as anyone in the league. 
During this stretch, they Knicks have moved the ball magnificently and that is counterintuitive to how teams led by Melo have operated where the ball tends to "stick" when it reaches his hands. 
Can they maintain this flow, even with a ball stopping one-on-one specialist such as Anthony back in the mix? 
Where will he fit in if the offense resembles the old Nash/Stoudamire, Felton/Stoudamire pick and role combos?
It is going to take some sacrifice on both sides to make sure that your best player in Anthony gets his opportunities, but the offense still flows and Lin is given the freedom to produce at a high level like he has these past couple weeks.
Coach D'Antoni has a real chance to earn his paycheck figuring this out, and Carmelo will be tested as a team player and true leader. We shall see how it all turns out!