NHL Trade Rumors: 15 Best Forwards That Could Move by the Deadline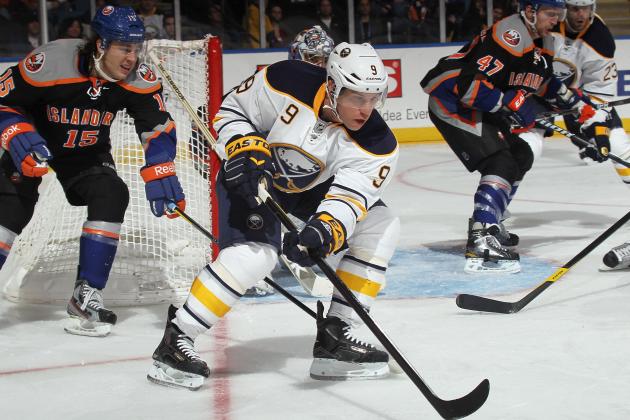 Bruce Bennett/Getty Images

As of right now, the National Hockey League's trade front seems to be at a standstill, mainly because there remains an abundance of teams who are still in the playoff race.
While teams like the Dallas Stars or the New York Islanders may not be sellers at the moment, the next few weeks may see them drop to a stage in which they would be more willing to trade off their valuable assets in hopes of building a competitive team for the future. Other teams who fall into this category include the Colorado Avalanche, the Minnesota Wild, the Phoenix Coyotes and the Winnipeg Jets.
After New York Islanders general manager Garth Snow outright stated that he will not trade his star goaltender Evgeni Nabokov, the only quality goaltender that remains potential trade bait is Edmonton's Nikolai Khabibulin.
As far as defensive help goes, with Carolina Hurricanes blue-liner Tim Gleason re-signed along with Andy Sutton of the Edmonton Oilers, teams looking for help on the back-end may be limited to depth defencemen such as Montreal's Hal Gill or the Hurricanes' Bryan Allen.
The one position that remains deep is that of a forward.
There are plenty of forwards remaining on the market who could help a contending team find its way to dominance, despite Columbus locking up Vaclav Prospal to a new deal.
With that in mind, here are the 15 best forwards who could be traded between now and the NHL's February 27 trade deadline.
Begin Slideshow

»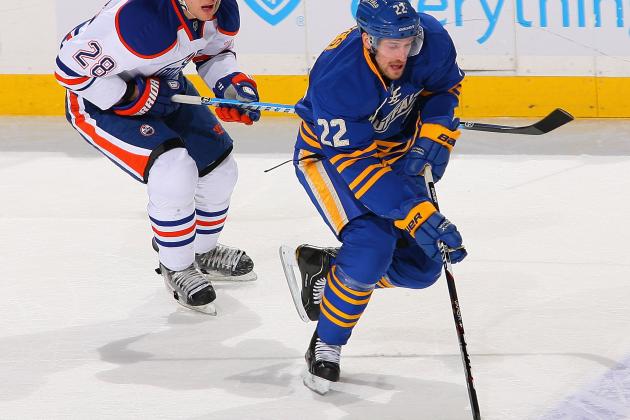 Rick Stewart/Getty Images

With the Buffalo Sabres sitting eight points out of a playoff spot, a fire sale appears imminent for a team that seemed destined for a deep playoff run following an offseason shopping spree by general manager Darcy Regier and newly-established owner Terry Pegula.
One of the players on the Buffalo roster who could attract some attention leading up to the trade deadline is Brad Boyes, a capable scoring forward who can play both at centre or on the wing.
Despite Boyes only scoring three goals in 43 appearances for the Sabres the season, he is a former 43-goal scorer who could be coveted for a team seeking scoring depth. While he's not the elite scorer he once was, Boyes could easily fit into a second- or third-line role with a contending team.
Boyes, who has already been dealt just prior to the trade deadline on four separate occasions, is being speculated as a potential trade target for the Rangers, according to The New York Daily News.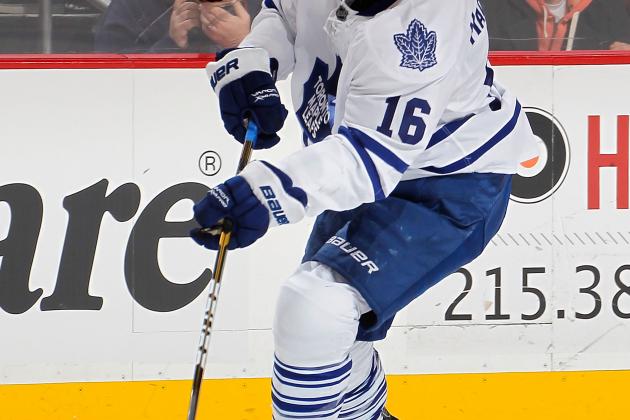 Paul Bereswill/Getty Images

Clarke MacArthur is a forward who is considered desirable to many teams as a result of some good two-way play. MacArthur is sixth on the Toronto Maple Leafs' roster in scoring with 30 points, while maintaining a plus-three rating on a team that has lacked consistency from time to time.
Ideally, MacArthur would fit into a third-line role on a contending team, but don't expect MacArthur to be dealt unless it's part of a package that would bring a star player back to Toronto.
MacArthur is a tight-checking forward who is useful in all situations and is rumoured to have the interest of the Los Angeles Kings, along with linemate Nikolai Kulemin, according to TSN's Darren Dreger.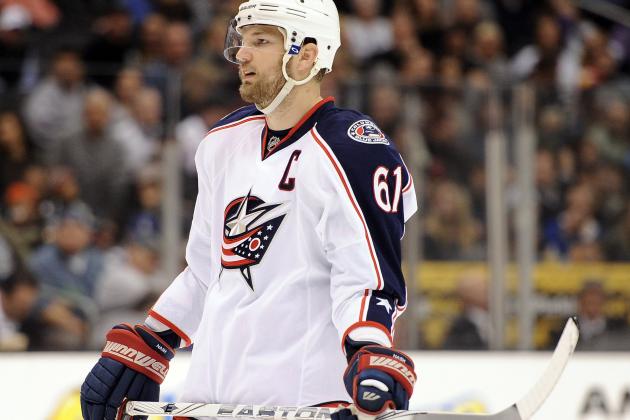 Harry How/Getty Images

When information leaked out of the Columbus Blue Jackets organization that Rick Nash may be available to the right team at the right price, the jaw of every NHL general manager simultaneously dropped.
According to TSN's Bob McKenzie, as many as 15 teams could have interest in Nash, who was drafted first overall by Columbus in 2002. Included among these potential suitors for the Blue Jackets captain are the New York Rangers, Vancouver Canucks, Boston Bruins and Philadelphia Flyers.
Nash is one of the few legitimate star-calibre players who seems to be available, so it's no wonder he is in such demand around the league. He possesses a high skill set along with the body and physical mentality to be a difference-maker for any team.
Talks of a possible Rick Nash trade are especially shocking considering Nash holds a no-movement clause in his contract, and it remains uncertain if the possibility of a trade was brought up by Columbus GM Scott Howson or by Nash himself.
Ultimately, Nash's no-movement clause allows him to decide when and to where he is traded. One thing remains sure: If Nash is traded either before the deadline or during the offseason, the asking price will be immense.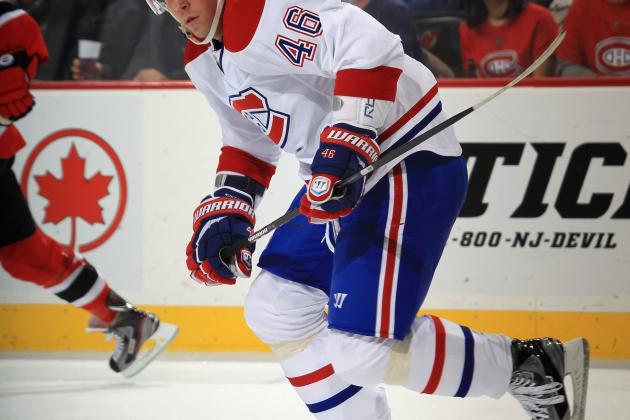 Bruce Bennett/Getty Images

Amidst an extremely disappointing season for the Montreal Canadiens, there may be several players on the Habs roster who will pay the price for the team's lacklustre performance.
Among the players on the team who could be dealt between now and the trade deadline is goal-scoring winger Andrei Kostitsyn.
In each of his three full seasons with the Canadiens, Kostitsyn has scored 20 goals or more, so he is a capable top-six forward despite his only scoring 12 times in 47 games this season.
Kostitsyn is an impending UFA who could be a welcome addition to a contending team seeking scoring depth.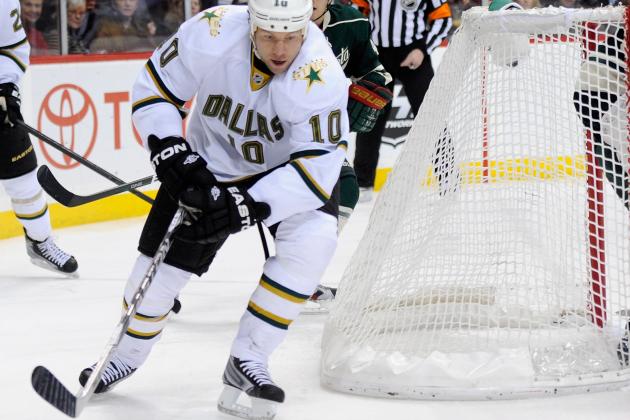 Hannah Foslien/Getty Images

Somewhat surprisingly, the Dallas Stars may be willing to trade their captain, Brendan Morrow.
According to TSN's Bob McKenzie, if the Stars fall any further out of the playoff race, Morrow could be available to the highest bidder to which he would approve a trade.
Morrow could provide all the intangibles to a contending team. He brings a sense of leadership and is a prototypical power forward who can hit and score regularly.
Again, if Morrow were to move, he would have to approve the trade, as he possesses a no-trade clause. According to some Blueshirt Banter speculation, the New York Rangers should take a look at Morrow.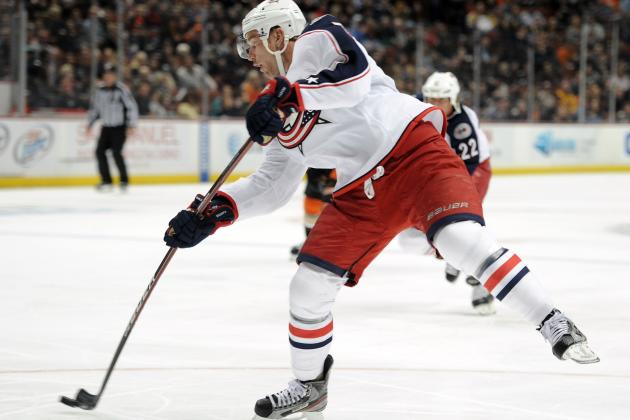 Harry How/Getty Images

Along with Rick Nash, Jeff Carter is the other high-end talent that the Columbus Blue Jackets could be looking to move before the NHL trade deadline.
Evidently, Carter's experiment in Ohio isn't working out the way GM Scott Howson planned when he traded for the talented sniper during the offseason.
While the demand for Carter may be less than that of teammate Rick Nash, Defending Big D believes the Stars should be after him.
Carter is a big, skilled forward who can play at centre or on the wing, and although he is best known for his accurate shot, he is an underrated passer.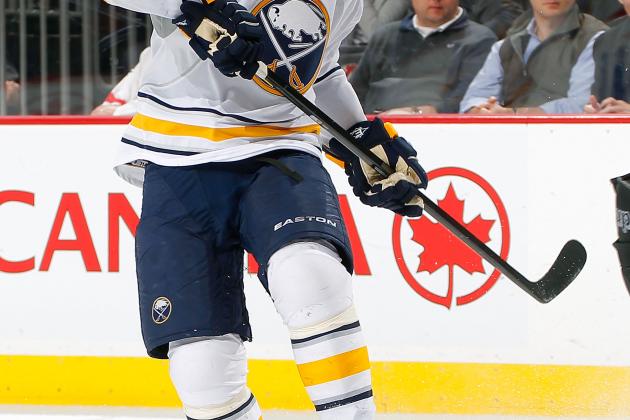 Paul Bereswill/Getty Images

Much like Brad Boyes, Derek Roy is a forward who could be dealt as a result of the Buffalo Sabres' disappointing year.
Although Roy has had some struggles with injuries, he is a legitimate No. 1 centre when healthy. Roy has had his struggles this season, putting up just 27 points in 54 games, but his poor play is highly indicative of the Sabres as a team. In comparison, he was a point-per-game player in 35 contests last season.
Any team looking to improve its top-six forward group could have some interest in Roy, such as the Chicago Blackhawks, who are rumoured to have interest in the 28-year old, according to The Ottawa Sun.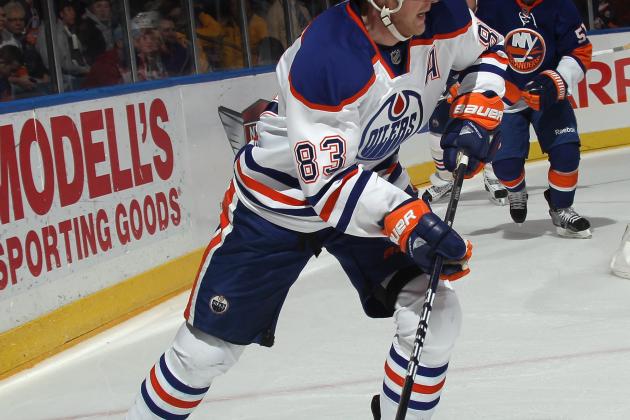 Bruce Bennett/Getty Images

Considering Ales Hemsky's impending unrestricted free-agent status, and the fact that he was nearly traded by the Edmonton Oilers last season, don't be surprised if the trigger is pulled on a deal that would see Hemsky leaving Edmonton before the trade deadline.
The oft-injured Hemsky is a capable second-line winger with great vision and playmaking abilities. He could be in high demand for a team looking to add some extra firepower both at even strength and on the power play.
Several teams who have shown interest in Ales Hemsky include the Detroit Red Wings, the Nashville Predators, the Los Angeles Kings, the New York Rangers and the Washington Capitals, according to the National Post.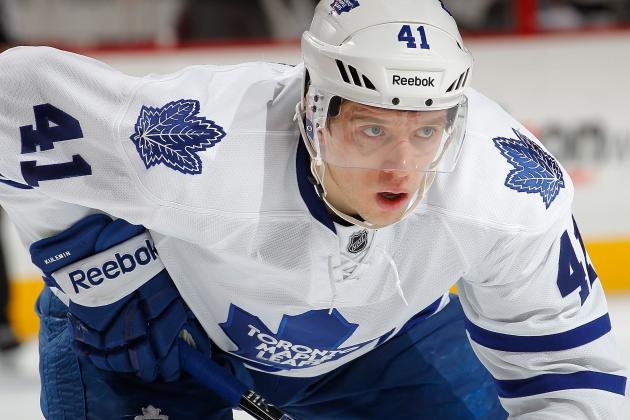 Paul Bereswill/Getty Images

Similar to teammate Clarke MacArthur, any trade involving Toronto Maple Leafs winger Nikolai Kulemin would likely see the Russian forward moving as part of a package that would land the Maple Leafs a superstar player in return.
Kulemin is a great two-way forward who has made up for his offensive struggles this season with a continually tremendous defensive effort. Kulemin has even been given a significant role on the Leafs' penalty-killing unit.
Perhaps what Kulemin needs to regain the form he was in last season, when he totalled 30 goals, is a change of scenery. Any team willing to take a chance on him may be heavily rewarded.
According to TSN's Darren Dreger, Kulemin, like MacArthur, is rumoured to be a player of interest to Dean Lombardi's Los Angeles Kings.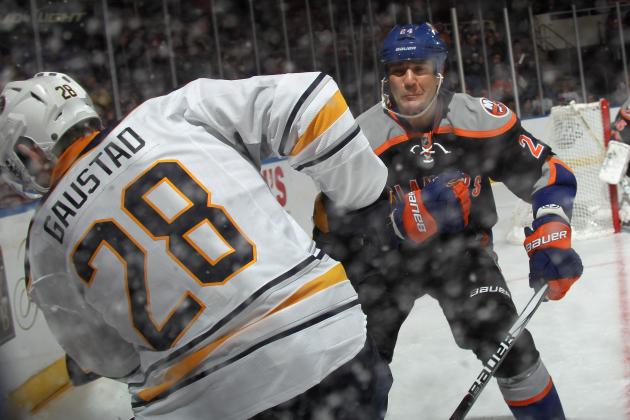 Bruce Bennett/Getty Images

If the Buffalo Sabres do indeed sell as expected at the trade deadline, another piece who is likely to be moved is centre Paul Gaustad.
At 6'5", Gaustad is a big, physical centreman who excels on faceoffs and could fit into a third- or even second-line role, depending on the team looking to acquire his services. Gaustad has also been a bright spot for the dreary Sabres this season, as he has collected 15 points in 50 games, mostly on the third line.
His plus-two rating also makes him one of just four players on the Buffalo roster who are plus players.
Gaustad is rumoured to have generated plenty of interest, coming mainly from the San Jose Sharks, Vancouver Canucks, Colorado Avalanche, Detroit Red Wings, Los Angeles Kings and Calgary Flames, according to Andy Strickland of TrueHockey.com.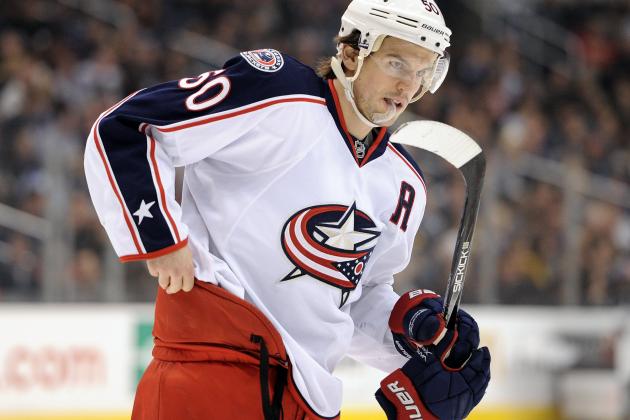 Harry How/Getty Images

The Columbus Blue Jackets are likely to be one of the handful of teams intent on completely stripping down their rosters. Staying with that theme, Antoine Vermette could be on the move in the coming days.
Vermette is a quick centre who can also play the wing. His defense-first mindset could be valuable for a contending team looking to add to its depth up front. He is a capable top-six forward who has put up six points in his last eight games.
Any contending team could benefit from adding a player like Vermette. He also has some playoff credentials, as he was part of the Ottawa Senators team that made it all the way to the Stanley Cup Finals in 2007.
Grant Halverson/Getty Images

With the Carolina Hurricanes being a team that simply cannot spend close to the NHL's implemented salary cap, there are going to be some changes when this team seems like a lock for a lottery pick.
Rumors regarding Hurricanes winger Tuomo Ruutu have run rampant for weeks now, but lately there have been several turns of events that could affect Ruutu's status leading up to the deadline.
First of all, it has recently been speculated that Carolina GM Jim Rutherford may opt to re-sign Ruutu rather than deal him, a decision which is likely to come by the end of the week. If Rutherford does not plan to extend Ruutu's contract, it would make sense to trade him at the highest possible value.
Secondly, Ruutu recently endured what the team is calling an upper-body injury that is expected to sideline him for approximately three to four weeks, something that could put a snag in the plans of any team looking at him to add depth to its forward unit.
Ruutu is able to take on a top-nine role on any contending team. He is physical and has a knack for finding the net. The native of Finland is having a career season. So far, he has 17 goals and 30 points in 57 games.
Tuomo Ruutu has arguably been the hottest target of NHL trade speculation this season, so it's no surprise that there are an abundance of teams purely speculated to be interested in his services. According to RantSports.com, among these teams are the Chicago Blackhawks, Ottawa Senators and Vancouver Canucks, just to name a few.
Christian Petersen/Getty Images

Ray Whitney of the Phoenix Coyotes is one of those players who just seems to get better with age. At 39, Whitney leads the Phoenix Coyotes in points with 51 in 57 games.
As of right now, it wouldn't make sense for the 'Yotes to trade their leading scorer, but if they fall behind in the Western Conference playoff race between now and February 27, Whitney could be a deadline day deal to a contending team.
Whitney's speed and accurate shot would make him a hot commodity on the trade market, as he is a versatile veteran who can fit in effectively anywhere in a competitive lineup.
Teams interested in Whitney include the San Jose Sharks, Boston Bruins and New York Rangers, according to ESPN.com.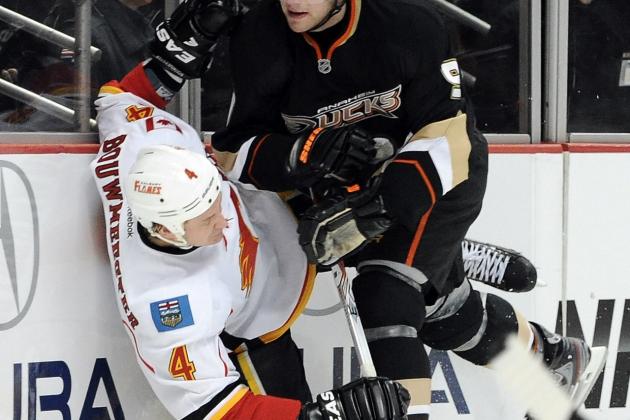 Harry How/Getty Images

I'll admit it. This one's a bit of a long shot.
However, if Anaheim Ducks GM Bob Murray is still intent on shaking up the core of his team, it would make sense that Bobby Ryan be the one on the move.
Obviously, the asking price would be insane for a proven scorer such as Ryan, who still has plenty of growth ahead of him. But that's exactly why it could make sense for the Ducks. This is the time of year when contending teams are most likely to overpay for a player of Ryan's calibre.
Not to mention that out of him, Corey Perry and Ryan Getzlaf, it would be Ryan who would be most valuable on the trade market in the first place.
Bobby Ryan is a prototypical power forward who has tons of finesse to go along with his physical play. He can finish plays off in situations where others just can't, and that's what makes him invaluable.
The latest rumor once again sees Ryan as a solution to the Toronto Maple Leafs recent woes, according to The Toronto Star.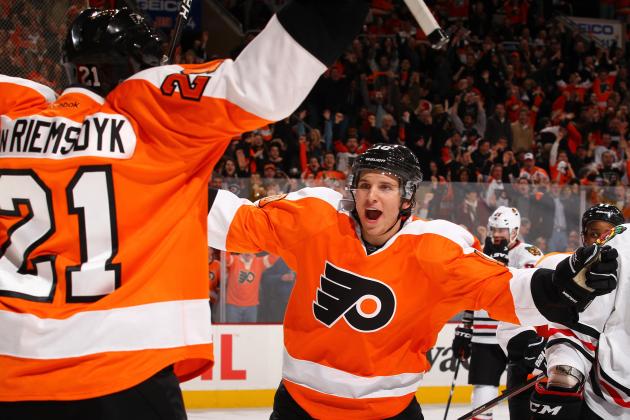 Al Bello/Getty Images

With James van Riemsdyk's recent concussion troubles, teams may decide to back off. On the other hand, JVR still has the potential to develop into a franchise winger, so there should still be some interested parties.
Although he is less established than Anaheim's Bobby Ryan, van Riemsdyk possesses a similar skill set and playing style. He is a hard-nosed winger who isn't afraid to play physically and can also bury offensive opportunities.
Although the Toronto Maple Leafs were recently rumoured to have shown interest in van Riemsdyk, it appears that Leafs GM Brian Burke has grown wary of his concussion and may decide not to trade for the young forward, according to TSN's Bob McKenzie.
Still, if he were openly shopped, there would have to be a plethora of teams knocking at Philadelphia GM Paul Holmgren's door for a chance to acquire James van Riemsdyk.
It really all depends on how desperate the Flyers are for defensive help.