Tom Coughlin: 5 Ways the New York Giants Coach Has Gotten Better with Age
February 14, 2012

Jamie Squire/Getty Images
Tom Coughlin has never had it easy with the New York Giants. Since the 2007 season—the season that the Giants and their head coach won the Super Bowl—Coughlin has seemingly lived out his tenure on a week-to-week basis.
The Giants' second Super Bowl victory with Coughlin at the helm, though, has delivered the eight-year head coach into a new light to both his players and Giants' fans. No longer will Coughlin be subjected to the frustration and scorn of a metropolitan area that demands success over anything else in the sports industry. He has earned his place.
It didn't come easily for the 65-year-old coach though, who became the oldest head coach to win a Super Bowl with the Giants 21-17 triumph over Bill Belichick and the vaunted New England Patriots.
For Coughlin and his Giants unit to get to where they stand today, it took a lot of growth for a man who probably thought he had done all his growing long before becoming Big Blue's head coach in 2004.
But like a fine wine, Coughlin, highly acclaimed for his work in the late 1990's with the expansion Jacksonville Jaguars—just got better with age.
It's something that only the best coaches are able to do.
How was Coughlin able to pull it off?
A Miraculous Metamorphosis
Not the most popular coach in the NFL, Tom Coughlin found it difficult to control his Giants team early in his tenure with New York. His fiery attitude and disciplinarian style did not rub his players the right way and it showed on the field.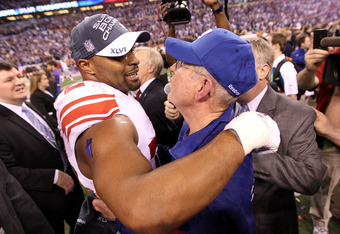 Jamie Squire/Getty Images
It was an issue Coughlin never faced before in his coaching career, but with the dynamic of the NFL changing—he needed to as well.
Not a Bill Belichick or John Fox by any means, but Coughlin has done his very best to become as laid back of a coach as he can be. As a result, he has earned the respect of his players and the command of a football team that is now a two-time Super Bowl champion in five seasons.
Willing to Compromise
Thickheaded and set in his ways, Tom Coughlin did not like the idea of change. In fact, he still coaches much of the way he always has—but it has all come with compromise.
Like any successful relationship, a little compromise goes a long way. For the Giants, it means two Super Bowl trophies and the potential for more.
Coughlin's willingness to compromise with his players has garnered him their acceptance in return for his respect and understanding. Subsequently, he and his Giants players have found a way to grow together, coexist and succeed at the highest level year-after-year.
An Unwavering Toughness
Nothing solidified just how tough Tom Coughlin truly is until he was trampled on the sideline during the Giants' victory over the New York Jets in Week 16—and popped back up without a qualm.
His appearance with his players on Monday morning in the training room surely earned him some brownie points, but his tough love has kept the Giants in check.
On the list of NFL arrests, citations and charges—the Giants are one of three teams with not a single instance. 
That number speaks volumes of the influence Coughlin is able to have on his team. And while his players may not always appreciate his tough love approach, it's keeping them out of trouble and performing on Sundays.
He Can Still Relate
One of the most common beliefs regarding Tom Coughlin and his players is his inability to connect with them. He is assumed to be too old for the game and too senile to accept it.
Yet Coughlin, more so than anyone else, gets the very best out of his players. Even those that were once so disgruntled with him have discovered they were foolish in their ways—such as safety Antrel Rolle and running back Brandon Jacobs.
His ability to relate and motivate the Giants ignited a six-game winning streak that ended in Indianapolis, capped off by an outstanding Super Bowl victory over the Patriots inspired by Coughlin's pregame mantra to "finish."
The Giants did exactly that, standing strong defensively against Tom Brady and the NFL's most lethal offense in the final minute.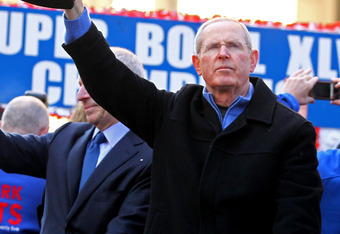 Al Bello/Getty Images
He Loves What He Does
It's not that Coughlin hasn't always loved his job as an NFL coach; it's just humbling to know that someone like the Giants' coach could still find the same joy and adoration for the game as he did when he first started.
That love for the game of football has been the driving force behind some tough times in the NFL, especially over the course of his eight-year tenure with the Giants. But Coughlin has continued to fight through even the toughest of moments in his career, and as a smiling Giants' coach showed during their run to the Lombardi Trophy this postseason—he is still having an absolute blast.
It is tough to not have fun, when your head coach is having fun coaching and watching you play. Consequently, the Giants, much like their red-faced coach, had the most enjoyable season of their careers in 2011, bookended the way every season should end—with a Super Bowl.