San Francisco 49ers: Their Worst-Case Draft Scenario
February 14, 2012

Elsa/Getty Images
The San Francisco 49ers won 13 games and had the second-best record in the NFC. They were only a botched punt or two from advancing all the way to the Super Bowl. This success, however, means that the 49ers will select all the way down in the 30th position in the upcoming draft.
The 2012 draft will begin on April 26th, while the free-agent signing period begins on March 13. The 49ers will have a much clearer picture of their roster and personnel needs, based on the status of the free agents they are targeting.
The ideal situation would be that the 49ers are able to sign their own key free agents, such as Alex Smith, Dashon Goldson, Carlos Rogers, Ahmad Brooks and Adam Snyder, prior to the draft.
Then, if they can also sign a top wide receiver and another starting cornerback, the 49ers would have much more flexibility to sign the best available player, regardless of position.
However, this is a lot to ask. With the relatively short period between the opening of the free-agent signing period and the collegiate draft, it is unlikely all of this will be sorted out prior to the draft.
The worst-case scenario for the 49ers would be if they were to lose some of their own top free agents, without signing their replacements. The draft would then need to be much more focused on patching holes in positions of need.
For example, if the 49ers lost Goldson, Rogers and Snyder, without signing anyone to take their place, they would need to find replacements in the draft. Picking towards the end of each round, this would be very difficult.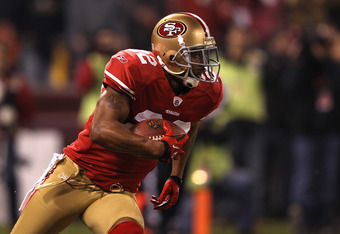 Ezra Shaw/Getty Images
The 49ers' primary need at this time is a top-flight wide receiver. However, if Rogers, Goldson and Snyder were lost, the 49ers would be compelled to find replacements in the defensive backfield and at right guard.
This scenario is also somewhat unlikely, as I do believe the 49ers will be able to sign a few free agents to replace any vital losses. With the 49ers' glaring need at wide receiver, unless the team signs a No. 1 receiver, expect them to go in that direction with their first-round pick.
GM Trent Baalke will make every effort to re-sign the 49ers' top free agents, but he won't break the bank. He did a great job last year acquiring several players at reasonable prices.
The free agents Baalke signed last year were instrumental in helping to drive the 49ers to their first playoff appearance since 2002. Look for Baalke to make several additional quality acquisitions this time around, also.