2012 NFL Draft: Bold First Round Predictions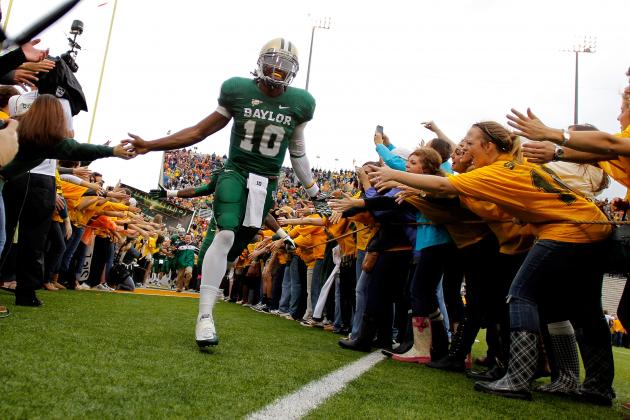 Sarah Glenn/Getty Images

Given that the Combine is still about a week away, it seems a little bit pointless to try to accurately predict the entire first round.
That being said, here's a mock draft with predictions that might be a bit more bold than your average, every day mock draft.
While for the most part this article will function as a "what if" kind of mock draft, you might be surprised at how the Combine changes the draft board landscape, and some of these picks might become more and more realistic in a few weeks or so.
Let me know what you think.
Begin Slideshow

»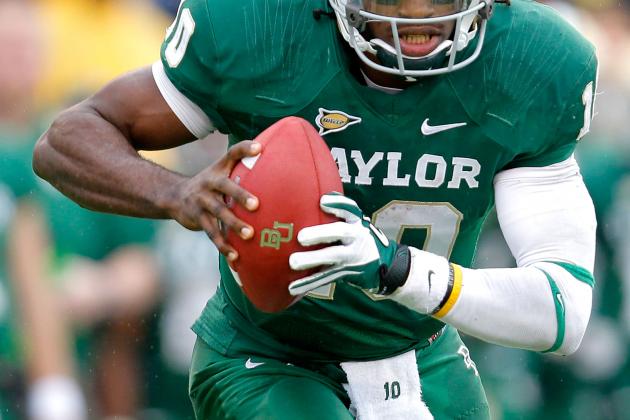 Sarah Glenn/Getty Images

I realize that Andrew Luck is the consensus No. 1 overall pick in most (if not all) mock drafts right now. Luck is considered the best QB prospect since John Elway, but Baylor QB Robert Griffin III might be more of a game-changer.
The Heisman winner isn't just the best athlete in the draft, he's a very talented technical QB as well.
I understand that Colts fans would like to see Luck replace Peyton Manning, being that he's a pure quarterback. What if Jim Irsay decided to shock the NFL and take a guy that isn't just a good passer, but a guy who can make plays with his feet as well?
Cam Newton was the most impressive rookie QB in quite some time. I'd be willing to bet that RGIII will be more impressive, and if I'm the Colts, I want to hop on that bandwagon.
Doug Pensinger/Getty Images

Trade Stipulations:
Washington receives: No. 2 overall pick, sixth-round pick
St. Louis receives: No. 6 overall pick, second-round pick, fourth-round pick
Mike Shanahan just s*** himself.
Though the Redskins have to give up a king's ransom, they receive the clear-cut No. 1 prospect in the 2012 NFL draft and potentially the league's next elite QB.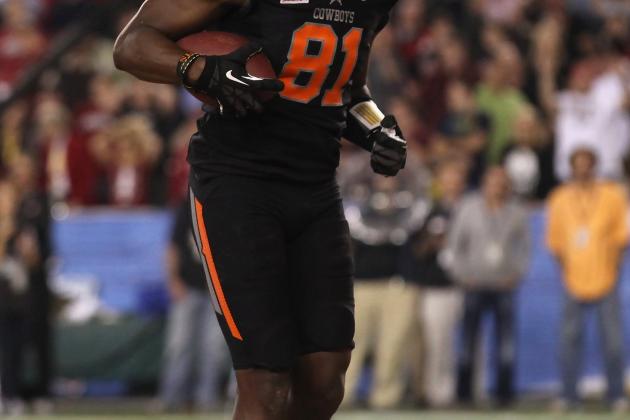 Donald Miralle/Getty Images

The Minnesota Vikings are the favorite to take USC tackle Matt Kalil, given the current state of their offensive line.
However, after the Combine, the Vikings might find that Oklahoma St. WR Justin Blackmon is a beast too great to pass up. The two-time Biletnikoff Award winner is a man among boys compared to the other wideouts in this class, and the Vikings need receivers arguably as much as they need offensive line help.
Pairing Blackmon with Percy Harvin and an emerging TE in Kyle Rudolph could make for a dynamic passing attack in Minnesota.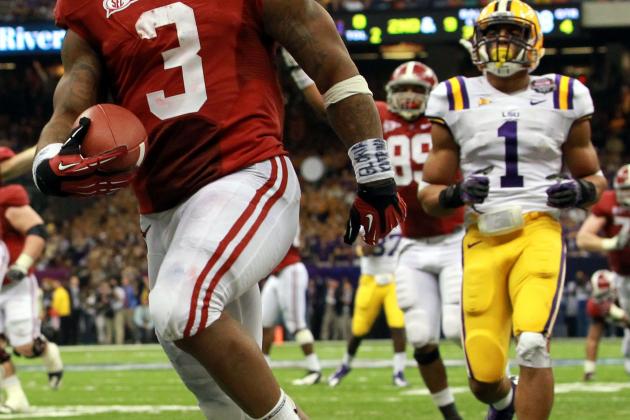 Ronald Martinez/Getty Images

The Cleveland Browns select the best RB in the 2012 class.
The Alabama Crimson Tide can credit Richardson for most of the offensive production that helped lead them to a National Championship this year.
Richardson combines speed and power to make for quite a prospect. He could be the next elite RB in the NFL.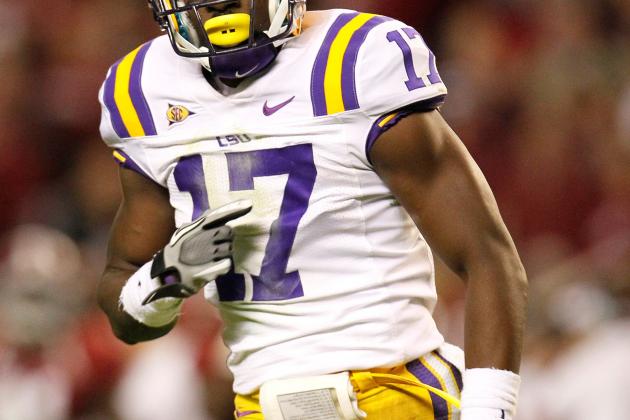 Kevin C. Cox/Getty Images

OK, so this isn't the most bold prediction, but the Bucs have to replace Ronde Barber who's getting up there in age.
Claiborne is arguably the only lock-down corner in this class, and Tampa Bay could certainly use help covering some of the great wideouts in their division (i.e. Steve Smith, Roddy White, Julio Jones, etc).
This may not be the most bold prediction, but when it makes sense, you gotta go with your gut.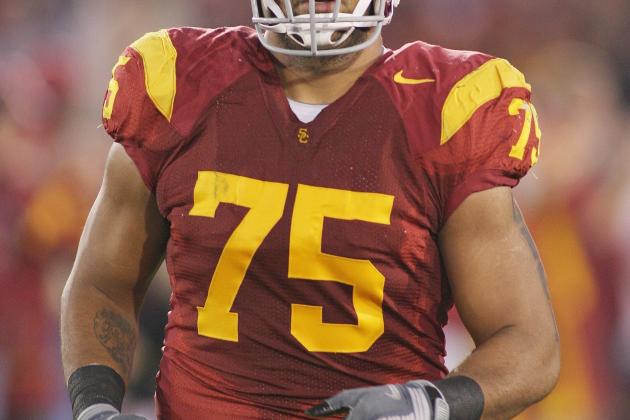 Jeff Golden/Getty Images

By trading down with the Redskins, the St. Louis Rams allow the Vikings to select Blackmon and in turn get a prospect that could easily go No. 2 overall by himself: Matt Kalil.
This is a future franchise LT and the Rams need to protect their franchise QB Sam Bradford.
Jeff Fisher is a pretty traditional guy. That being said, accumulating a few extra picks and grabbing a guy that can be a cornerstone of your offensive line seems like a pretty nice opportunity to me.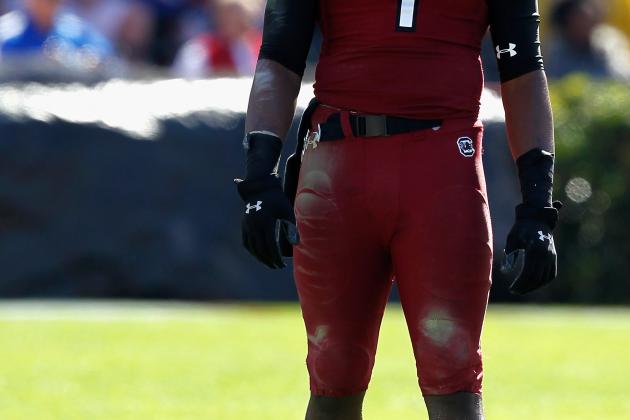 Streeter Lecka/Getty Images

The Jaguars have never really had a top WR to help stretch their offense.
Jeffery is considered kind of a boom-or-bust pick, but his upside will make him very tempting for Jacksonville.
The combination of size and strength will make a nice target for QB Blaine Gabbert.
Mike Zarrilli/Getty Images

After being acquitted of marijuana charges, Kirkpatrick's draft stock will likely remain unscathed.
The Crimson Tide CB is considered a top-10 talent with great size and potential.
Kirkpatrick plays a rough style of defense that would be more than welcome in a Panthers defense that could use some help in a division with pretty good passing attacks.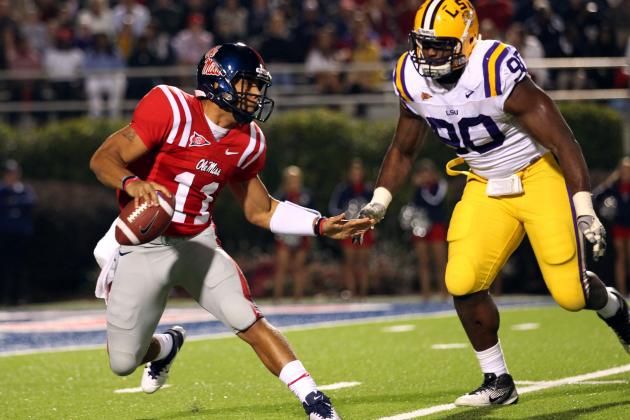 Joe Murphy/Getty Images

This pick is mainly based on a best-available mindset.
The Dolphins ranked third against the run in 2011, but the addition of Brockers would make them almost impossible to run the ball against.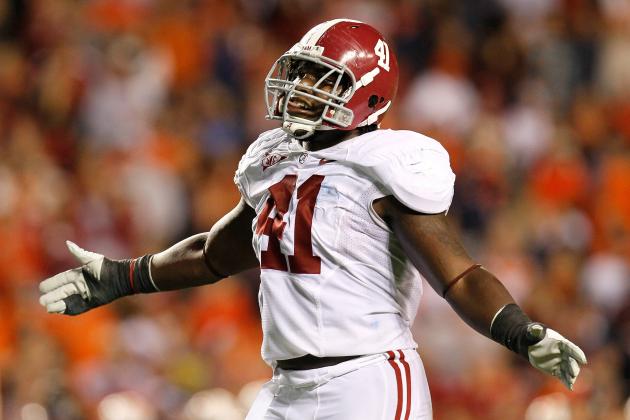 Kevin C. Cox/Getty Images

The Buffalo Bills ranked 18th in total defense in 2011. Their uninspired rush defense was ranked 28th in the NFL.
Given that the Bills spent their No. 3 overall pick in the 2011 draft on DT Marcel Dareus, I don't see them targeting an interior defensive lineman to solve this problem, but rather a guy like Courtney Upshaw who can rush off the edge and contain RBs from bouncing to the outside.
Alabama's defense was one of the best in the nation. Their linebackers made it nearly impossible for opponents to run the ball.
The addition of Upshaw to a Bills defense that is headed in the right direction will make a huge difference in 2012.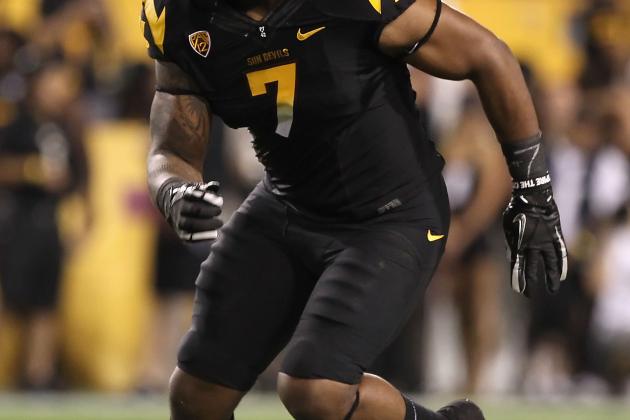 Christian Petersen/Getty Images

Sorry Ravens fans, Burfict isn't going to be replacing Ray Lewis.
Instead, the ASU product will join Derrick Johnson and Tamba Hali in Kansas City to make for one of the most fearsome linebacker corps in all of football.
Chiefs coach Romeo Crennel is a defensive minded guy and with the secondary as good as it already is—sixth in the NFL, even with Eric Berry on IR—the Chiefs will look to improve their run defense.
Burfict is a risky pick, but he is the most violent tackler in the draft class and is about as fiery a player as they come.
If a pick like this panned out for the Chiefs, we could be talking about them as the best defense in the NFL next season.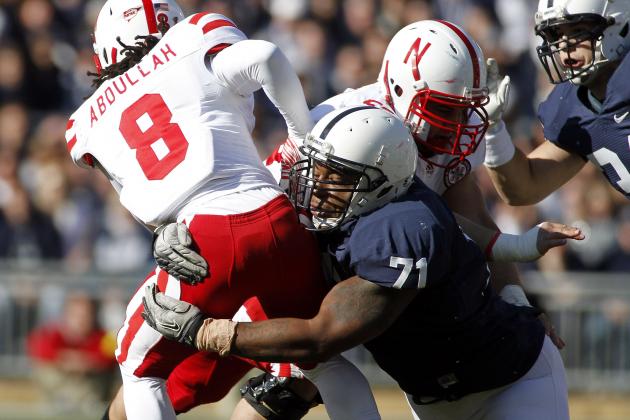 Justin K. Aller/Getty Images

Penn State's Devon Still is considered one of the top interior defensive linemen in this class.
Seattle is a very balanced team as a whole, but lacks a lot of star-power on their defensive line. The addition of Still would improve their 15th ranked rush defense and help them stack up better against the top RBs in their division like Frank Gore and Stephen Jackson.
Strengthening their defensive line would make Seattle a contender to win the NFC West in 2012.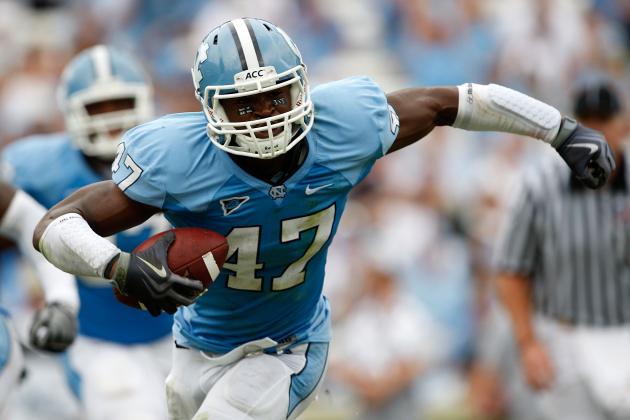 Streeter Lecka/Getty Images

Trade Stipulations:
Philadelphia receives: the No. 13 overall pick
Arizona receives: the No. 15 overall pick and a third-round pick.
Though the Philadelphia Eagles were tied for the 31st ranking defense in the NFL, they are only missing a few pieces from being much more solid. They have arguably one of the most talented secondaries in football and an astoundingly good pass rusher in Trent Cole.
Its not just lack of depth, but talent at linebacker that is hindering the Eagles from playing at their full potential defensively.
By trading up two spots to snag Zach Brown from UNC, the Eagles guarantee themselves the top OLB in the class. He's not the flashiest pick, but he fills a position at a great deal of need.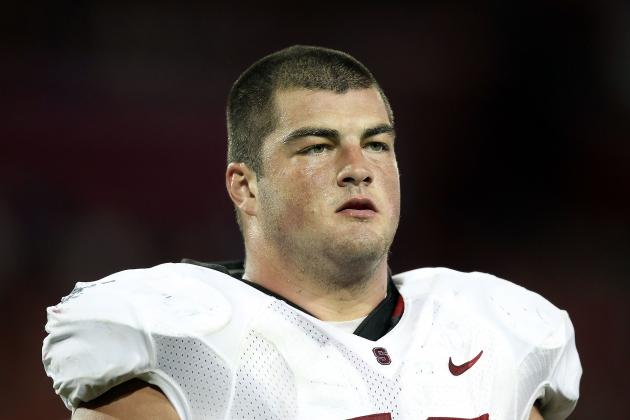 Christian Petersen/Getty Images

Dallas Cowboys guards Kyle Kosier and Montrae Holland are both on the wrong side of 30, and could certainly be replaced.
Whether or not Tony Romo will continue to be the franchise QB for the Cowboys remains to be seen, but regardless of who is under center, they need to be able to protect him.
In drafting Tyron Smith in 2011, the Cowboys began rebuilding an aged offensive line. Adding the top guard prospect would certainly be another step in the right direction as well.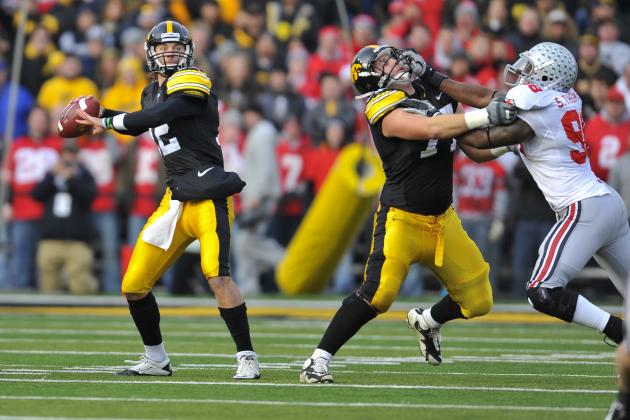 David Purdy/Getty Images

Riley Reiff is considered by some to be the top tackle prospect in his class, perhaps even better than Matt Kalil.
After sliding this far, Reiff will be picked up by the Cardinals because of their need to drastically improve their offensive line and help protect their RBs and huge investment in QB Kevin Kolb.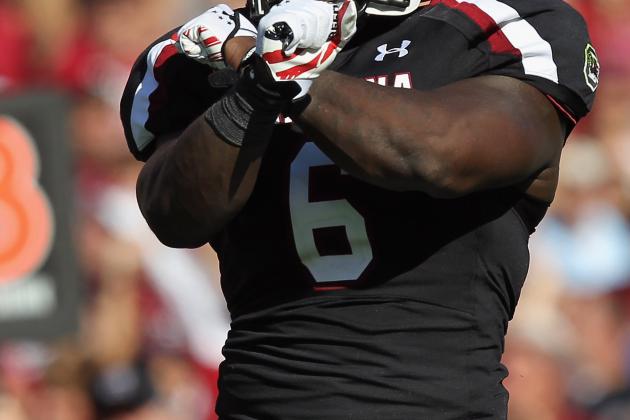 Streeter Lecka/Getty Images

Rex Ryan is likely embarrassed with how poorly his team's defense played in 2011.
Though Shaun Ellis didn't really do much with New England, the Jets clearly felt his loss. Their front seven hasn't been the same since his departure.
The addition of Ingram would be a nice new piece in an aging defense that needs to look to the future on defense if they want to get back to the playoffs.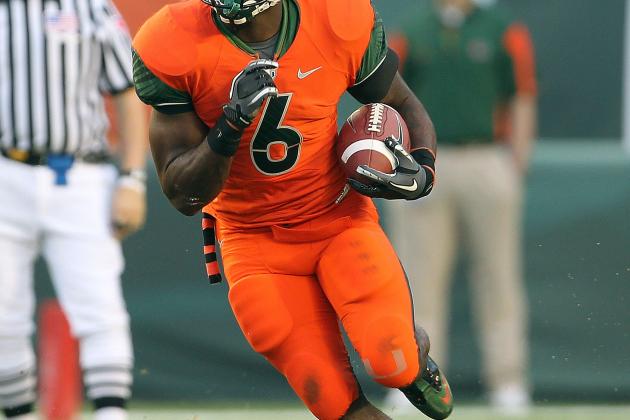 Mike Ehrmann/Getty Images

The Cincinnati Bengals are certainly on the rise offensively, but Cedric Benson is not cutting it anymore as the starting RB. They ranked 19th in the NFL.
By securing long-term answers with both QB Andy Dalton and WR A.J. Green, they can add a pro-ready RB in Lamar Miller to give them a more balanced offense.
Miller may not be Trent Richardson, but he's got first-round talent and could probably start on day one.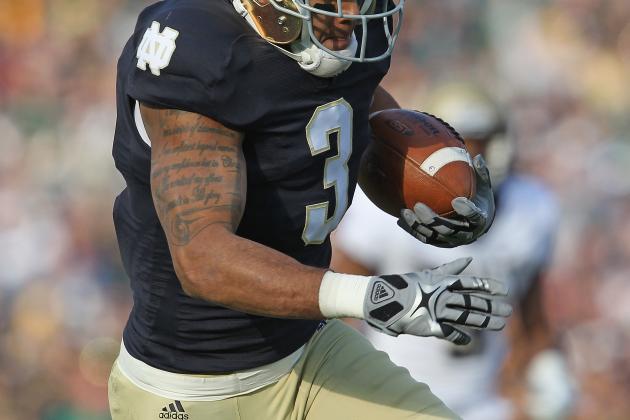 Jonathan Daniel/Getty Images

It seems that the San Diego Chargers could be set to lost WR Vincent Jackson to free agency.
If that's the case, they'll need to replace him and add a No. 1 WR to stretch the field for QB Phillip Rivers.
Floyd is considered the most pro-ready receiver in the class and can utilize his great size to create mismatches for opposing defenses.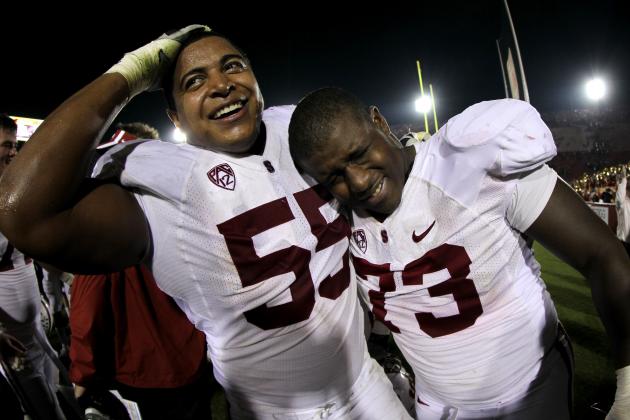 Stephen Dunn/Getty Images

After missing out on the WR the Bears desperately needed in Michael Floyd, they'll have to look to improve their dreadful offensive line. Protecting Jay Cutler and Matt Forte needs to be a priority for Chicago's new GM.
Stanford's Jonathan Martin is the best available lineman at this point in the draft. He should be an immediate starter for Chicago, and will really help against the other defensive lines in their division like Detroit and Minnesota who certainly have no problem getting to the QB.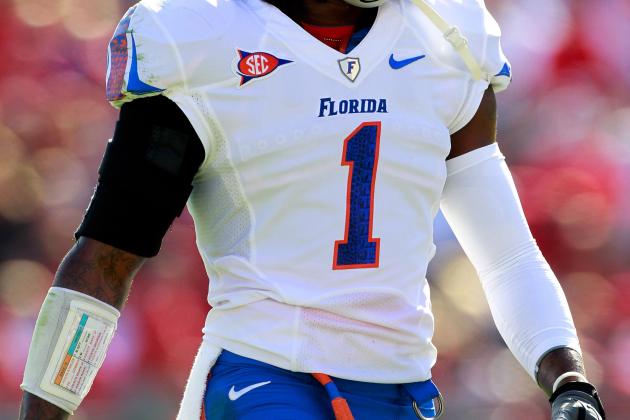 Sam Greenwood/Getty Images

It seems the Tennessee Titans and CB Cortland Finnegan aren't very close to striking up a new deal.
That being said, they'll need to address their secondary. With Finnegan, they're ranked 14th in the NFL, but if they lose him, that ranking could plummet.
Janoris Jenkins comes with plenty of red flags, but he could be the best cover corner in the class. If he can stay out of trouble, he could be a steal for Tennessee.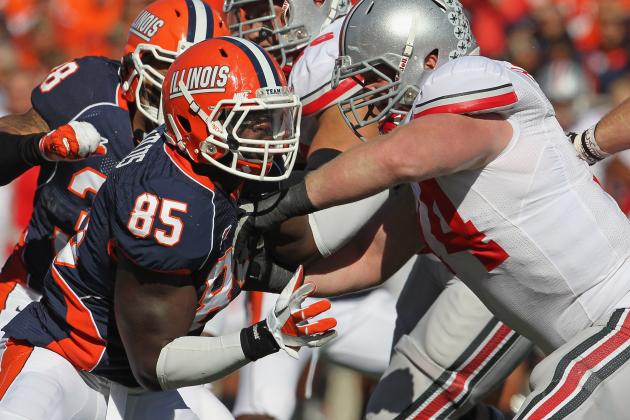 Jonathan Daniel/Getty Images

The Cincinnati Bengals were fifth in the NFL in sacks in 2011.
The addition of a sleeper in Mercilus, who led the country in sacks in 2011, could make the Bengals defense truly scary. Their front seven is already very good, but the addition of another potential star would gather the kind of attention that San Francisco received in 2011.
Sarah Glenn/Getty Images

Adding another offensive weapon will be the right move for the Browns. After taking Trent Richardson with the No. 4 overall pick, they'll grab a guy that can stretch the field in Baylor's Kendall Wright.
Giving Colt McCoy as many weapons as possible will be key to his success.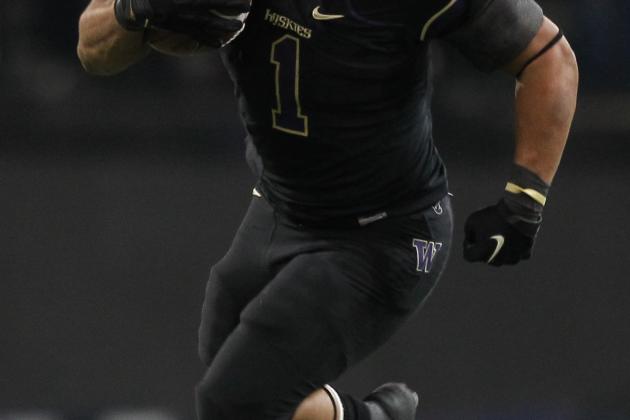 Otto Greule Jr/Getty Images

The Detroit Lions have a very intimidating passing attack, but their ground game is about as pathetic as they come.
Giving Matthew Stafford a solid RB would make the Lions offense improve tenfold.
Chris Polk is the best available RB at this point in the draft and looks to be a solid starter in the NFL.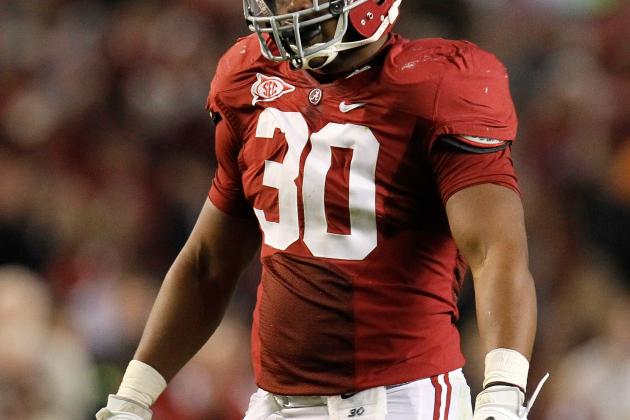 Kevin C. Cox/Getty Images

The Steelers defense isn't getting any younger. ILB James Farrior is now 37 years old and presumably won't be with the team much longer.
Adding youth next to Lawrence Timmons will be important to keep the middle of the field strong and in turn keep the Steelers as contenders.
Adding Dont'a Hightower will give them a very consistent, stable force over the middle of their defense for years.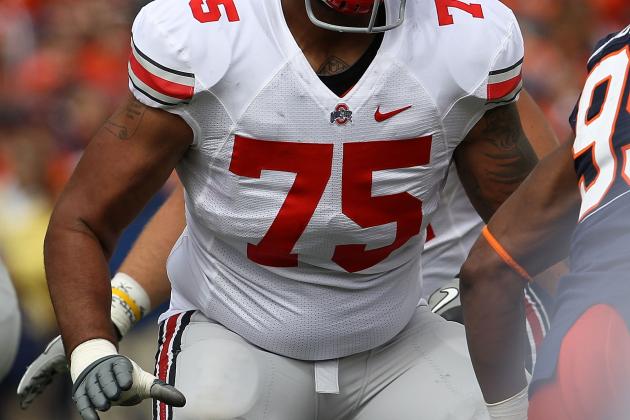 Jonathan Daniel/Getty Images

Mike Adams is a solid tackle prospect and could be a starter.
If Denver wants to keep rolling with Tim Tebow, they're going to have to give him better protection (especially with that long release).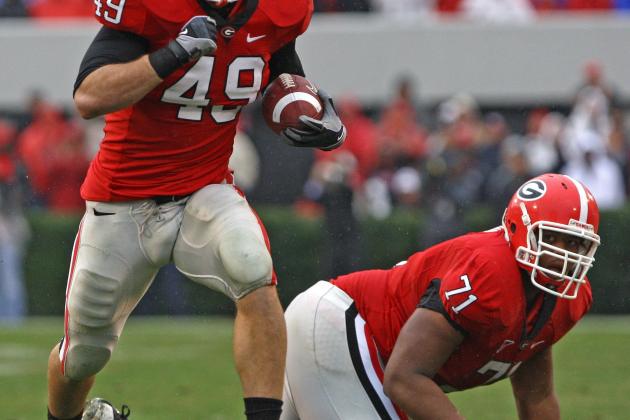 Mike Zarrilli/Getty Images

The Houston Texans are one of the hottest teams in the NFL, and I can't believe I just said that.
The thing the Texans struggled with the most in 2011 was keeping their QBs on the field. At this point the best available offensive lineman is Georgia's Cordy Glenn.
Glenn is a great prospect because of his versatility to play almost anywhere on the line. The addition of a guy like this will make a huge difference in keeping QBs healthy in 2012 for the Texans.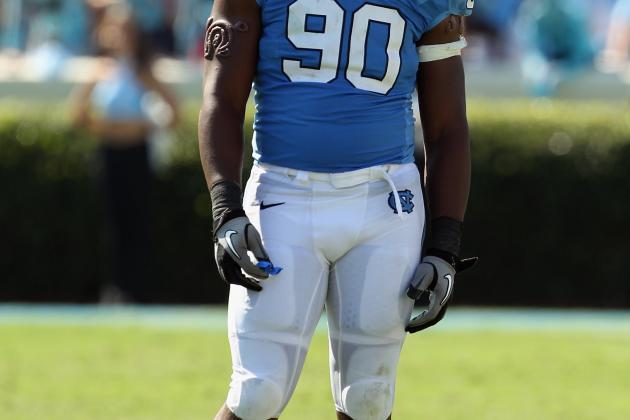 Streeter Lecka/Getty Images

The New England Patriots could be set to lose both of their starting defensive ends to free agency this offseason. Even if they're able to hang on to one of them, their pass rush could certainly use some work as it is.
Quinton Coples is considered one of the most talented DE prospects in this class, but lacks the explosion off the line to really be considered a top-10 pick.
New England gets a solid prospect at No. 24 by selecting a guy that could really improve the front end of their defense.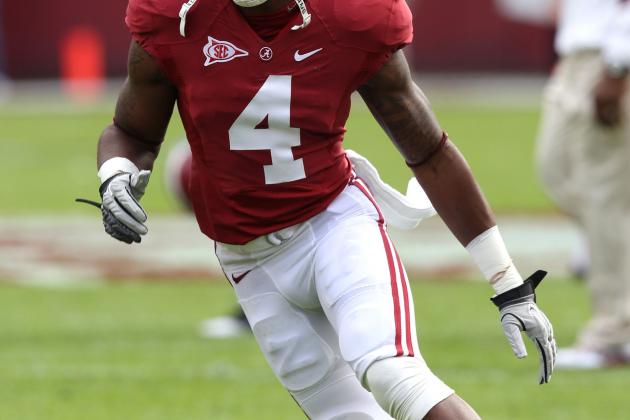 Mike Zarrilli/Getty Images

The Green Bay Packers have to address their weak secondary in the first round. It looks like Nick Collins could be set to retire because of continual injuries and Morgan Burnett just isn't cutting it as a starter.
If the Packers indeed decide to move Charles Woodson to FS, they'll look to add Mark Barron, the best SS prospect in the draft, to shore up their secondary.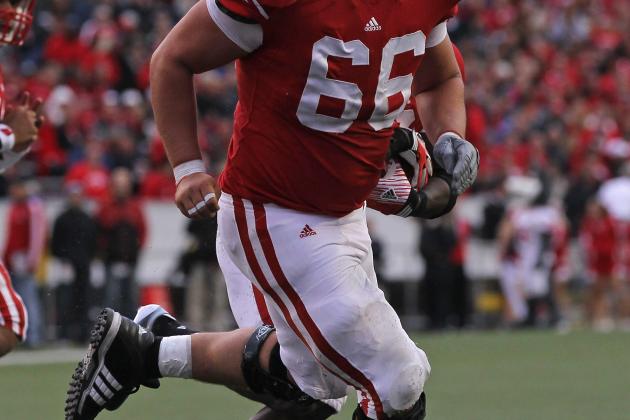 Jonathan Daniel/Getty Images

Ravens center Matt Birk could be set to retire this offseason, and Baltimore could also lose guard Ben Grubbs as well. If that is the case, they'll most certainly look to improve their offensive line in the first round.
Wisconsin's Peter Konz is the best interior lineman left on the board at this point and he'll become a long-time starter for the Ravens.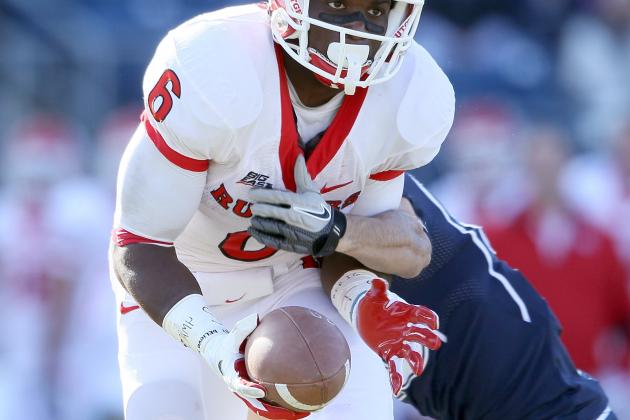 Elsa/Getty Images

The San Francisco 49ers defense carried them a lot over the course of 2011. Alex Smith and Vernon Davis definitely contributed their fair share as well, but as a whole the team needs more offensive weapons to remain relevant.
That being said, Rutgers receiver Mohamed Sanu may be the most talented wideout left on the board.
Sanu will be able to stretch the field for the Niners so that their offense can truly flourish in 2012.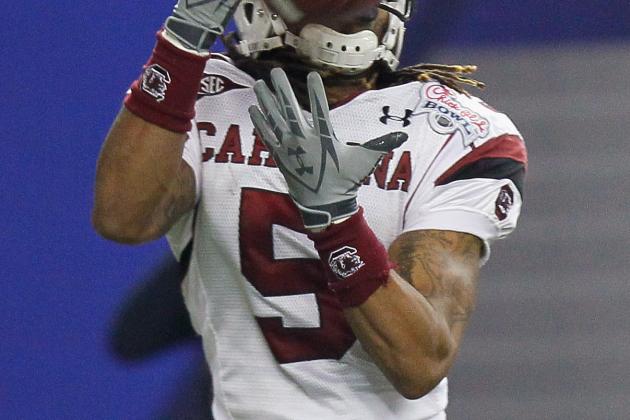 Kevin C. Cox/Getty Images

Now that the Patriots have addressed their pass rush, they can add a new piece to their secondary so that they can continue to compete for playoff berths and even Super Bowls.
Gilmore is the best CB left on the board and also has utility in the return game as well.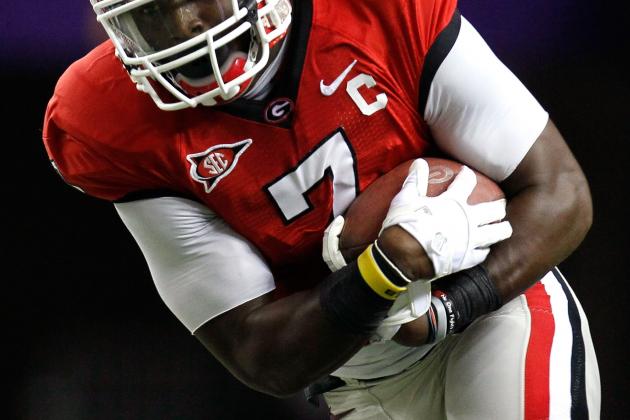 Kevin C. Cox/Getty Images

The New York Giants are one of the most complete teams in football. Their entire defense and most of their offense are all very balanced and its hard to find flaws on their roster.
The only position they could be due for an upgrade is at TE. Ballard and Pascoe are both solid blockers, but neither possess the sort of vertical threat that is becoming popular in the NFL.
Charles is the top TE in this class, and makes the most sense for the reigning champs to go with.
Thanks for reading.