Boston Bruins Trade Deadline: What the Bruins Need and Who Can Fill the Void
February 14, 2012

If you need any proof of just how crucial the NHL trade deadline can be, look no further than the defending Stanley Cup champions: The 2010-2011 Boston Bruins.
Last season, GM Peter Chiarelli kept busy at the deadline. Focused on fortifying the Bruins down the middle, a weakness that many believe led to the historic collapse the prior season—Chiarelli acquired centers Chris Kelly and Rich Peverley. On the blue line, Tomas Kaberle finally found a destination, being snagged from Toronto for Joe Colborne and a first-round pick.
While Kaberle never quite fit in, departing in the offseason after an unimpressive run in black and gold, Peverley and Kelly made Chiarelli look like a genius on an almost nightly basis. The duo teamed with Michael Ryder to terrorize the Montreal Canadiens in round one, while the top line of Milan Lucic, David Krejci and Nathan Horton was relatively neutralized. Their strong play continued on throughout the remainder of the playoffs, culminating in Boston's first Stanley Cup in 39 years.
With this season's trade deadline fast approaching, the Bruins find themselves better off than most. With cap room to burn—the top spot in the Northeast Division and rings on their fingers—the Bruins seem to be in pretty good shape. However, inconsistent play for the past few weeks has certainly given Chiarelli plenty of food for thought: How can this team become better?
The average age of the Boston Bruin player today is just under 28, including Marc Savard, who may never lace them up again—and a 37-year-old goalie in Tim Thomas. The Bruins are loaded with young-core talent. No one in their top six is older than 26. While this may be a blessing, a promising outlook for the future—what often helps now is a veteran presence.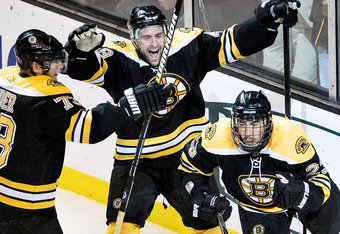 The relationship that Mark Recchi has developed with the Bruins organization is well documented. The "Recching Ball" not only led this team in shaky times, but became a mentor to younger guys like Patrice Bergeron. While the 2011-12 Bruins certainly have a strong chemistry, and plenty of guys capable of stepping up in leadership roles—their recent struggles have revealed a weakness of sorts: At times, these Bruins flat out lose their cool.
This is why Chiarelli would find it most beneficial to scan the NHL for guys looking to make that last run. An older guy still craving a sip from Lord Stanley's Cup could provide the calming presence and necessary level-headedness that could return the Bruins to their confident, self-assured form.
But who?
What options are there to fill this void?
A guy like Ray Whitney of the Phoenix Coyotes seems to make sense. Not only does Whitney seem to light up the Bruins in head-to-head action, his Stanley Cup experience and incredible offensive talent could provide a welcome-added punch to this team's offense. 
With Nathan Horton's post-concussion symptoms keeping him out of action, Whitney could slide into the top six—allowing coach Claude Julien to keep the impressive bottom six in their roles. Whitney still has a great-scoring touch, and his addition wouldn't shake up a team with an existing chemistry forged in four-grueling playoff series.
As for the price, money would be far from an issue as the Bruins have plenty of cap space. The asking price would not be crippling, possibly a pick-prospect package. The only roadblock would be Whitney himself, who has a lot of control as to where he is willing to go.
Should the Bruins explore this avenue, and should things work out if they do, they would find themselves with a seasoned playmaker that is still capable of putting the puck in the net—at an affordable cost. 

The Bruins are dealing from a position of strength right now, and their team could very easily make a run should they lock in their current roster for the playoffs. However, should Chiarelli feel inclined to shop around, Whitney might look mighty nice in a tattered, blood-stained playoff Bruins' sweater when the time comes.