Evra and Suarez Bring Controversy, Calamity and Consequences to Old Trafford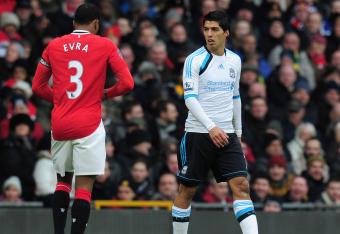 Shaun Botterill/Getty Images
It has without a doubt been an interesting few months for Luis Suarez.
The last time he played a part in a game for Liverpool against Manchester United he was accused, and ultimately charged with, the racial abuse of United captain Patrice Evra.
Following on from this, both he and the entire Liverpool squad decided to wear t-shirts with a picture of the Uruguayan international during the warm-up of their Premier League match against Wigan, an act described by former United player Paul McGrath as "Shameful."
This may be deemed a bit harsh, but you get the drift.
So when Suarez returned to Old Trafford for the first time since his eight-match ban, you knew the match wouldn't go by without incident. It didn't take long for the underlying tension to creep onto the field. The controversy began over a simple pre-match handshake, or rather, because a simple pre-match handshake didn't take place.
That's right. Unbelievably, upon approaching Patrice Evra during the traditional opening procedure of a Premier League match, Luis Suarez retracted his hand refusing to shake hands with the opposition's captain—a metaphorical 'spit in the face' in most people's eyes.
In response to what was unquestionably one of the most insulting acts of all time within the realms of Premier League football, the Frenchman did not exactly rise above the low standard of honour set by his Uruguayan counterpart.
Patrice Evra waited until the final whistle sounded at Old Trafford before settling his score.
As the match ended, Evra took to circling around the pitch gesturing to the crowd in what was definitely an over-celebratory manner in an attempt to rile up Luis Suarez. He even went as far as to do it right in front of the striker's face, at which point referee Phil Dowd felt it was necessary to restrain Patrice Evra from continuing his 'celebrations.'
Having said this, it is too easy to forget that a soccer match was played in between these two incidents and that there is of course a bigger picture that must remain as the number one issue at hand—the Premier League.
United could only manage a draw against Chelsea at Stamford Bridge, which once again left the Red Devil's trailing behind Manchester City at the top of the Premier League table.
Another loss could have left United's season in tatters with United already out of both the Champions League and FA Cup. Letting Manchester City escape from their clutches may have been too much to handle for Sir Alex Ferguson.
Liverpool, on the other hand, had their own problems to be worrying about. Liverpool have spent most of the season eyeing up a place in the top four but have not been able to string together a run of form strong enough to allow them to make a successful ascendancy through the Premier League table.
A win at Old Trafford would result in a five-game unbeaten streak and leave Liverpool two-for-two against United in 2012.
After the game's previously mentioned rocky start, the first half produced little in the way of opportunities, with Glen Johnson surprisingly having the clearest chance in the opening flurry.
Paul Scholes, who played terrifically throughout the game, probably had the best chance of the first half for United when his headed attempt from Ryan Giggs' cross was saved by Pepe Reina.
The opening five minutes of the second half proved to be decisive, with Rooney scoring a pair of well-taken goals. The opener was a cleanly struck volley from point blank distance; the other was a perfectly finessed shot through the Liverpool goalkeeper's legs following a beautiful sliding pass from Valencia.
This prompted Kenny Dalglish to make a number of changes to the team, including the introduction of Charlie Adam and £35-million striker Andy Carroll.
It was Adam's delivery that allowed 'man of the hour' Luis Suarez to capitalize on United's poor defending of the high ball in the 80th minute. Regrettably for Liverpool, this late goal wasn't enough with United claiming the three points and reclaiming their position at the top of the Premier League—for 24 hours, at least.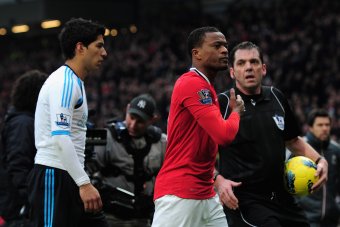 Shaun Botterill/Getty Images
Unfortunately, however, it isn't the score line that everyone will continue to talk about for the foreseeable future. It is the childish, ignorant and unprofessional attitude of two high-level footballers that will be the subject of intense scrutiny.
Luis Suarez and Patrice Evra both hindered the growth of the game in their respective moment of madness. Suarez's behaviour may have been incredibly dreadful, but that did not excuse Evra from giving up the opportunity to take the moral high ground.
Both clubs of course apologized after the match, with each club issuing individual statements taking full responsibility for their particular actions.
But let's be honest, it's too little too late.
The FA has chosen not to take action and have confirmed neither player will be charged with misconduct.
It seems the FA feel that the incident is better off forgotten about, and with an extremely tough final third of the year remaining for both clubs, I recommend that both clubs now follow their example and focus on the upcoming months.
This article is
What is the duplicate article?
Why is this article offensive?
Where is this article plagiarized from?
Why is this article poorly edited?

Manchester United: Like this team?