WWE Monday Night Raw (2/13/12) Results: Live Blog of Elimination Chamber Week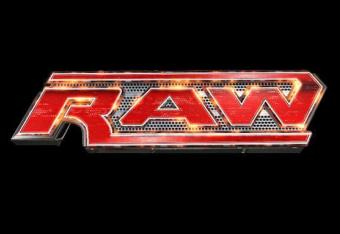 Hey, Bleachers, this is the live blog for the Feb. 13, 2012 edition of the WWE Monday Night Raw SuperShow.
Last week on Raw, the WWE failed to keep up the momentum they had after a great Royal Rumble fallout show. That's not to say that it was all bad, though.
Chris Jericho called out CM Punk, claiming Punk (and many others) were Chris Jericho wannabes. Punk came out and gave Jericho a taste of his own medicine, not speaking, simply raising the WWE Championship in the air and showing Jericho the back of his shirt.
Jericho went on to win the six-pack challenge, earning the right to be the last entrant in the Raw Elimination Chamber match.
The Undertaker appeared in a taped promo, urging Triple H to face him at WrestleMania, after Triple H had cut a promo where he said he respected Taker too much to end the streak.
Kane ended the show with Eve Torres backed into a corner. Kane said he was scared for Eve, and himself, if John Cena doesn't embrace the hate soon. Imagine how much more horrible that would have been if WWE wasn't PG.
Join in on the live discussion with us here in the comment section once the show begins.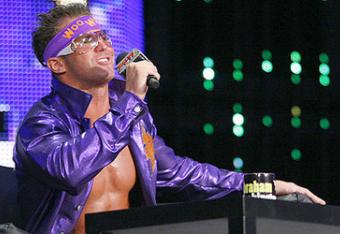 John Cena comes out, the crowd booing him. He says it was a bit of an awkward moment back there at the ambulance.
Cena apologizes to Ryder, and says this was Kane's plan all along, to turn his friends against him, the fans against him, and to leave him no other choice than to embrace the hate.
He says people won't understand that he rises above hate, and think that makes him weak. They'll think his a soft, fruity pebble, with lady parts, who can't fight his way out of a paper bag. The crowd chants "fruity pebbles".
Cena says he'll adapt, overcome, and win. He gives his word that Kane will leave Elimination Chamber in an ambulance.
Ryder comes out, and manages to get into the ring. He smacks the microphone out of Cena's hand. Cena tries to apologize, and Ryder slaps him. Cena is getting mad. Cena takes his shirt off. Ryder swings at him and Cena blocks it and almost punches him. Ryder tells him to stay away, and leaves.
Kane comes on screen, and says that Cena has sunk to depths that Kane can only dream of by kissing his friend's girl. He says Cena has embraced the hate.
Kane asks for a round of applause for John Cena, Cena goes to grab a mic, and Kane comes out behind Ryder who has returned to his wheel chair, and pushes him off the stage. Cena runs with the doctor up the ramp to check on Ryder.
They put Ryder on a stretcher and cart him off to end the show.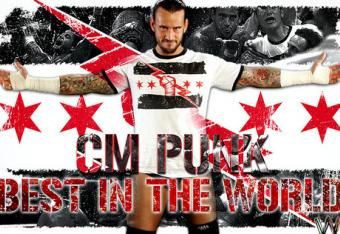 We return to see Eve chasing Ryder, she explains and apologizes. Then, she says that she just wants to be friends. The crowd is losing it. Ryder looks understandably mad, and leaves.
The Miz vs. CM Punk:
After a quick start, Miz goes for a neck breaker, Punk counters with a roundhouse kick to the head. Punk hurt his arm and can't get the pin.
Punk fights with Miz on the top rope, and knocks him down. He hits the elbow drop, and then Miz avoids the GTS. Punk counters the Skull Crushing Finale with the Anaconda Vice, and forces the submission.
CM Punk def. The Miz via Submission
We see Jericho backstage watching, smiling. Kane returns with the ambulance.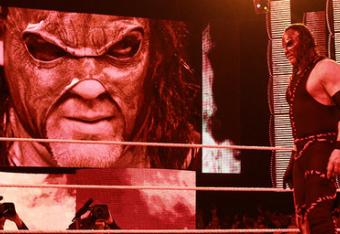 We return from commercial break for a big video package of The Rock promoting Journey 2. This should become a series called "The Rock, and everything he prefers doing over WWE."
John Cena is interviewed by Josh Mathews, before he can say anything, we hear screams from Eve.
They cut too early to Kane and Eve at the ambulance, she's casually walking into the ambulance, we see Kane prompted to shut the doors, and Cena shows up to make the save. Kane fights him off and drives off with the ambulance. Eve jumps into Cena's arms. As Kane gets away, Eve kisses Cena for no apparent reason other than she's easily swayed by heroic acts.
Zack Ryder sees it all go down, he looks crushed.
Well, Cena has embraced something, but it sure wasn't hate.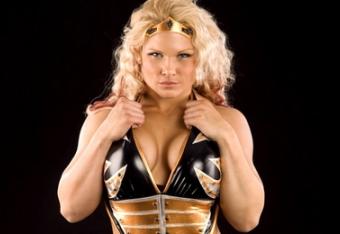 Beth Phoenix is going to be facing Tamina Snuka at Elimination Chamber.
Tamina vs. Brie Bella:
Tamina wins with the Superfly Splash. No surprise there.
Tamina def. Brie Bella via Pinfall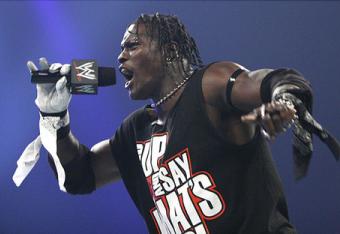 Dolph Ziggler vs. R-Truth:
After Dolph Ziggler had a strong start, he dropped Truth and began to do his sit ups, Truth catches him, rolls him up, and gets the win.
R-Truth def. Dolph Ziggler via Pinfall
That was a great finish. Backstage, Santino is giving Zack Ryder special breath freshener strips that are gross.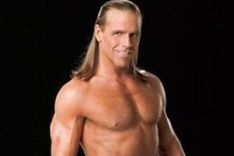 Shawn Michaels comes out, and of course the crowd is thrilled.
He tells everyone that after not doing this in so long, he's nervous. On Twitter today, someone asked him why he always comes around this time of year, it's WrestleMania!
He says last week, he was watching Raw, waiting for Triple H to accept Undertaker's challenge. He was shocked when he didn't, and called Laurinaitis to ask to come to Raw. He has drawn the conclusion that Triple H has been playing games, and is just trying to get in Taker's head. He brings out Triple H.
Triple H says its great to see Shawn, and that it must be hard for Shawn to tear himself away from hunting wabbits with Elmer Fudd. Shawn says he's ready to hear Triple H accept Taker's challenge.
Trips tells him that Shawn is mistaken, and that he's not willing to go as far as he has to go to end the streak, it's not who he is anymore. Shawn says that IS who he is, and is asking if the suit is who Triple H has become, if he's sold out.
Triple H says that it's about investing in the future, and Shawn doesn't understand. Shawn says what he does know is that if a man challenges you and you turn it down, you're a coward. At the end of the day, a coward is still a coward. They stare each other down, and Triple H walks away, Shawn says walking away is what a coward does.
Triple H goes back to him and tells him that one day all of "this" is going to be his. He looks at Undertaker like a brand, and ending that brand is bad for business. He says that him, Shawn, and Taker are the end of an era. Taker is all that's left, and he's not going to end it.
He won't let Shawn live vicariously through him to get done the things that he couldn't get done himself. Shawn grabs his coat and doesn't let him leave. He says that it was a good speech, and it would probably work on a lot of people. Shawn has found peace, but Hunter has none. He tells him to look in his eyes and tell him he doesn't want to end the streak.
Things get tense, and Triple H finally says no. Shawn looks disappointed and walks away, bumping into Triple H as he leaves. The crowd chants "HBK", Shawn looks back and shakes his head, and leaves. Trips is about to leave, and Undertaker's gong hits.
The taped promo of the Undertaker comes on, its a different one. We see Undertaker cutting his hair (wig) off with a razor, vengeance will be his. Very cool.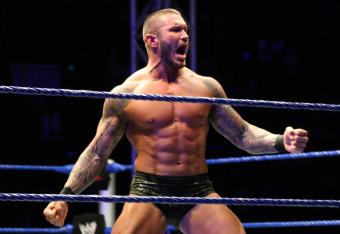 Randy Orton vs. Big Show:
After some back and forth, Randy Orton catches Big Show on the apron and hits a hanging DDT, Big Show hung on the top rope.
Orton goes for the RKO, and it's botched. Big Show falls to the ground, but Orton stayed on his feet due to falling into Big Show the wrong way. Big Show gets up, Orton counters a choke slam with a proper RKO.
Daniel Bryan runs in and flattens Orton, hitting him with the World Heavyweight Championship. He then does the same to Big Show.
Randy Orton def. Big Show via DQ
HBK is up next.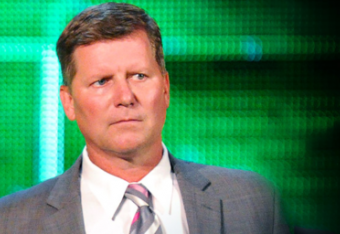 John Cena is backstage asking Zack Ryder how he's feeling and what he's doing here. Ryder is there for Eve, to tell her how he feels, and it's Valentines Day.
Cena tells Ryder to just sit tight in his locker room, and he'll bring Eve to him, and Ryder can "do what he's got to do".
We go to Laurinaitis and Otunga. Otunga has an idea for Laurinaitis that would make him not only the permanent GM of not only Raw, but SmackDown as well.
Daniel Bryan is coming out to watch Randy Orton vs. Big Show, which is coming up next.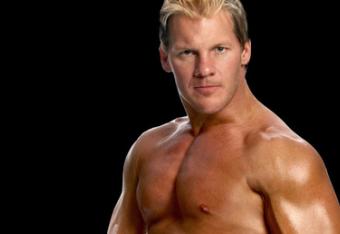 Kofi Kingston vs. Chris Jericho:
Kofi is intense. Lawler says they need to have more debates. Kofi's putting on a great performance, Jericho not getting much in offensively.
Jericho catches Kofi and puts him in the Walls of Jericho, Kofi struggles and gets to the ropes. Jericho complains to the ref, and eats another Trouble in Paradise. Kofi pins him, but Jericho gets his foot on the rope.
Jericho stands and thumbs Kofi in the eye, then hits him with the Code Breaker, and gets the pin.
Chris Jericho def. Kofi Kingston via Pinfall
Backstage, Shawn Michaels bumps into Triple H, and they greet each other. Randy Orton vs. Big Show is going down later tonight.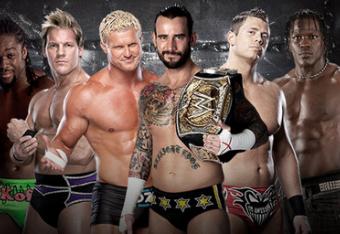 The show opens with a video package based around Kane's creepy end to Raw from last week. Then, we open to Kane speaking, he says Cena will embrace the hate, and someone is going to take a ride in the ambulance.
What an absolutely horrible opening. Oh hey! Brodus Clay is part of the Raw intro package. Funky.
John Laurinaitis is "back" (he never left) and Shawn Michaels is the guest tonight.
The ring is set up with podiums, with all of the Raw Elimination Chamber participants, and Jerry Lawler announces that we're going to be treated to the first ever Elimination Chamber debate. The crowd pops for Punk.
Lawler kicks it off by asking Punk what makes him think he can walk out of the Chamber this Sunday with the WWE Championship. John Laurinaitis interrupts and comes out with David Otunga. He says he's happy to be there, and thanks everyone. He's got decent heat.
Laurinaitis leaves, and we pick up where we left off. Punk gives his word to the fans, saying this debate won't end in violence. Then, he congratulates Laurinaitis on convincing the board of directors to let him stay, saying he must have something like "naked pictures of bestiality" of the board. Then, Punk says he's not going to lose, because he's the best in the world.
Dolph Ziggler is up, Vickie Guerrero belts out her "excuse me" and the crowd goes nuts. Ziggler says he's better than Punk, and he's certainly better than R-Truth.
R-Truth says if he gets elected, he's going to trade Dolph and Vickie to SmackDown for Hornswoggle and a box of spiders. He'll also make it illegal to shout "What!?" in every line of the pledge of allegiance. Truth says he's going to stomp that box of spiders and put them in a blender to make his Grandmama's spider stew.
He calls Little Jimmy his running mate, and finishes by saying he's going to win at Elimination Chamber.
This comes across as hectic and thrown together on TV, but the crowd is going nuts. The Miz is up, and he just starts bashing his peers. Miz says the first Dolph Ziggler ever scored was with an old lady (Vickie Guerrero). Miz runs out of time and gets buzzered silent.
Kofi Kingston is up, and he says he's not an afterthought, and he's tired of being overlooked. It's a quick, concise promo, but the crowd gets behind him with a chant.
Jericho is up, he tells everyone to quiet down, and calls himself the true best in the world. He says the fact is, there's no one who has been in the Elimination Chamber as many times as him, or eliminated as many people in the Chamber. Last time he was in the Chamber, he left with the title.
He says his achievements top everyone in that ring, and then focuses on Punk. Punk looks away from him and ignores him. Jericho says he might as well give the title up now. Punk finally looks at him and says he's sorry, he didn't hear him, he was too busy thinking about that time Jericho left to place 7th on Dancing with the Stars.
Ziggler cuts them off, complaining about this whole thing, R-Truth says Ziggler was named after a dolphin.
Lawler ends it, and says the first match of the night is Kofi vs. Jericho. Jericho pushes past Kofi and knocks over a podium, he goes to CM Punk and they stare each other down. Jericho turns around and Kofi hits him with the Trouble in Paradise.
I enjoyed the opening, although it was a little rough around the edges.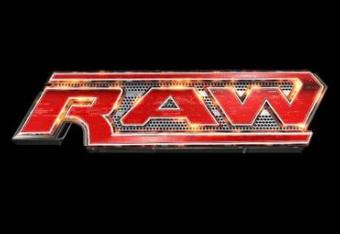 WWE Monday Night Raw is live! Coverage of the opening segment coming up next.
This article is
What is the duplicate article?
Why is this article offensive?
Where is this article plagiarized from?
Why is this article poorly edited?