Rivalry Week: Syracuse vs. Louisville College Basketball Live Blog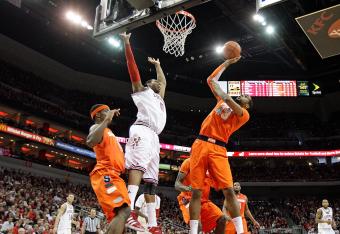 Andy Lyons/Getty Images
The No. 19 Louisville Cardinals (20-5, 8-4 Big East) look to continue their dominance over the No. 2 Syracuse Orange (25-1, 12-1 Big East) in a rematch of two of the country's hottest teams.
The Cardinals have won six straight to climb back up the rankings, including back-to-back wins against Connecticut and West Virginia. The Orange, meanwhile, are on a five-game winning streak with equally impressive back-to-back wins against Georgetown and Connecticut.
Will Rick Pitino find a way to again take advantage of the Syracuse 2-3 zone? Or will Jim Boeheim finally get his team to rebound like a true title contender?
Tune in tonight at 7 p.m. to find out. I'll be here all night with in-game updates and analysis so tweet me your questions @dioselev.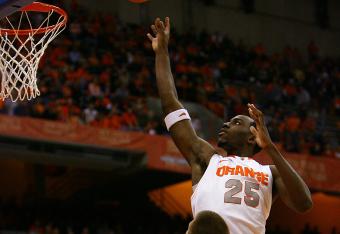 Final Thoughts:
Beoheim seems to have settled on his patented seven-man rotation, with the trio of sophomores Dion Waiters, C.J. Fair and James Southerland delivering important minutes off the bench. There's no question that the Hall-of-Fame coach selected the seven best and most experienced players, but where does freshman Rakeem Christmas fit into everything?
The prized recruit has the size (6'9", 228 pounds) and athleticism to play almost any position and is a monster in the zone with his length. He's raw offensively, yes, but he's never going to get any better if all the shots are going to the veterans. Christmas could be an X-factor if he really learns to play, but Boeheim doesn't seem ready to give him that chance. He may be one of the cornerstones of next year's team, but why play for next year when the Orange may never have a better opportunity at a national title as they do this year?
I'm not going to question Boeheim's coaching acumen and the team seems to be doing just fine this season without my advice. I only wonder if he's yet to have scratched the surface of this team's full potential.
Next Up: Louisville
The Cardinals travel to conference bottomfeeders Depaul before finishing against Cincinnati, Pittsburgh, South Florida and Syracuse. Louisville is in no danger of playing themselves out of an NCAA Tournament appearance, but they could earn a first round bye in the Big East Tournament if they finish strong.
Next Up: Syracuse
The Orange travel to 4-8 Rutgers for what should be a tune-up for a grueling final stretch that features South Florida, Connecticut and Louisville again. The Orange could clinch a regular season title with just two more wins, although most Orange fans have their sights set on something a little bigger.
Post-Game Takeaways:
Everyone expected Syracuse-Louisville to be close, and it doesn't get much closer than a 52-51 final. But did the Orange win this game or did the Cardinals lose?
On the one hand, Syracuse held up on the boards. They were outrebounded 39-37, but each team pulled down 16 offensive rebounds and the zone is typically susceptible to offensive rebounds anyway. It's somewhat worrisome that the guards (Jardine/Triche/Waiters) nearly outrebounded the frontcourt (Joseph/Melo/Fair/Southerland) 15-21. It's great that everyone is contributing, but the Syracuse offense works best when the big men start the fast break with an outlet pass to a guard, and not the other way around.
Louisville, meanwhile, proved that it deserves a top seed in the NCAA Tournament despite questionable losses to Notre Dame and Providence. There's very little separating these two teams, besides an inability to hit a shot. Syracuse finished shooting 34.4 percent from the floor (6.7 percent from three) and the Cardinals topped out at 34.7 percent (26.3 percent from three). Turnovers (16 of them!) really hurt the Louisville cause, but a large part of that was playing without primary ballhandler Peyton Siva because of foul trouble.
Players of the Game:
C.J. Fair, F, Syracuse - The numbers aren't overwhelming (13 points, 5 rebounds), but the consistency is. Fair is the glue that holds the Orange together and his contributions don't go unnoticed, especially on the defensive end. Nobody has mastered the 2-3 zone quite as fast as Fair has.
Chane Behanan, F, Louisville - The freshman forward is about the only player on the court who didn't have a bad shooting night. Behanan hit seven of his eight shots for a game-high 16 points. He also added 9 rebounds and 2 steals in a terrific all-around game. It's unfortunate the rest of his team was just 10-for-41 from the field.
Brandon Triche, G, Syracuse - Triche missed all three of his three-point attempts, but he hit shots when they mattered the most by driving to the basket with relentless force. He finished with a modest 8 points and 5 rebounds, while two of his teammates (Jardine and Christmas) didn't hit a single shot between them.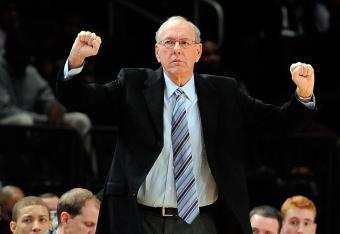 That was one of the ugliest endings to a basketball I've ever seen, but Jim Boeheim will take it. He gets the monkey off his back and finally beats Louisville, 52-51. Post-game reactions and analysis in a few.
Siva turns it over on a drive to the basket and Syracuse recovers, holding on to the 1 point lead. Louisville has 1 second left to get a shot off. Make that 1.1. Here we go....
Last shot goes to Louisville.
Boeheim tends to put the ball in Waiters' hands here, but the sophomore shooting guard is just 3-of-9. Brandon Triche (4-of-11) might be a better option.
Strong defense on both ends. Refs letting them play it out. Orange could put it away with a shot here, leading 52-51 with 40 seconds left.
Some obvious sluggishness on the floor right now. It's been a competitive game but players shouldn't be winded this deep into the regular season. The better-conditioned team will win and right now that looks like Syracuse. 52-51 Orange with 1:33 to go.
Btw, Louisville holds the rebounding edge 36-35 with both teams pulling down 16 offensive rebounds. Pretty even numbers until you remember how much bigger Syracuse is. 51-50 Louisville.
Syracuse picked a poor time to stop crashing the boards. The Cardinals are getting easy points for the first time all game. Either the Orange are tired or the Cardinals are just trying harder.
In other news, both teams over the limit now. Let the free throw wars begin!
The Cardinals are flying pretty with some big shots from sniper Chris Smith to give Louisville the 49-46 lead. The Orange are letting this one slip away, in large part because they've only made 1 of 15 shots from deep. Even a random guy from the stands could do better than that. Someone has to heat up, and fast.
@Drew: Syracuse is a legitimate national title contender. I don't think I'd say the same about Louisville. They have a strong team but not nearly as much experience playing together as the Orange. That said, however, the Orange have gone into the NCAA Tournament as a high seed each of the past two seasons and got knocked out early, so anything can happen. I'd take Syracuse in a rematch, but not by much.
The shots are starting to fall! We might even break 50 tonight...46-45 Syracuse with Kris Joseph getting ready to check back in.
The Orange have done a terrific job forcing 14 Louisville turnovers. The bad news is that they're over the limit. 44-38 Orange with 7 minutes to go.
Orange have closed the rebounding gap and have widened the lead to 40-35. Second chance points are keeping Syracuse in this game...13 offensive rebounds already.
@Drew: Strong defense, yes, but worse offense. Fouls are a big part of that. Neither team can get into a groove.
Meanwhile, rookie Chane Behanan has made all 4 of his shots and leads all scorers with 10 points. That's either impressive or sad. I'm going with sad.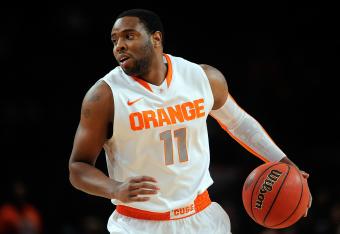 Weird line for Scoop Jardine tonight: 0-7 shooting, 0 points, 2 turnovers, 5 rebounds and 5 assists. It's like he turned into the pseudo-Joel Anthony. Too bad there's no LeBron James or Dwayne Wade on the floor.
The points are beginning to pile up now with both teams being aggressive and going to the basket. There have been more fouls in this game (26) than made shots (25). How's that for a stat?
Keys to the Second Half: Syracuse
1. Protect the paint - The Orange are being outrebounded 24-19 by a smaller Louisville team. The backcourt of Brandon Triche and Scoop Jardine have contributed a combined 8 rebounds to the Syracuse effort, typically not a good sign of what the big men are doing.
2. Hit a three - The Orange love to shoot from outside and, more often than not, they're pretty good at it. But tonight Syracuse is just 1-for-11 from deep and the shots just keep getting uglier. James Southerland is a sniper and belongs on the floor more.
3. Protect Kris Joseph - The Syracuse senior has four fouls, leaving the Orange frontcourt in a precarious position. Joseph took over in Syracuse's game against Georgetown and the Orange will need him again tonight if they play to hold off the Cardinals.
Keys to the Second Half: Louisville
1. Stay out of foul trouble - Siva has three fouls and there are three separate players with two fouls apiece. The Cardinals have enough depth that they could play without one or two players, but they don't want this to turn into a free-throw contest.
2. Unleash Kyle Kuric - The senior is averaging a team-high 13.2 ppg, but he's still scoreless in this one on 0-for-4 shooting. The Orange defense has done a good job shutting down Kuric, but he's killed Syracuse in the past.
3. Control the ball - The Orange have a 5-to-10 edge in turnovers and it's one of the main reasons why the Cardinals haven't been to pull away from a Syracuse team that can't hit any shots. They need to reduce the turnovers and get good shots on each possession.
@Drew: It seems like a fairly well officiated game. No major complaints there, even though the Cardinals hold a 15-6 edge in free throw attempts.
As for Fair, you're right he has serious ups. But he profiles as a SF in the NBA and he doesn't have enough east-west speed to stay with most pros. He'd also need to put on some muscle. He's really a power forward in a small forward's body.
This article is
What is the duplicate article?
Why is this article offensive?
Where is this article plagiarized from?
Why is this article poorly edited?