Power Ranking the NFL's Referees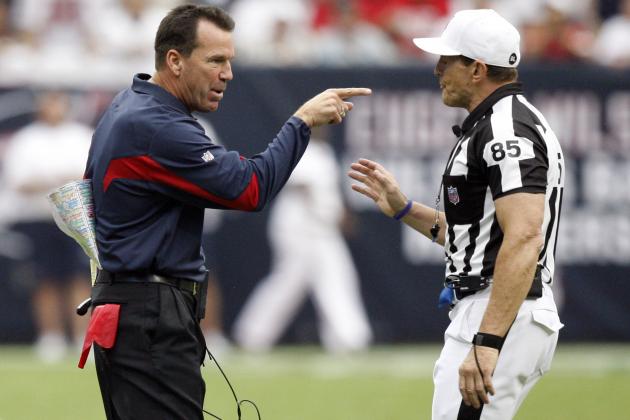 Bob Levey/Getty Images

Stripes. The Zebra. The referee. The job of the NFL Crew Chief is not an envious one. Do your job, and no one notices nor cares who you are. Screw up and you are held in NFL infamy until hopefully, mercifully, people forget about you.
There are currently 17 refs in the NFL, and I bet you can't name more than two. I watch every game I can every Sunday, Thursday and/or Saturday and I have to admit, I could not name more than that before researching for this article.
In power-ranking the refs, points go to the men who have overseen a Super Bowl. Like teams, only the best are selected for that honor. Points are lost to those who have affected the outcomes of games, or have made infamous errors in their careers.
So read along and find out if the men you have been cursing to inner circles of hell have warranted the criticism, or if you have been ripping some of the most respected men in the game.
Begin Slideshow

»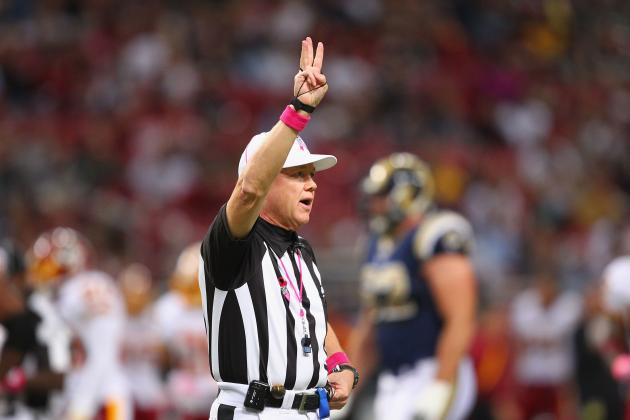 Dilip Vishwanat/Getty Images

I am actually shocked that Walt Coleman is not synonymous with terrible officiating. The man has been a referee for 17 seasons and has yet to work a single Super Bowl. Thank God.
Most infamously, Coleman was the referee who overturned Tom Brady's fumble in the 2002 Divisional Playoff game against the Oakland Raiders. I am sure I have watched that replay 1,000 times, and every time I watch it I see a fumble. Plain and simple, Brady had no intent of making a pass before getting nailed and fumbling the ball.
In the very next season, Coleman was the Crew Chief for a playoff game between the Green Bay Packers and Minnesota Vikings. That game saw the Packers come back to beat the Vikings with a late touchdown. The NFL would later admit that Coleman's crew made nine errors, including a late pass-interference call on Corey Chavous that set the Packers up for the game-winning touchdown.
In 2003, Coleman was the referee for another Patriots' playoff game, this one the AFC Championship against the Indianapolis Colts. Football fans might remember this game as the one where a pass interference call could have (and probably should have) been called on every Colts' passing play. Few were, and in the following offseason, new rules (the "Chuck" or "Ty Law" rules) were put into place to make sure the Patriots could never get away with that brand of football again.
Three playoff games. Three times Coleman's crew decided the outcome. Three strikes, you're out, Mr. Coleman.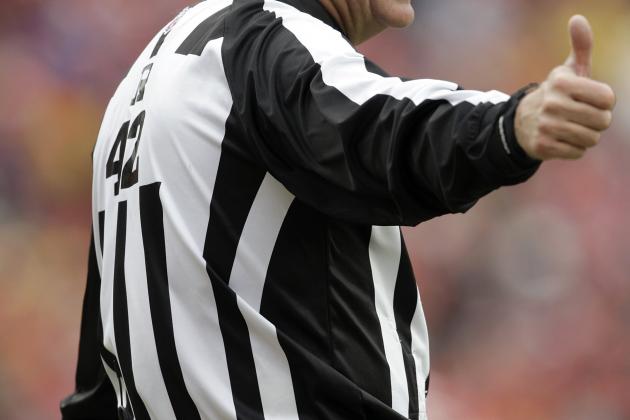 Jamie Squire/Getty Images

I remember people by faces, and as soon as I researched Triplette, he jarred my memory as the man I had referred to earlier this season as the worst referee in the NFL. Further investigation has supported my claim.
It was Triplette that nailed the late Orlando Brown in the eye with a flag, which gave Brown serious vision complications in both his career and personal life. Just this season, Triplette made an awful call on London Fletcher supposedly roughing Tom Brady with a clean hit that gave the Patriots a key first down in a hard-fought game against the Washington Redskins.
Triplette also blew a call on an apparent Jake Ballard touchdown in the first quarter of the New York Giants' regular-season loss against the Green Bay Packers. Ballard was ruled to be out of bounds, a play which Tom Coughlin reviewed. The replay indicated Ballard's knee was indeed in, but Triplette maintained he was out of bounds. A still photo proves Coughlin was right. Referees are not permitted to use still photos on replays, but if you can see it on a still shot, you should be able to pick it up on video.
Triplette reminds me of the old college professor that spends his time putting students to sleep: He has his tenure, he's not going anywhere until he retires and we just have to deal with it.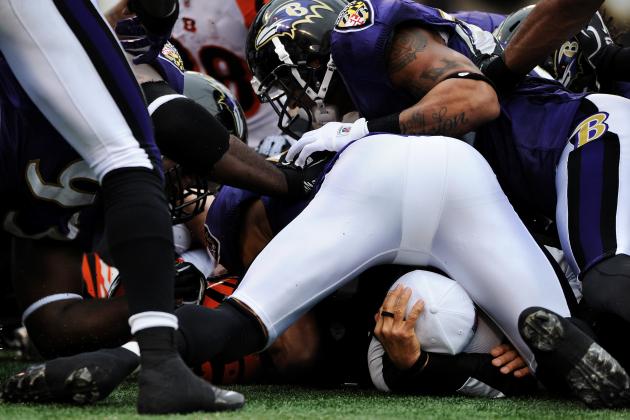 Patrick Smith/Getty Images

Ron Winter has been an NFL referee for 14 years, though not a particularly good one. And yes, that's him in that little white hat poking out of the pile. I will at least give him points for toughness.
Winter has not been invited to the Mecca, even for officials, the Super Bowl, and for good reason. In Winter's first playoff game, his crew made a an error that absolutely changed the outcome of the game. We all remember the San Francisco 49ers' comeback victory in 2003. What many of us do not remember is that 49ers' furious rally should have all been for nought.
In the Giants' blown field goal attempt at the end of the game, guard Rich Seubert was lined up as an eligible receiver, a fact unbeknownst to Winter and his crew. When the Giants blew the snap and had to result to the "fire drill" Seubert was dragged down while he was in position to receive the desperation pass. Instead of awarding the Giants a pass interference call that would have set them up for a chip shot to win the game, Winter's crew threw the flag against the Giants for having an ineligible man down field.
Paul Tagliabue would later describe this bit of officiating as a disgrace, and Winter would be banned from refereeing Giants' games for three years.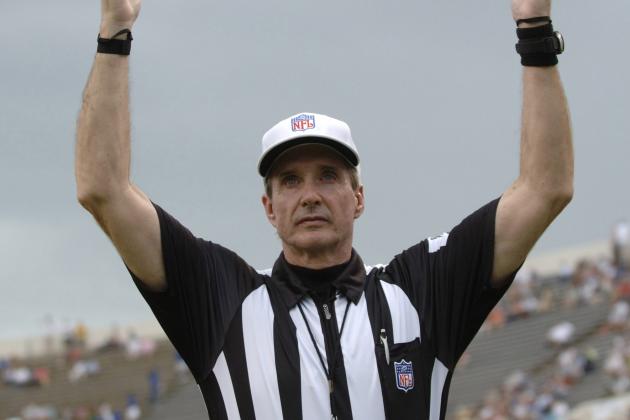 A. Messerschmidt/Getty Images

Bill Leavy has officiated two Super Bowls, and was in charge of the crew that oversaw Super Bowl XL. In case you don't remember, that did not really go well for Leavy and company.
A lot of Pittsburgh Steelers-haters would point to Ben Roethlisberger's touchdown dive as a point of controversy, but that call was actually the right one. It was tight, but he did cross the plane. The calls that stand out were penalties against the Seattle Seahawks.
The first was a drive-killing holding call against Seattle. You cannot really say that was wrong, as holding could be called on every play, and it was on that one. The second was an illegal low block called against Matt Hasselbeck. Mike Pereira, then the supervisor of officials, said all calls were correct except the one against Hasselbeck.
Leavy would apologize four years later without being prompted at a conference in Seattle, stating "It was a tough thing for me...I kicked two calls in the fourth quarter and I impacted the game."
Points for Leavy admitting his mistakes, which is more than I can say for guys like Walt Coleman.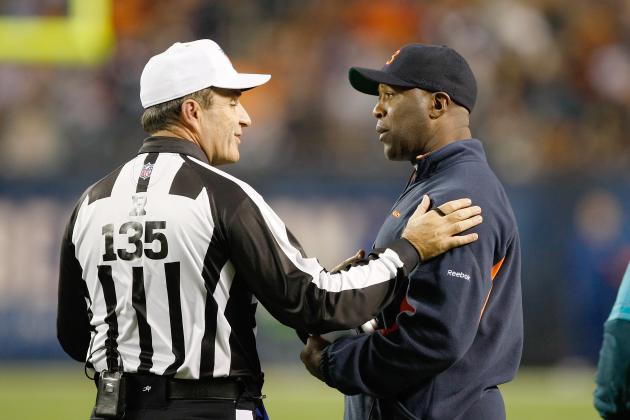 Scott Boehm/Getty Images

Pete Morelli has been a referee for eight seasons, but has yet to receive an invite to oversee the Super Bowl. He has had a tough time of it in the playoffs.
In 2006, he wrongly overturned a Troy Polamalu interception in a playoff game between the Indianapolis Colts and Pittsburgh Steelers. Polamalu intercepted it, then fumbled the ball on his way off the turf to return the ball for more yards. Morelli reviewed the play and gave the ball back to the Colts, who scored and got the two-point conversion to close the gap to 21-18.
When Ben Roethlisberger reached out to trip up Nick Harper after Jerome Bettis' late fumble, he did not save just save Bettis' reputation, but also Morelli's. The Colts likely would have won the game, partially due to Morelli's blown call.
Morelli also failed to throw a flag in the NFC Championship game between the Minnesota Vikings and New Orleans Saints. Brett Favre threw an interception, but was hit in a position in direct violation to the new "Tom Brady" rule. I am not a proponent of the extra protection given to quarterbacks, but according to the rulebook, a flag should have been thrown and possession given back to the Vikings.
On the whole, Morelli has not been awful, but these mistakes probably have cost him a chance to officiate the Super Bowl.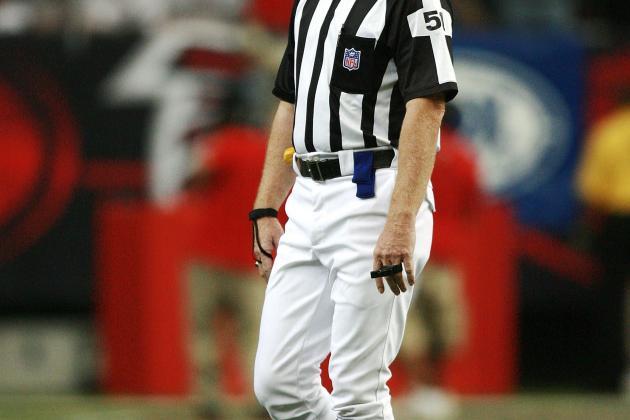 Doug Benc/Getty Images

Carl Cheffers was one of two referees hired in 2008, and I do not have much to criticize or praise him for. I have never really noticed him before, good or bad, and he does not have any infamous calls on his resume.
After his promotion in 2008, Mike Pereira said, "Carl has been extremely successful on the field as a side judge. He is very knowledgeable of the rules, a good rules guy. Strong presence." Well, he was none of those on this call.
That was more laughable than anything. He did not affect the outcome of the game and, eventually, got the call right. The jury is still out on Cheffers.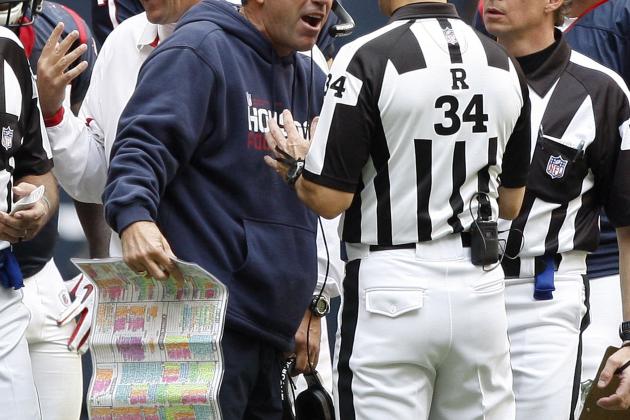 Bob Levey/Getty Images

Blakeman is the NFL's newest referee, just hired in 2010. He does not have any controversy surrounding him, and has not impacted any big games.
As far as a referee is considered, being relatively anonymous can only be a good thing and I had never heard of him before researching for this article.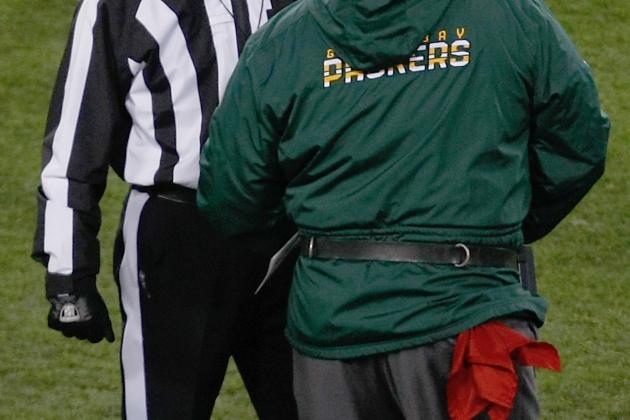 Scott Boehm/Getty Images

Scott Green has yet to oversee a Super Bowl since being promoted to a full-time referee in 2005. He did officiate two Super Bowls, though both were as a back judge.
Green does have some errors on his resume that likely have cost him the chance for the big job in the big game. Gamblers may remember Green as the man that incorrectly cost Troy Polamalu a game-ending touchdown. The play did not affect the outcome of the game, but caused all bets on the Steelers to be lost, as they did not cover the spread in the 11-10 victory. Millions were lost by betters worldwide.
Green was also the back judge on Ron Winter's crew that should have thrown the pass-interference flag when Rich Seubert was tackled while attempting to make the desperation catch. Green also had a couple of tough games, both involving the Green Bay Packers.
These errors are probably why Green has found himself on the outside looking in when it comes time for the NFL to name a Super Bowl Crew Chief.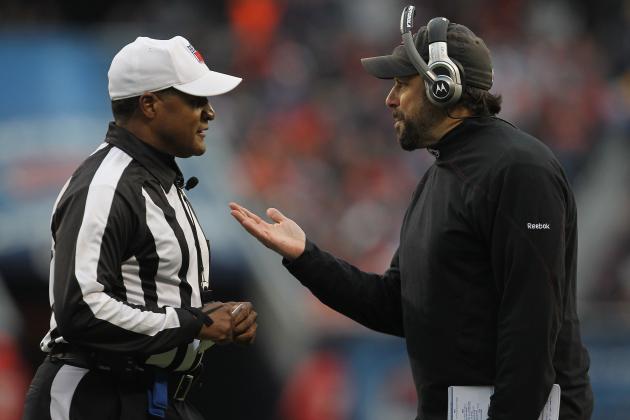 Jonathan Daniel/Getty Images

I like Jerome Boger. In his limited experience as a referee, he has not messed anything up of note, which is always a plus for an official at any level.
Unlike most of his brethren, Boger has a connection to the game at the highest level. He was a four-year starting quarterback for Morehouse College in Atlanta, GA before realizing he did not have the skills to make it to the next level. In an effort to stay close to the game he loved, he became a ref. His son, Tra, made it for a brief period with the Green Bay Packers.
Boger needs some more time to move up the list, but so far so good for this referee.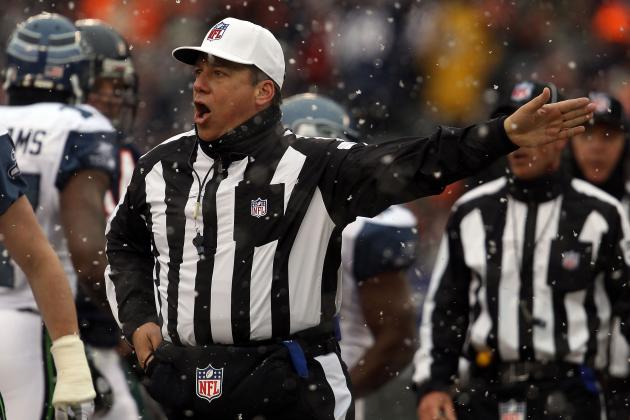 Jonathan Daniel/Getty Images

Al Riveron became the first referee of Hispanic origin when he was promoted from side judge to referee in 2008.
Not much to say about Al, or as he prefers to be called, Alberto. In his limited time as an NFL ref, he has not screwed anything up, so that is a plus on his side. He recently officiated the AFC Championship game between the New England Patriots and Baltimore Ravens, which I thought was a well-called game.
Relatively (no ref is perfect) mistake-free, but with a limited frame of work to draw from comes an average ranking for Riveron.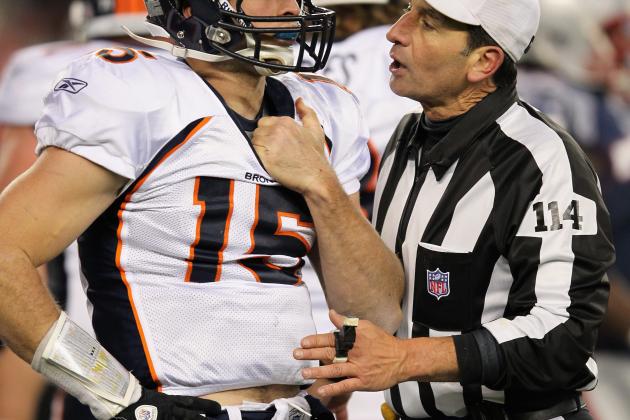 Jim Rogash/Getty Images

Gene Steratore was promoted to referee in 1996, and has not been heard of much since. Of course, as an official, that is not necessarily a bad thing.
Steratore has not been in charge of any Super Bowls, but I cannot think of any big mistakes from him either. The only controversial play in memory came on the game-deciding catch in a 2010 game between the Detroit Lions and Chicago Bears.
Calvin Johnson appeared to come down with the winning touchdown, but the play was reviewed and overturned, courtesy of Steratore. The call was not popular, but according to the rules, was the right decision. The NFL backed Steratore, and he was supported by the NFL's former Vice President of Officiating, Mike Pererira on Fox Sports.
The fact that Steratore has not overseen a Super Bowl in 16 years on the job hurts his rating some. However, like most fans, I only remember referees if they screw up, and Steratore does not have any memorable gaffes.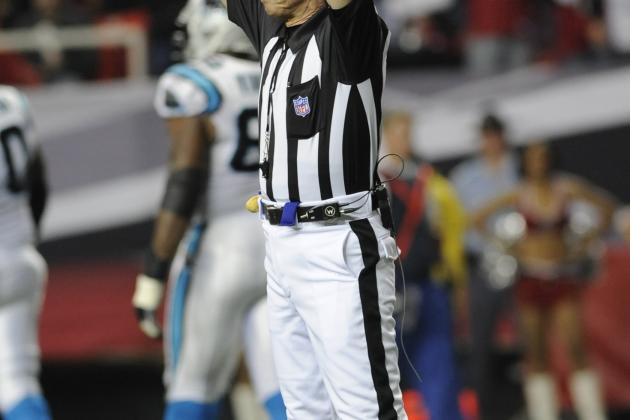 Al Messerschmidt/Getty Images

Tony Corrente has not overseen any Super Bowls in his 13 years on the job, but is a veteran of many well-called playoff games, and was an alternate for Super Bowl XL.
Seeing as how Corrente does not have any memorable screw-ups on his resume, it is a bit surprising that he has not been in charge of a Super Bowl yet. If he keeps up the good work, it should only be a matter of time before he gets the big job.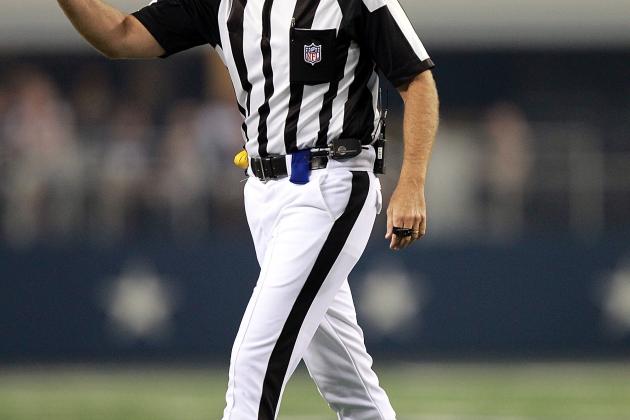 Ronald Martinez/Getty Images

Terry McAaulay has overseen two Super Bowls in 10 years as a referee. He has also officiated two Conference Championship games and two more playoff games, making him one of the more decorated referees in his decade on the job.
Both of McAaulay's Super Bowls came down to the wire, and a blown call would not have been forgotten. The first was Super Bowl XXXIX between the Carolina Panthers and New England Patriots, which the Patriots won 24-21.
The other was between the Pittsburgh Steelers and Arizona Cardinals, which featured two key plays where the wrong call likely would have switched the outcome. The first was James Harrison's interception, which McAaulay's crew was right on for every step Harrison tiptoed down the sideline all the way to the end zone.
The last, of course, was Santonio Holmes' tightrope catch in the corner of the end zone. It was McAualay who reviewed the play and correctly determined that Holmes did (just barely) tap his feet down in the end zone before being shoved out of bounds.
Two big Super Bowls, two flawless performances by McAaulay and his crew.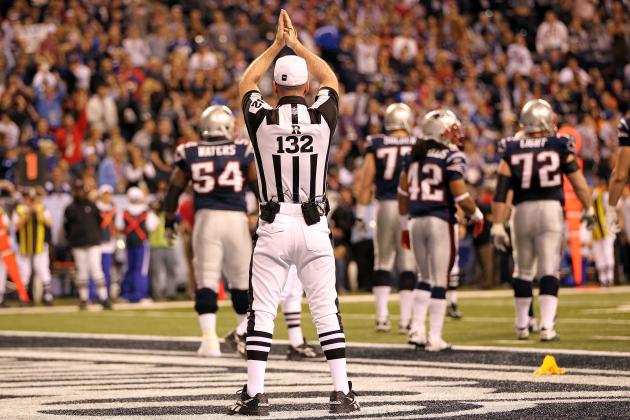 Jamie Squire/Getty Images

John Parry is a rising star, as far as referees are concerned.
Parry was the side judge for Super Bowl XLI, and was immediately promoted following that game as a Crew Chief for the 2007 season. Parry was the referee in charge of the Super Bowl XLVI, and I thought his crew did a great job calling many close plays between the New York Giants and New England Patriots.
Parry comes from an officiating family, as his father is the head of the Big Ten officials. It looks like Parry has a very bright future as a solid NFL ref.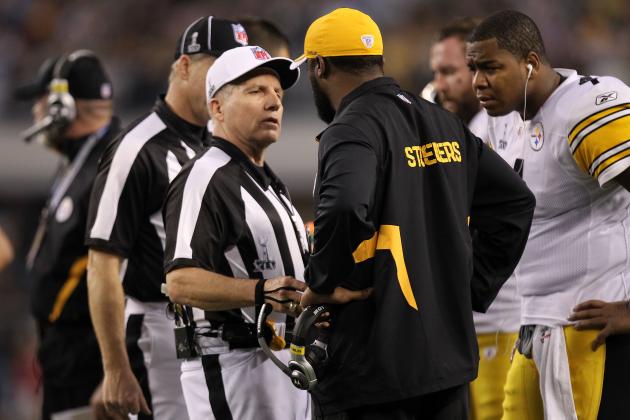 Ronald Martinez/Getty Images

Walt Anderson has worked at least one playoff game in every year of eligibility for his entire career as an NFL referee, and for good reason.
Google "Walt Anderson" and you will not find the words "blown call" following his name, or a quick link to a game that his mistake determined the outcome. Personally, his face does not inspire any moments of temporary rage, memories saved for referees like Walt Coleman, Jeff Triplette and in the NBA, Tim Donaghy. In other words, through research and memory, I can not find any Anderson screw-ups.
The biggest game of his career was Super Bowl XLV. With two of the NFL's most historic teams, the Pittsburgh Steelers and the Green Bay Packers, duking out on the biggest stage in American sports, a gaffe by Coleman or his crew would not have been forgotten quickly.
I think he did a flawless job (though as a Steelers fan I would not have been too upset to see a flag thrown on Roethlisberger's final pass), which seems to be the M.O. for Coleman's career.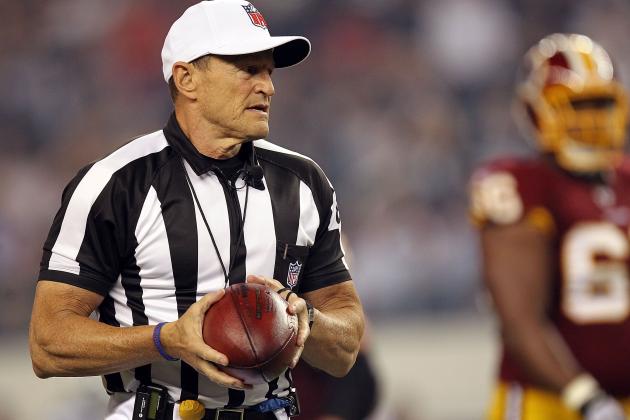 Ronald Martinez/Getty Images

For casual fans, Ed Hochuli is the NFL's most memorable ref. He may be remembered as the guy who screwed the San Diego Chargers in 2008.
With a minute to play, the Denver Broncos were on the San Diego Chargers' one-yard line, when Jay Cutler fumbled the ball, which was scooped up by the Chargers. Hochuli saw something different and ruled it an incomplete pass. Upon review, the ball was placed at the ten, but Hochuli could not award San Diego possession of the football.
Even at his lowest moment, Hochuli got it right by not making excuses and apologizing profusely. "Affecting the outcome of a game is a devastating feeling," Hoculi later said. "Officials strive for perfection and I failed miserably."
Hochuli is the NFL's longest-tenured referee, promoted to that position since 1992. 20 years of solid officiating are more than enough to make up for that gaffe in 2008, in my opinion. Hochuli rarely gets it wrong, and is very precise about explaining calls.
Hochuli is a vetaran of three Super Bowls, as he was the Crew Chief in Super Bowl XXXII and XXXVIII and was the alternate for XXXVII.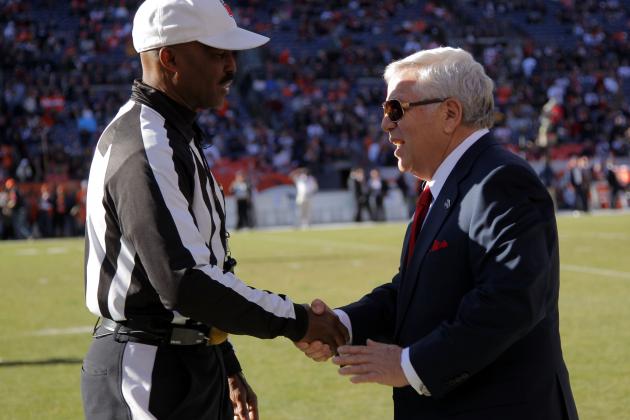 Doug Pensinger/Getty Images

Mike Carey has worked his way up form the Pop Warner level to become one of the NFL's most respected referees.
Carey is known for not taking any guff from players, as he has the most ejections of all active NFL referees. Carey does have some controversial calls in his career, but it appears he made the right decision in all cases.
In a 2006 playoff game between the Washington Redskins and Tampa Bay Bucs, Casey ejected the late Sean Taylor for spitting on Bucs' running back Michael Pittman, but allowed Pittman to continue after smacking Taylor back on the helmet. To those who think Pittman should have gone, ask yourself if you would be able to control yourself after being spat on.
Carey also made the most legendary non-call in NFL history. He was the referee on the play that saw Eli Manning inexplicably escape from Richard Seymour, Jarvis Green and Adalius Thomas, before Manning bombed a pass to David Tyree for a drive-sustaining first down. Carey easily could have blown the play dead, ruling Manning was in "grasp and control" of the defense. Imagine how NFL lore would be changed if he did.
Carey also has represented a couple of firsts in NFL history. When he and his brother Don (a back judge) officiated a game together in 2005, they became the first fraternal duo to work a game together. More importantly, Carey was the first African-American to oversee a Super Bowl.
A historic background, a great reputation and work ethic and no blown calls that I could find in the memory bank or research. All excellent reasons to name Mike Carey the best referee in the NFL.
Alexander is a featured columnist for bleacherreport.com You can follow Alexander on twitter @thesportsdude7 or become a fan on his bleacher report profile.