2012 NFL Draft: 5 Studs the Carolina Panthers Should Consider in Round 1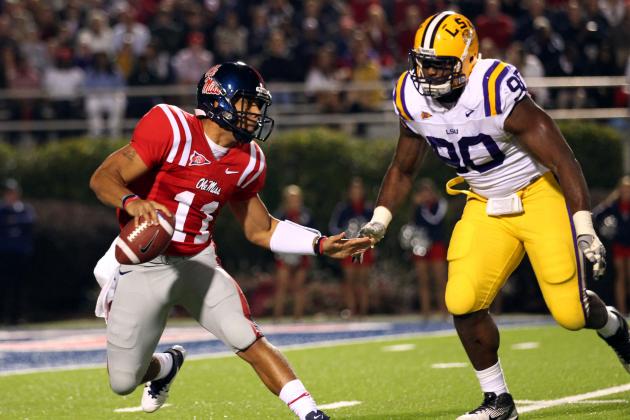 Joe Murphy/Getty Images

The 2012 NFL draft is just a couple months away, and the Carolina Panthers will have a pick in the top 10 of the first round.
This is a big decision for the Panthers and their second year in a row to choose this high in the draft. A good choice at this spot could change their franchise's direction for years to come.
In the 2011 NFL draft, Carolina made the right decision by drafting quarterback Cam Newton with the first overall choice. Newton came into the NFL and took the league by storm.
The Panthers are at a good spot in the draft because they will likely be able to find a great player in one of the positions they need to fill. They could also choose to trade down and gain more selections throughout the rest of the draft. There is a lot of talent coming out of this year's draft class, and the Panthers have a large amount of holes that need to be filled.
Last week, we looked at what positions the Panthers should target in the draft, and now we can look closely at whom Carolina should consider with its first-round pick.
Let's take a look at five players the Panthers should consider with their first-round pick in the 2012 NFL draft.
Begin Slideshow

»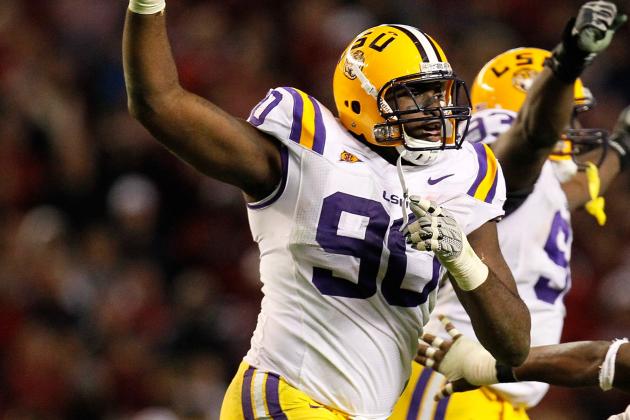 Kevin C. Cox/Getty Images

Michael Brockers is an elite defensive tackle coming out of LSU as a redshirt sophomore.
Brockers is a massive tackle, standing at 6'6" and weighing 306 pounds, and will be valuable in both the running and passing game. He is one of the faster defensive tackle prospects and also can add some bulk when he comes to the NFL.
Brockers will be able to stop the run from the inside, but has shown the ability to get after opposing quarterbacks.
He is projected to become an excellent run-stuffer in the NFL, which is exactly what the Carolina Panthers need. Last year, the Panthers finished the season ranked 25th in the league in stopping the run.
This elite prospect will be able to come into the NFL and compete for a starting job. He has shown great work ethic and passion for the game while in college and also has the motor to play at the professional level.
It also helps that Brockers has no injury concerns whatsoever, and that has been a huge problem for the Panthers in recent years. They will undoubtedly love that Brockers was not injured at all in college and only played in 27 games while at LSU. There is typically a lot of wear and tear on defensive linemen from the SEC, but Brockers has played a lot less than most defensive linemen coming from those teams.
If the Panthers choose to draft this defensive tackle, they will immediately improve a porous interior defensive line and help themselves for years to come.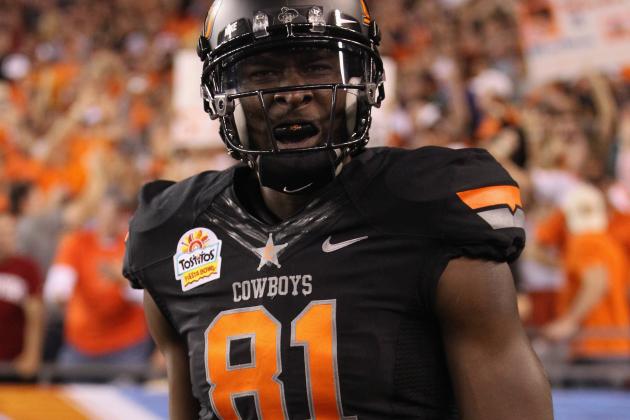 Christian Petersen/Getty Images

I would honestly not say that wide receiver is a position the Carolina Panthers should be worried about, but if Justin Blackmon is somehow available, they have to go with him. Blackmon has dominated collegiate football for the past two years and is one of the better wide receiver prospects in recent memory.
The Panthers have a No. 1 receiver in Steve Smith, but are lacking a sure No. 2, and, at the very least, Blackmon would instantly become a great second option for Cam Newton and the Panthers. Blackmon could also become the No. 1 option whenever Smith retires from the league.
The difference between Blackmon and the other receivers on the Panthers roster is that he is a large, strong target. At 6'1" and 210 pounds, Blackmon is the type of possession guy Carolina needs.
Carolina does have Brandon LaFell, which stands at 6'2" and weighs 210 pounds, but he has not shown the flashes of greatness Blackmon has. In two years with the Panthers, LaFell has accumulated just 1,000 receiving yards and four touchdowns.
Blackmon will likely surpass those numbers during his first year in the NFL.
He possess above-average speed, and when that is combined with his amazing ball skills, he becomes an immediate threat all over the gridiron.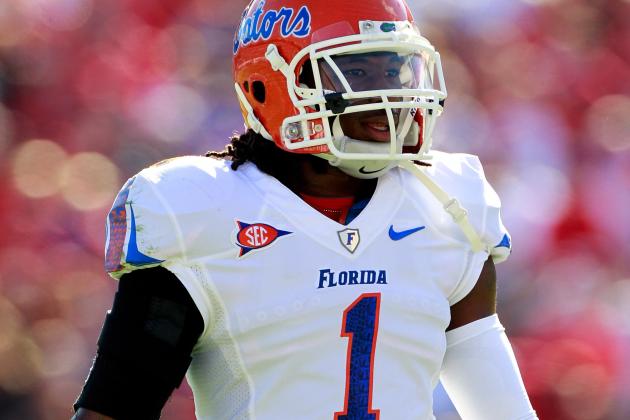 Sam Greenwood/Getty Images

The Carolina Panthers could really use some help opposite of Chris Gamble in the cornerback position, and Janoris Jenkins may be the answer to that question.
Jenkins is projected as a middle-round pick in the first round, so the Panthers may be reaching for him if they take him in the top 10. However, Jenkins may prove he is well worth the risk.
His stock has risen considerably in recent weeks and looks like it may continue to rise. Jenkins is currently the second-best corner in the 2012 draft class, and he would be an improvement to any team's secondary.
The Panthers need one more solid starter at corner and they could have a very good secondary in the NFL.
Jenkins has had a very productive collegiate career and has shown that he can play at a high level on a consistent basis. There are some issues surrounding his off-field problems, but he has not had any problems since early 2010.
Jenkins' ball skills and instincts in the game are above average and he will likely become an immediate contributor to whichever team drafts him. Throughout his college career, Jenkins has shown that his cover skills are elite. He his also not shy about getting involved in stopping the run game. Jenkins has shown the ability to come up and make tackles, which is another attractive facet of his game.
Jenkins is likely to be a star in the NFL in just a few short years because of his ability to play at a high level all over the field.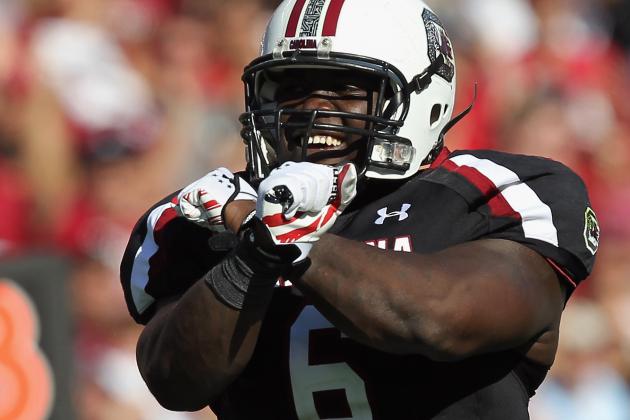 Streeter Lecka/Getty Images

The Carolina Panthers can definitely use some help in the pass-rush game. In 2011, the Panthers only had 31 sacks, which ranked 25th in the league.
Defensive end Melvin Ingram from South Carolina is a guy that could immediately help the Panthers defensive line.
Ingram's draft stock has risen greatly in the past few weeks, and he will may continue to rise before the draft.
Ingram's ability to get after the passer is second only to North Carolina's Quinton Coples, but Ingram is also a good end against the run.
He has been very productive throughout his collegiate career, and should be able to pick up the game fairly quickly at the professional level.
Ingram has a high motor and shows amazing effort on every play, which is a highly valued facet of any defensive lineman's game. The Panthers would love to have this guy playing opposite of Charles Johnson.
In the past two seasons, Johnson has put up more than 20 sacks by himself. If the Panthers are able to add another elite pass-rusher on the opposite side, they may have one of the better defensive lines in the country.
This would help a Panthers defense that has to face quarterbacks like Josh Freeman, Matt Ryan and Drew Brees twice a year.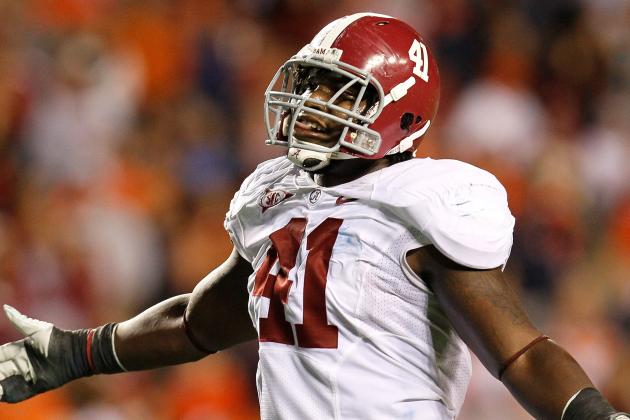 Kevin C. Cox/Getty Images

Courtney Upshaw is the best outside linebacker coming out of the 2012 NFL draft class and the Carolina Panthers should consider adding him to their roster.
The Panthers looked to have a great group of starting linebackers heading into the 2011 season, but injuries decimated this corps of players. At the very least, Upshaw would be an immediate quality backup for Carolina.
The more likely scenario is that Upshaw would come in and start for the Panthers.
The Panthers have guys like James Anderson and Thomas Davis that have started in the past, but Upshaw may be able to beat out both guys in training camp. Davis will be coming off his third injury in three years and may not be the same player that he was.
Anderson played very well in 2011 and I would love to see him start along with Upshaw and Jon Beason. If that becomes the starting unit, the Panthers will have one of the best linebacking corps in the league.
Upshaw has the talent to become an immediate starter in the NFL. He has no durability issues, which is huge to a Panther's linebacking corps that has seen plenty of them in recent memory. Upshaw also possesses elite linebacker instincts and makes plays that just come second-nature to him.
Upshaw has great tackling skills and is able to take on blockers and shed them to make plays. He can chase down runners and make plays from behind. Upshaw also shows better effort than most players and has the motor to be a great player in the NFL.
Because of his size, many teams will say that Upshaw fits more as 3-4 outside linebacker, but he will succeed at whatever scheme and position he is placed in.