NBA's 10 Most Disappointing Players so Far in 2012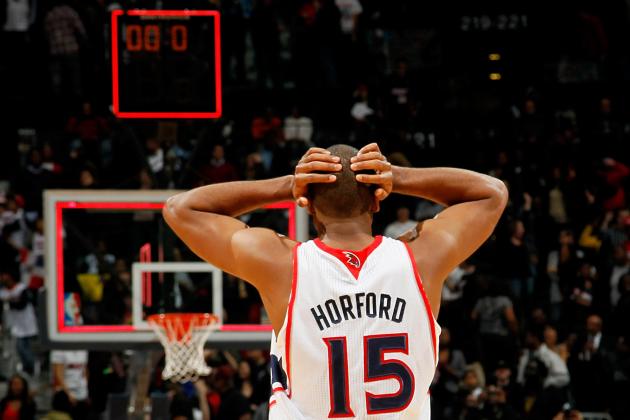 Kevin C. Cox/Getty Images

Unless you are a fan of the Oklahoma City Thunder, the Philadelphia Sixers or the Indiana Pacers, this shortened NBA season has been filled with players who are disappointing due to their rusty play, their failure to improve or the fact that they are out with injury.
Well, at least if they're injured they can't disappoint you anymore, right?
This season is proving to be the "Only if" season, meaning, only if the team was healthy, only if the team had more of a training camp. Only if the rookie can progress faster. Only if Dwight Howard would shut up.
At the end of this NBA season, it doesn't look like the best team will win the championship but rather the most healthy one.
Thank you David Stern and the NBPA.
Here are 10 of the most disappointing players up to this point.
Begin Slideshow

»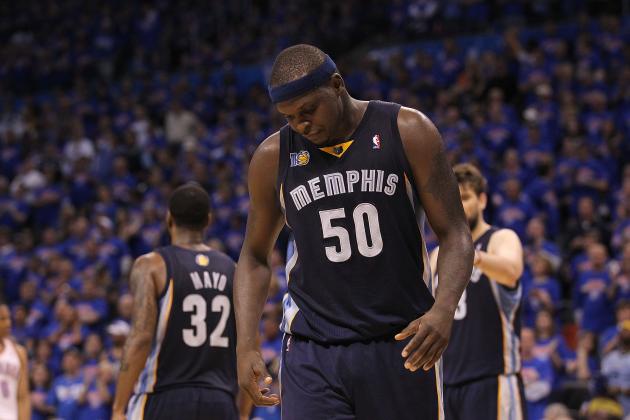 Ronald Martinez/Getty Images

Is some sort of higher power trying to tell the Memphis Grizzlies that Rudy Gay and Zach Randolph just do not belong on the court together?
After playing in only 54 games last season, Rudy Gay suffered a shoulder injury that kept him out of the final 28 games and the playoffs. In Gay's absence, the Grizz played very well.
Without Gay, Tony Allen, Shane Battier and O.J. Mayo picked up the slack, while the offense changed its focus to center around Randolph.
With the offense running through Randolph, he averaged 20.1 points and 12.2 rebounds per game, Memphis finished the season with a 46-36 record and an eighth seed in the playoffs.
In the first round, the Grizz, as an eighth seed, were able to knock off the one seed San Antonio Spurs in six games behind the strong play of Randolph, as he scored 25 points or more four times. In the sixth game, Randolph had 31 points and 11 rebounds.
In the second round, Memphis faced the Oklahoma City Thunder. The series went to seven games as Randolph went off again.
In a Game 1 win, he finished with 34 points and 10 rebounds. In a Game 3 win, he had 21 points and 21 rebounds, and in a Game Six win, he had 30 points and 10 rebounds.
What the Grizz seemed to lack in their second round playoff series was another scorer. This season, they were getting back that other scorer in a healthy Rudy Gay.
All of Memphis and the NBA world was about to see if a Gay/Randolph pairing can prove to be successful the second time around.
But Memphis and the NBA world did not get to see the new and improved Grizz, as Randolph tore his MCL in the fourth game of the season.
Kevin C. Cox/Getty Images

If the Atlanta Hawks are 18-10 without Al Horford up to this point of the season, one has to wonder what their record would be with him.
Horford was coming off his best season of his career going into this season. In 2010-11, Horford made his second All-Star appearance averaging 15.3 points and 9.4 rebounds.
This season, he only managed to last 11 games, averaging 12.4 points, 7 rebounds and 1.3 blocks per game.
When he went down with a torn pectoral, the Hawks were 7-3, three of their wins coming by double-digits.
Now the Hawks are stuck at the center position with Zaza Pachulia as the starter and Jason Collins at second string.
They also just signed 36-year-old Erick Dampier to a 10-day contract, due to Collins' mild strain.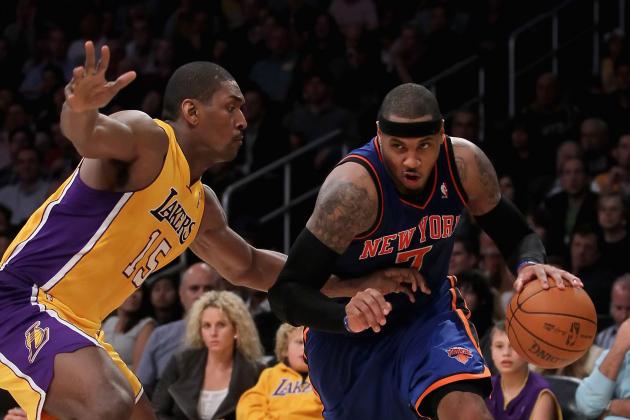 Jeff Gross/Getty Images

You know you're playing bad when you're a five-time All-Star who led your team in scoring the prior season and your fan base is worried about you fitting into the starting lineup because you may slow down an undrafted Asian point guard out of Harvard.
Linsanity has hit the New York Knicks, leading them on a five-game win streak and superstar Carmelo Anthony was nowhere to be found.
In the B.L. period (Before Lin), Anthony was averaging 22.3 points per game, two points off his career average. He was also criticised for shooting too much, which in turn stopped the flow of the offense.
Carmelo even had a game when he scored just one point in 30 minutes. Funny thing is, the Knicks won the game in a blowout against the Charlotte Bobcats. That explains the affect he was having on the team this season.
With Anthony leading New York in scoring, they looked like a lifeless team headed to the lottery, without him, they look like a playoff team that may make some noise in the postseason.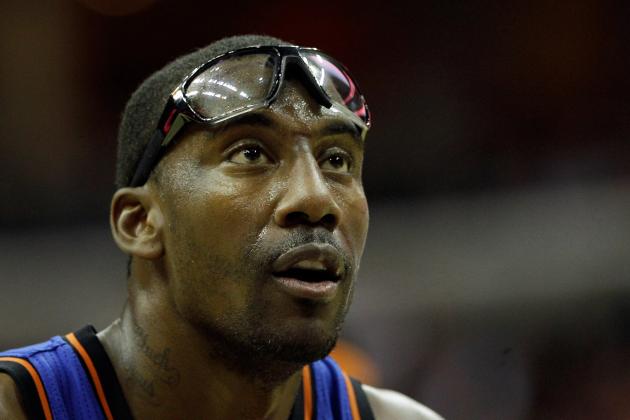 Rob Carr/Getty Images

The New York Knicks dream pairing of Amar'e Stoudemire, Carmelo Anthony and Tyson Chandler has not worked out.
Stoudemire has missed time due to nagging injuries and the last four due to his brother's death.
He is averaging a career low in scoring, rebounding and blocks up to this point.
Everything that could go wrong this season, looks like it has for Amar'e.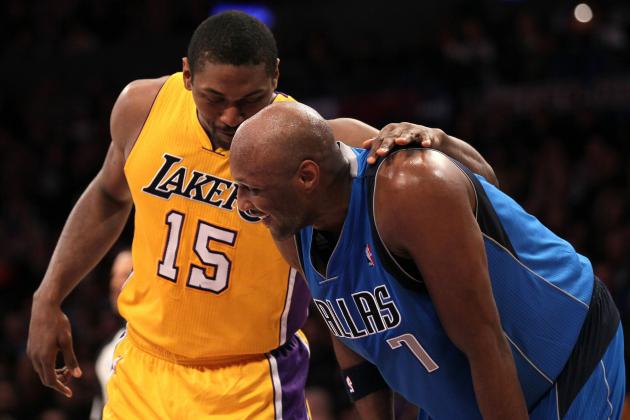 Stephen Dunn/Getty Images

I never would have thought a 12-year NBA veteran, who should have knowledge of the business side by now, would pout his way off a team because he was involved in a trade that did not go through.
Apparently, that's just what Mr. Kardashian AKA Lamar Odom did. Odom was so upset that the Los Angeles Lakers offered him up in the David Stern vetoed trade for Chris Paul that he wanted out of L.A..
Mitch Kupchak appeased him, sending him, the reigning Sixth Man of the Year, to the Dallas Mavericks for a trade exception.
The way Odom is playing, it looks like he has not gotten over the whole trade debacle. While Odom to the Mavs should have been a steal, it has not turned out that way with Mr. Kardashian playing the worst basketball of his career.
His career averages are way down across the board. His scoring? Down from 14.4 points per game to 7.8. Rebounds, from 8.8 per game to 4.7. Blocks, from one per game to .3.
Why didn't the Lakers just give him a bunch of candy and tell him to forgive and forget?
Kevin C. Cox/Getty Images

Brook Lopez was supposed to have worked on his rebounding over the summer to improve on his career low six rebounds per game last season.
He was supposed to be an offensive weapon, as he averaged 20 points per game last season, and a pick-and-roll partner for Deron Williams.
And if nothing else, he was supposed to be the main trade chip in a deal for Dwight Howard.
But none of that came to fruition, as he broke his foot in the preseason.
In two preseason games, it appeared Lopez improved his rebounding as he averaged 15 points and 10 rebounds. The second game, he only played in 22 minutes.
Both games were against Tyson Chandler and the New York Knicks.
Lopez has not played in the regular season yet.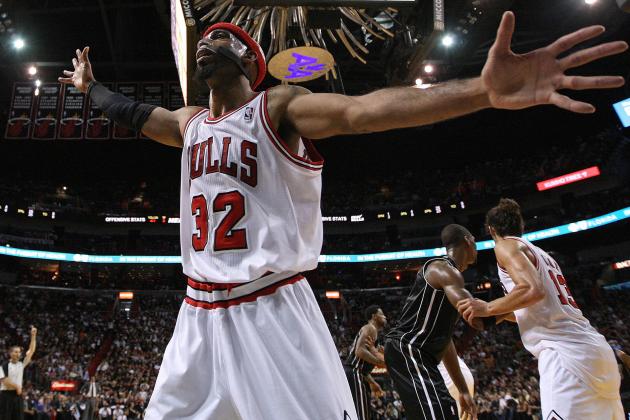 Mike Ehrmann/Getty Images

After being waived by the Detroit Pistons, Richard Hamilton signed with the Chicago Bulls to be the perfect complement to Derrick Rose in the starting lineup.
Hamilton was going to bring the Bulls much needed scoring from the shooting guard spot. Last season, Keith Bogans was the starter at the two, and averaged only 4.4 points per game.
Hamilton, a career 17.6 points per game scorer, should have provided an instant upgrade.
Instead, he has been hobbled by nagging injuries practically all season. ''Rip'' Hamilton is averaging a very respectable 14.2 points per game but when you look deeper into how much he played, he has been a disappointment.
Out of 30 games this season, Hamilton has only played in 11 of them.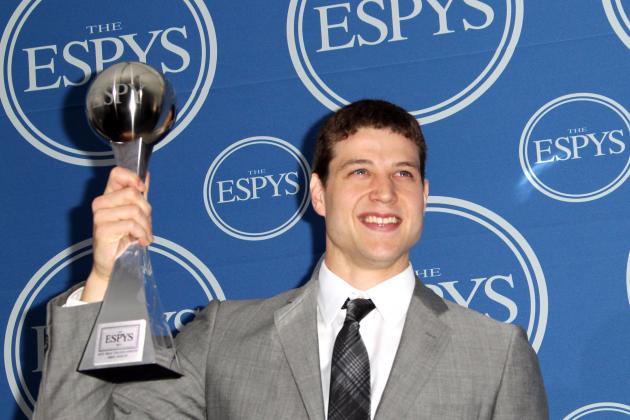 Frederick M. Brown/Getty Images

Remember when "Jimmermania" engulfed the country during last year's college season as he was the No. 1 scorer in the nation?
And remember when the Milwaukee Bucks selected him with the No. 10 pick in the draft only to trade him to the reaching Sacramento Kings who were desperate to get him in order to sell tickets?
Well, it's almost halfway through the season and Jimmer's game has not translated to the NBA yet.
Jimmer is only averaging 8.2 points per game after averaging 28.9 in his senior year at Brigham Young University.
His average was even bumped by two games when he scored 20 and 19, which came in garbage time.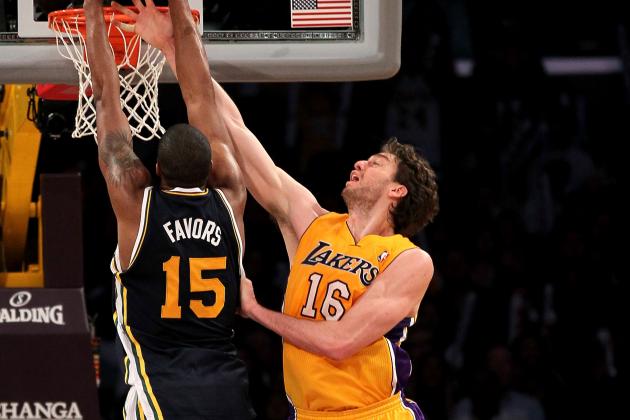 Stephen Dunn/Getty Images

Derrick Favors has so much potential, he has the size, the reach, the right attitude and was compared to Tim Duncan by New Jersey Nets Head Coach Avery Johnson.
First of all, then why did he trade him to the Utah Jazz and second of all, if he was that good, shouldn't he have played himself into the starting lineup by now? Also, shouldn't he be averaging more than just 8.8 points and 3.8 rebounds per game?
Favors looks years behind DeMarcus Cousins or Greg Monroe, the two big men who were picked after him in the 2010 NBA draft.
Cousins is averaging a double-double this season with 15.8 points and 11.3 rebounds per game.
Monroe is 16.8 points and 9.9 rebounds per game this season.
Maybe Favors will reach his potential one day, but up till this point, he is a disappointment.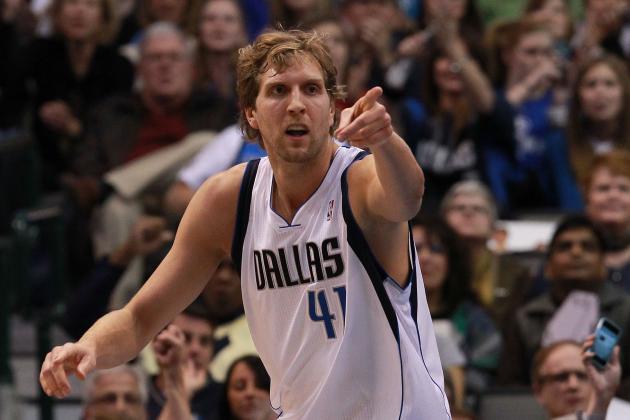 Ronald Martinez/Getty Images

I guess one ring is enough for Dirk Nowitzki as he came into the season out of shape and looking uninterested to defend the title.
Dirk's scoring and rebounding are down and he he even had to miss a few games because of conditioning issues. I knew Germans partied hard.
Nowitzki does seem back to himself these days though, as he has averaged 26.2 points and 7.4 rebounds in his last five games.
It also looks like his conditioning did not hurt the defending champs too much, as the Dallas Mavericks are 17-11, just two games behind the San Antonio Spurs for the division lead.
Maybe all Dirk needed was a trip back to the Dirk Nowitzki's Academy for Awkward Basketball?