Notre Dame Football: An Early Look at the Cornerback Position
February 20, 2012

Ezra Shaw/Getty Images
With four players all vying for one spot, most fans of the Notre Dame Fighting Irish know how competitive the quarterback battle will be come spring. 
However, there are a number of positions being contended for outside of quarterback.
At cornerback, all the players auditioning for the two starting spots have a chance to see the field in 2012 and potentially start.
Before any shuffling that occurs in the spring, the cornerback position really only has five contenders. Bennett Jackson, Lo Wood, Josh Atkinson, Jalen Brown and Tee Shepard are the likeliest candidates to get the job.
Wood and Jackson have the most experience (though the majority of Jackson's experience came on special teams), but they certainly don't have enough to be anointed as the starters without proving themselves first.
There are two glaring questions about Jackson.
First, can he utilize his ability to get down the field and make special teams tackles as a cornerback? Jackson sheds blockers well and has great acceleration, and while tackling from cornerback will be an adjustment (particularly reading screens), both traits should help him out tremendously.
His size is also an important attribute. At 6'0", 185 pounds Jackson can guard taller possession receivers, but he has the quickness to cover speedier wideouts, as well.
So, more importantly, will Jackson, who started as a wide receiver his freshman year before being flipped to cornerback, be able to cover well enough to play the position (which is sort of a necessity as a cornerback)?
Jackson has great hands and should be able to  pull down a few interceptions if he gets himself in the right spot. Although, if he is able to pick up the nuances of being a cornerback is yet to be determined.
Wood was recruited to Notre Dame as a cornerback. He is 5'10", 190 pounds. While most fans remember Wood for failing to cover USC's star wide receiver, Robert Woods, and giving up a touchdown, Wood was thrown to the wolves and the move seemed like more of a coaching blunder than any ineptitude by Wood (he just wasn't ready to be matched up against USC's best wideout).
Wood did redeem himself later in the year. He ended up with a touchdown after running back an interception versus Maryland. 
Two players in last year's recruiting class, Brown and Atkinson, have a lot of similarities to Jackson. Unlike Jackson, both Brown and Atkinson played cornerback in high school, but like him, they are tall for corners (6'.5" and 5'11.5" respectively), quick and neither shy away from contact.
Atkinson ran track in high school, and he has the speed to be matched up against just about anyone (like his twin brother George), but he had a tendency to attack the ball too early when watching his pre-college game tape. If Atkinson can learn to wait on the ball for just a split second longer, he could be one of the best cover corners the Irish have had on the roster in some time because of his great reaction time (he reacts too quickly).
Brown isn't the speedster that Atkinson or Jackson are, but he is still quick enough to play the position (especially for someone over 6'0"). He has great reach, and his lengthy arms will be an asset. Brown is a ball hawk, too, so if he gets on the field, expect some big hits.
Tee Shepard may be the most skilled cornerback the Irish have, but he has one giant question surrounding him as well. After being forced to sit out his senior season due to transfer rules, will Shepard be ready to contribute in his first year?
According to NBCSports.com, Shepard performed very well at The Opening, the preseason Nike combine, and he played great in the Cal-State All-Star game returning an interception for a touchdown. By that account, he hasn't lost much.
Davonte Neal, whose father called the Irish a dark horse because they haven't committed to which side of the ball according to an article in the South Bend Tribune by Bob Wieneke, could also end up playing cornerback for the team if he attends Notre Dame.
The possibility of a safety switching to add depth at corner isn't out of the question either.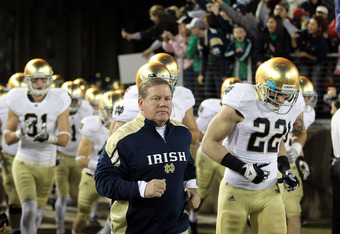 Ezra Shaw/Getty Images
Eilar Hardy, who is slightly underweight for a safety, could move to corner due to the depth already at that position, and by all accounts the Virginia product, incoming freshman CJ Prosise, also has the skills to play cornerback at the college level (though most project him as a safety). 
Brian Kelly will have his hands full shaping the team this spring. If two cornerbacks don't stand out, Kelly and his defensive staff will just have to go with their gut.
And while the position isn't dripping with experience, Kelly has a number of respectable and possibly dynamic options.