2012 NFL Free Agents: Buffalo Bills Could Target These Young Wide Receivers
February 13, 2012

Mike Ehrmann/Getty Images
The 2012 NFL free-agent class is shaping up to be a Madden-esque offseason full of marquee names, with frustrated users scouring the free-agent list to add to their poorly rated teams. Just like that, the video game becomes extremely fun.
We all know by now, though, that the real NFL isn't nearly so simple. The NFL is a complex world unto itself, full of nuance and subtlety.
Also unlike the video game, real-life owners and general managers don't always get their wish even if they do offer the most money. That said, the Bills will jump in and hope to make a splash in this year's market.
As I was saying, there are a lot of quality free agents this year. In particular, this year's batch of free-agent wide receivers is more talented than we've seen in a long time. Consider the following: DeSean Jackson, Vincent Jackson, Dwayne Bowe, Marques Colston, Reggie Wayne, Wes Welker, Brandon Lloyd, Pierre Garcon, Mario Manningham and the Bills' very own Steve Johnson.
That is some serious talent at one position.
Of course, not all of these players are going to hit the open market. For instance, the Philadelphia Inquirer suggests that the Eagles plan to slap the franchise tag on DeSean Jackson. And you can be assured that New England will retain Wes Welker in one way or another. 
But with other players, the scenarios become a little more interesting. Vincent Jackson is more likely than Dwayne Bowe to hit the open market, for instance, but both players have ties to the Bills—Jackson with Buddy Nix and Bowe with Chan Gailey.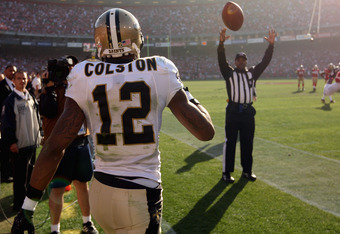 Ezra Shaw/Getty Images
The National Football Post discussed the likelihood of Saints' free agent WR Marques Colston being available, as well. With salary cap issues and other top players to re-sign, it's possible that the Saints allow Colston to join the free-agent party.
Certainly, the big-name wide receivers have been the talk of the media thus far as we inch closer toward March. And they probably will continue to be.
But that doesn't mean that the Bills will be aggressive in luring them to Buffalo. And even if they are aggressive, there's no guarantee that those players will decide to sign with a team that hasn't made the playoffs since 1999.
That's why the Bills could end up targeting slightly lower-profile players to fill the vacancy opposite Steve Johnson—speaking of which, I do believe the Bills re-sign their own No. 1 wideout this offseason.
One option is Pierre Garcon. In January, the Tribune-Star discussed the possibility of Garcon testing the market. Since 2008, the Colts' young wideout has totaled 188 catches for 2,519 yards and 16 touchdowns. Take away his rookie season stats (4 Rec, 23 Yds, 0 TD), and those numbers average out to 61.3 receptions for 832 yards and 5.3 touchdowns per year.
Even more impressive is that one of those seasons came without Peyton Manning under center. In 2011, Garcon caught passes from Curtis Painter and Dan Orlovsky and still managed career highs in receptions (70) and receiving yards (947), and he tied his career high in touchdowns with six.
Garcon is only 25-years old, and at 6'0", 210 pounds, he's developing into a younger Reggie Wayne with a lot of upside. He's struggled with drops at times, but had a more consistent overall season in 2011, his fourth year in the league, despite the inconsistency at quarterback.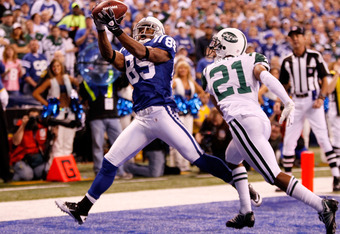 Jonathan Daniel/Getty Images
There's no guarantee that Garcon will be available, but if he is, the Bills should certainly give him a look. With so many high-profile players available at the position, Buffalo could get a talented target for a bargain.
Another possibility for the Bills is Mario Manningham. Manningham was on his way to having an eerily similar start to his career as Pierre Garcon before their fourth seasons diverged statistically.
Manningham's first season ended with four catches for 26 yards—nearly identical to Garcon, who had three less yards.
In year two, he totaled 57 catches for 822 yards and five touchdowns. Compare that to Garcon's second year—47 catches for 765 yards and four touchdowns.
In year three, Manningham caught 60 balls for 944 yards and nine touchdowns. Meanwhile, Garcon made 67 receptions for 784 yards and six touchdowns in his third year.
The difference between the two players occurred in year four, when Garcon leapfrogged Reggie Wayne and Manningham was leapfrogged by Victor Cruz.
The New York Giants have found a playmaker in Victor Cruz. Consequently, it appears the Giants won't overpay to keep Manningham as their No. 3 wideout.
In 2011, Cruz received a lot of the love from fans and the media, but don't forget it was Manningham's stunning catch in the Super Bowl that left the real imprint on the Giants' season.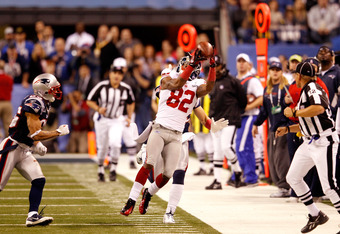 Rob Carr/Getty Images
Super Mario is slightly smaller than Garcon at 5'11" and 183 pounds, but he possesses all the playmaking abilities. He is another 25-year-old the Bills could consider to pair up with Steve Johnson. The combination could give Buffalo a powerful one-two punch on the outside.
Certainly, neither Pierre Garcon nor Mario Manningham are the big-bodied wide receivers that Bills GM Buddy Nix is seeking. Neither are tall enough to simply go up and grab balls over the top of defensive backs.
But not many wide receivers can do that outside of a few elite players like Calvin Johnson, Larry Fitzgerald and Andre Johnson.
If Buffalo can't land any of the top free-agent wide receivers, there's no reason to believe that the less expensive and blossoming young talents like Garcon and Manningham can't come in and make a big difference.
Follow me on Twitter: @JoshCembellin