2012 NFL Draft: Predicting the San Francisco 49ers Full 7-Round Mock Draft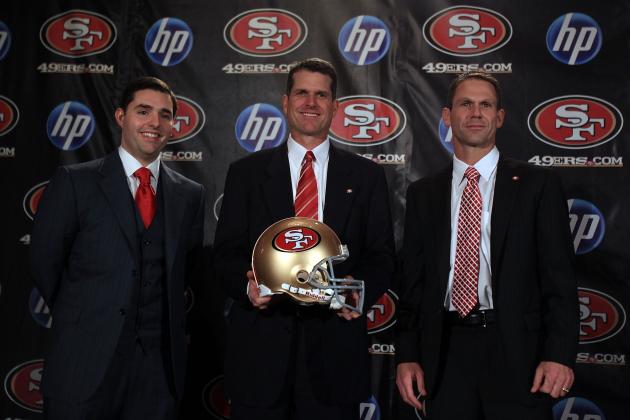 Ezra Shaw/Getty Images

After a successful 2011 year, the San Francisco 49ers are looking for upgrades in the 2012 NFL Draft. In order to improve on the accomplishments of last year, they must use the draft to improve the team in specific areas.
Fortunately, with the 30th pick in each of the seven rounds, Trent Baalke and the 49ers front office have a variety of options to do so.
Based on need, the offensive line and wide receiver are the two most pressing areas. Defensively they have no major holes, but depth at certain positions would help this team become more complete. Plus, with the luxury of all seven picks, the 49ers could be inclined to use a few to acquire a veteran via trade.
After seeing the contributions of some of last year's selections, it it clear the Niners brain trust understands how critical the draft is to the success of the organization.
A strong and complete use of draft picks this year could help this team get to the next level and compete for a Super Bowl.
Here are my predictions for what the 2012 draft will look like for the San Francisco 49ers:
Begin Slideshow

»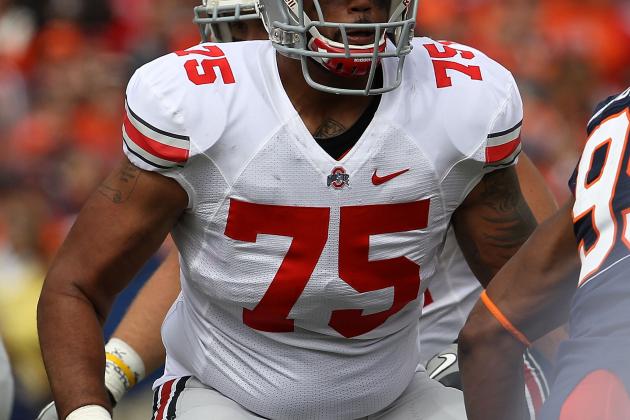 Jonathan Daniel/Getty Images

Although the 49ers' offense was able to move the ball more effectively this year than in recent history, the offensive line struggled with inconsistency. It allowed Alex Smith to be sacked the most of any quarterback in the league.
In the first round of the draft, I expect them to deal with that problem.
In the Niners run first offense, they should be looking for a large body who cannot only pass protect but also provide holes to run through. They could be looking at a player like Mike Adams from Ohio State.
Adams' large body, 320 pounds and 6'7", should be available when the Niners make their selection, and he would immediately help solidify their offensive front.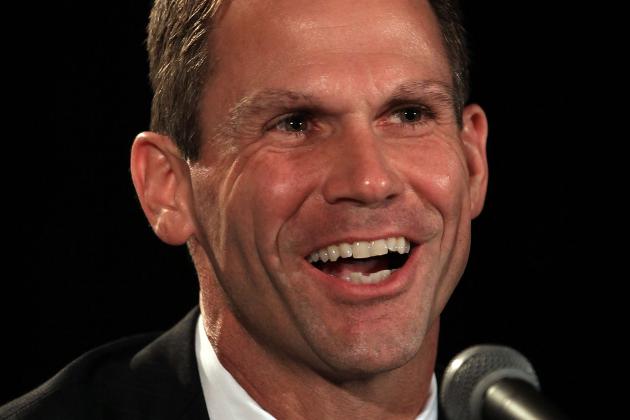 Ezra Shaw/Getty Images

The Niners only have to make a few upgrades in specific areas. However, with the team in a spot to win now, they will likely not want to wait or hope for a drafted player to perform. With a number of picks this year, it is likely that the front office will try and move them for a veteran or two.
Selections in the second and third rounds are very enticing for teams that are looking to stockpile talent for the future.
In a trade, the 49ers will likely be looking for an upgrade at wide receiver and for help in the secondary. The need at receiver is obviously more pressing, as an established wideout is exactly what the team needs. If Carlos Rogers leaves, though, they will also need to find some player(s) to replace his production.
Packaging these two pick should allow Baalke to get ample return.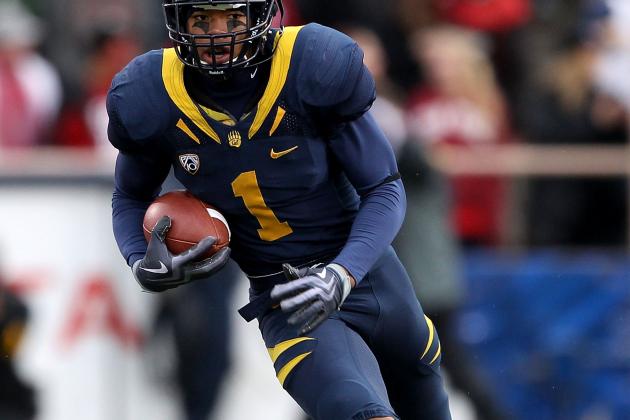 Ezra Shaw/Getty Images

Despite the 49ers success this year, it was clear they needed someone to pass to when they needed a touchdown. To make that next step and become a Super Bowl contender, they must have multiple, legitimate receiving options. Michael Crabtree and Vernon Davis cannot continue to be the only options in the passing game.
It is very likely the Niners bring a wideout in via trade or free agency, but they should also look for one in the draft.
Fortunately, they do not have to go very far as Cal product Marvin Jones could be available when they make their fourth round selection. He is an inch taller than Michael Crabtree and would give the Niners a tall, playmaking option in the endzone.
He had a consistent career at Cal, with more than 2,200 yards receiving and has athletic skills that make him a threat to opposing defenses.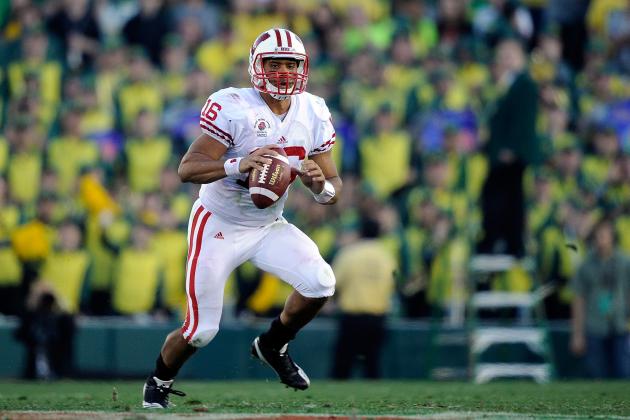 Kevork Djansezian/Getty Images

Even with the accomplishments of Alex Smith last season and the presence of Colin Kaepernick, the Niners will likely select a quarterback in the draft. They will do so for no other reason than to give themselves options when it comes to the future of the position.
Therefore, they will not be looking for someone who needs to contribute immediately, but rather a player who has potential in the 49ers offensive scheme. This means he must not only be able to throw, but be mobile, as well.
Russell Wilson from Wisconsin is that kind of player.
He has the arm to be a passing threat, throwing for more than 3,000 yards in his senior season, while also being capable of running the ball. He rushed for 24 touchdowns and nearly 1,500 yards in his four year collegiate career.
By drafting Wilson, the Niners will have two legitimate options in the event Smith falters.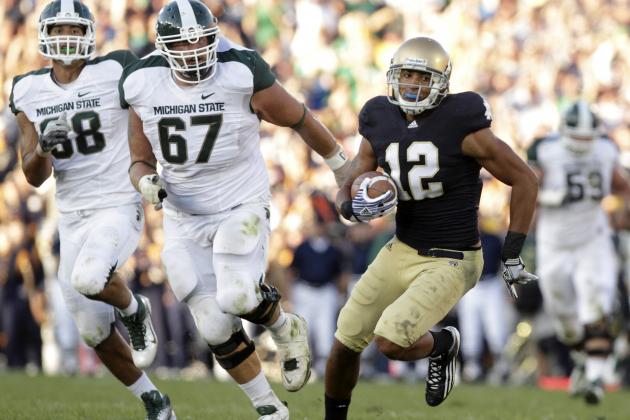 John Gress/Getty Images

Although the Niners defense was one of the best in the league, it could still use some depth. One area where nearly every team is stocking up is in the secondary.
Fortunately, that unit for the 49ers was able to stay mostly healthy this year and allowed players like Carlos Rogers to have a career season. However, even if Rogers re-signs, the team will likely look to add some complementary options.
A defensive back such as Robert Blanton from Notre Dame or Asa Jackson out of Cal Poly are two players that will be available late in the draft.
Both stand at a little less than 6'0", recorded more than 50 tackles this past season and have the speed and potential to be contributors on Sunday.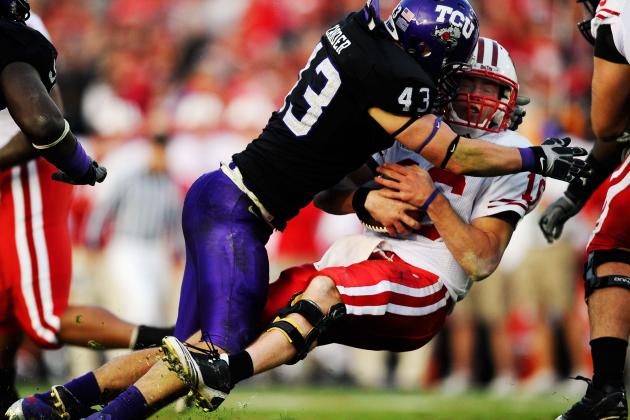 Kevork Djansezian/Getty Images

Barring the departure of Ahmad Brooks, the 49ers' linebacking core was so good in 2011 that in 2012 it only needs depth. They need someone who has been part of a strong run defense and can tackle in the open field.
TCU has had one of the best defenses in the nation over the past few years, and Tank Carder has been in the middle of it. At 6'2", 236 pounds, he could be available to the 49ers because he did not have a standout senior season.
However, in his career at TCU he had a total of 228 tackles, was named to six All-American teams and was Mountain West Conference Defensive Player of the Year in 2010.
If Carder is able to provide that kind of production in the NFL he would be the steal of the seventh round.