Todd McShay 2012 NFL Mock Draft: Analyzing McShay's Latest Mock
February 13, 2012
Todd McShay released his second 2012 NFL mock draft in early February and it's time to examine all of his first round projections and decide which picks make the most sense and which ones seem completely absurd.
Believe me, there are plenty of surprises in McShay's most recent mock.
First of all, he doesn't have any trades predicted, but that could just be for simplicity's sake in his 32 predictions.
Many people, including myself, have the Washington Redskins trading with the St. Louis Rams to move from No. 6 to No. 2 in order to select Baylor's Heisman Trophy winner, Robert Griffin III.
With the Rams staying put, McShay has Jeff Fisher's club going with USC's left tackle Matt Kalil, which makes sense if they don't strike a deal with a team looking to move up.
Their 2009 first-round pick, Jason Smith, has battled head injuries and could be cut this offseason. In order for Sam Bradford to have any chance to progress as a quarterback, he'll need more protection from his offensive line—no team allowed more sacks in 2011 than St. Louis. 
In his first somewhat stunning prediction for Round 1, he has Iowa offensive tackle Riley Reiff going No. 3 overall to the Minnesota Vikings.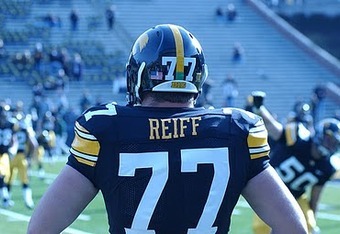 Yes, the Vikings will like to add a quality blindside protector for Christian Ponder and Reiff is one of the more well-rounded tackles in this year's class, but I don't see them "reaching" for him that early. Their defense was absolutely atrocious last season. 
There's a better chance they draft a wide receiver to help Ponder's growth instead of the second-best tackle with the third overall pick. That just wouldn't make sense. 
It'll be interesting to see what the Cleveland Browns do with their No. 4 overall selection. McShay has them going with RG3. 
Colt McCoy could still hold the offensive reigns next season, but if Griffin III is available, he'll be an extremely enticing option. 
Picks six through 11 are logical, with the Washington Redskins adding Justin Blackmon, the Carolina Panthers taking defensive lineman Michael Brockers—a guy that's loaded with upside—and the Buffalo Bills acquiring a much needed pass-rusher in Courtney Upshaw. 
Then we get to the Seattle Seahawks at No. 12. 
McShay has Pete Carroll taking Alabama standout Trent Richardson. While he'd be an ideal candidate to replace Marshawn Lynch if he leaves in free agency, I simply don't envision the Seahawks failing to strike a deal with their explosive runner. 
They won't need Richardson and certainly are not in a position to make luxury draft choices. 
I love and totally agree with the Kansas City Chiefs taking Boston College's tackling machine Luke Kuechly at No. 12 overall.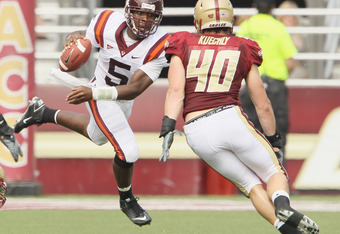 Elsa/Getty Images
He's not the most athletically-gifted linebacker in this year's class, but he'd create a tremendous tandem with Pro Bowler Derrick Johnson. He has the potential to be Romeo Crennel's Tedy Bruschi. 
Kendall Wright heading to Chicago at No. 18 overall makes sense, but if Michael Floyd is available, expect him to be the pick. They already have a Wright-esque player in Johnny Knox. What Chicago desperately needs is a big, chain-moving target for Jay Cutler. 
Mike Adams landing with the Pittsburgh Steelers is a home-run. They know how vital protecting Ben Roethlisberger is, and Max Starks doesn't represent the future at the left tackle spot. At 6'7'' and 325 pounds, the mammoth Adams can slide into that position from the first day of training camp, but will need to become more consistent in his technique. 
The biggest surprise may be his prediction for the choice immediately following the Steelers. McShay mocked Texas A&M quarterback Ryan Tannehill to the Denver Broncos. While he's an interesting prospect because he played more games at wide receiver than quarterback during his collegiate career, he doesn't receive a first-round grade from me. 
He's athletic and has the size, but was a bit too shaky reading defenses during the 2011 campaign. His Aggie team undoubtedly underachieved compared to pre-season predictions.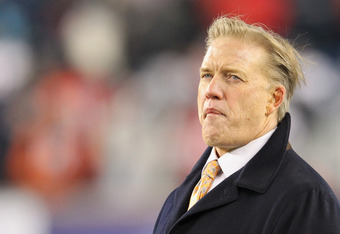 Jim Rogash/Getty Images
John Elway would love to add a more traditional quarterback to the fold in the Mile High City, but will they "reach" for Tannehill this early? 
I don't think so. 
Although the Texans' selection of Stanford tight end Coby Fleener is an interesting one, I see the Texans looking for a complement to Andre Johnson at wide receiver in the first round. 
McShay has the New England Patriots taking Syracuse defensive end Chandler Jones and Clemson defensive tackle Brandon Thompson with their two first-round picks. 
Bill Belichick will dedicate his first picks to defense, and expect at least one cornerback to be selected. 
He ends with the Super Bowl champion New York Giants picking Dwayne Allen, tight end from Clemson, another intriguing selection. 
If Kareem McKenzie leaves in free agency, I see the G-Men taking the best offensive lineman available. 
Overall, McShay's mock is unique and features a variety of eye-opening picks. Remember, we've still got a long way to go in the pre-draft process. We'll see plenty of changes.