Milwaukee Brewers: 2012 Lineup Cards with and Without Ryan Braun
February 13, 2012

Marc Serota/Getty Images
As fans, we can get so into the armchair managing and general managing that we're questioning whether Jerry Narron's calligraphy penmanship on the Brewers' batting order is better than Bauhaus font for generating wins (take a look).
Okay, referring to graphic design styles of the 20th century may be obscure, but you get the point. 
Now I'm going to play the armchair version of Ron Roenicke and think through what the Brewers' lineup will be in 2012 amid significant changes to the infield, Braun's possible suspension, Fielder's departure and an entirely different chemistry of hitters.
Lineup No. 1: When Braun is in
We will likely know soon whether Braun is in fact suspended, but regardless, Braun will return to the team this season and form the axle around which all the Brewers' offensive wheels spin.
Here's what could be a formidable lineup (with brief explanations for each) with Braun now that his partner in bombardment, Prince Fielder, is gone.
1. Nyjer Morgan: This could be seen as crazy-talk to those in the camp of seeing Weeks as solely a lead-off hitter. But I see Morgan as a speedster (though not always disciplined on the basepaths) and if he can continue his offensive maturation and retain similar results to 2011, he's a great leadoff.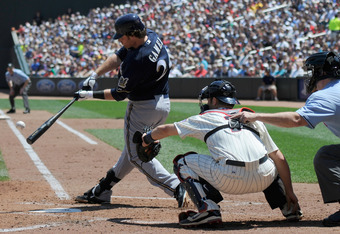 Hannah Foslien/Getty Images
2. Rickie Weeks: This role enables Weeks more of a chance to hit with runners on while also capitalizing on his speed around the basepaths and his ability to take a lot of pitches.
3. Corey Hart: This would be an unusual slot for Hart but again allows the Brewers to combine speed with power (similar to Weeks) early in the lineup, setting the stage for...
4. Ryan Braun: Some say he wasn't as good as a cleanup hitter in the Braun-Fielder switcheroo days of Macha. I think this is a whole different ballclub now, and Braun, as the best slugger on the team, has to be the cleanup guy.
5. Aramis Ramirez: The third baseman can hit for on-base and slugging, providing ideal protection to Braun.
6. Mat Gamel: Roenicke wants to give Gamel a full shot this time as a starter—that or he has no other choice. Gamel is the biggest question mark right now despite his impressive minor league campaigns. If you look at Gamel's splits versus righties and lefties (even in the minors), the guy screams of platoon. But here's to hoping he can prove doubters wrong.
7. Johnathan Lucroy:  I really love this guy as an underrated element of the Brewers' offense.  He's clutch, can be effective with small ball and embraces challenges to improve his game.  I think he's polished enough at the plate to give Gamel some good looks ahead of Lucroy too.
8. Alex Gonzalez: the seven and eight slots could be switched, but I'm sticking with Gonzalez at eight because he wouldn't give Gamel as much opportunity with Gonzalez's all-or-nothing plate history.  Many say he is Yuniesky Betancourt No. 2 at the plate.
9. Pitcher: The Brewers have a few sluggers for starting pitchers, so it's not always a loss for the leadoff guy if the pitcher is ninth in the Brewers' order.
Lineup No. 2: When/If Braun is Suspended
1. Norichika Aoki: Call it a gut feeling but I think Aoki will be more mature in adjusting to the MLB game as a 28-year-old than if he had come out of Japan at 24. He's a highly accomplished player in Japan expected to bring high on-base percentage and occasional gap power. Though it's somewhat of a generalization, Japanese players are typically well-coached on the fundamentals to be skilled at small ball and other lesser-heralded baseball skills compared to many other international programs; hopefully Aoki will be adept on the basepaths and somewhat fast as well.
2. Hart: Without Braun, I flip-flop Weeks and Hart simply because Hart has been successful in the No. 2 slot before. Weeks may also offer more consistent power and on-base percentage without Braun.
3. Weeks: In the third slot, Weeks can still be valuable for his speed on the basepaths while setting the stage for the cleanup hitter.
4. Ramirez: This guy is probably the most accomplished over the long haul as a slugger (315 home runs in his career) and you just can't find a hitter as disciplined and powerful on the squad when Braun is out.
5. Gamel: I don't see this as ideal for Gamel, but in his role he has to embrace wherever he is put and show results if he wants to make it in the big leagues. Would he have more protection in front of Ramirez? Sure, but then he also has to give Ramirez opportunities to hit so both are dependent on each other in either scenario. Against lefty starters, I'd expect a different lineup to protect Ramirez.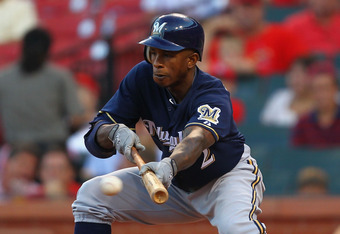 Dilip Vishwanat/Getty Images
6. Lucroy: Minus Braun, Lucroy gets a chance at a higher-profile slot in the order.
7. Gonzalez: He could provide occasional pop at the No. 7 slot (likely to get around 15 homers).
8. Pitcher: As much as I despise Tony La Russa, the effect of using the eighth slot for pitchers can be powerful if you have a few leadoff style hitters, which I think the Brewers do have (counting Aoki, Weeks and Morgan).
9. Morgan/Gomez: There are a lot of "ifs" here including whether Morgan can duplicate 2011s output and "if" Gomez can become more disciplined at the plate. But I think either would be an outstanding No. 9 hitter. If they get on base at a league average, that's a lot of speed to potentially move runners into scoring position for the Brewers stars at the heart of the order.
Now that I've given it a shot, what's your take?  What are the best ways to capitalize on the strengths of each individual Brewer position player to make the team's offense most potent?