Randy Moss to Attempt Comeback: 5 NFL Teams on His Radar
Jeff Gross/Getty Images

With this morning's news that Randy Moss will attempt a football comeback, the rumor mill is working double time. He chose his 35th birthday to make the announcement, meaning whatever time he has left could be limited.
Still, a man with such impressive career numbers will attract attention. Over the course of 13 seasons from 1998-2010, Moss caught 954 catches for 14,858 yards and 153 touchdowns.
Unfortunately, he burned some bridges in the latter few seasons, and team owners will remember those circumstances. Certain teams will need to accept the fact that they won't be in the running to land Moss.
He showed in Oakland that he needs to be happy to play well. He went from a solid season of 1,005 yards and eight touchdowns in 2005 to 553 yards and three touchdowns in 2006.
The same situation occurred, as he bowed out of the NFL. After three great years with New England, he became a distraction during contract negotiations and was shipped to Minnesota for four games in 2010.
Back with the Vikings, he criticized then-coach Brad Childress publicly and was waived, only to be claimed by Tennessee to finish the season—his worst by far in the NFL.
His return may be met with mixed reactions, but there are still teams that could use his services as long as he is willing to perform at his highest level.
These are five teams that should consider signing Moss as a free agent for the 2012 season.
Begin Slideshow

»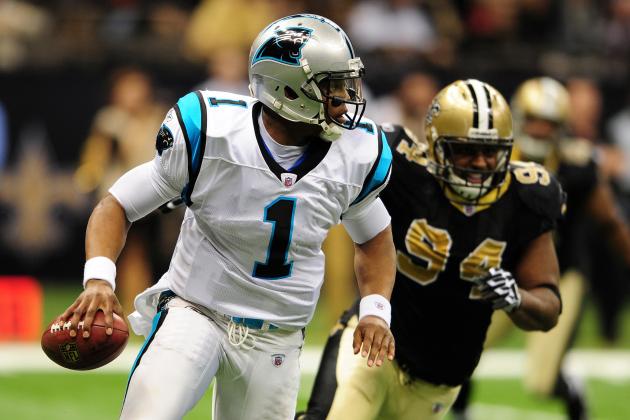 Scott Cunningham/Getty Images

The Carolina Panthers showed in 2011 that they could be a new force in the NFC South. Rookie QB Cam Newton was thrown into the deep end and suffered through some growing pains.
But he also opened eyes and kept the Panthers competitive during a 6-10 season. He set a rookie record with 4,051 yards and made the Pro Bowl.
On the receiving end of his passes, WR Steve Smith recorded his third-best season as a pro with 1,394 yards. But he was their clear top threat.
Brandon LaFell finished second on the team with 613 yards, so there is room for additional production.
Smith and RB Jonathan Stewart will be free agents in 2013 and may have extra incentive to play well in 2012. Randy Moss would benefit from all these elements but have to accept his role as a second or even third option, especially on a team with a three-tiered running game.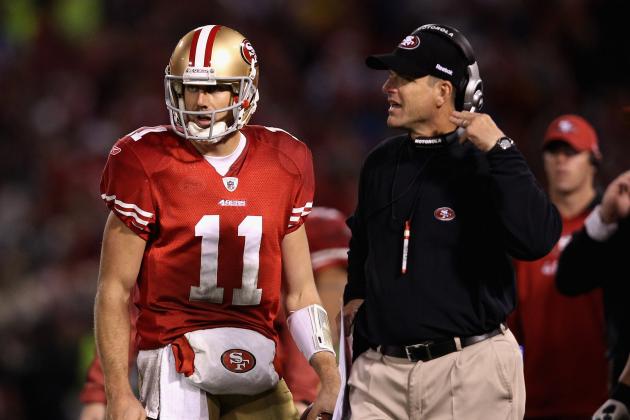 Ezra Shaw/Getty Images

The San Francisco 49ers were the unheralded feel-good story of the NFL in the shadow of Tim Tebow and the Broncos. Jim Harbaugh took a group of players with little pro success and molded them into serious contenders.
QB Alex Smith only threw five interceptions all season, including their two playoff games. Even so, the team's passing game largely revolved around WR Michael Crabtree and TE Vernon Davis.
These two players accounted for 53 percent of Smith's regular season yardage. The opportunity is there for another playmaker of Randy Moss's caliber.
Smith is a free agent, but all signs point to him returning to the 49ers.
His style in 2011 was dictated by short- and medium-range passes that relied on yards after the catch. His arm is better than most give him credit for, but Moss would definitely be asked to run shorter routes and escape tackles.
One anxiety-inducing piece to this puzzle is San Francisco's team concept. The culture in their locker room sounds like something out of a Three Musketeers movie.
The players are all in it for each other.
Moss would have no choice but to adjust to and accept that mentality. We know he is capable when happy, but he can't let personal emotions affect the chemistry now brewing with the 49ers.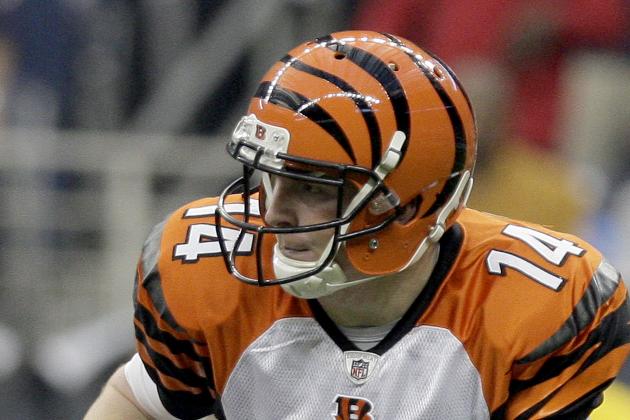 Thomas B. Shea/Getty Images

Like the Panthers, the Bengals look like an up-and-coming force in the AFC North. They too were led by a rookie QB in 2011, Andy Dalton from TCU.
Dalton made the Pro Bowl after throwing for 3,398 yards, 20 touchdowns and 13 interceptions. The Bengals finished 9-7 and reached the playoffs, so the future looks bright.
With WRs Jerome Simpson and Andre Caldwell likely leaving through free agency, the opportunity is there for Moss to step in and be a key contributor along with A.J. Green.
The Pittsburgh Steelers will seemingly be in rebuilding mode, so Cincinnati could very well make a move in the division and challenge Baltimore.
RB Cedric Benson is also expected to leave, which may put more focus on the passing game depending on who the Bengals bring in as his replacement.
Dalton has the arm to lead Moss down field for big plays, so the question just becomes whether or not Moss still has the speed to chase those passes down.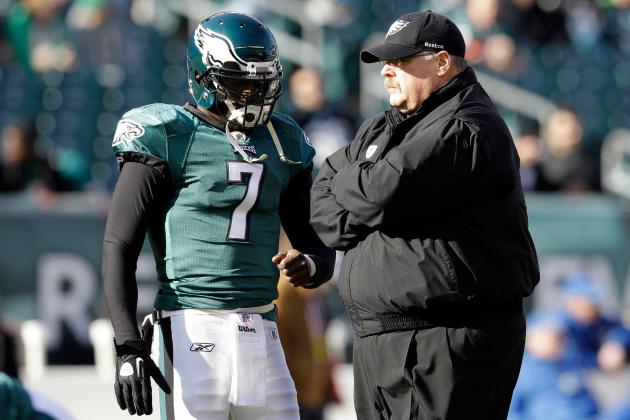 Rob Carr/Getty Images

The Philadelphia Eagles were the biggest disappointments in the NFL when weighed against preseason expectations. They were favored to reach the Super Bowl but instead finished 8-8.
And they needed four straight wins to end the season just to reach .500.
But if there's one team with the makings of a big turnaround, it's the Eagles. The NFC East was decided on the final day of the regular season. The Dallas Cowboys are inconsistent, and the New York Giants seem to only wake up when the playoffs begin.
The Eagles will bring back the majority of their core in 2012. It originally appeared WR DeSean Jackson would test the free agent market, but the Eagles will place the franchise tag on him instead.
With a variety of weapons to work with, including a young stud receiver, Randy Moss could find a successful situation in Philadelphia if his ego doesn't disrupt the team's production.
Jackson will remain the top option for Vick, and Moss will need to deal with that reality if he lands in Philadelphia.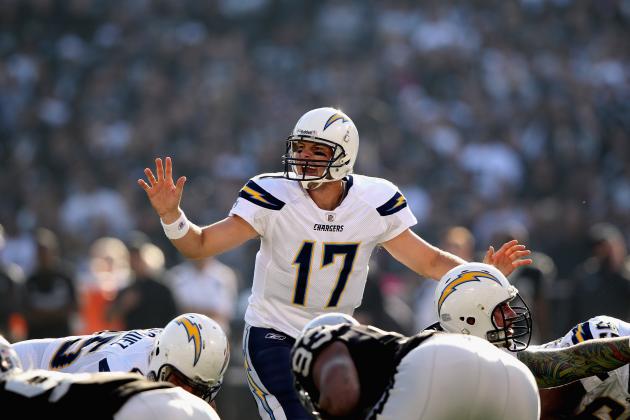 Ezra Shaw/Getty Images

Also coming off a disappointing season are the San Diego Chargers. For a while, they seemed like the yearly no-brainer to win the AFC West.
With Oakland getting stronger, Denver surging ahead with Tebow and Kansas City becoming more competitive, the division will be up for grabs in 2012.
Philip Rivers just threw for the most interceptions in a season—20—in his career. But he still threw for the sixth-most yards in the league in 2011 with 4,624 and averaged 289 yards per game.
With leading receiver Vincent Jackson on the free-agent market, the Chargers may need a new receiver to pin their hopes on. Even if Jackson is re-signed, an additional receiving option can't hurt a big-armed passer like Rivers.
Antonio Gates has been a rock of a tight end his entire career, but injuries have become an issue for him in recent seasons.
Being able to cycle him out more often with Randy McMichael while giving Moss some looks would aid Gates's health and the Chargers' likelihood of getting back to the playoffs.