Mitch Mustain and 5 Other Notable Football Players Who Also Played Pro Baseball
Stephen Dunn/Getty Images
Mitch Mustain has somewhat shocked the football and baseball worlds by signing a contract to play...baseball for the Chicago White Sox. A former highly touted football prospect, Mustain also played high school baseball, but opted to focus solely on football in college.
With Mustain's decision to play the national pastime, I have decided to compile a list of five notable football players who also played baseball.
A couple notes. Those who were drafted to play baseball but decided not to sign (e.g., Jake Locker, Toby Gerhart, Golden Tate) will not be listed. Those who played minor league ball who later returned to football will also not be mentioned.
Bo Jackson
Stephen Dunn/Getty Images
The former Heisman winner famously turned down playing for the Tampa Bay Buccaneers after being drafted first overall in 1986 by the Kansas City Royals.
Bo turned out to be a mediocre baseball player who had strikeout problems, and thus didn't hesitate to sign with the Oakland Raiders the following year.
One of the notable highlights of his dual career was his performance in the 1989 MLB All-Star game, where his offensive and defensive prowess netted him the MVP honors.
In 1990, Jackson retired from football after sustaining a hip injury and continued to play baseball until the 1994 players' strike.
Jackson is probably better known for his football career than his baseball career, as it is a symbol of what could have been.
Deion Sanders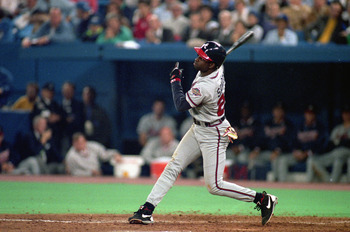 Rick Stewart/Getty Images
Deion Sanders had a Hall of Fame football career with five NFL teams, and a somewhat respectable MLB career for five teams, as well.
As a football player, he was an eight-time All-Pro selection, a two-time Super Bowl champ and an integral part of the evolution of the special teams.
As a baseball player, he played on the 1991 and 1992 NL champion Atlanta Braves, and led the league in triples once.
Sanders continued to play football when baseball took a backseat—including a three-year absence—but Sanders returned for a 24-game stint with the Cincinnati Reds in 2001, before the Washington Redskins made him report to training camp.
Of all the sports moments in Sanders' career, none stood out more than when, in 1992, in the course of a week, he hit a home run and ran for a touchdown.
Jeff Samardzija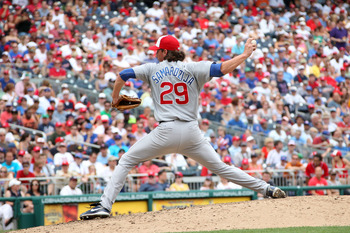 Ned Dishman/Getty Images
The current Cubs reliever was once a standout wide receiver for the Notre Dame Fighting Irish, complementing current Denver Broncos backup Brady Quinn.
In college, Samardzija was a Fred Biletnikoff Award finalist, and a projected first-round pick in the 2007 NFL draft. While he considered playing both pro baseball and pro football, he ultimately decided on baseball after being drafted by the Chicago Cubs in the seventh round.
While Samardzija struggled early, he eventually found his niche as a reliever and, in 2011, had his best statistical season to date, going 8-4 with a 2.97 ERA.
What could have happened if he opted to play football exclusively or both sports professionally are interesting questions.
Brian Jordan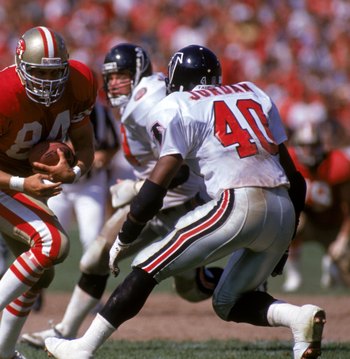 George Rose/Getty Images
Brian Jordan was perhaps more known for his exploits on the diamond than on the gridiron, but it's common knowledge for Atlanta sports fans that number 40 on the early-90s Atlanta Falcons ended up patrolling the Braves outfield, as well.
As a safety for the Falcons, Jordan developed a playmaker reputation, notching five interceptions, four forced fumbles and two safeties for the team during the course of his three-year career.
He was later promoted by the St. Louis Cardinals to start the 1992 season, and he never went back to football.
Jordan played for the Cardinals until the 1999 season, when he was signed by the Atlanta Braves, for whom he played well enough to be traded to the Los Angeles Dodgers in 2002 for superstar hitter Gary Sheffield.
Jordan played five more years, then called it quits.
D.J. Dozier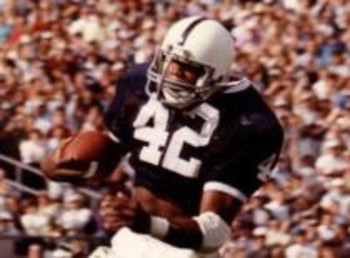 D.J. Dozier was probably more known for his play as a Penn State runner during the 1986 championship season than for his time with the Minnesota Vikings and New York Mets.
Nonetheless, he managed to find the best of both worlds and play in the NFL and MLB.
In 1992, the one season that Dozier suited up to play baseball, he hit a paltry .191 and dealt with strikeout issues, much like the man he attempted to emulate, Bo Jackson.
Although Dozier only lasted one season as an outfielder, he played a key part in assembling The Worst Team Money Could Buy—the 1992 Mets—when he was traded to the Toronto Blue Jays for Tony Fernandez.
Regrettably, his pro football career also didn't amount to much in the five seasons he played for the Vikings and Detroit Lions.
Keep Reading