Phil Mickelson's Greatest Moments
Ezra Shaw/Getty Images
Phil Mickelson is the most entertaining player to watch on the PGA Tour.
Even when Tiger Woods was on top of his game, if Phil was in the hunt, the crowd would always be there rooting for him.
On top of being an entertaining player to watch, Phil happens to be one of the greatest players of our generation.
With his 40th win this weekend at Pebble Beach, Phil is tied for ninth in overall wins on the PGA Tour.
In honor of Lefty's dominating win at the AT&T National Pro-Am at Pebble Beach, we're going to go recap some of Phil Mickelson's greatest moments.
1991: Phil Wins the Northern Telecom Open as an Amateur
Stephen Dunn/Getty Images
On January 13th, 1991, Phil Mickelson won his first PGA Tour event at the Northern Telecom Open by one stroke over Bob Tway and Tom Purtzer.
What makes this even more special was the fact that he won it as a 20-year-old Amateur, the only Amateur to win the tournament.
2006: Phil Wins the BellSouth Classic by 13 Strokes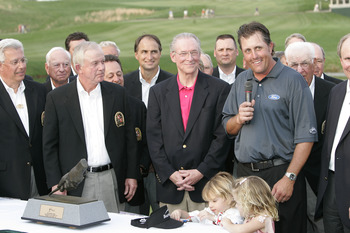 S. Badz/Getty Images
At the 2006 BellSouth Classic, Phil Mickelson shot 28-under(-par) to win the tournament by 13 strokes over Zach Johnson and Jose Maria Olazabal.
Not only did he demolish the field, he also set a tournament record with his ridiculously low score.
Phil successfully defended his title having won it in 2005. He also won the tournament in 2000.
2010: Phil Wins the Masters While Amy Watches from the Clubhouse
Streeter Lecka/Getty Images
In 2009, Amy Mickelson was diagnosed with breast cancer, which took its toll on Phil. Weeks later, he played in the U.S. Open and played well; however, he lost on the last day.
In 2010, with his wife unable to walk the course due to her illness, Phil won the Masters Tournament and afterwards had a tear-jerking moment with Amy near the scoring tent.
2000 & 2009: Phil Beats Tiger at the Tour Championship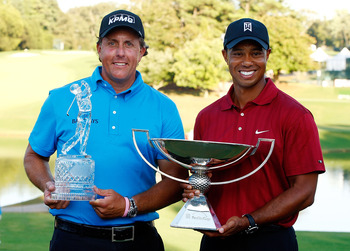 Scott Halleran/Getty Images
Without question, Tiger Woods was the best player in the world before his surgeries and his meltdown after all his extra-marital affairs came to light.
So when someone can best him at the same tournament two different times, it's worth noting.
Phil did just that in 2000 and 2009, beating Tiger by two and three strokes respectively.
2012: Phil Plays with Tiger in Final Round, and Beats Him by Nine Strokes
Ezra Shaw/Getty Images
This seems like it was just yesterday. Oh wait...
Phil Mickelson did to Tiger what Tiger was used to doing to all of his opponents: He completely dominated him on Sunday.
Phil beat Tiger by nine strokes for the tournament and 11 for the round—something that nobody expected to happen.
2004: Phil Wins His First Major at the Masters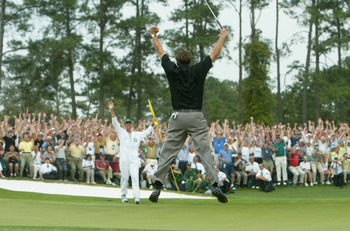 Andrew Redington/Getty Images
With the most famous jump in golf (all three inches off the ground), Phil Mickelson had just won his first major at the 2004 Masters Tournament.
Phil won the tournament by sinking a birdie putt on the 72nd hole to beat Ernie Els by one stroke.
Phil went on to win the 2006 and 2010 Masters as well.
Keep Reading